2020 Championships
https://m.facebook.com/story.php?story_fbid=2544884582259589&id=754290597985672
English Nursery Final
10 hrs
***English Nursery Final 2019/2020***
Date - Sunday 23rd February 2020.
Entries are now being taken for this year in exactly the same format as last year. Each team to enter with payment of £50 before 31st October.
Final handler and dog details need to be entered before 31st January.
Please ensure you follow our page for further exciting updates to follow.
(Can all teams please be aware that if either of those two deadlines are not met on time you may be removed from the list and one of our reserve teams will be offered your place.)
Any questions to the secretary Meg Hutchinson.
2020
Running order for this years final;
Mid-shires,
North Westmorland,
Northern,
Yorkshire,
Windermere,
Trawden,
South West,
South East,
Holme,
Fylde,
EASS,
Derbyshire,
Cheshire/Staffordshire,
Northumberland,
Ryedale.
Ryedale Team
J Simpson Henry Reserve
C Cutler Sam
JB Murdoch Hilston Sport
J Goulder Valmis Kismet
2017 Nursery Championships
Team - 19
Below is the order in which each team will run for this years final;
Holme
Midshires
North westmorland
Northern
Yorkshire
Windermere
Trawden
South west
Fylde
East Anglia
Derbyshire
Cheshire/Staffordshire
Northumberland
Ryedale
South East
Don't forget the final deadline for the running order form to be returned is the 31st of this month.
Team -18
Alec Mosey Nell
P Turnbull and Peg
J Read Hilston and Ted
Team-17
Ryedale's Nursery Finals team... J B Murdoch and Parks Farm Moss,
J Simpson and Jill,
A Beaton and Milly
and Reserve, C Cutler and Beth.
Hi All,
Attached are the minutes from the Nursery Final meeting held last month at the English National. Please allow the members of your society to see them so that all know the changes.
The bullet points are
2017 planned date

5th March

with kind permission of George and Helen Bonsall at Slindon House Farm.
Age limit remains the same
Handlers can run two dogs in the Nursery final
Dogs can only run in one Nursery final
Complaints of any part of the running or organising of the Nursery final should be through the area committee, we will not reply to complaints from individuals
in 2017 we will be looking for people to help let out, specially in the middle round as George would like a break during that time to be at the other end of the field.
The Nursery Final Team.
2016 Nursery Championships
Ryedale team news.
6.3.16 G and H Bonsall, Slindon House Farm,Eccelshall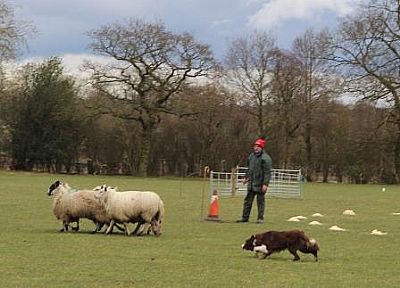 G Blyth and Hilston Spot get a neat turnaround
J. Read's Deerplay Ralf hits his X-drive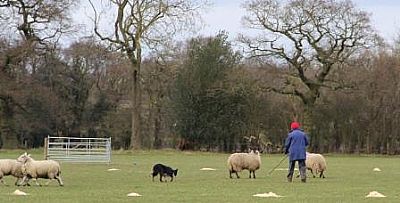 J Goulder and Comebye Keswick get their split.
Safely home, the three Ryedale dogs and handlers had a great weekend at an impressively well run National style nursery trial. All three replaced the origional runners, but rose to the occasion with their best efforts. It was a privilege and a tremendous experience to be there, the atmosphere was totally proffessional from start to finish.
http://englishnurseryfinal.weebly.com/results.html
Click above for results!
Our three competitors were pleased with their dogs' performance, though our last man fell victim to time as the evening darkened. It was a good trial field, good sheep and a good day out, they report, and I would think enormously satisfying to be the first three Ryedale members to take part. Looking forward to next year already!
2015
Good Luck and safe journey
to
A Mosey and Trooper
P Law and Roy
and G Blyth and Sid !
Running Order... Check out the link below!
http://englishnurseryfinal.weebly.com/running-order.html
Ryedale handler and dog teams.
Calderdale Sid
Trooper
Roy
A Mosey Trooper 25
P Law and Roy 23,
G Blyth and Sid 23
For entry date and rules see below...
06 January 2015
Hi,
Thank you for entering a team in the English Nursery Final on 22nd February 2015. This email is to ask you for handlers names and to clarify a few points about the trial.
With the entry now closed we have a total of 16 teams to compete in the final so we have decided to run three dogs per team (making it 48 runs in total).
If you could please send the following details of the runners for the running order (which will be in alphabetical order this time)
Handler name

Dogs name

Dogs date of birth

Dogs ISDS number (if registered, unregistered are also allowed)

Sire of the dog (and ISDS number and owner of the sire, if unregistered just the details without the ISDS number if possible)

Dam of the dog (and ISDS number and owner of the dam, if unregistered just the details without the ISDS number if possible)
The sheep will be getting taken back and run over after each round (ie after runs 16 and 32) so that each round gets the same standard of sheep to try to keep the team event even for all. Our suggestion is that the dogs are run in the order so that the 3rd best dog runs in the first round, 2nd best in the second round and the captains in the last round so if you can let us know the order you want the handlers to run in as well to go in the running order. If you want to send in a reserve in case of any problems for the runners that are on the list we can include them on the running order too.
Because the sheep are being run over after each round we are considering getting a small prize for the winner of each round just in case the standard of the sheep alters dramatically as they are run over (either better or worse).
We will have a charge of £5 per run to make sure we have the money for the preparations and running of the trial. Just fetch the cash along to the trial on the day as we don't have a bank account!
The trial course will be a standard style course with a shed either before or after the pen (judges will decide when they have spoken to one another).
We would ask that you let us know the names by the 25th January so that the running order can be finalised and printed and put online on the website (http://englishnurseryfinal.weebly.com/)
(Many Thanks)

30 December 2014
The English Nursery Final
This is the website of the English Nursery Final which will be held for the first time on 22nd February 2015 at Slindon House Farm, Eccleshall, by kind permission of George Bonsall.
The judges this year are Mr Dick Roper and Mr Paul Turnbull.We gotta find some young
http://englishnurseryfinal.weebly.com/
RSDS needs dogs under 3 on
1.1.15 with handler able and
willing to travel for the first
Nursery Championships ... ?
edit