Maes yr Haul
The Brambledales began in Pinner, Middlesex in 1962; moved to Surrey in 1969 ; to Oxford in 1971 and the Forest of Dean in 1974. We finally settled here in rural Carmarthenshire, West Wales in 1978 and in 1998 came to Maes yr Haul, described by many of our visitors as 'Beardie Heaven' - and the Beardies would certainly agree. Here are a few pictures of them enjoying themselves at home.
We also spend many hours walking in the adjacent 6,000 hectares of the lovely Brechfa Forest, to which we have direct private access. 'Beardie Heaven' indeed!
My Arab horses have been with us for more than thirty years and some of our visitors have asked why they are not mentioned on the website, so I have included a few pictures at the bottom of this page.
Spring 1999 at Maes yr Haul : B.Branwen (12yrs) in front, with daughters Banner,Braint,Bright Star and granddaughter Brighde at the back.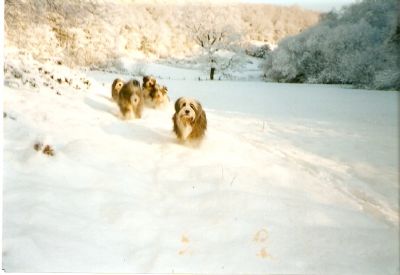 Maes yr Haul, Winter 1998/9
B.Branwen in front,followed by Brighde,Banner,Bright Star + Braint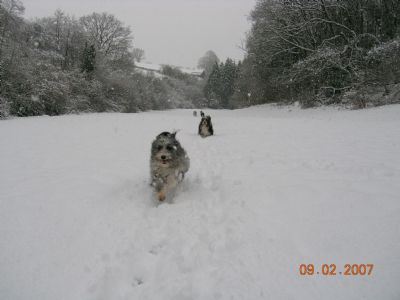 Maes yr Haul 2007 Branwen's Great-Great Granddaughter, B.Bright Blue (Tiger) leads the field...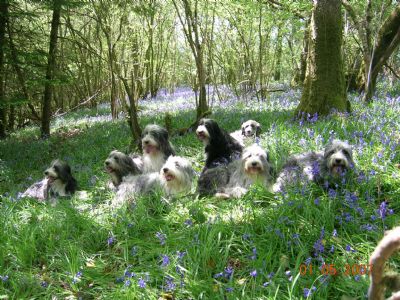 Above: 1st May 2007 Bluebells at Maes yr Haul
And below: The same spot in May 2010

Above: May 2010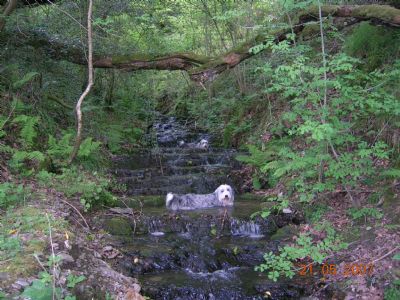 June 2007 Merle and Mottie cool off in one of Maes yr Haul's cascades

Maes yr Haul's 'Rainbow Valley'
Above: The treehouse, a favourite spot for both people and Beardies - even in Winter.
Above : Autumn colours in the garden.
Christmas 2010: Above: from the sitting room window. Below: from the kitchen door ...and Beardies enjoying the snow.
Our Arab horses like to meet visitors too.
Mowing the lawn the easy way..... Mehra, Mehdali, Mehdami and Mehdora in 2009
My beloved Meha, pictured aged 20 in 1999, with daughter Mehsha and grandson Mehshiv
Another of Meha's daughters, Mehdali, pictured in 2004, with newborn daughter Mehdami