Working Sires
Although the primary purpose of this page is to introduce the twenty-first- century Working Beardie sires who have played an important part in my recent breeding programme, I want to start by taking you back to the mid twentieth century to meet two of the farm-bred Beardies of working parentage who helped to lay the foundations of the Brambledale line in the early 1960s.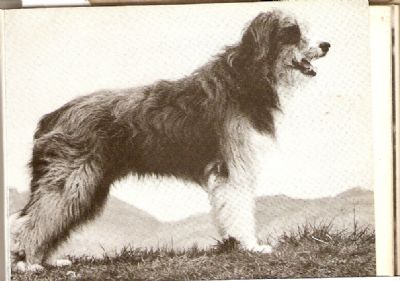 Britt of Bothkennar
Farm bred in 1955 from Scottish working parents, and bought by Mrs Willison, Britt became her special favourite and the most popular stud dog of his time. Sire of Brambledale Briquette of Bothkennar and a powerful influence in the Brambledales to the present day..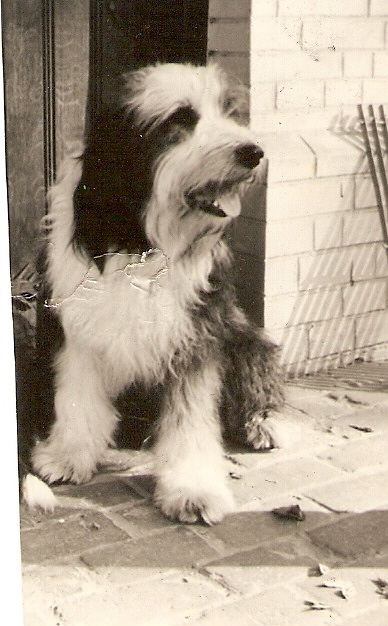 Bausant of Bothkennar
Bred from working parents in 1963, Bausant was the sire of Brambledale Heathermead Moonlight and through her exerted a strong influence on the Brambledales.
Butler's Don at 12years
Born in 1990 and a worker of sheep and cattle in Snowdonia, Don was the sire of our first 'outcross' litter from Brambledale Brighde
Don at work.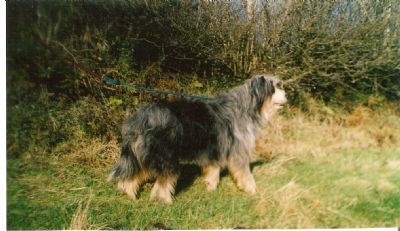 Elan Jim
Working sheep, cattle.....and geese... in the hills of mid-Wales, Jim was born in 2001 and sired our second outcross generation, in two litters from Brambledale Brianna (Nan).
Jim is a blue merle tricolour.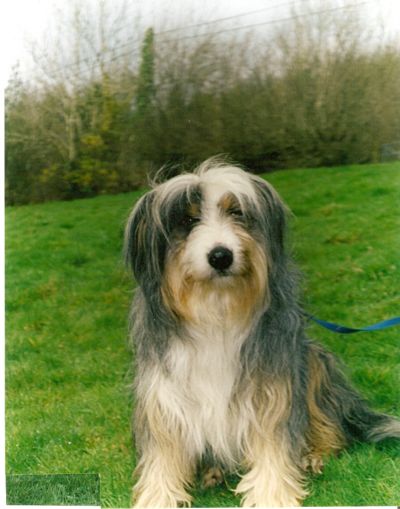 Elan Jim
Jim and owner Richard Smith giving a public demonstration.
Jim working at home in Wales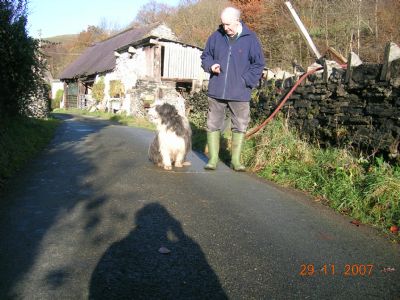 Lester and owner, John Pickett, chairman of the WBCS, take a break from work.
Sire of our third outcross generation, from Brambledale Breeze, Lester was born in 2006, from Scottish working parents and bought by John to work sheep on his farm at Llangollen, North Wales.
Lester meets 8 week-old son,Brambledale Black Taffee
On her way home to Cheshire with Taffee his new mum, Elaine Hopwood, called in to see her old friend, Lester and introduce him to his young son.
Lester (in front) enjoys a holiday with the Brambledale girls in May 2009.