The Sixties
Laying the Foundations
My very first Beardie, born April 1962, was a son of Ch Benjie of Bothkennar and Beehoney of Bothkennar and bred by Michelle Taffe of Harrow. I bought Brett for 12 guineas at 12weeks old. Obedience winner, Senior Working Test holder, Show Champion, film and television star, unforgettable character,sire of many lovely Beardies and ancestor of all my present-day Brambledales. He died in September 1979 at seventeen and a half years old.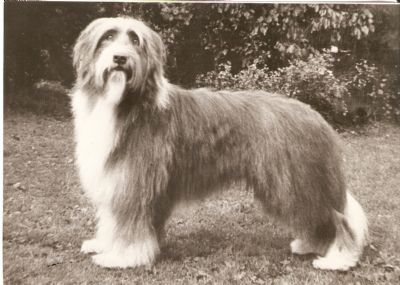 Ch Heathermead Handsome
In 1964 Biscuit of Bothkennar came to stay with me to whelp and rear her puppies because Mrs Willison was unwell. This litter, sired by Britt of Bothkennar, was the last Bothkennar litter to be born and I chose Briquette to be my own first bitch. I bred just one litter from her - sired by Handsome - and kept her fawn daughter, Brambledale Briar Rose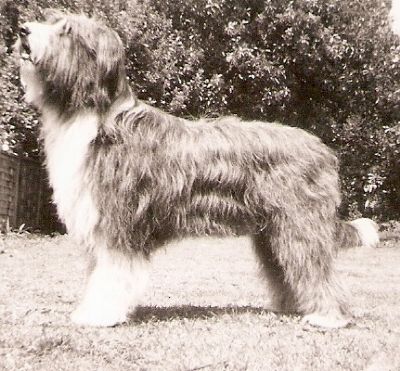 Brambledale Briquette of Bothkennar at 2years.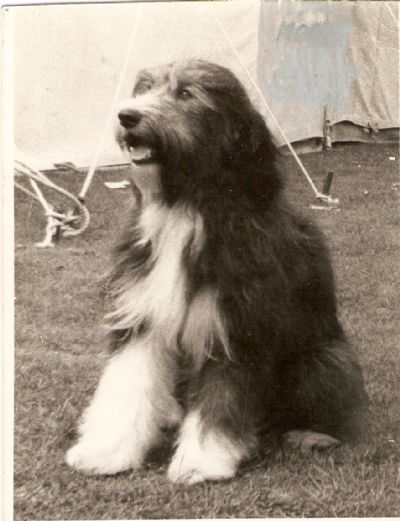 Brambledale Heathermead Moonlight at 14months
Half-sister to Handsome , Mopsa was from Beehoney's 1964 litter by Bausant of Bothkennar. She was a wonderful character and highly intelligent. Her main claim to fame was as the mother of Ch Brambledale Balthazar.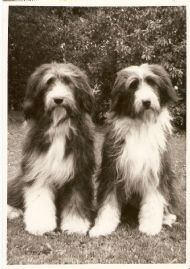 Moonlight and Briquette in 1965 Both by working-bred sires, (featured on our 'Working Sires' page) these two bitches got the Brambledales off to a good start and together they had a strong influence on our type, especially through the many outstanding progeny that resulted from matings between Moonlight's son, Balthazar and Briquette's daughter, Briar Rose (by Handsome).
All of the present-day Brambledales are descended from both Moonlight and Briquette as well as from Handsome - and it shows.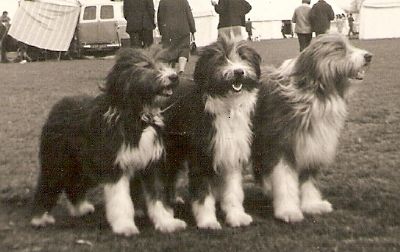 WELKS 1965 Moonlight,Briquette,Handsome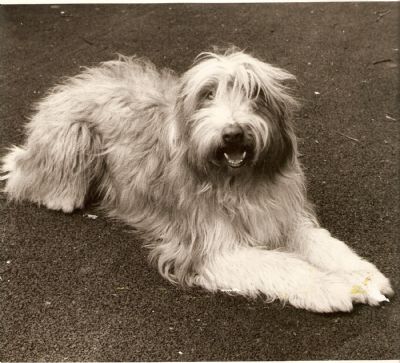 Brambledale Briar Rose
Fawn daughter of Handsome and Briquette and born in 1966,Briar Rose was the sweetest and gentlest of creatures - a quality that earned her a star role in a long-running television series with Stanley Holloway. The script had required a German Shepherd, but Stanley, who was nervous of dogs, refused to work with the chosen dog.....or any of the suggested replacements. In desperation, the director sent out a call for the least alarming dog that could be found... and Dorcas was just that. Stanley became devoted to her, insisted on her having her own star dressing room, and brought presents for her to every recording. Dorcas later produced some top quality puppies by Balthazar, including Ch Brambledale Bathsheba,Am Ch Brambledale Blue Bonnet,Int.Ch. B.Billet Doux and many more.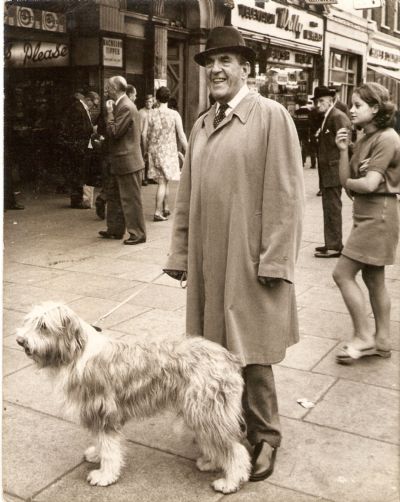 Brambledale Briar Rose on location with Stanley Holloway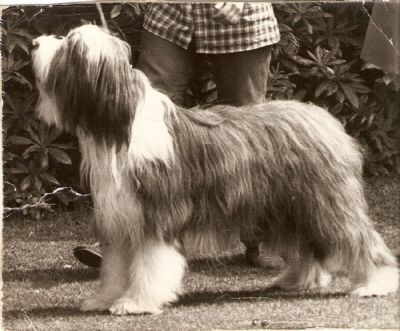 Ch.Brambledale Balthazar, born 1969
B.H.Moonlight's son by Ch. Osmart Bonnie Blue Braid and perhaps the best known of the Brambledales, Balthazar features in many modern pedigrees - including those of all the present-day Brambledales.
Best of Breed Crufts 1975, and with a number of Best in Show wins to his credit, he was known to everyone by his pet name Angel and loved by all for his calm and gentle character.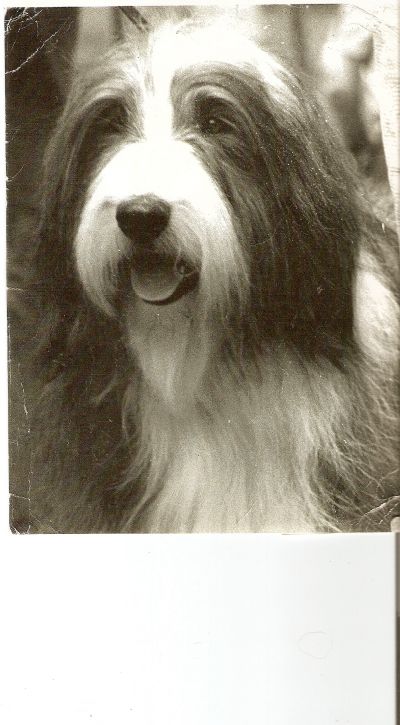 Ch Brambledale Balthazar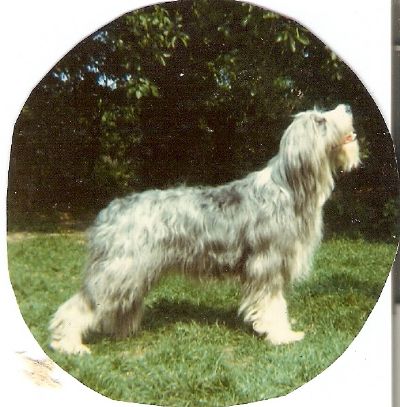 Brambledale Barberry, litter sister to Balthazar

Although always overshadowed by her famous brother, Barberry was a wonderful character,an excellent mother, and made a very important contribution to the Brambledale line, especially through her son B.Boz and daughter B.Benedicite, both of whom inherited her outstanding temperament .....and passed it on to succeeding generations.