This section includes the history of bowls + club history and old photos - If anyone can enhance the information or ad old photos - please send the information to Kevan Latham or Eddie Gregson so that it can be included - thanks
---
history of bowls - click 'HERE'
---
Chapelry History
ASTLEY-BRIDGE (St. Paul), an ecclesiastical parish, in the parish and union of Bolton, hundred of Salford, S.division of the county of Lancaster, 1½ mile (N.) from Bolton, on the roads to Blackburn and Belmont. This parish was formed in 1844, out of the townships of Little Bolton and Sharples. The church, dedicated to St. Paul, was erected in 1847.
---
In 1870-72, John Marius Wilson's Imperial Gazetteer of England and Wales described Astley Bridge like this:
ASTLEY-BRIDGE, a village and a chapelry in Bolton-le-Moors parish, Lancashire. The village is partly in the township of Sharples; stands near the Bolton and Blackburn railway, 3 miles N of Bolton; and has a post office† under Bolton. The chapelry was constituted in 1844. Rated property, £9,729. Pop., 3,210. Houses, 670. The property is subdivided. The living is a vicarage in the diocese of Manchester. Value, £150. Patrons, the Crown and the Bishop alternately. The church was built in 1848. There are Baptist and Wesleyan chapels, and national and British schools.
---
Photos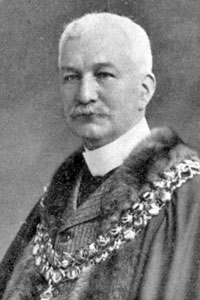 Col George Hesketh
Mayor of Bolton: 1905-06 (Conservative)
Born: Great Lever, Bolton 30 August 1852
Died: The Fylde, Lancashire 30 April 1930
Educated: Bolton Church Institute; Hipperholme Grammar School, Halifax, Yorkshire
Master Cotton Spinner - Chairman of T M Hesketh & Sons Ltd and youngest son of the company founder, Thomas Manley Hesketh.
(note : Hesketh Mill was where Asda is now)
Director of the Manchester County Bank, the North of England Assets Company Ltd, Chatterly Whitfield Collieries Ltd and of Marriage, Neave and Company Ltd.
He was the first and only Chairman of Astley Bridge Urban District Council 1895-98.
Represented Astley Bridge Ward on Bolton Council from 1895.
Opened Astley Bridge Recreation Ground 27 April 1901.
County Magistrate.
Chairman of the Technical Instruction Committee.
He was made Freeman of the County Borough of Bolton on July 25 1927.
Served as Volunteer Officer from 1871, resigning with the rank of Lieutenant-Colonel Commandant of the 2nd Volunteer Battalion, Loyal North Lancashire Regiment in 1902. Holder of the Volunteer Decoration and DSO.
Appointed High Sheriff of Lancashire in 1918.
Member of the Conservative Club and the Brasenose Club, Manchester.
---
Can anyone remember /know exactly where these photos were taken and the buildings in the background + where is the bowling green ?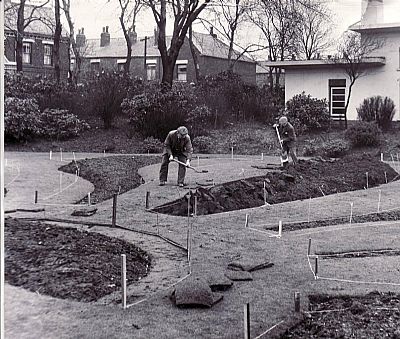 ---
posted 3 november
Another old photo of Astley Bridge Park
does anyone know the date and - where is the bowling green ?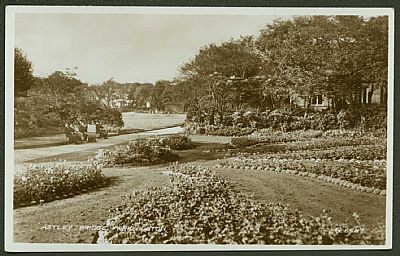 ---