Green News
27th November 2023 - kev
Report : 27th Nov' workparty (the last before the new year)
The last of the fallen leaves have now finished - so to keep the grass growing and the green healthy we had 10 volunteers turn up as the 'Brave brigade' whilst it was raining - to work around the green - they were rewarded by the rain stopping + having a cuppa and chat and it was quite a mild day - so everyone got some 'gentle' exercise too. Thanks a lot to you all for putting in a good shift.
We cleared leaves off the green/paths/verges/gutters and strimmed the verges.
Thanks to you all : from left to right :
Joe Counsell/Norman Jones/Phil Doel/Barrie Howarth/Paul Pover/Rosalyn Wilcock/Kevin Harwood/Ray Forrest/ [ Audrey Holt + Kevan Latham o/o picture ]
put Tuesday 19th December in your diary for the volunteer's xmas party.
---
30 October 2023 - kev
Thanks to everyone who made the workparty on 23rd October.
Although the grass seed has germinated really well there were quite a few stubborn patches where we gently spiked the surface and popped in some seed - (so that we have a great surface for next spring). We also cleared the paths and gutters of debris and leaves/ mowed verges/ tidied clubhouse and made cups of tea /had a good chat/ catchup at half time.
You all made a big difference and kept fit at the same time.
The only jobs that need doing now [ until the new year ] is regular blowing of leaves off the green to allow the seeds to keep growing.
This work has saved the club and council some £300 in keeping the club facilities well maintained.
from left to right in the photo we have:
Malcolm Austin/Norman Jones/Milo (our mascot) Phil Doel/Barrie Howarth/Dave Tadd/Kevin Harwood/Ray Forrest/ (out of picture - Kevan Latham).
---
25th September - kev
Hi everyone .
Today's ( 25th sept.) workparty was a great success - Thanks to everyone who turned up as they worked hard to complete 90% of the remaining work that needs to be done for winter shutdown.
So thanks to Barrie Howarth/Joe Counsell/Ray Forrest/Kevin Harwood/Rosalyn Wilcock/Kevan Latham/Peter Clinton/Phil Doel/ Sandra Doel /Malcolm Austin/ Norman Jones/ for turning up and putting in a great shift on a lovely sunny day - The clubhouse / paths and flower tubs are really nice and clean/tidy - we filled the equivalent of 3 one ton sacks of rubbish from the paths and edges where we took out all the overgrown ivy/brambles/ and branches overhanging the paths- so it is safe to walk around the green.
Not everyone is in the photo below but everyone got their heads down and worked really hard - well done.!!
I can see us all having stiff joints tomorrow - although it has done us all some good.
The work today would have cost some £500 if we had subcontracted it and it has saved the council at least the same.
We will have to keep the green clear of leaves this autumn so that the grass seed can grow properly.
We will need volunteers to blow the leaves off - we have 2 electric corded leaf blowers and enough extension leads - so dry days are needed about twice per week to keep the green clear - I will set up a 'leaf blower whatsapp group' then folk will know who is intending to go down for an hour.
Also Mowitt started work on the green today slitting and scarifying it - seeding and top dressing will be put on later this week.
The next workparty will be arranged when all the work on the green is completed by Mowitt.
Hope to see you then
-----------------------------------------------------------
Many thanks to the other volunteers who worked hard to get a reasonable amount done on the 11th - we had
2 welcome new faces being Andy Scully +Ray Forrest/then our regulars :- Barrie Howarth/Audrey Holt /Rosalyn Wilcock/Kevin Harwood/Paul Pover/Kevan Latham.
Thanks for giving your time and effort - and we had good weather too.
-------------------------
Most of the work on the green will be done by Mowitt (with a grants from Bolton CVS and Forever Manchester - thank you) but some jobs can't be left like cleaning the clubhouse.
Lots of outside jobs too like clearing leaves/weeds from the
paths /cutting back path obstructions/tidying flower tubs/cutting verges and trimming edges/ cleaning+painting outside timberwork and handrailing/tidying equipment shed /litter picking/and removing any rubbish.
Making cups of tea and general helping out.
Please text Kev 07505320612 if you are able to help keep our facilities nice - don't forget that our reduced council permit fees are achieved only by us looking after our facilities.
--------------------------
posted 29th August 2023-committee
Green closure w/commencing 11th September 2023
The green will be closed from week commencing 11th September for annual maintenance work.
Although the green has served the club well this season it needs to be vertidrained , scarified , and reseeded as there are lots of bare patches
---
posted 20th April
20 April 2023 - kev
Hi everyone
The workparty on Monday 17th April went really well with 9 volunteers in/out of the photo left to right below.
Norman Jones/Malcolm Austin/Peter Clinton/Barrie Howarth/Kevin Harwood/Rosalyn Wilcock/Audrey Holt and o/o photo Paul Pover /Kevan Latham
Thanks for coming along and giving of your time and energy for the benefit of all the club members and our visitors - saving the club/and council some £500 and completing the following jobs that needed doing :
1] sweeping the remainder of the paths and clearing away weeds from them.
2] trimming the verges with a strimmer
3] keeping the clubhouse/kitchen/toilets tidy
4] sorting the planters and putting in the
£40 of free plants donated by Asda - so thank you ASDA
5] helping to keep equipment shed tidy/cleaning windows
6] making cups of tea / drinks
7] constructing a set of steps onto green to left of clubhouse.
The club/surrounds and green are looking good and the volunteers can be proud of a good job done - thank you
---
posted 18th March 2023 - kev
Hi everyone - Our last push to get the clubhouse and green fit for the new season went quite well on Friday 17th March
- A Big thank you for giving your time and energy in getting things done to: Dave Tadd/Norman Jones/Audrey Holt/Malcolm Austin/Paul Pover [ Ray Fogg/Kevan Latham not in photo]
We managed to do the final raking out of the awkward moss patches on the green and brush in some seed with top dressing for it to germinate before we bowl on it in the March 30th competition.
We did quite a bit of sweeping of the paths/raking out the stubborn weeds/tidied the equipment shed / the surrounds/ hoovered and cleaned the clubhouse/toilets /kitchen/had a cup of tea/biscuit and a chat.
Job done
-----------------------------------------------
- but still more to do when we get together again TBA
Work is still required on the surrounding footpaths for safety - being the council's responsibility which they continue to neglect the condition of them and the cutting back of border bushes.
---
22nd February 2023 - kev
Hi everyone
Our workparty ,together with Mowitt, were busy on Tuesday morning 21st Feb. on and around the green .
The jobs we did were scarifying the green + reseeding where needed + mowing the verges/strimming the edges +tidying the planters + cleaning the benches + sweeping the paths .
Thanks to Kevin Harwood/Malcolm Austin/Audrey Holt/ Paul Pover/Barrie Howarth/Dave Tadd /Kevan Latham for turning out at short notice , on such a fine day , keeping fit and having a chat over a cup of tea and meeting up before the bowling season starts.
The bowling green is looking in great shape [as can be seen in the photo below] - mainly due to overwintering moss control by Malcolm Austin/keeping the grass higher and spring feed.
Our next workparty will be during 2nd week of March when we will assess the green and seeded areas and decide when we will be opening the green and having our friendly matches between our teams - so come on you captains - get your teams wired up so that we can make a flying start to the season.
- please let me know if you can make it - thanks 😊 kev.07505320612
---
30th December 2022 - kev
The Volunteers xmas party went well on the 20th December at the Conny Club -Astley Bridge. There were 14 members that partied in the afternoon with 4 others that couldn't make it with illnesses - sorry they couldn't get there.
The food was arranged by Kevan and Rosalyn and there was a free bar instead of a goody bag like we had last year.
The funding was provided by Forever Manchester and Bolton CVS and so we are thankful to them for their support so that our volunteers could be appreciated for all their efforts throughout the year.
- without help from Forever Manchester/ Bolton CVS /Lottery and the club volunteers our club just wouldn't function / the bowling green wouldn't be in good condition/ the facilities wouldn't be as good as they are and we couldn't have reduced the council permit fee last year by £36 for all our team members and £72 for all non-team members.
Our club members and the community have a great facility that we can all be proud of and it helps all to have better physical and mental wellbeing.

---
updated 15th November 2022
A big thank you to the workparty volunteers - Barrie Howarth/Ray Fogg/Roy Ainsworth/John Mort/Terry Judge/Paul Pover/Norman Jones for turning out on 14th November for final clearance of leaves and tidying up around the green and clubhouse and for putting iron/feed on the green to control the moss.
Also for Terry in coming down to club last week to clear green of falling leaves.
---
posted 20th September - kev
The green is now closed until next season after extensive reseeding and work on and around the green on 14th September thanks to:-
Paul Pover/Malcolm Austin /Dave Tadd/Audrey Holt/Rosalyn Wilcock/Kevan Latham/Norman Jones.
There was so much to do that we just couldn't complete all the jobs - some folk working for 5 hours +
So a big thank you for giving your time and working so hard to keep the club in good shape :- repairing the gutter boards/ preparation +reseeding the green where needed/weeding the main access path /tidying the flower tubs/cleaning clubhouse and kitchen/sorting the equipment shed.
---
11th July - kev
Big thanks to the following 12 workparty volunteers who did a brilliant job clearing weeds/cutting back shrubbery around the paths/mowing the verges/sweeping up/tidying /cleaning bird poo off all the benches and planting in all the tubs around the green.
The surrounds look really nice and fresh / clean and colourful now.
Kevin H./Audrey H./Lynne/Rosalyn W./Barrie H./Barry W./Dave T.
Terry J./Malcolm A./Paul P./Norman J./Kevan L.
This work saved the club and the council some £350 - well done .
In our contract with the council it is their responsibility to keep the shrubs and paths clear - but as they haven't done it for 5 years we have to do it so that the access is kept safe.
The council reject any further reduction in permit fees for doing this work on the basis that it is our choice to do it if they don't - but we have pride in our club and it is a reflection on us (not the council) if the surrounds are a mess.
---
12th April - 2020 - kev
This cold weather for the last 2 weeks has meant that the grass has 'stopped' growing - so it has been cut just once per week.
Our Malcolm Austin has been busy on the green and verges during this time - putting on additional moss retardant and feed + weedkiller so that when the grass starts to grow it wont be held back by the moss and weeds that want to take hold.
The green has been running and draining well [ despite the rain we've had ] due to the slitting /scarifying that was done last month.
Thanks for the efforts on and around the green Malcolm
---
posted 7th March 2022
Our workparty on the 7th went really well with the weather keeping dry - We had 7 turn out and we managed to do most of what we planned - thanks to Barrie Howarth/Terry Judge/Kevin Harwood/Gordon Butler/Norman Jones/Paul Pover/Kevan who all worked hard to complete the work we needed to do.
We saved the club /council some £300.
see photos below of the scarifying work and flower tubs.
The club sign/supports now look good with Barrie Howarth doing a great job.
Other jobs that still need doing for the new season to go smoothly :
- kitchen/toilets cleaning / floor carpet needs cleaning (Asda hire for cleaner/shampoo) / need to rearrange cupboards /sweeping/finishing doing planters with spring plants/back of clubhouse/equipment shed needs clearing of cuttings/weeds.
---
posted 3rd March - kev
Good workparty turn out on the 3rd March even though 6 of our regulars were busy elsewhere or on holiday - from left to right Norman Jones/Kevin Harwood/John Mort/Rosalyn Wilcock/Barrie Howarth /Phil Dandy/Terry Judge/ Ray Fogg + Kevan taking the photo of us all having a 11's tea break and rest while the rain subsided.
Thank you very much for getting on top of the jobs - which were:- cutting the verges and trimming the edges/ clearing out the gutter boxes/sweeping the surrounds and clearing away the debris from the storms/putting spring flowers in the planters/building additional shelf in store/tidying clubhouse and rearranging furniture and bowls store/making parasol support under snooker table.
A big thank you to John Mort for organising/fetching and treating us all to pasties at lunchtime - we all really enjoyed them - lovely and hot.
---
Updated 18th February 2022 - kev
Thanks to Barry Winrow /Dave Tadd/Kevin Harwood/Norman Jones/Margaret Winrow/Keith Waddington /Kevan for turning out on the 17th to complete the bench and parasol installation - well done they look great.
Pictures below showing everyone having a rest after working hard to complete this project that was funded by Sports England/National Lottery - so a big thank you to them and to all our volunteers who have helped complete this really great improvement in our club facilities.
---
17th January - 2022 - kev
The workparty on 17th January got together to complete 'vandal damaged ' leaking roof of equipment cabin with new timbers/plyboard / waterproof membrane and rubber topping [ to prevent further damage] - Thanks to our volunteers of specialist craftsmen we completed the work in the morning on time and budget - well done to you all- saving hundreds of pounds for the club. ( and of course the council ) - Our happy crew enjoyed the activity and chat on a lovely mild sunny day.
Pictured below are (from left)
Barrie Howarth / Terry Judge / Dave Tadd / Paul Pover (up ladder)/ Gordon Butler /Ray Fogg / [ Rosalyn Wilcock + Kevan Latham out of picture ]
---
xxxxxxxxxxxxxxxxxxxxxxxxxxxxxxxxxxxxxxxxxxxxxxxxxxxxxxxxxxxxxxxxxxxxxxxxxxxxxxxxxxxxx
---
year 2021 work done shown below
22nd December - Kev
All our volunteers met up on the 17th December at Astley Bridge Conny Club for a free Festive party to celebrate all their hard work during the year - giving of their time and efforts free so that the club members and the community could have a better clubhouse and bowling green and a much better place to come and enjoy a game of bowls in better surroundings with good company and also enabling all the members and community to reduced or even have no council permit fees for bowling -well done and thank you to everyone involved in this community action group.
The party was funded by Forever Manchester and Bolton CVS - so thank you to them for making this celebration possible - everyone enjoyed the day - what a great start to the Christmas festivities.
---
posted 22nd November - kev
Our workparty team today was Rosalyn Wilcock/Ray Fogg/Paul Pover/Norman Jones /Kevan Latham - thanks for turning out on a lovely sunny day and completing phase 2 of the shed roof repair -which was the acrow propping ( thanks to Gordon King for the loan of 2 adjustable props) and reshaping the shed roof after the vandals had been jumping on it causing it to leak.
Phase 3 is the making of a new roof and phase 4 is the putting it in place - dates to be advised.
The photo shows everyone involved with Kev taking the photo - Paul is seen attempting a pole dance around one of the props - seeing is believing.
---
posted 20th November -kev
Our workparty on the 19th November comprised Barrie Howarth/Malcolm Austin/Dave Tadd/Barry Winrow/Kevan Latham
- thanks for turning out on a lovely sunny day and making the green and surrounds really special.
We have had some complimentary comments from passers bye and club members on how really smart the club and green looks.
We sorted out what we are going to do with the vandalised equipment shed/we cut the verges and trimmed the edges/ swept the green/paths /verges of leaves.
It looks like 90% of leaves have gone now - so just the equipment shed roof to repair before winter sets in and we will have finished outside for this year.
Just a few jobs inside the clubhouse.
Next workparty TBA
Please text Kevan 07505320612 if you can make it.
---
11th November - kev
Spiking and rolling the bowling green was carried out yesterday to keep the green drained /aerated over winter especially when the frost comes along.
The spikes went in full depth as the soil is quite wet from all the rain recently.
---
updated 8th November - kev
on:Wednesday morning 3rd November.
4 of us went to the club on Wednesday 3rd November to keep on top of the essential jobs that keep the club and green looking good - thanks to Barrie Howarth/Johnny Mort /Kevin Harwood/ and Kevan for working hard and giving of your time.
It was good to be out and exercising in the fresh air and being constructive too.
We managed to:
- sweep the green/paths of leaves which have really fallen this last week - looks like another 3 weeks and they will be all gone.
---
posted 22nd September - kev
Kev went to the green today to see how the seed is growing - and it is generally doing well - in areas where it was bare the grass is a little stubborn to grow - therefore more seed and top dressing was applied. - hopefully this should see a good even growth in a months time when we will be cutting it and blowing the leaves off.
Thanks for giving your time 'to make a difference to this park facility' for all the community to enjoy.
---
posted 27th September - kev
3 of us went to the club on Saturday morning 11th Sept. to make the equipment shed roof watertight temporarily - thanks to Dave Tadd/Paul Pover and Kevan for doing that and for clearing away 6 / 1 tonne sacks of cuttings from around the paths.
The handrail looks great now and our priority is to get the benches in place on the next job day.
The seeding was done again on the 10th after the storm on the 9th.
Vandalism and attempted theft damage is causing a lot of inconvenience and time wasting when more constructive improvements could be made - I reckon community job punishment for culprits - clearing bushes and weeding for 12 months would bring them to their senses.
---
updated 27th September - kev
Our workparty on the 7th September , on a beautiful sunny day , was well supported by 12 volunteers and inroads were made on the jobs that need doing thanks to Barrie Howarth/Barry Winrow/Johnny Mort/Dave Tadd/Malcolm Austin/Rosalyn Wilcock/Gordon Butler /Graham Walsh/Paul Pover/Norman Jones/Gordon King/Kevan Latham
we need construct new equipment roof as the vandals have distorted the present one so that it leaks.
We need to sweep/weed paths/to repair boards around the green /to cut and strim the verges /to assemble 'fixed seating benches' and to fix them and tidy /weed the surrounds and trim back bushes/see to the flower tubs.
---
Recent work done:
>Paul+ Dave Tadd+kev 11th sept - temporary roof repair to equipment shed/cutting +clearing 6 /1tonne sacks of cuttings from North side green.
>lowering handrail for new benches - Kev+contractor. 10th sept.
>7th sept workparty see above
>New benches came 31st August - Kevin + Kevan assembled one of them - Kev seen here chilling out after blowing leaves + bird peckings off the green for the match today - we will be organising a work party very soon to install the other 11 that we have bought - just waiting for delivery of anchors and alteration of handrail.
Please let Kev know if you are up for it !
>Norman Jones - sorting clubhouse/ arranging heater installation /kitchen / arranging cleaning of club carpet and safety rail alteration in September.
>Audrey - for tidying /mopping toilets/kitchen and seeing to plants outside
>Terry Judge - for checking/oiling fabric canopies/ roller shutters / repairing carpets
>Rosalyn Wilcock - for buying cleaning equipment and tidying/sorting kitchen/vacuming carpet.
>Malcolm Austin - for spraying weedkiller on paths and verges.
>Kevan Latham - for sorting out equipment shed and organising green work/rubbish removal and ordering materials for French Boules project/daily news and photos on webpage.
>Kevin Harwood - watering and tidying green and surrounds regularly.
If I have missed you out -please let me know.
---
posted 14th May - kev
We have had some unusual weather for the last couple of months with that cold breeze + little rain meaning that the grass is still slow growing and the new seed is only just starting to establish itself in areas.
All the tubs of flowers we have bought are now showing signs of good growth - some of the plants being donated by Asda. - so the green and surrounds are looking better.
---
posted 8th April - kev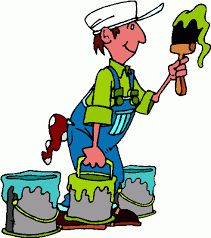 Yesterday saw the tidying up of the jobs started last week.
Johnny Mort completed the painting of the benches - they look great now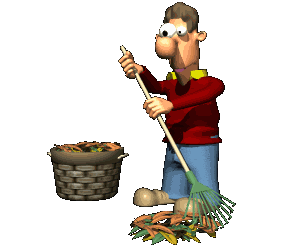 Kevan + Kevin Harwood+Denver Smith made the new Fench Boules Rink - great for some good banter as a foresome.
Norman tidied the surrounds - looking good
Thank you to those on Wednesday and all our volunteers - most of which were at the hospital/work/having jabs/moving house/playing golf - but we managed to complete our work and make a start on the French boules project - great teamwork.
---
updated 5th April 2021 - kev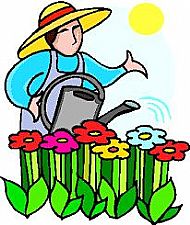 Also - thanks to Audrey Holt and Rosalyn Wilcock for their green fingers in filling the pots with plants during the week in order to make the surrounds pleasant and colourful.
Our workparty on Thursday April 1st finished off the remaining jobs outside apart from some planters one bench and some areas of top dressing. We put up the remaining towel holders inside to complete the hygiene facilities to satisfy covid requirements - brilliant and well done to todays crew - photos /details /volunteers on the 'green news' page.
A big thank you
to you all who worked so hard and giving your time and saving the club and council some £750
The club house and surrounds look really smart now - 4th photo below
1st photo > kev+John Mort+Denver Smith+Barry Winrow+Terry Judge+Ray Fogg.
2nd photo > Rosalyn Wilcock 3rd photo > Dave Tadd
4th photo > Barrie Howarth+Kevin Harwood+Norman Jones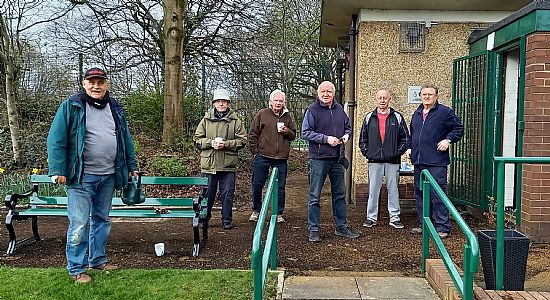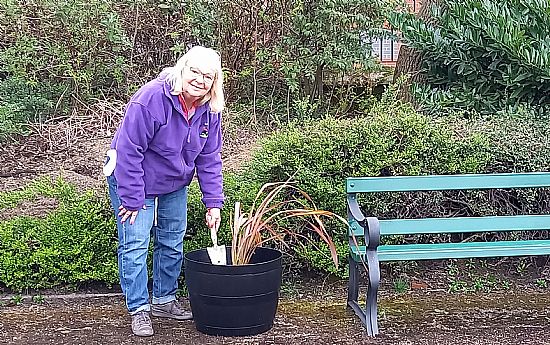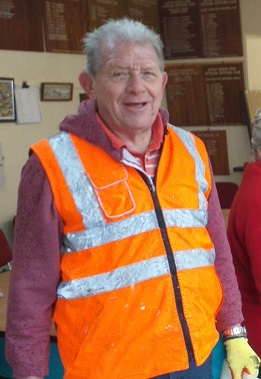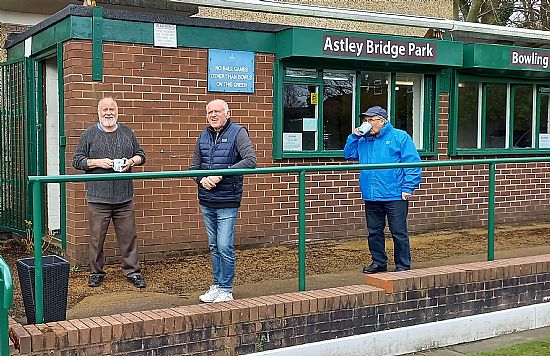 ---
updated 27th March 2021 - kev
club house before painting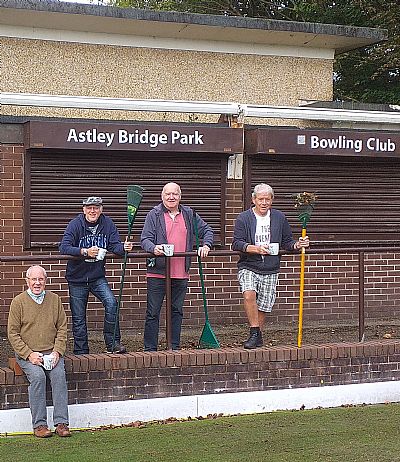 >
monday 22nd March '21 workparty
Really good turnout for this really busy day - doing painting filling pots spreading top dressing and tidying up
Monday's crew, Barrie, Paul, Norman, Dave, Barry, Kevin.
Wednesday's workparty was a successful turnout again to finish off jobs from Monday.
Virtually all of the painting was completed by Barrie and John Mort today.
The work has really spruced up the look of the Pavilion.

Ray Fogg and Malcolm Austin emptied the last of the compost into the new tubs, which have been distributed around the green.

Kevin Harwood and Dave Tadd worked on building a lean-to canopy for our outdoor chairs.
There was work left to do, which was completed Thursday
The photo on the right shows some of our faithful volunteers from 4 years ago -still putting in a shift for the benefit of the club and community
clubhouse after painting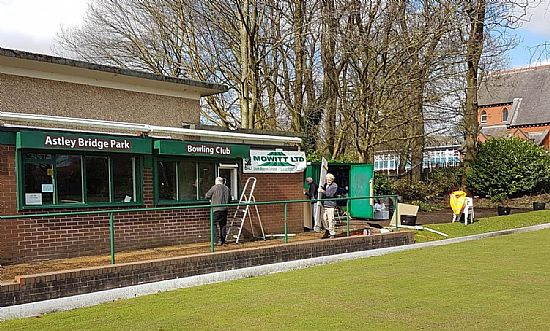 ---
posted 15th March 2020 - kev
Our work party today had lovely weather and a great turn out with us completing our scarifying and seeding of the green. The scarifier with mower in tow - picking up the debris then the spreader following - laying the seed.
Good team work with plenty of exercise by all. We also cleared the paths and gutters of debris from the trees.
Although we had some machinery problems - we managed to complete for 1pm - now we have to keep our fingers crossed for the weather to help the seed to grow.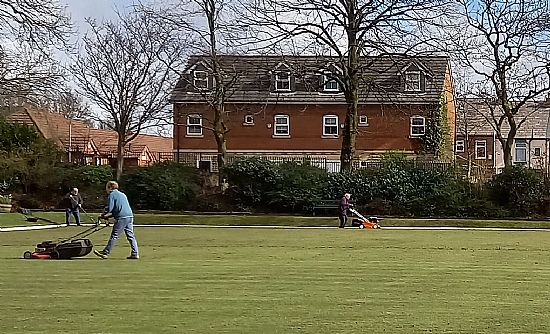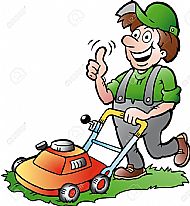 A big thank you to the following who worked hard on the day saving the club and council some £ 400. - Some new faces were a pleasure to see - thanks.
Paul Pover/Gordon Butler /Terry Judge/Denver Smith/Barrie howarth/John Mort/Ray Fogg/Audrey /Malcolm Austin and his wife Elizabeth/Norman Jones/Keith Waddington/ with Kevan taking the photos.
great teamwork below are John Mort /Terry Judge/Barrie Howarth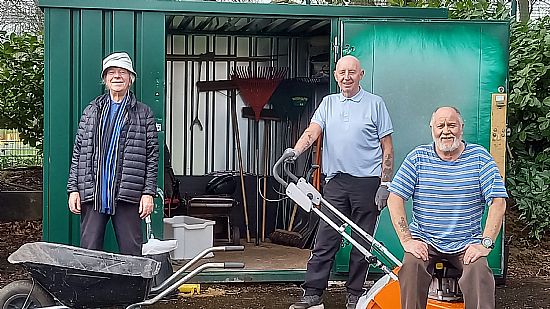 ---
posted February 27th 2021 - kev
Our 2nd 'distanced' work party of the year on Friday 26th February was a really good day - everyone worked hard scarifying the green - some 40 barrow loads of moss and debris were removed, whilst clearing the paths and cutting back ov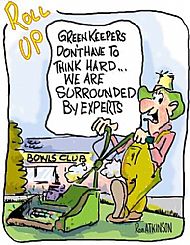 erhanging bushes and ivy.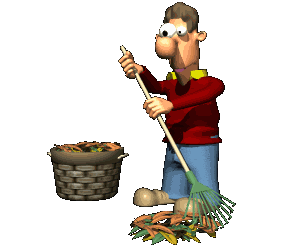 It was a lovely mild and sunny day - giving everyone plenty of exercise/fresh air/ some banter/a feeling of accomplishment/and in the end a good experience to take home with them - whilst saving the council some £400+ and providing the club and community with a lovely park green to enjoy in the coming months.
Thank you to the following for giving your time
John Mort/Terry Judge/Barrie Howarth/Malcolm Austin and his wife Elizabeth/Norman Jones/Keith Waddington/Barry Winrow/Gordon Butler/Dave Tadd/Keith again with Kevan taking the photos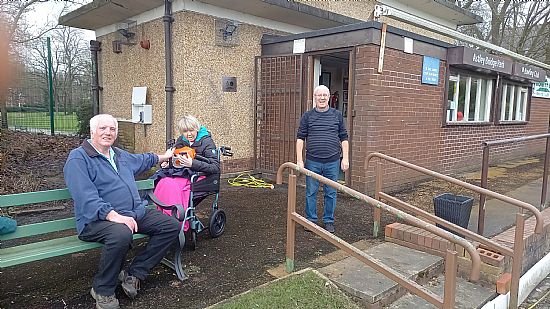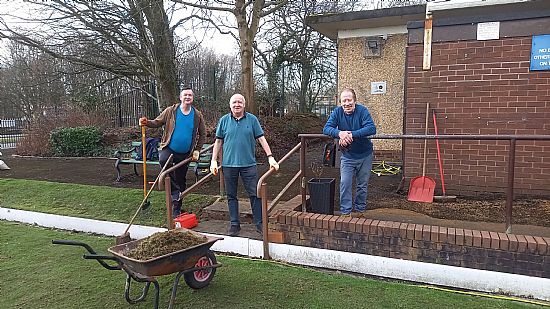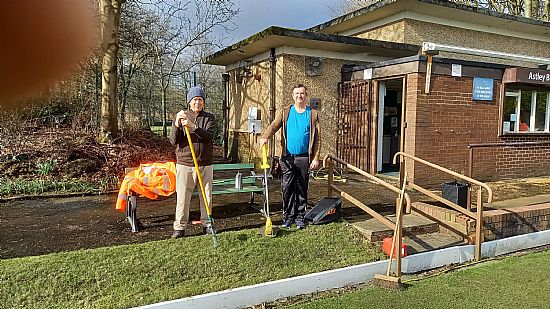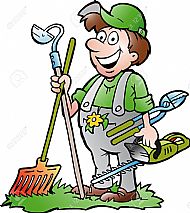 ---
posted 24th February 2021 - kev
Our first work party of the year was on Monday 22nd February 10 till 11.30 and a we give a big thank you to our volunteers :- Barrie Howarth+Terry Judge+Dave Tadd+Johnny Mort+Paul Pover+Norman Jones+Kevan Latham (phototaker)
We achieved all we set out to do on a lovely day - swept all the paths +put iron sulphate on the green+verges +paths to contol the moss + fed the green+put up soap dispensers in the club (as part of our hygiene plans for when we are up and bowling again)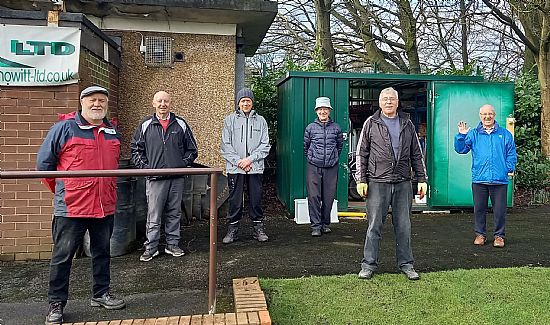 ---
posted 29th January - kev
At last the rain relented earlier this week and Malcolm Austin managed to spread iron sulphate micro-pellets onto the green to control the moss spread - we will see how effective this is in early February - thanks for that Malcolm - that's saved the club some money.
---
pre christmas - festive workparty
update 8th January 2021 -kev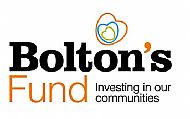 Bolton's Community fund has rewarded our club with a 'festive fund' in recognition of the efforts our volunteers have put in - for looking after and improving Astley bridge park green and surrounds - saving the council thousands of pounds whilst involving the schools/community with the club - we will be back on track once the Covid is behind us - so thank you 'Bolton Fund' [administered by Bolton CVS ] for encouraging our volunteers to keep putting in the efforts needed.
photos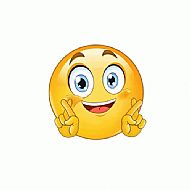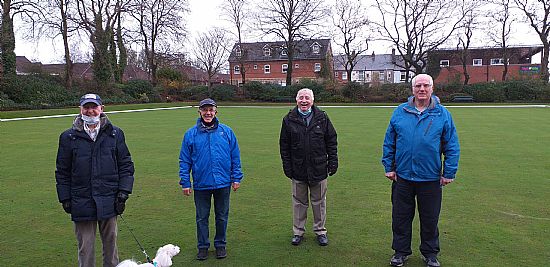 From left to right Gordon King / Norman Jones /Paul Pover / Malcolm Austin - thanks for the efforts you have all put in. --- and a new volunteer to keep the birds from pecking the green - Harvey [bottom of picture] -would probably help with scarifying too !!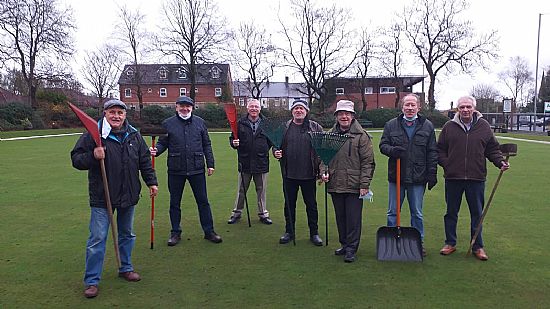 From left to right Kevan Latham/ Barry Winrow /Paul Pover /Barrie Howarth /John Mort / Gordon Butler / Denver Smth - thanks for the efforts you have all put in.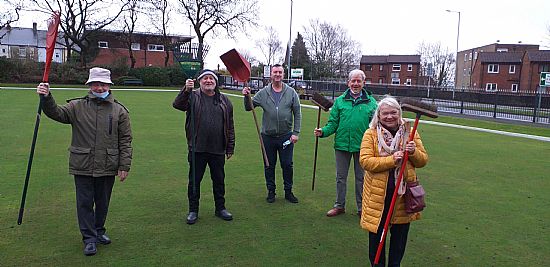 From left to right John Mort/ Barry Howarth /Keith Wadington / Dave Tadd / Rosalyn Wilcock - thanks for the efforts you have all put in . Also thanks to Kevin Harwood who couldn't be here for the photo-shoots.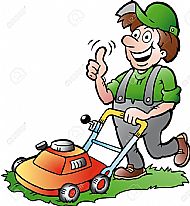 A big thank you to our contactor Mowitt for regularly mowing the green and the advice throughout the year - especially with the Covid virus - affecting everyone's way of life.
I estimate that our volunteers have saved the club / council some £5000 this year in labour - keeping the surrounds tidy and the green / verges in great condition with regular treatments and/free of leaves and regularly scarified .
We have a great bunch of volunteers - who give up their time to make the club special for all our members and the community - who we hope will be able to join with us once again when the covid has passed.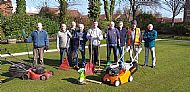 We would welcome other members to join with us in making our plans easier to achieve - as we have lots of ideas and funding to make these plans happen - we just need more hands - whether it be for physical work / admin work / enquiries for products - shopping around on the internet for good bargains of things we need / skills like plumbng or flagging or painting or joinery work /cleaning and improving the clubhouse / organising events or teams /competitions /making enquies with other
businesses or groups who may want to sponsor us and join in with our open bowling events or coaching for youngsters in clubs and schools.
We go into 2021 with a really good green and realistic plans for making our bowling club more comfortable /pleasant /adventurous for its members and the community.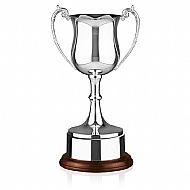 We have a great facility/club which has been going for over 100 years - through 2 world wars /recessions and now Covid - and our successes speak for themselves - with great championship teams and individuals that have made and continue to make this club great to belong to - and that is through the folk who have helped make it and keep it great.
---
posted 20th January 2020 - Kev
Volunteers' party on 8th January went down a treat - 20 folk attended and had a good sociable time . A big thank you to all who came and especially our sponsors (shown in picture below) -without which we could not have put this event on.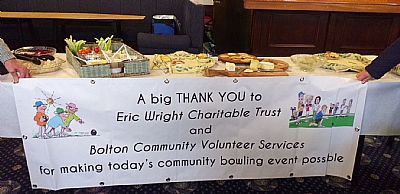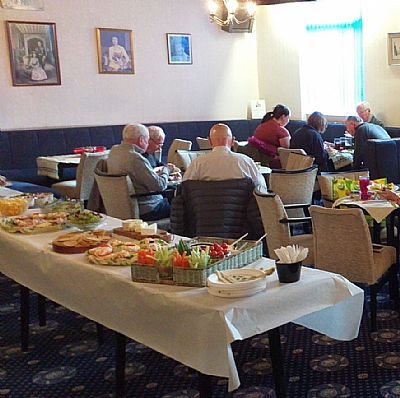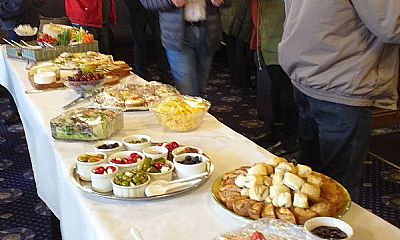 ---