JETTA
" TRECHOL STAR TREKKER"
Ch Robita's Dylan Thomas x Farleycross Triple Echo
1990 - 2003
Breeder Ms Maureen Sale
JETTA passed the Midland Border Collie Club herding test in November 1995 & came second in a small speciality trial in 1996. She was the first & only K C registered Beardie to date to achieve this remarkable feat!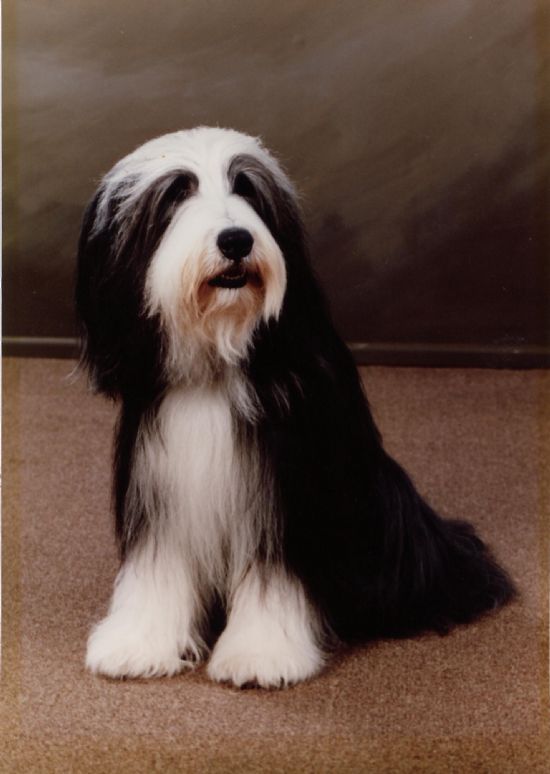 Maureen has kindly written the following account of her & JETTA's experiences for us.
" My first experience of herding was on holiday in Wales when JETTA was 18 months old, she was so keen & enthusiastic & displayed such natural ability that we went back every year for a week's training with Philip Russell-Davies until 1994 when he moved to Guildford in Surrey.
I was also very fortunate to meet Jenny Harvey at a Border Collie AGM in November 1993 & was able to arrange to have fortnightly training sessions in Staffordshire until September 1994 when the land was acquired for the widening of the M6 motorway.
Jenny was able to provide plenty of farm type training with her Suffolk tups' cross ewes, lambs & some wild Welsh sheep, working in different fields doing different jobs sometimes on a whole flock or a smaller bunch. Jenny advised me that JETTA had more power than her Border Collies as they were unable to shift the very stubborn tups, & JETTA had a natural ability to work the whole flock of 300 sheep without commands, keeping on her feet & working both ends to keep the flock together.
At Jenny's we got to the stage where JETTA could do a bit of driving, & whilst I stood at the post she could take a bunch of sheep through weaving poles. Unfortunately, with the loss of the land all training ceased in 1994.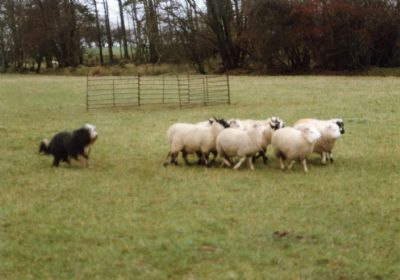 Without any regular training facilities it was a difficult decision to have a go at the Border Collie Test but I was lucky enough to spend two days at Anna Lou Daybell's in Wales & three days at Jacky Goulder's in Yorkshire in preparation for the Test & although because of the circumstances JETTA was not at her best I was really pleased to be one of the first two dogs to pass the Test ( the other dog a Border collie handled by Jenny Harvey)
I went back to Wales in November 1996 & spent a week at Anna Lou's. Whilst I was there Anna Lou organised a judge for a small Trial - outrun, lift & fetch. Then taking the sheep round a figure of eight course between gates & finally to pen. I was thrilled to bits when JETTA clinched second place with a clear pen!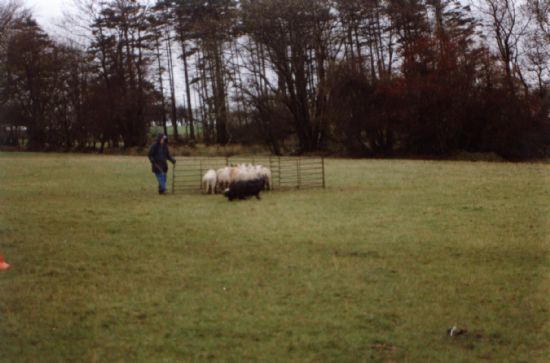 Regretfully, I had to decide to give up Herding in 1997 as I could find no regular training facilities within a reasonable travelling distance.
********************************
JETTA's ultimate achievement was -The Midland Border Collie Club's Utility Certificate
Barbara Swann who ran the Test comments
"I had great pleasure in conducting the testing for the Midlands Utility sheep test which isnt easy to pass....I also tested a KC registered Beardie & was amazed by her, certainly she could do your farm work with her & she passed boith parts also. .............A big accolade ( to her owner) for training a Beardie isnt easy & training a KC registered Beardie is a task I wouldnt even think about"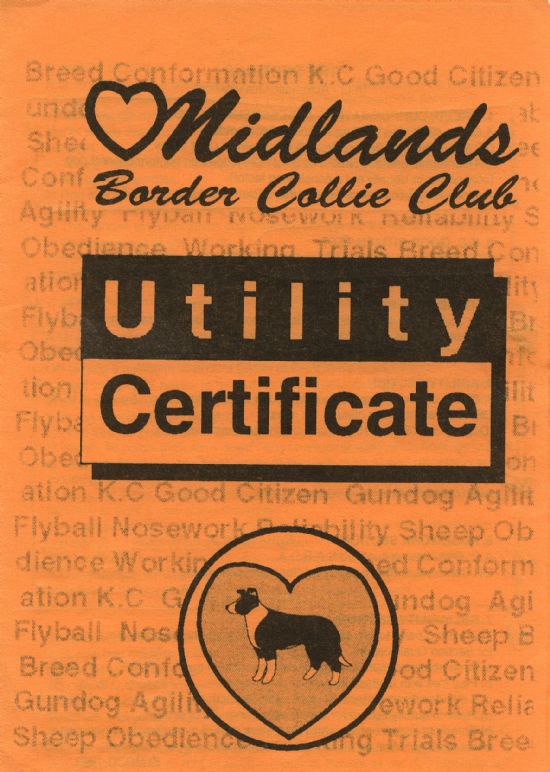 The following extract is from Barbara Swann's Border Collie breed notes
" I did the sheep working test mainly for Border Colies but was delighted to have a Beardie among them, Maureen Sale's Trechol Star Trecker, a show winning Beardie & was surprised by the young lady.
The test requires the handler to demonstrate that you could handle sheep in a farm situation ie fetch the sheep, bring them to the handler, put them through a gate or doorway into a yard & then to do three minutes freestyle. Im delighted to say that she passed with flying colours. It was a lovely experience to watch a Bearded Collie doing the work it was originally intended to do & great credit goes to the owner on the vast amount of leg work she had to do to achieve this"
JETTA well on line, driving the sheep towards the gate.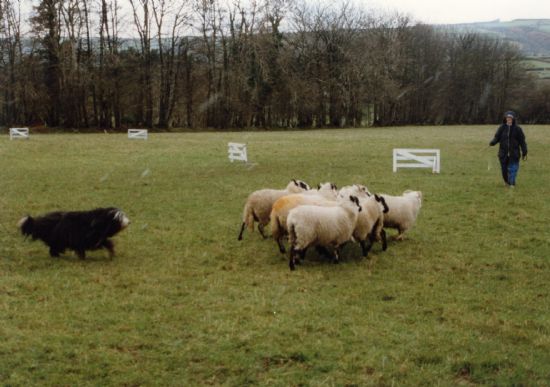 Many thanks to Maureen & especially to JETTA in whose memory this page was written, for leading the way & inspiring us to follow on in her paw prints