This page is a pictorial record of some of the dogs that came to North Yorkshire during 2007/08 for Herding Assesment Days or lessons. Interestingly all of them showed Herding Instinct to some degree all from different show lines which is encouraging!
********
BREAGH Ellerose After Midnight slate/white dog now aged 9 (Caplaw Black Knight x Ch Pinebrig Jacobite Rose) & GILLIE - Runival Squrr Dearg brown/white dog aged 7 ( Runival Loch Don x Ch Potterdale Birthday Belle) Both BREAGH & GILLIE were owned by Lyn Armour, sadly neither of them is with us anymore.
Breagh was very interested and lively when he first saw the sheep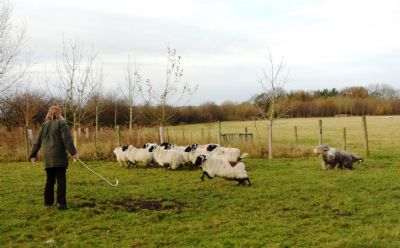 "Away"
Breagh prepares to circle the sheep anticlockwise
"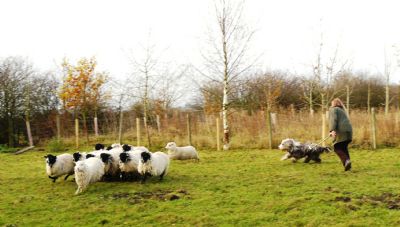 "Come bye"
Breagh equally fluent circling clockwise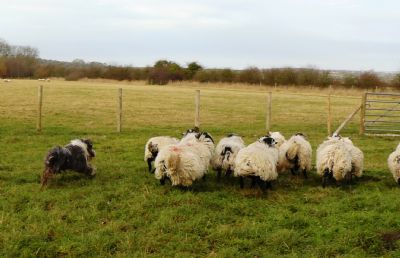 Galloping on
Showing a fair turn of speed for an elderly gentleman!
Got them scattered now
Breagh about to put the flock back together again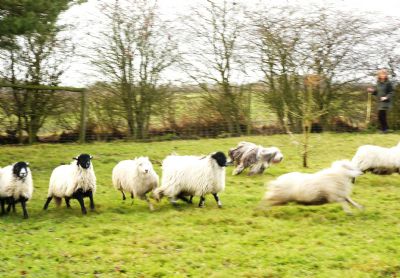 Breagh needs a rest
That was fun, he says, but I could do with a rest now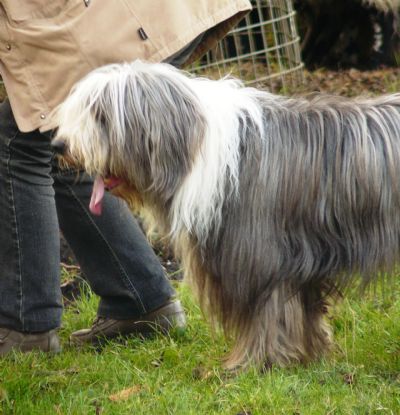 Gillie very alert and contemplating his next move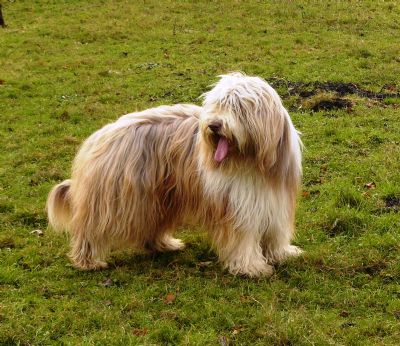 Let's go!
Gillie showing a confident approach to the flock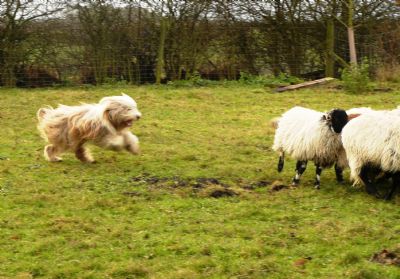 Following on
Gillie keeping a nice distance as he moves the flock in a natural driving manner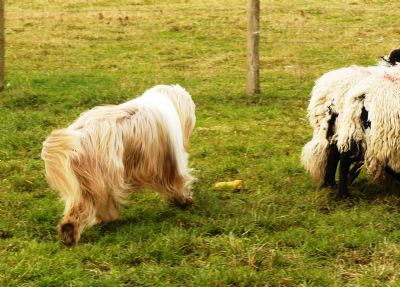 Working together
Sheep herding is a team effort and this was something Gillie understood immediately - here he checks for approval from his handler .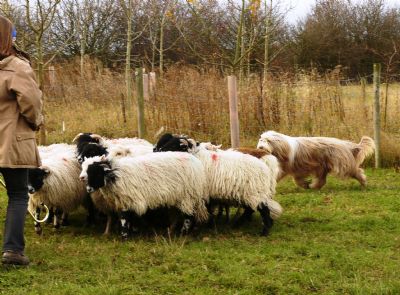 More team work Gillie - here working with Liz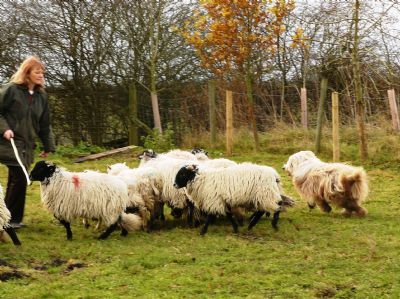 Change of direction
Owner Lyn enjoying the experience as Gillie prepares to circle anti-clockwise. The sheep remain tightly-grouped and unstressed.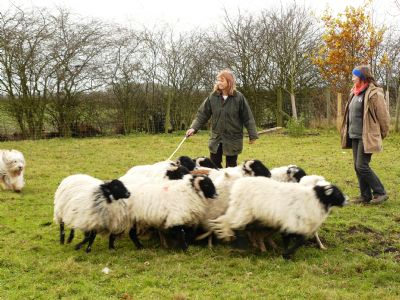 The "stop" command
Gillie showed an immediate response to basic suggestions such as direction changes and here, the "stop" command - excellent! We were all delighted with him.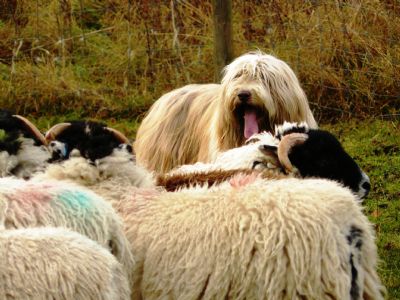 ELLIE - Coalacre Love Sonnet brown/white bitch now aged 4 (Firstprizebears Amarillo at Coalacre x Barkly Savannah at Coalacre) ELLIE owned by the Uptons, visited for testing on 15/10/07.
Her background is in obedience/agility and she proved both enthusiastic and biddable, though an earlier injury meant she was not as sound as she could have been and a long session would probably have been inadvisable. Nevertheless Jackie as examiner of the day saw enough potential to award the aptitude certificate as per the Swedish instinct test.
Instant attraction
Ellie needed little encouragement to go out to collect the sheep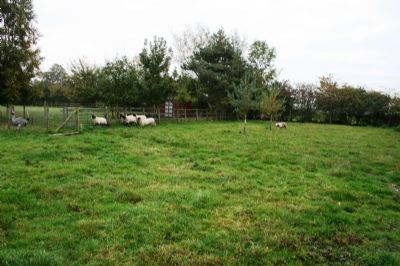 Whenever a single sheep chose to break away from the group, Ellie wasted no time to get after it and hurry it back to the others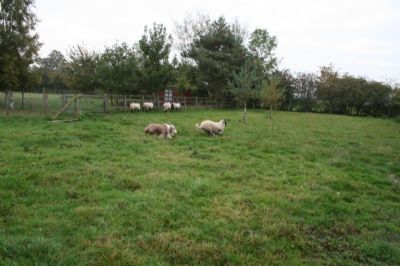 Here Ellie holds the sheep in a corner of the pen. Alert for possible breaks she turns them back quickly to Jackie the trainer

We were pleased to see Ellie confidently run out to the far end of the paddock to fetch her sheep, bustling them out from where they stood pretending to be invisible.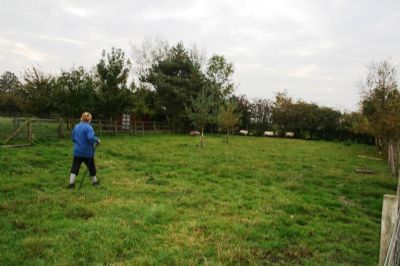 Using the corners
Here the teamwork is falling into place, as with encouragement from Jackie Ellie sets off to ease the sheep out of the corner of the paddock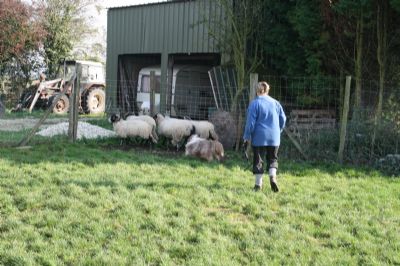 Control
Ellie waits and watches, alert for the next move. Keep them in the corner? Or fetch them out? She was happy and competent with both exercises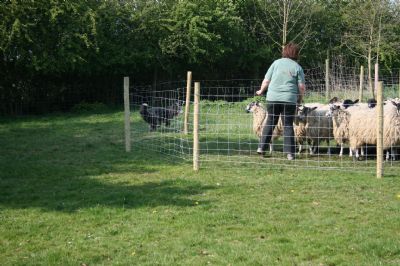 "MAC" Ch Kiltondale McAuley JW now nine years old (Ch Gillaber Tillycorthie x Ch Kiltondale Dignity) owned by Linda Pierson, was introduced to sheep at our North Yorkshire venue recently for the first time and was unfazed by this new experience. Preferring to work with his owner and usual handler rather than a trainer Mac soon relaxed and proved calm and steady, a typical "droving" dog with a gentle but authoritative attitude towards the flock.
Mac in the paddock
The direct approach of a confident dog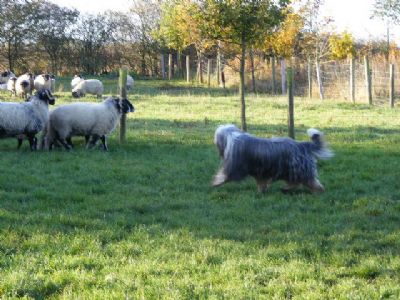 Behind the sheep
Mac positioning himself to bring the sheep to his handler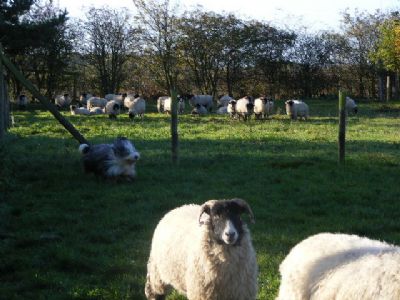 Following on
Not too overpowering but keeping nicely behind, Mac teaching himself here!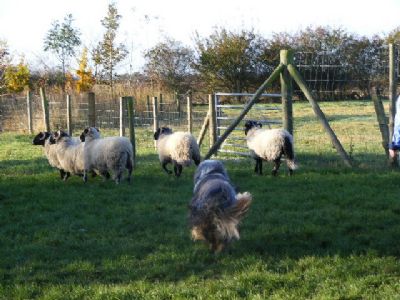 Enjoying himself
Mac preparing to circle the sheep clockwise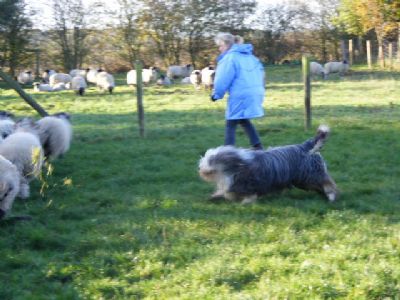 Walk on -Typical steady work, Mac looking very proud of himself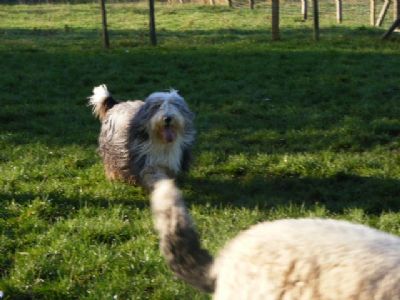 A burst of speed
Just to show he has the speed when he feels like it! Mac getting quite carried away here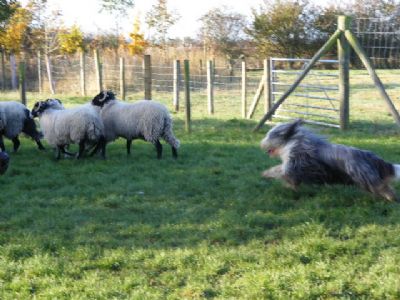 "EBONY" - Menander Temptation for Kiltondale - dark slate/white bitch (Coalacre Supergrass x Ch Menander Chocolate Truffle) , also owned by Linda Pierson, first met sheep at only five months old and impressed us all with her natural ability and enthusiasm. She was quite the star at our herding weekend held in August 2007, and on subsequent visits to North Yorkshire has proved a willing pupil making steady progress with her herding lessons.
With Carl Borgstrom
Aged 7 months and only her second time with sheep at our herding weekend in August 2007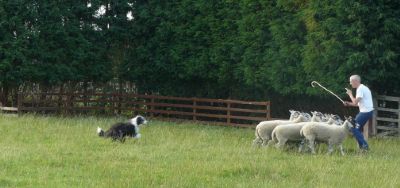 The "stop" command
Ebony with Carl, learning the stop command, very interested in this new game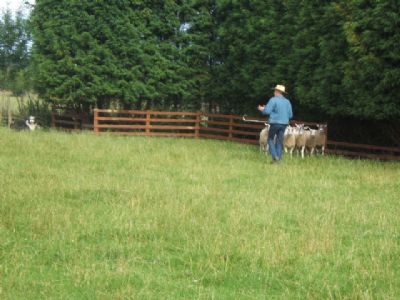 A Happy Puppy
Ebony racing at speed to head the sheep along the fence side, aged 7 months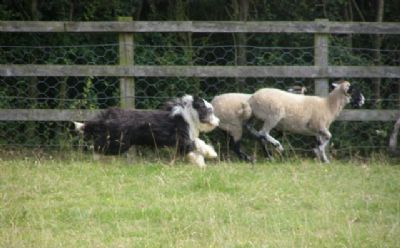 Calm and steady
Also when necessary, moving calmly and smoothly along the paddock boundaries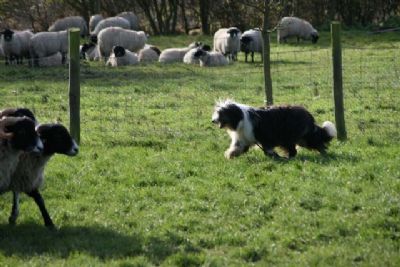 October '07 -Ebony, very focussed as she works unusual in one so young.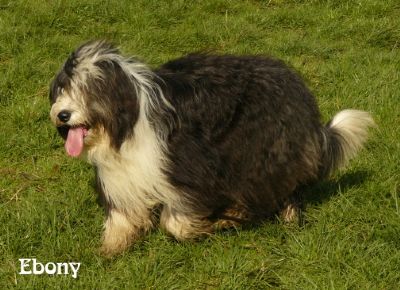 TULLY - Terzina Seventh Heaven ( Ch Merrythorpe Mulberry JW x Potterdale Prim 'N Proper) Tully is litter sister to Bella and lives locally with owners Claire and Adam. Having already tried her paw at Obedience and Agility she now faces a new challenge and together with her owners she is learning about herding. An early instinct test revealed a calm, biddable bitch needing a litle more confidence and enthusiasm..
Here she is on a long line and learning to run the boundaries with owner Adam. This is a basic exercise which helps Tully to realise that she must work well away from the sheep.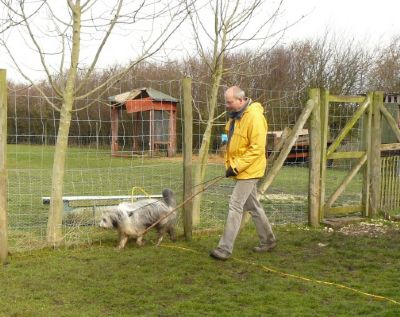 In this picture, the same exercise with Claire handling and Tully giving the sheep plenty of room not only is this easier on the sheep but is also easier on her as it removes the pressure which can cause inappropriate behaviour.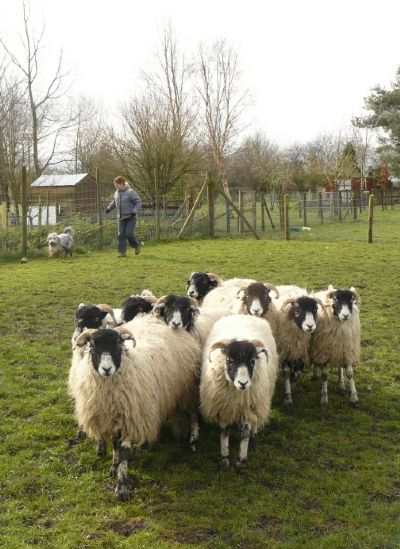 Tully with Jackie & Claire learning one of the important early lessons how to be calm & steady around the sheep.
Like many young Beardies Tully is easily distracted, but with repetition to build focus and confidence, the lessons are producing results. Below a structured approach to work on the "stop" command produces calm obedience.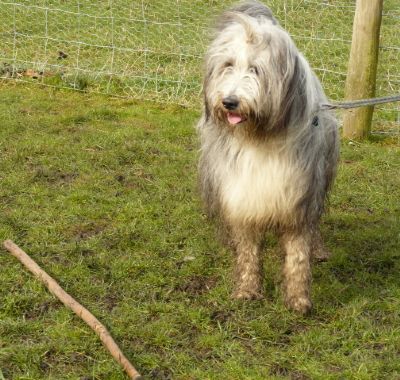 Seen here a few weeks later taking her time to do some good work gently easing her little flock along.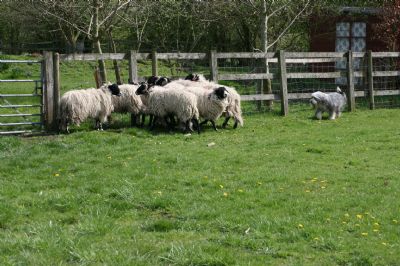 Tully is now a lot more at ease with her sheep, getting more confident at each lesson thus able to work much closer realising that the large woolly things are not to be feared!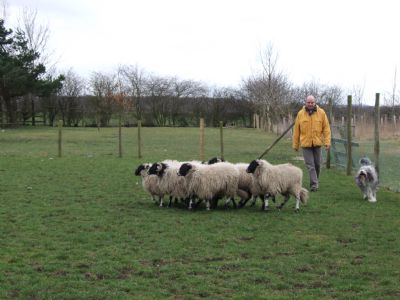 Coping well with a minor challenge from one of the sheep - holding them on the fence whilst waiting for her handler,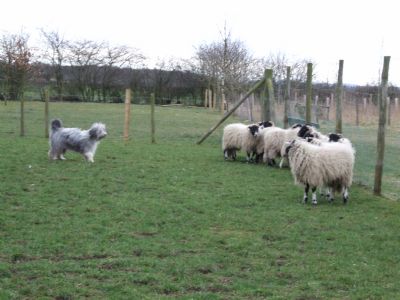 You want me to do what Mum??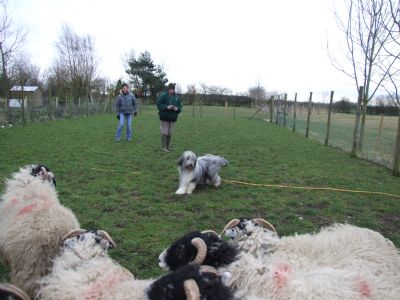 In the few months that Tully has been coming to Jackie for training she has settled down well despite still being a scatty adolescent!! She enjoyed her time with Carl in May showing some herding aptitude but in order to reach the exacting standard of the Certificate she was recommended for re-assessment after a few more months training. Possibly she may never make the grade, but in the meantime the lessons with the sheep are beneficial for Tully in so many ways , and owners Claire and Adam are learning much about Beardies and their training.
Working well - with Claire & Jackie at the July Herding Event.