NOVEMBER HERDING DAY
An Introduction to Herding with Tutor Jackie Goulder
Our last event of this herding season & the weather was at its capricious worst! A heavy fall of snow in the Pickering area on the Sunday morning caused the Event to be "as good as" cancelled but thankfully the weather then began to improve, so when Monday morning dawned chilly but bright our Introduction to Herding Day finally got under way. After a hearty breakfast of bacon beans & toast our intrepid band of enthusiasts & their dogs viewed Jackie's paddocks with interest & excitement!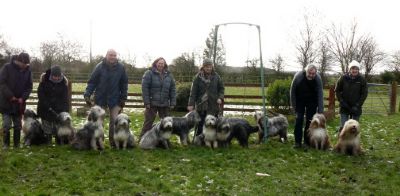 Our gallant band - muddy and tired but happy after their sessions with the sheep
As always Jackie took great care to match the sheep & the size of the paddock to the dogs' individual levels of experience, enthusiasm & fitness both for the comfort of the dog & to minimise the stress to the sheep.
Of the eleven dogs present, Blaze, Cawley, Diva, Ellie, Meg, Milly, Mirk, Nell & Willow had all met sheep at least once before but for adults Bess & Lewis it was their first proper introduction.
The weather turned more wintry as the day progressed with a stiff breeze and occasional showers but this did not deter the Beardies from having their turns with the sheep, and a steady supply of warm drinks in the cosy kitchen of Jackie's home was much appreciated by the handlers.
Later, as the sheep began to get sulky from the attentions of so many starter dogs, & cling to the fence, or hide their heads in corners, Diva, now into her second year of training, was able to demonstrate some of what she has learned in her lessons at The Glebe by moving the sheep from the paddock & bringing fresh & interested ones in. It was particularly nice to see that Diva's two months of enforced absence on maternity leave has not dented her keenness and that she remembered her lessons well! Nell then treated us to some sheepwork in her usual enthusiastic manner, bringing the sheep out of the pen, demonstrating circling, heading & wearing before taking them through into the paddock.
After lunch Jackie, by special request, gave us a stylish exhibition of how it should be done working the two border collies Joss (blue merle) and Meg (black & white) as a brace team - of course they made it look so easy!!!
Before setting off home, and with all sheep safely out of the way, a relaxed group of Beardies and their owners enjoyed a sociable walk together around the larger field in a late burst of afternoon sunshine.

Lewis working with Jackie - learning to keep his distance!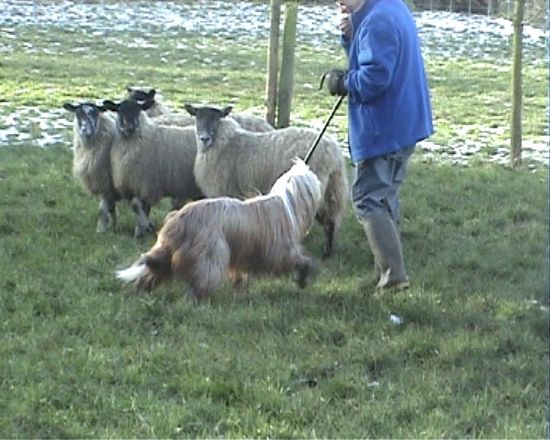 Bess concentrating - note her lowered tail - love the expression on the faces of the sheep!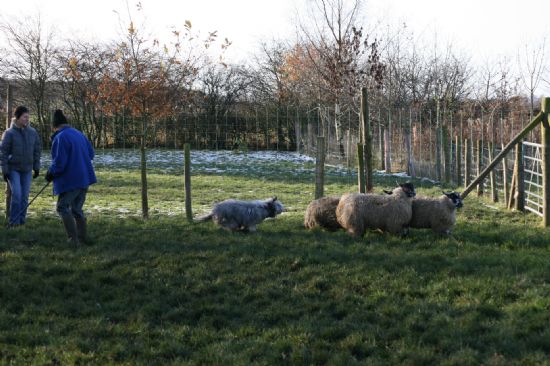 Willow with Clare & Jackie looking quite keen for a youngster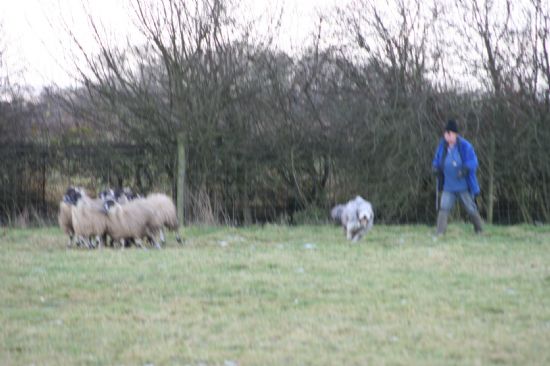 Cawley with Jackie being encouraged to head the sheep.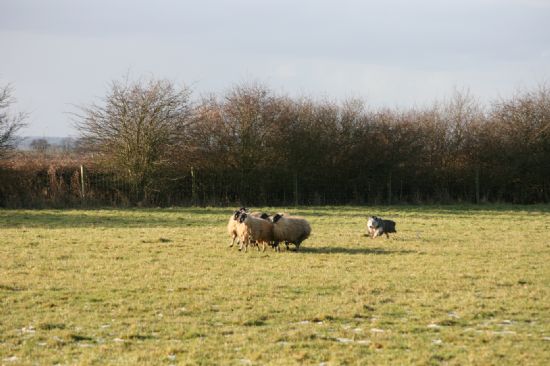 Blaze following a lively group in the bigger field as his confidence and interest improves
Ellie working with Liz on a circling exercise and responding well
Everyone both Beardies & handlers enjoyed what was a brisk, wintry but action-packed and interesting day & all are keen to be back next year!
Thanks as always to Jackie, Liz & Hugh.