JULY HERDING EVENT
Tutor Jackie Goulder
A pictorial record of a very enjoyable day with lovely dogs & congenial company!!
Jackie & resident Beardie BELLA taking a well earned rest on what was a very hot day!
*****************************
It was great to welcome friends old and new to this event, timed to work back-to-back with the Leeds Championship Show being held quite locally at Harewood House near Leeds this weekend. Several participants had come a long way to join us, though for David and Sharon from Australia we were perhaps not the only attraction!
The local dog-friendly B & B has been checked out by our party from Scotland, and pronounced more than satisfactory. We had no complaints from any of our campers either, though we were very lucky with the weather, not a cloud in sight so no muddy paws!
************************************
The Saturday evening session started with a welcoming cuppa for the group of twelve eager students and continued with a super demonstration from Bob Harland's brace team, the father and son Border Collies Jed and Shep. Both these dogs are successful in sheepdog trials and it is easy to see why. We all enjoyed the privilege of watching them work in their home paddock.
JED & SHEP what concentration!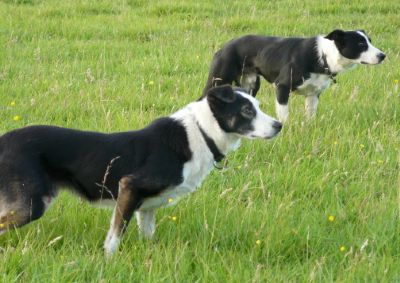 p
More demonstrations followed, with young Border collie pups and the trainee Beardie sheepdogs. (Bella does so love an appreciative audience!) Our trainer Jackie showed endless patience answering all our questions, and giving insights into the breeding and training of sheepdogs, before putting us through our paces with some innovative practical exercises intended to give us a "feel" for the relationship between handler, sheep and sheepdog
Shane giving commands to her human 'sheepdog' during the theory session on Saturday evening.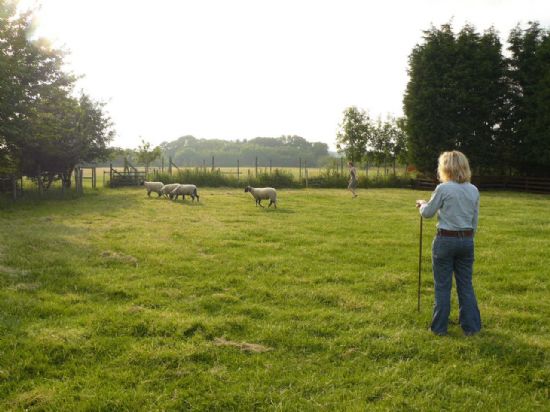 The audience appreciating the "show" on Saturday evening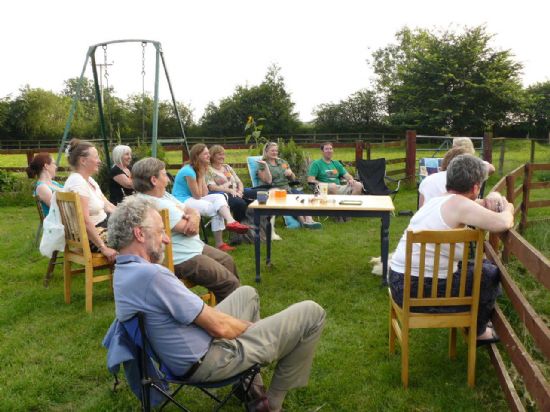 Saturday night was rounded off by a run in the field for the visiting Beardies and later a good meal for their owners courtesy of the Black Bull Inn, just a few miles away from The Glebe.
COME ON, they are getting away!!!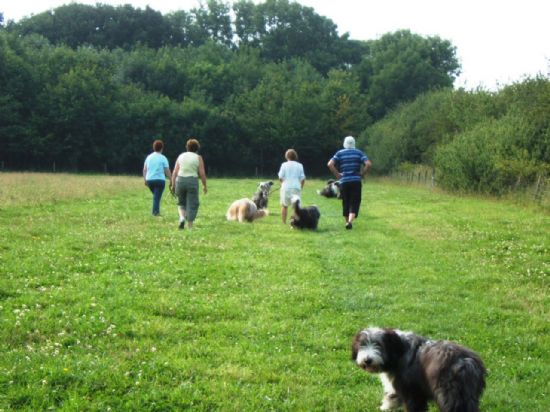 **************
Participants began arriving bright & early on the Sunday morning ready for breakfast & chat before a full day of testing and training.
Of the eleven dogs which worked in the morning, only one (Lyn Armour's GILLIE) had had the opportunity before, so we were all curious to see their reactions & were pleased to see glimmers of interest from a few of the Beardies and also from HEIDI the Polish Lowland Sheepdog & REMY the Pyrenean Sheepdog.
GILLIE demonstrating his skills, tail held low, concentrating well, every inch a sheepdog!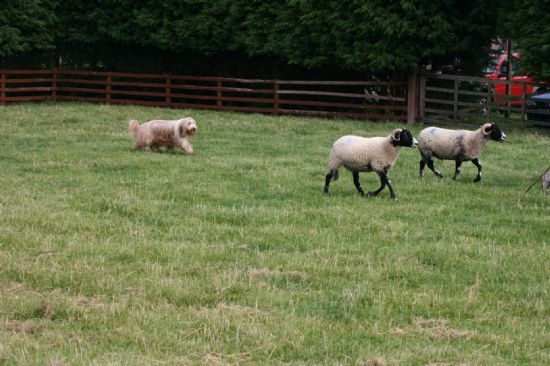 HEIDI showing a cautious interest in the quiet Swaledales .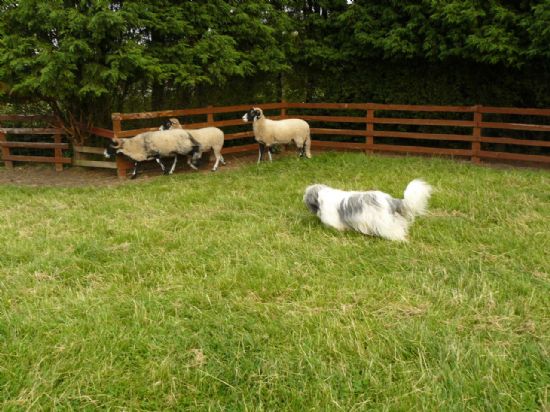 REMY moments before his turn with the sheep .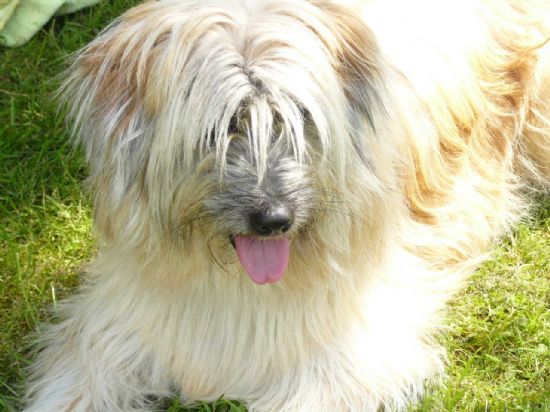 On the whole we found the interest level comparatively low in the morning dogs, but it WAS extremely warm, and the first time round starter sheep (Swaledales) were very lazy, and not inclined to move far. Only the dogs with a very positive approach had much luck with them.
******************************
For their second turn of the day, the more promising dogs, and those with previous experience, were worked differently on the more lively flock of "mules" (Swaledale x Blue-Faced Leicesters) sometimes in larger (or smaller) paddocks, sometimes with another dog to assist - either Jackie's Border Collie Joss or her Beardie Bella . It was interesting to watch how Jackie tailored her handling style to suit the individual dogs, and to bring out the best in them.
Handsome JOSS always ready to lend a helping hand!
NEXT!! Jackie & sheep enjoying a quick breather between dogs.
TULLY takes her turn in the paddock with Jackie and the Swaledales
FLOWER showing an interest in the Swaledales and being encouraged to keep her distance by Jackie.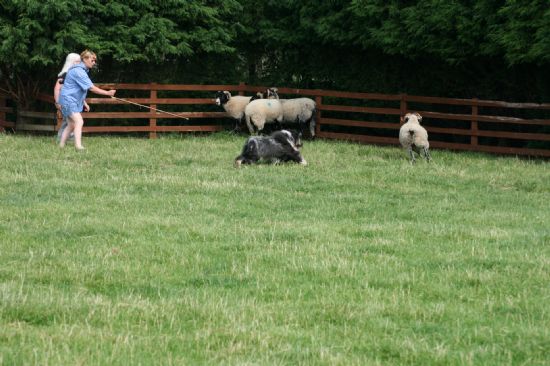 MAISIE (Springer x Border Collie)- an honorary Beardie for the day!
There were some very exciting moments during the training of the keen and lively APRIL and GIZMO on Sunday afternoon - hot work even for the spectators !- but interesting to watch the next stage in their training, as Jackie patiently schooled them in control and balance without dampening their absolute focus on the sheep.
A totally absorbed audience watching APRIL on Sunday afternoon.
The following three Beardies, APRIL, BAXTER & JOCK are littermates. This was BAXTER's first exposure to sheep.
APRIL in action - trailing a long line for safety
BAXTER moving the sheep off the fence with style!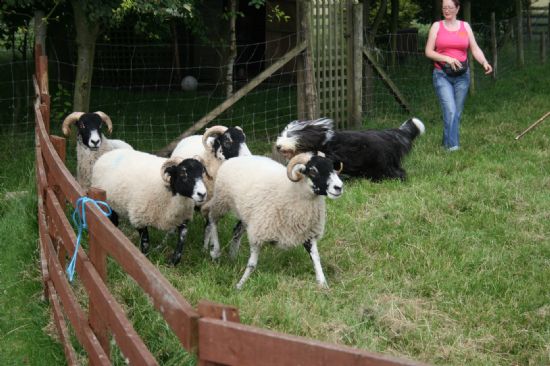 Fast and furious action from JOCK in the large field on Sunday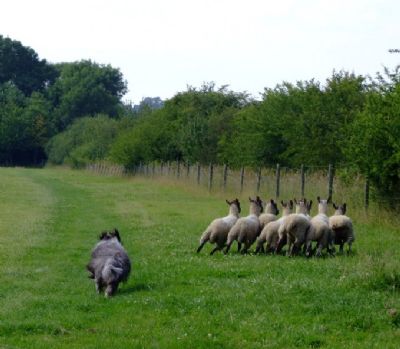 Among the Beardies attending were four puppies of 20 weeks, all from one litter.
BLAZE giving the sheep a speculative look!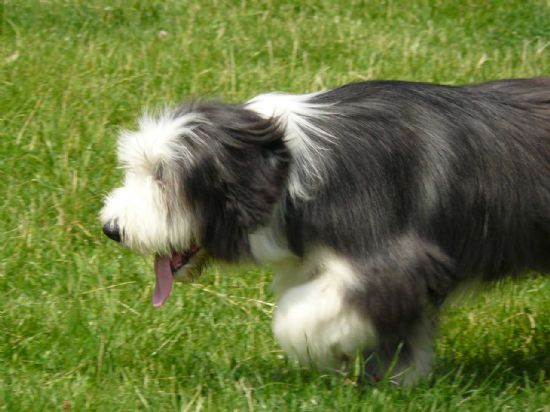 MILLY holding the sheep to the fence - exhibiting amazing presence for one so young!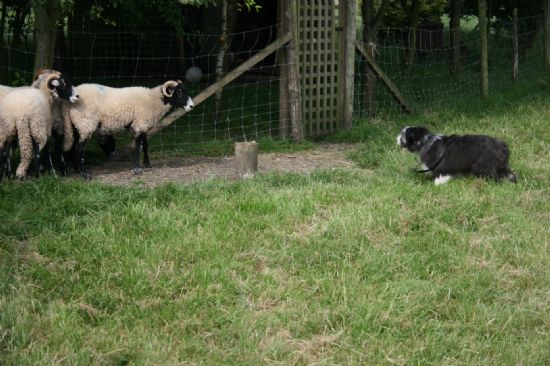 GIZMO's approach is forceful and direct but he is learning to listen too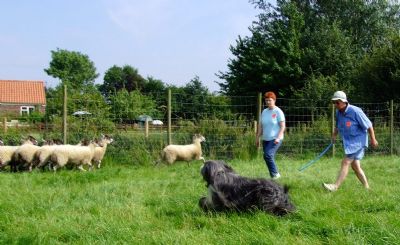 6 month old MURPHY - showing a keen interest .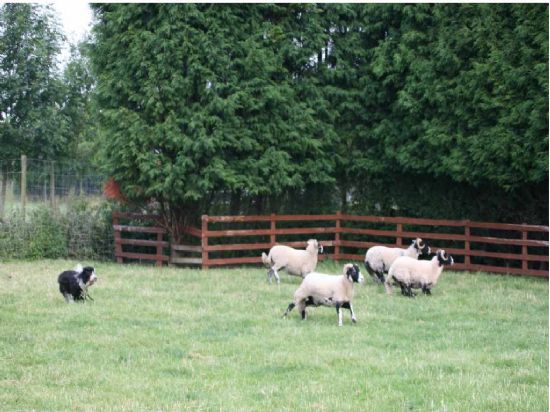 A hesitant MOLLY being encouraged to show some interest.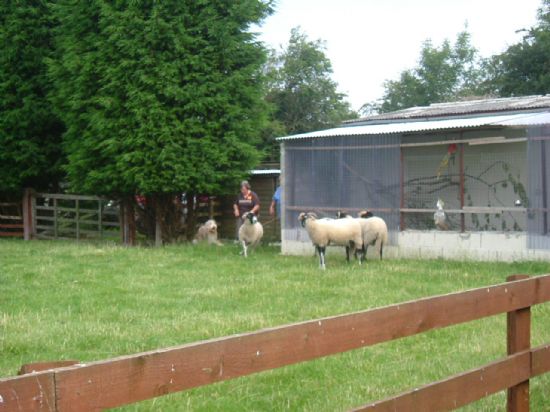 MOLLY's daughter MELODY showing a lively interest in the sheep - keener than her mother!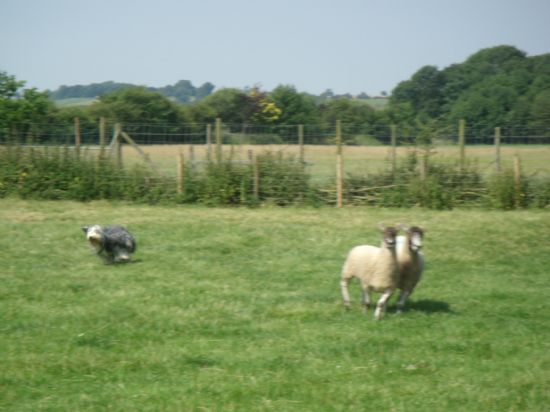 As always an appreciative thanks to Liz for organising the Day & to Hugh for looking after the finances. Most of all though, thanks to Jackie for her tireless efforts in making sure every dog had its best chance to learn, and for the use of her paddocks and other facilities including cosy caravans and helpful sheepdogs, and especially - the sheep!!
. A dramatic shot of Jackie's lively and athletic "mules" in action
Everyone seemed to enjoy themselves , spectators included, & all learned a lot about herding in general and our own dogs in particular. Looking forward to the next time!!
TAIL PIECE !!!
A fitting end to an enjoyable but very warm day !!