HERDING CLINIC WITH GIANNI
SATURDAY 13TH & SUNDAY 14TH JUNE
Pauline Jackson & Leon her Spanish Water Dog visited The Glebe for the first time to take part in Gianni's herding clinic. Thanks to her for sending us her impressions of a fantastic weekend enjoyed by all !
Pauline & Spanish Water Dog Leon
******************************
Early on a Saturday morning, me and the dogs headed off to Pickering N Yorks to try something completely new to us – herding!
A warm welcome awaited me at The Glebe, and what a well organised day it was. Booking in completed, it was time to get a drink and a bacon butty before heading off to watch the first group of dogs work. The dogs on the day were a mixture of dogs that were experienced with sheep, had done some work with the sheep, and those that had never been tried on sheep at all (including my SWD Leon). There was a huge range of breeds present, from the normal herding breeds (beardies and border collies) through the lesser known herding breeds (Polish Lowland, SWDs, Pyrenean sheepdogs, shelties) to the more unusual including a Papillon, German Spitz, Leonberger and a Canaan dog.
Our happy band of herders take a break from the action in the Sunday afternoon sunshine
The beginner dogs were assessed to see how they dealt with the sheep and some shuffling of groups was carried out. I found it very interesting to see the different techniques that Gianni used to try and get the dogs interested. For some dogs, the presence of the sheep in the round pen was sufficient to get them working, some needed their owner in the pen moving the sheep about, and others needed a sheep (or two) outside of the pen to excite their interest.
Canaan Dog Desi being encouraged by Gianni and owner Pam
Leon took a little while to get interested and he needed a sheep outside the round pen to get him going; apparently my face was a picture when Gianni got another sheep out of the pen so that Leon had two to work
Leon the Spanish Water Dog showing great interest as Pauline enters the pen
Gianni with Christine and Cawley
I found it really interesting to watch the more experienced dogs; the natural instinct only needed to be controlled and channelled rather than actually trained. I was really impressed to see that so many beardies have such a strong herding instinct. I loved watching Jackie work Mirk and Liz working Diva, fantastic dogs that had a real drive to herd the sheep. Mirk goes from wiggly beardie begging for attention and fuss from anyone to a hard core working dog once he spots those sheep. I also love Lynda's Izzy, but I have known her from a puppy; today I got to see the serious side of her and my goodness she is a different dog when working the sheep.
Lynda's working beardie Izzy, the dog Gianni wanted to take home!
Spanish Water Dog Brio with Robin
I will just pause here and give grateful thanks to the sheep that were used over the weekend, they were very patient. I did have to chuckle at the way they attach themselves to whoever walks in front of them….it did look so funny to the novice like me.
Gianni working with Ron and Beardie Bess
Jack the baby jackdaw with his foster parent Christine
On the Saturday all of the dogs got to work three times and the vast majority showed progression over the course of the day; some showed little interest in the sheep, but maybe with more exposure they could become interested. Teresa's little sheltie really took to the herding and graduated to working in the paddock near the parrots (who were very well behaved).
A keen & lively Peaches working well with Teresa
Hilary getting good control over the lively and enthusiastic April
Pyrenean Sheepdog Remy in action
Sunday was more of the same, but it ended up being a very hot day, so care was taken to ensure that neither the dogs or sheep over-heated. We were treated to Mirk and Diva being worked in the big field along with some of the other experienced dogs (sorry, but I can't remember all the names)
Safi the Tibetan Terrier circling the round pen
Huxley, litter brother to April and another keen worker, with Gianni and Pam
Celeste, a young Pyrenean Sheepdog showing lively interest
Overall impressions of the weekend?......fabulous! great company, great food, relaxed atmosphere, and a whole host of dogs to watch. I hadn't realised that there were so many people interested in herding, there were over 20 dogs worked each day. I ended up with over 1000 photos and over 4 hours of video footage. I was engrossed from start to finish and have already booked for the next herding event.
Dilli the German Spitz being assessed by Gianni and holding her own!
Dinky the Leonberger was keen to give it a go!
A huge thanks to all involved in the event, it was fabulous (and very addictive!) and an added bonus for me was that Leon was totally shattered each night. I don't think I've ever seen him so tired.
Apologies to all those that I've forgotten to mention.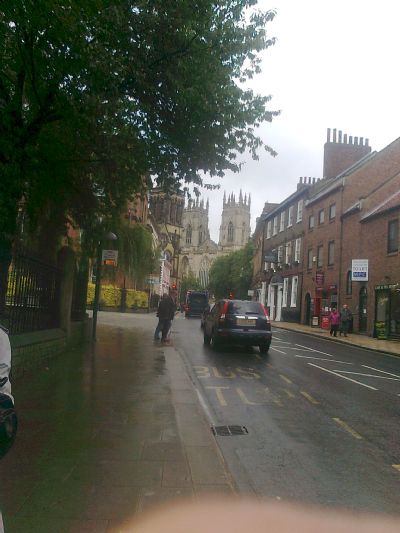 Snoopy the PLS on a Mission!
*********
Gianni's Report
Gianni & the sheep ready for action!
It all started this spring when Gerlinde Krachler of Circle C Ranch sent me an email asking if I could go to England for a Herding Clinic. At first I thought it was a joke, as it is usually the English that come to Italy for Clinics not hold them themselves! When I realized it wasn't I said I would go to England if I could fit it in with my other commitments.
Tony & Dottie in conference with Gianni
However, once I made contact with Liz Jay of Talraz Kennel, the training programme began to take shape and very shortly all places were booked up. The time to leave drew nearer and on June 12th, after 2 planes and a couple of trains, I arrived at Malton station where Liz was waiting to meet me. In a few minutes we reached the Glebe Farm where Jackie Goulder, Bob Harland and Hugh Emerson were expecting us for dinner, with a lamb menu of course. Bob Harland is the farmer at the Glebe, and he is also the trainer and handler of Border Collies and a trials specialist who has taken part in national competitions several times. Liz, Jackie and Hugh gave me information I needed and the list of dogs who were to take part that weekend.
Patrick enthusiastically circling the pen watched by Chris
Saturday: 19 dogs - 11 Beardies, 1 Border Collie, Canaan Dog, Leonburger, Spanish Water Dog, Pyrenean Sheepdog, Tibetan Terrier, Polish Lowland, German Spitz.
Sunday: 16 dogs – 9 Beardies, 3 Spanish Water Dogs, 1 Border Collie, Sheltie 2 Pyrenean Sheepdogs, one Papillon.
Liz & Maisie - regular visitors
Gianni encouraging Miley
Colleen & Miller working with Gianni inside the pen
More than 11 people came as Spectators. Most of the people attending the Clinic came from the North of England, but there were some that had travelled from as far as North Wales and Cambridgeshire.
Apart from the Papillon, the other breeds were originally also used as sheepdogs, and the Spanish Water Dog is admitted to the ASCA (Australian Shepherd Club of America) competitions, so this was not new to me.
Nicola & Tilly who is looking long & hard at the sheep
The Glebe is very well organized, with several small paddocks for various levels of dog training, and the sheep were really cooperative (unlike most of our continental sheep), so I was able to see and then work the dogs from the round pen to an open trial field.
Ailsa & her keen young Border Collie Tyke
The dogs were all very obedient, well under control and not at all excited - calm and cooperative in fact - and their owners were very attentive to my explanations, and very patient in trying to understand my broken English. I saw dogs that were very interested and gifted and had strong instinct, some of which put it to better use, and others with less experience; and some that were working with sheep for the first time showed that they had both instinct and interest anyway. A good majority could easily pass the Tanc Fci (instinct test) and some of them at the moment are already ready to take and pass (in my opinion) the HWT Traditional Style Fci test, a test that many Austrian Beardies and one Italian have already passed. Several Beardies impressed me for their working style, particularly considering that 4 out of 5 of these dogs are K C registered show Beardies.
Nicci & Jess - first time with sheep & very keen
Both the handlers and the spectators were pleasant company over this weekend and their helpfulness and kindness also helped me to get over the language difficulties. I am grateful to them for this and I also wish to thank Liz and Jackie for their hospitality and kindness, Hugh for his support and assistance during the Clinic and Bob for his explanations regarding certain training techniques. Thank you for inviting me, it was a very interesting occasion for me, which enabled me to acquire new experiences with dogs and to meet new people.
Wigs the Papillon one of our more unusual herders!!!
!