MAY HERDING WEEKEND with Carl Borgstrom
A DVD of the weekend's activites is now available please CONTACT US for more information.
**********************************
One of Carl's exercises - Hugh learning how difficult it is to move sheep without a dog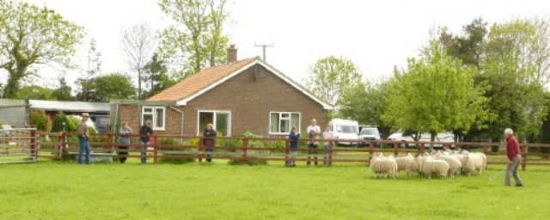 GILLIE working with Carl - learning to "open up" on his flanks
EBONY displaying fluency and enthusiasm round the sheep
LEXIE relaxing and beginning to work with Carl after a very hesitant start!
Avid audience participation from dogs and handlers alike!
IZZY gets herself behind the flock and we see a "lightbulb moment"
Some very nice work from nine-year-old MEGAN
Carl preparing to protect the sheep from GIZMO's too-direct approach
Our youngest participant was MILLY aged almost eleven weeks .....& already keen to show us what she can do...