Heritage Sites In Neath
Neath Castle has great visitor potential
Many local people take our heritage sites for granted - Neath Castle is one of them. This is looked after by the Neath Town Council (not the larger NPT CBC) who also own much property within the town - including the Round House Cafe near the entrance to the Castle gardens.
The castle and its gardens could become a major tourist
attraction if made more widely known.
The castle has been nominated as one of the sites that could be featured to illustrate Neath as a town with a charactor of its own.
Shown right is a rare aerial view of the castle and its surrounding area.
Neath Castle was one of the minor Norman castles in the lordship of Glamorgan. Like the Romans before them, the Normans chose this strategic spot guarding the river crossing for a stronghold. The main surviving feature of the castle is the great twin-towered gatehouse on its west side. This belongs to the latest phase in its long history.
The first castle was a ringwork known to have been built here in the 12th century by Robert, earl of Gloucester. The roughly oval, raised enclosure to the east of the gatehouse probably dates from this period. The castle was much harried by the Welsh, and was rebuilt sometime in the early 13th century, possibly after being destroyed by Llywelyn ap Iorwerth in 1231. The ruined curtain wall is part of this castle, although it has been much tampered with since. It had two projecting round towers, the stump of one of which is visible to the east side. There was a simple gatehouse on the site of the present one, and the flight of steps well below present ground level in front of the present gatehouse led up to this 13th-century one.
---
Heritage Sites In Neath
Neath Abbey - a Heritage Site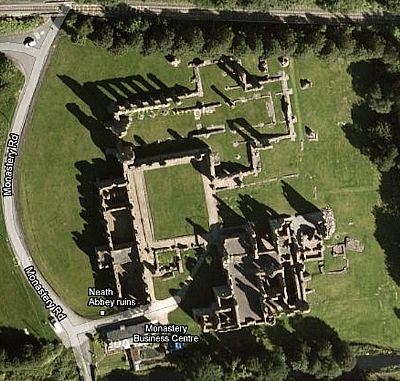 Neath Abbey is another Neath heritage site that many local people forget is on their doorstep.
On the right we show an aerial view of its remains which dates back to 1129AD and was once the largest and fairest abbey's in Wales.
The abbey was ravaged by the Welsh uprisings of the 13th century, and eventually dissolved by King Henry VIII of England in 1539. At this time, the abbey was turned into a large estate. Sir Philip Hobby was the last occupant of the estate.
We have now added an additional page for the Neath Abbey - see menu.
---