HERITAGE NEWS
Also see news reports and stories under NEWS (menu)
---
The following video was recorded at Victoria Gardens during a special presentation by Heritage Scene - Neath - April 2014
Heritage Scene Neath (buffoon.tv) from Buffoon Film and Media on Vimeo.
---
7.7.13
The Heritage Day at Neath Abbey on 6th July 2013 was an eye opener for those who had not been there before. Impressive displays were organised for visitors. Our slide show video on our Home page is a colourful record of the event.
---
6.6.13
We are please to introduce a new page for the Listed Property Owners Club. Details are given of a new Welsh plaque for display on listed property.
Listed Property Owners Club page
---
29.4.13
Report by Cled Griffin
I think my colleague, Jason Reynolds, did extremely well to organise a photo session at the Mayor's parlour - Port Talbot Civic Centre on 29th April 2013, to say thank you to NPT CBC officials for their support and interest in the Heritage Scene-Neath and to present them with an 'Audio Memory' DVD made at Caewern House.
You can see and hear the 'Audio Memory' DVD - see bottom of our menu.
Mike Davies, Steven Phillips, Cled Griffin, Cllr Mayor Martyn Peters, Jason Reynolds, Adam Amor, Cllr Leader Ali Thomas
---
Report by Jason Reynolds
19.2.13
The first informal interactive Heritage Scene session took place at Caewern House, Neath, on 19th February 2013 when audio and video memories were made by those present. The Neath Guardian website will present a feature on Caewern House on week commencing 25th February 2013. Those present at the session are pictured below.
---
26.11.12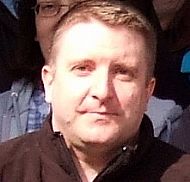 I have to say that it hurts me deeply when demolition starts on a cherished building without me first having a chance to photograph and record its beauty - something that will be gone forever when the developers get going.
Despite my plea to all those who have been so helpful in my quest to record the heritage scene, moves have been made recently, so I understand, to start development work on the Caewern House, a former nursing home. It is to be the site of 22 new homes.
If only I could capture the past with my photography before development work starts it would be something for future generations to look back on.
Perhaps I will be more fortunate in future and be informed of whats going on and be in a position to record bits of the past before it is gone forever.
---
5.11.12
On behalf of Heritage Scene (Neath), may I say that I am delighted to see the contributions by historian, Keith Reed, added to the Heritage Scene website. It all goes to show that Neath is a very historic town of special interest.
Last month I mentioned that the Heritage Scene will be writing to Prince Charles in view of his interest on the subject. Once we capture his attention we feel sure that he will take a special interest in Neath and its historic past.
Having mentioned our intentions, we feel sure that we will be getting full support from officials at local level..
We also aim to get a grant from the lottery Heritage Fund which will hopefully set up a venue in Neath where saved works of art can be viewed by the citizens of Neath to whom they rightfully belong. A Neath Art Centre can be an asset to the town by attracting visitors from far and wide. Drawing visitors into Neath should also help the local economy, so the efforts made now will have worthwhile long term effects.
---
29.10.12
I felt very privileged to have been asked to give a talk on the Heritage Scene to the Nifty-fifty Group who meet on Wednesdays afternoons at the Waunceirch Community Centre, which is located at the top of Dwr-y-Felyn Road, near the Tesco Express store.
This will probably take place early next year when I will be able to bring along some of the beautiful photographs I have taken this year.
Next month on this website I will tell you about my aim to contact Prince Charles who is very involved in the heritage of our country and tell him about the Heritage Scene here in Neath.
---
15.10.12
This week I want to express my concern about all the lovely churches and chapels we have in the area that are under threat because of poor attendances. Many have beautiful stained glass windows and other treasures that should be preserved.
One of my aims to is to photograph and document these works of art before it is too late. It you are connected in anyway to one of these buildings please write in via this website and let me know so that I can come along at an agreed date with my camera.
In a future edition the Heritage Scene team will telling you about a chapel with a difference - a chapel that has increasing attendances.
---
8.10.12
The Windsor Cinema stained glass windows I mentioned last week were created in the art-deco era. I discovered that they are now within the flats built on the site of the cinema where, unfortunately, only the residents can see them.
In an ideal world these window treasures from the past should be displayed in a section of an art museum devoted to the ninety years of cinemas in Neath. Just look below and see what the public are missing.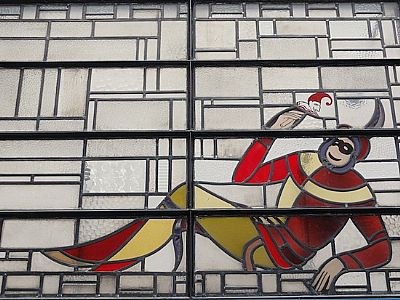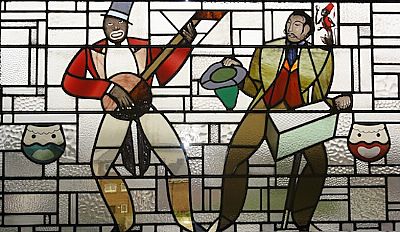 ---
Heritage Scene News 1 1.10.12
I am delighted to report on the Neath Heritage Scene. Cled Griffin and I feel that we must preserve the cherished buildings and works of art we have here in Neath.
We felt that the loss of the Neath Empire was a wake up call, because it showed how easily and quickly a cherished building could be acquired and demolished by developers.
In the case of the Neath Empire I was fortunate in being able to contact the new freehold owners, Coastal Housing, and save the beatiful stained glass windows before the demolition started. Below is a report from the South Wales Evening Post: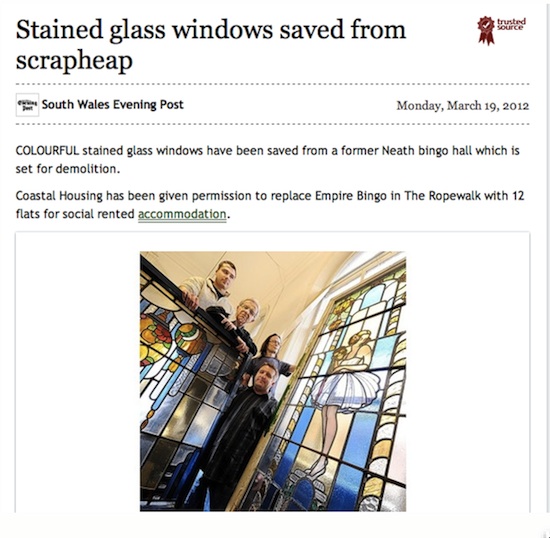 Cled and I are delighted to report that Coastal Housing have agreed to donate the windows to the residents of Neath. Until a suitable home is found for the public to view the windows, they are being kept safely in the art department at Swansea University, where they have being a source of inspiration to many art students.
Below is a report from NCN on how it all started - with a planning application.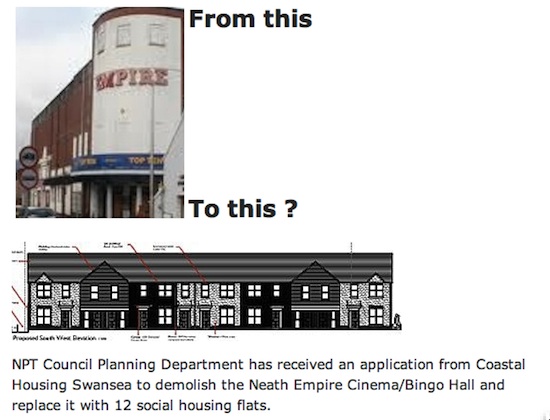 Next time I will tell you all about the Art Deco stained glass windows that were in the Windsor Cinema Neath, and how I traced them to where they are now.
In the meantime, if you know of any cherished building that is under threat by developers then please write in to this website to let me know.