ROUSAY
The M.V. Eynhallow approaching Tingwall - Rousay in the background, June, 2005
From the Rousay Jetty, late September, 2009
Peerie Water & Muckle Water, Rousay, Orkney, seen from the highest elevation on the Island, Blotchnie Fiold (251 metres), August, 1984
Brinian Kirks & Graveyard, Rousay, Orkney, 2005
Loch of Sacquoy, Brings, Rousay, Orkney, 2004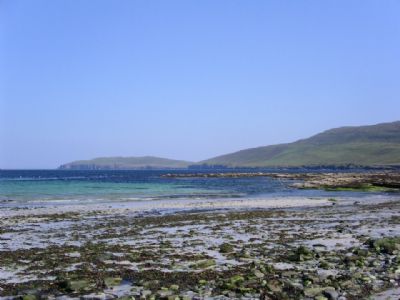 Saviskail Bay. Rousay, Orkney, July, 2003
The "roaring roost" seen from Westside, Rousay, looking to the island of Eynhallow - mid-January, 2005
Lapwings over Kierfea Hill, Sourin, Rousay, late September, 2004
Saviskail Bay, Faraclett Head & Kierfea Hill, Rousay, mid-March, 2005
By Midhowe (Westside) looking to Costa Head on the Orkney Mainland (late July).
The garden at Marion's Shop off the Sourin Brae, Rousay, June 30 2010, early afternoon. The island of Eday on the horizon.
Dawn from Springfield July 9 2010 02h 37m UT (note crescent Moon, centre)
On the Brings looking north to Westray. August 27 2010, mid-afternoon. Note: to the left, part of the stack known as the "Lobust" detached from the island by a narrow cleft of perhaps no more than 2.5 metres in width.
The Road to Sourin from above Avelshay. December 26 2010, 08h 52m UT.
Looking down on the jetty, Brinian, Christmas afternoon, 2010.
Saviskail Head, March 09 2011 mid-morning.
Frotoft afternoon of November 20, 2010.
Great Skua ("Bonxie") over the Brae of Moan, July 2012.
All images: John (C) Vetterlein