Proven KC Reg. Bulldog Available for Stud:
100% sucess rate to date, healthy litters ranging from 5 - 9 puppies
pedigree and some photos of his family can be found here ...
http://www.bulldogpedigree.com/pedigreeEng.jsp?id=4875
Shuckstuns Silver Bullet
Crufts qualified 2008/2009/2011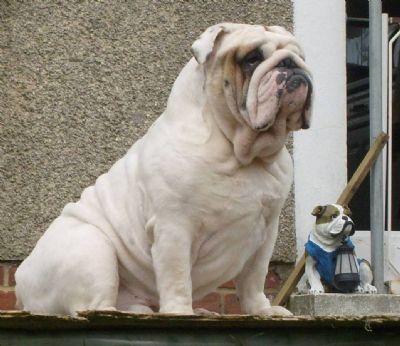 'Wrinkles' is one very laid back Gentleman of the Breed.
'Wrinkles' is excellent with children, very laid back excellent temperament.
34 placings 2006 as a puppy, including BOB x3 / Best in Group + Best Puppy in Group Carluke Open '06. Numerous BOB and qualified for Crufts 2008 in the few shows we attended in '07.
'Wrinkles' has a very good head on him, and this has been stated and marvelled at by lots of 'Bullie people'. He is a real people lover, and is so laid back, he should've been born with a flower in his hair. He meets and greets the local school children on a daily basis and gets on really well with other dogs. He walks very well, no breathing or movement problems and he loves to run along the beach with the other dogs we own.
He is from Merriveen & Shuckstuns lines and comes with a very impressive pedigree.
We've only had Bullies in our home for six years, but my wife waited 15 years for the right dogs to come along. In our first year we went to most of the open and breed shows around Scotland for the exoperience of showing and then moved on to the bigger Championship Shows, where each year we have held our own and been fairly lucky with our dogs qualifying for the elite show of the year Crufts every year we have been exhibiting..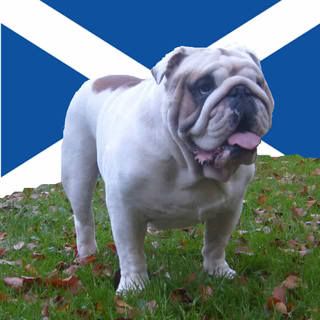 'Wrinkles' is one of the finest Bulldogs in Scotland - dont miss your chance.
Purebred KC registered bulldog bitches only who are registered to their current owner. To be at least one year old/second season.
Stud fee is £550 payable in advance.
*A re-mate, should the bitch miss, is offered for a 50.00 handling fee.

Wrinkles' s well proven having sired 7 litters with a total of 48 Wrinklettes all over Scotland and Ireland
Click here for contact details if you have any unanswered questions
---
Site Last Updated - 05/04/2012 15:34:09