Community Tapestry
at Dyffryn Clydach
Community Map finally Drawn.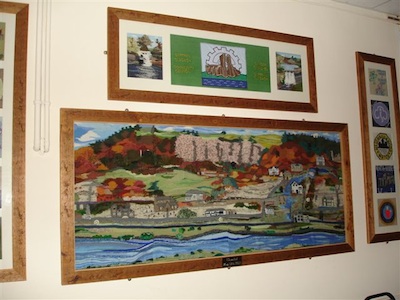 The final stitch has been sewn in the Community Map Tapestry and since May 17th it is on display permanently at the Dyffryn Clydach Memorial Hall . The initial public meeting to discuss and plan the project took place in September 2009 and the actual weaving commenced in January 2010. The finishing touches were made just before Easter of 2011.
Over 70 people took part in the project and a Community Celebration was held on May 17th attended by very many local people and special guests and was unveiled by the oldest person to work on the tapestry Mrs Louisa Davies of Heol Penlan, Longford. Mrs Davies is a past recipient of the council's citizen award and indeed fundraised for our hall when it was still just a wooden hut.
The tapestry was woven on four separate looms, kindly built and donated by Mr Chris Sorokin. These pieces were then sewn together to create a picture measuring 72" x 30". The view depicted is an aspect of our area, looking up at Mynydd Drymmau from the far bank of the River Nedd during the autumn season, reflecting what is found unique and special by our residents. It features important buildings both past and present and also landscape features which reflect their importance both historically and to the community.
The photographic and historical research enabling this was done by former councillor Mr Hugh Thomas, previously of Dan y Graig Road, Penyard. Photographs of the project progress and web design were done throughout the journey by Mr Adrian Williams. This was then used by Cllr. Alyson Thomas to paint a picture which was converted into a design template or 'cartoon' of the tapestry which the weavers used as a pattern to follow. The smaller panels depicting community groups were designed by Lynnette Jefford, Val Berni, Gwyneth Parry and Alyson Thomas to reflect the rich social life that makes up Dyffryn Clydach.
During sessions that took place every Tuesday up at the hall and also at the local schools and at other organisations, people worked either for just a few stitches or sometimes for very many hours to bring the project to fruition. Core project workers Mair Axtell, Phyllis Griffiths, Marion Williams Janet Thomas, Val Berni, Lyn Jefford and Kath Evans undertook a labour of love , Dwr-y-Felin pupils gave up their lunch hours to come down to the hall with teacher Miss Adele Evans whilst the Skewen Brownies gave up an evening meeting. Cllr AlysonThomas and Mrs Marion Williams went into Mynachlog Nedd Juniors and Neath Abbey Infants school and worked there with groups of children who were the youngest participants.
Work started with sourcing the materials from the Tawe Guild of Spinners, Weavers and Dyers. There were then workshops to teach the skills necessary from spinning and carding right through to the weaving of the fabric. There were many other skills involved such as wrapping buttons to create symbols indicating our chapels. They wrapped washers to create tiny examples of pit winding gear. They embroidered, converting photographs into tapestry charts and taught children from age six upwards to take part. Mrs Jean Saunders of the Helping Hands Group created the council's crest which titles the piece which is flanked by two miniature tapestries depicting the area's waterfalls, woven by Cllr. Lyn Thomas.
Cllr Alyson Thomas said, " The project has been a fascinating journey through our beautiful area from past to future. I have had a strong connection to Dyffryn Clydach from childhood yet the things I discovered from sharing memories are so fascinating that I am sure that there will be future projects to further recall and preserve this knowledge. I think too that many strong friendships were woven together during the weaving of this work. I am so proud to have led this project and I sincerely thank everyone who took part and made this artwork a true community effort."
Mrs. Val Berni added, "We will not know what to do with ourselves all summer but are keen to start something new in September. None of us had any idea of what to do in the beginning but we have learned many valuable new skills and remembered old ones and worked together as a team to create a thing of beauty which will be an heirloom for not just our children but grand and great grandchildren."
Council Chairman, Martyn Peters said, " We saw the opportunity for the creation of something which really said who we are in our county borough. Eighty per cent funding for the work came from the Welsh Assembly's Gronfa Wledig Rural Identity Grant administered by Neath Port Talbot County Borough Council. Dyffryn Clydach Community Council contributed the remaining 20%. This is partnership working that can really be seen in our community and I was proud to be there at its unveiling."
The tapestry is located in the main hall and can be seen at any time that the hall is open.