Welcome
16th July 2008 80 children, young people and educators came together for a day and shared what really matters to each of us, how we might improve our own learning and contribute to the learning of each other.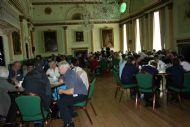 We want to continue to support one another to create and tell our living research stories to others in the hope of increasing the influence we might have to improve our own lives and that of us all. This website is one place to help us do that.

Please wander through the site. Some of us will share our stories as we begin them and hope you might help us, and share your own.

You can send us a link to your own site or blog or you can have a page on this one that you can update yourself with your multimedia stories or use as your journal or blog. Contact us.