Recycling..
02 December 2019
We were pleased to welcome Carolyn Bell as speaker at our meeting of 2nd December. Carolyn is a Technical Officer at Resource Efficient Solutions - a part of Fife Council.
Carolyn spoke about her work, which is focussed on care for the environment and specifically about the reduction, re-use, recycling and disposal of waste. We were treated to an eloquent, detailed and factual presentation of the work being done in Fife - and of the many challenges to come.
Figures for 2017 showed 55% of waste being recycled - 167,000 tonnes. Some 61% of waste has already been diverted from landfill. But that still leaves 39% as landfill and Scotland has a 'zero waste plan', requiring no more than 5% to landfill by 2025. It also includes a ban on biodegradable municipal waste going to landfill from 1st January 2021. The purpose of this is to reduce waste landfilled by directing residual waste to alternative treatment:
- To extract remaining resource value from the residual waste stream
- To reduce greenhouse gas emissions from landfilling biodegradable waste
In terms of waste management facilities, we heard that currently Fife has 11 recycling centres, 278 recycling points and 2 landfill sites.
As she progressed through her talk, Carolyn provided much interesting information about the concept of a 'waste hierarchy', the 'circle of responsibilities' for packaging materials and also Scotland's Household Recycling Charter. Whilst many challenges clearly exist, it was nonetheless good to hear that progress is being made - and that clear plans exist in order to continue to make progress. It was fascinating to hear about the treatment of food and garden waste - the digestion process that results in useable compost - but also produces significant, recoverable amounts of heat. Carolyn was also encouraging with advice on how each one of us can contribute by reducing waste, by re-using and repairing or upcycling items where possible.
Altogether a most interesting talk on a very important matter - one that is critical for our planet. Following many questions, a vote of thanks was proposed by Steve Blaney.
RYLA 2019..
04 November 2019
The 4th November and we were pleased to welcome Colin McCrae, to speak about his experiences at the 2019 RYLA event. Colin is the second of the two Waid Academy students that the club has sponsored this year.
RYLA - The Rotary Youth Leadership Award is a week-long Rotary International course that takes place at the Abernethy Trust Centre in Nethybridge, just a few miles from Aviemore. It offers young people an opportunity to participate in physical and intellectual activities, aimed at developing skills in team working, leadership, communication, problem solving and decision-making. These are seen as foundations for self-confidence and self-esteem - vital aspects of responsible and global citizenship.
Colin is in 6th Year at Waid and has in mind a career either in the RAF, or in paramedics.
We enjoyed a dynamic video that Colin had prepared as a lead-in to discussing the many activities of the week. As he said, you get out what you put in - and it was clear that a great deal had been learned.
As usual we heard of the many activities including hill walking, kayaking, raft building, gorge walking, rock climbing, raft building and mountain biking. Activities were taken on in teams of six and Colin had the opportunity to lead his group for the cycling. This seems to have worked out well, as we heard that cycling is a favourite activity.
We heard too of the great benefit gained from the programme of motivational speakers each morning: Colin especially mentioned a military dog-handler, who had lost his legs during the Iraq conflict.
What came across very clearly was the many benefits of RYLA, the value of teamwork, leadership training and personal development - all in a supportive environment where many friendships were made - and with memories that Colin felt would stay with him for life!
Following questions, with thoughtful answers given, Ian Brunton proposed an appreciative vote of thanks on behalf of the club and offered best wishes to Colin for his future.
Bring Back the Beauty..
21 October 2019
Speaker at the meeting of 21st October was Richard Wemyss. Richard manages the local food bank and commenced by providing an update on its work - with 1400 food bags being distributed over the last twelve months.
However Richard's main topic was about a local team of volunteers who are working to 'Bring Back the Beauty' - the Beauty being one of the last remaining 1930's ring-net fishing boats in existence. Manx Beauty PL 35 was launched into Cellardyke harbour along with her sistership Manx Fairy PL 43 on 11 June, 1937. Together with two other boats, Manx Lad and Manx Lass, the ring-netters were ordered as part of a Manx government initiative to revive the Isle of Man fishing industry.
Manx Beauty and Manx Fairy were built at Cellardyke as a result of provost Willie Carstairs, a successful local businessman, who had previously commissioned several new builds for the boatyard just east of the harbour. A model of the Beauty can be seen in the Scottish Fisheries Museum in Anstruther.
Manx Beauty is now lying at Liverpool and in poor condition; the immediate aim of the team is to raise £5000 to cover the cost of a low loader and transport back to Cellardyke. It is expected that it will then be a three year project to bring the boat up to MCA standards, so she will be able to take passengers.
Richard went on to speak most interestingly of the history and working life of the Beauty - and of the crew and their families, for whom ring-net fishing became their way of life. Interestingly the boats were used during WW 2 on inspection duties.
Richard's talk generated much interest and following discussions a vote of thanks was proposed by Eric Dewhirst.
The team can be contacted at bringbackthebeauty35@gmail.com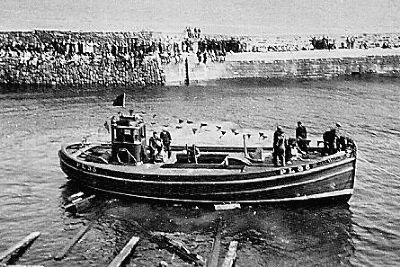 Manx Beauty on her launch day in Cellardyke harbour in June 1937.
Truth Behind the Fiction..
07 October 2019
Guest speaker on 7th October was retired GP and now novelist Dr Pam Cairns. She spoke about 'The Truth Behind the Fiction' - a reference to her novels, which address the brutal topics of abuse, modern day slavery and child trafficking.
We heard of Dr Cairn's work helping to provide primary heath care to the Amazonian Indians. These peoples, who are hunters, fishermen and farmers are enticed to cities in the hope of a better way of life. The reality being an impoverished life in diseased, sprawling slums with polluted water and with street children, unloved and abandoned.
Sadly we heard too of overwhelming difficulties in India, where again abuse of children, girls and women is widespread. There is also the need to provide care for children of sex workers.
But we also learned of work being done jointly by the Free to Live Trust and the Rotary Club of Pune Amonara where, following two years of fundraising, a modern home for girls has been built - and now followed by one for boys. These are achievements that have attracted Rotary Global funding. More about the Free to Live Trust and about SEEMA's Project can be found at (https://freetolivetrust.org.)
Shockingly we heard that human trafficking can also be found very close to home, here in Scotland. Hidden in plain sight - with often young people, including immigrants, held in very poor living conditions and working in the fields, car washes, nail bars, restaurants and brothels. The 'Human Trafficking Act, Scotland' was an important legal step in helping to combat this abuse.
Her advice was to be alert to these abuses and to act by contacting the police or Crime Stoppers where there are concerns.
Dr Cairns told us of the importance of work being done by The Vine Trust and again of the Free to Live Trust, which works in partnership with the Church of Scotland Guilds.
Following questions a vote of thanks was proposed by clubmember George Hunter, who made the point that our thanks were best reserved for the work that Dr Cairns and her colleagues have done to expose abuse and to help alleviate suffering.
RYLA 2019..
23 September 2019
The 23rd September and the club was pleased to welcome Daisy Singleton, to speak about her experiences at the 2019 RYLA event
RYLA - The Rotary Youth Leadership Award is a week-long Rotary International course that takes place at the Abernethy Trust Centre in Nethybridge, just a few miles from Aviemore. It offers young people an opportunity to participate in physical and intellectual activities, aimed at developing skills in team working, leadership, communication, problem solving and decision-making. These are seen as foundations for self-confidence and self-esteem - vital aspects of responsible and global citizenship. Each year Anstruther Rotary Club sponsors two students.
Daisy spoke in effervescent style of the huge benefit of the course. From initial interview, nervousness and uncertainty, it turned out to be one of the best weeks of her life. With many challenges it was evident that the course had also been great fun.
We heard of the structure of the course - chalets of 8 girls, and teams of 7 for the many adventurous activities - rock climbing, mountain biking, hill walking and raft building. But no gorge jumping, due to flooding.
The outdoor activities were complemented by afternoon talks and by a team recap each evening. It was good to hear how the mix of physical and intellectual challenges helped build teamwork, leadership and problem-solving skills, confidence and self awareness. Daisy commented especially on the new friendships she had made.
Daisy who is a 6th Form student at Waid Academy and Head Girl, is currently looking ahead to university options and the possibility of a legal career, closed her talk by thanking Rotary for an experience she felt was life changing.
Following questions, club member Derek Mathie thanked Daisy for her excellent talk and proposed an appreciative vote of thanks on behalf of the club.
Oil Drilling..
16 September 2019
The 16th September proved to be a mind-stretching account of the complexities of 'well control' in the oil drilling world. The talk was by club member Ian McBain who, in his professional life, was Master of an oil-exploration and well-drilling ship.
Deep-sea oil exploration is difficult and dangerous with equipment working in extreme conditions. We heard that drilling is carried out at depths of perhaps 300 feet in the North Sea - but at up to 8,000 feet in the Gulf of Mexico. Pressures in drill tubes can be 15,000 lb/square inch. We learned something of the mechanics of drilling and the importance of the 'mud' or 'barite' used inside the drill tubes and which has a number of essential functions. The steel tubes themselves some 36 inches in diameter and with walls 1 inch thick. All this without considering the stresses caused by ocean currents and of course bad weather.
We were reminded of just how real the dangers are, when Ian spoke of the drill rig 'Deepwater Horizon' and the catastrophic explosion in April 2010. Working at a water depth of approximately 5,000 feet, a violent explosion occurred, leading to destruction of the rig and resulting in an environmentally disastrous oil spill.
In addition to management practices and safety procedures needed, Ian spoke also of the enormous costs involved and of organisational complexities with oil wells typically being in multiple ownership.
Altogether a remarkable insight into a business that keeps our modern world supplied with the oil needed for fuel and the many synthetic chemicals and plastics on which we depend.
Following questions an appreciative vote of thanks was proposed by Steve Blaney.