Jim Glen..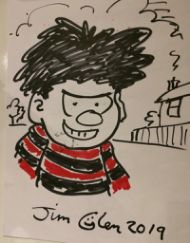 25th March was a special meeting, with the club delighted to welcome as guests, the friends and helpers who made 'the Christmas post' possible. This annual venture has been run for well over thirty years, delivering many tens of thousands of Christmas cards and raising money for charities and good causes. This time £2866 was raised.
Club president Findlay McLaren spoke on behalf of the club in expressing our gratitude for help provided in sorting and delivering around eleven and a half thousand cards.
Following a buffet meal we enjoyed a fascinating talk by Jim Glen, cartoonist, whose 47 year career with D C Thomson focussed on the stories and characters of The Beano children's comic. Jim's talk was like no other - being illustrated as he spoke with drawings of those well known characters. A dozen marks on the paper and Dennis the Menace was there before us.
It was a delight to hear of the stories created, the escapades - and something of the history of the cartoonists who created these well-loved characters since The Beano was launched in 1938. It is a comic that will reach its 4,000th issue this coming summer. Many memories were rekindled, not only of The Beano, but also of The Dandy, Rover, Hotspur, Wizard and others. Jim had brought copies of some old editions with colour front and back and the rest black and white.
It was interesting to hear how stories and language have changed through time - and to hear too of constraints due to paper restrictions during WW2. Jim mentioned a short-lived comic 'The Magic', which was aimed at a younger audience, but was a casualty of these restrictions - and whose surviving issues are now valuable collectors' items.
Many were surprised to learn that, in an age of computer technology, the art work is still hand-drawn, with a single page of a comic representing a full day's work for a skilled cartoonist. But it should not have been a surprise, when Jim's consummate skill was so evident - he told us that he has drawn every day from a young age - and still does so.
Following questions, President Findlay expressed the appreciation of the club in proposing a warm vote of thanks. This was made all the more convincing as Findlay appeared in character ( although possibly with slightly less hair) he is pictured below with the real Dennis and with Jim Glen.