SOS - GIN..
09 March 2020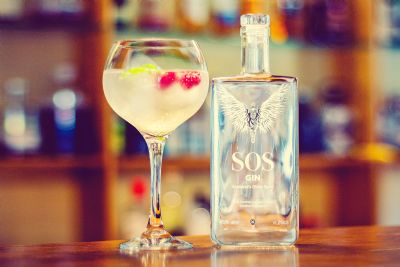 We were pleased to welcome a number of guests on 9th March to hear from Scottish Gin-making duo Craig and Mark Munnoch-Wahlberg. Their's is a very small, craft venture 'SOS Gin' - Scotland's Other Spirit - a venture where their unique mix of botanicals are found locally and are selected and picked by hand. It is a venture that started as a hobby and with no ambition to expand into large-scale production.
Mark told us that it was a sense of smell that helped determine which botanicals might work well together - the result being a mix of just four - juniper, three kinds of de-seeded rose hips, rhubarb and chamomile.
It was clear that there is a focus on quality and presentation in their marketing plan. Bottle choice, closure type, labelling, packaging and presentation clearly being to the fore.
A 100-litre copper pot still is used with 5-micron filtration and care taken to reject 'heads' and 'tails' from the still - just the 'hearts' being used, to ensure perfect clarity of spirit. The product is bottled at 45% ABV.
Sales are currently on-line, together with selected wholesalers and retail outlets plus some farmers' markets.
It was interesting to hear of the business aspects of this venture, particularly of the care that must be taken to ensure compliance with HMRC rules for the production of alcohol and, of course, the payment of duty.
Following questions and a most enjoyable sampling, George Hunter proposed the vote of thanks.
More about Craig and Mark's venture can be found at WWW.sosgin.co.uk.
HMS Dragon..
02 March 2020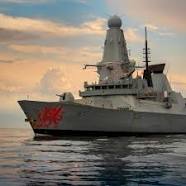 Speaker on 2nd March was club member Derek Mathie. Derek has family links to the Royal Navy and spoke about visiting HMS Dragon. Entering service in 2012 this is one of the Royal Navy's six type 45 air defence destroyers.
152 metres long, 8,000 tonnes in displacement, 190 crew and with a range of 7,000 nautical miles it is a formidable fighting unit - and one that comes with a £1Bn price tag.
We heard of the ship's armaments including Sea Viper missiles with a 70 mile range and a main 4.5 inch gun with a range of 13 miles - and with guidance from radar having a 200 mile range.
But Derek spoke too of a less obvious role for this vessel - that of combating drugs. In March 2019 Dragon made its seventh drug seizure: 224 kg of heroin from a fishing vessel in the Arabian Sea. In total Dragon has made 8 drug busts and seized over 18 tonnes of narcotics.
And in a humanitarian role, February 2017 saw Dragon rescue the fourteen crew of the British yacht Clyde Challenger, which had been dismasted and was adrift in the Atlantic Ocean 610 nautical miles south west of Cornwall.
Derek also spoke of the stress that serving in the Royal Navy can place on families - with long absences for serving officers; both men and women. He told of his experience at the dockside awaiting the homecoming of Dragon and speaking to a small girl there. 'Are you waiting for your Dad?' asked Derek. 'No - my Mum' replied the child. A very human story that brings home the reality of life for those service men and women on whom we depend for our safety and security.
This was very interesting and personal talk and, following questions, a vote of thanks was proposed by Bill Batchelor.
Surgeon and Painter..
24 February 2020
The 24th February was a special meeting, as we welcomed friends who had supported us in making our Christmas postal delivery service possible. The better part of 11,000 cards were sorted and delivered up and down the coastal villages from Elie to Crail, with £2,628 raised for charities and good causes. It was a pleasure to be able to thank everyone, as we enjoyed an excellent buffet meal prepared by The Rockies restaurant. A 'thank you' also to Anstruther Golf Club for allowing us to take over their members' lounge.
Following our meal, guest speaker was Mr Glenn Jones, whose talk was 'The Surgeon and the Painter'. This turned out to be a deeply researched and illustrated talk about the highly regarded 19th century surgeon Thomas Black of Anstruther - and the equally well regarded artist Robert Fowler of Cellardyke.
But this talk was far more. It explored family and business relationships, brought in the anatomist Dr John Goodsir FRS, sailing ships and voyages to the Arctic.
We heard that Thomas Black (1819-1864) sailed to Greenland twice as a surgeon on whaling ships before setting up in his profession in the East Neuk burgh in 1839. Tragically however, in the early hours of February 29, 1864, he died after falling into mud and silt in Anstruther harbour on his way home, in the dark, after visiting a patient.
Robert Fowler (1853–1926) was a Scottish artist who painted mythological scenes and landscapes. He largely worked in Liverpool, but was born in Cellardyke and baptised in Kilrenny Church in May 1850. He painted the portrait of Thomas Black (apparently painted posthumously) which now hangs in Anstruther Town Hall. It was interesting to learn that Robert Fowler, like so many eminent Artists was strongly influenced by Japanese art in his later career.
This was altogether a fascinating talk with many threads of profession and family intertwining people and places.
A vote of thanks was proposed by club president Findlay McLaren.
Tidal Power..
17 February 2020
17th February and the club was delighted to welcome Chartered Engineer John Bowman, who is a mechanical design engineer with Orbital Marine Power Ltd.
John delivered an assured and fascinating look at the work of his company, which is developing innovative machines to harvest tidal power from the sea.
Orbital Marine Power Limited (formerly known as Scotrenewables Tidal Power) is credited with pioneering floating tidal stream turbines since the company's formation in 2002 in Orkney, Scotland. Maximum tidal flow is experienced close to the surface, which is why floating turbines provide higher efficiency in power capture compared to machines permanently fixed closer to the sea bed.
Much development work was carried out with a first prototype machine, which paved the way for the current 'Orbital 02' project which is being built at the moment. It was pleasing to hear that much of the work is being done in Cupar and Dundee. It is an impressive machine: 74.2 metres long, 26.3 metres draft, effective turbine diameter 20 metres to produce 2.4MW output at 11,000 volts ac.
John's talk also covered political and environmental considerations. Millions in crowd funding were raised from just about all parts of the UK, together with European support - with mention made of the European Marine Energy Centre. The potential for change as a result of Brexit, clearly a concern, with £10 - 15M of funding at risk.
Although viewed as a beneficial 'low carbon' technology, It was interesting to learn of environmental concerns likely to result from the extraction of large amounts of energy from tidal flows. It is thought there could be, not necessarily positive, implications for tidal effects in coastal areas.
The audience clearly found this topic of immense interest, with many questions asked as John developed his story. It was greatly appreciated and properly reflected in an appreciative vote of thanks proposed by Malcolm MacDonald
Growing up in the Manse..
10 February 2020
We were delighted to welcome Miss Jessie Lyon as speaker on 10th February. Jessie is a great friend and supporter of Rotary and leads our club choir as Musical Director.
This evening though we were treated to a most interesting story of growing up in the Manse - as of course Jessie did.
Growing up was in Addiewell in West Lothian, where her father was the Minister. The manse was an eleven roomed house - far removed from the church - and with two staircases. Addiewell was then a mining community, with a history closely related to 'Paraffin Young' and his patented process for the extraction of oil from the local shale. An industry long gone, but recalled now in the remaining 'bings' of red shale.
It was clear that being in a manse imposed some restrictions in those days - no toys, no dancing classes and no visits to the cinema being mentioned. It was also during the second world war with rationing and the many other privations brought to so many. Not many would know that, at that time, the Church of Scotland paid ministers six months in arrears!
There were many memories - the sound of bombers overhead and targetting Clydeside, local miners digging shelters, father in the Home Guard, the lack of heating in winter - and burst pipes, barrage balloons, railings being removed for munitions, and the school assembly and leaflet drops to let people know when the war was finally over.
We heard too of the importance of the Minister and Doctor in those times and in remote villages - the need for self-dependency. And the community support for people in a tragically remembered pit disaster of 1947.
An important part of Jessie's life is music and we heard too of its importance in her childhood. Throughout this most interesting talk we were treated to verses of the songs remembered; community singing too!
Altogether a greatly appreciated talk with a vote of thanks proposed by Colin Campbell.
Californian Farming..
03 February 2020
We were pleased to welcome Alastair, son of club member Ian Brunton as speaker on 3rd February. Both are farmers and Alastair spoke of a study tour he made to the USA under the umbrella of the Scottish Association of Young Farmers. He was one of 15 selected from all of Scotland.
His visit was the Agri and Rural Affairs 2018 visit to California, that took in areas from San Francisco and the Napa Valley to Sacramento. The tour theme was 'Improving efficiency by embracing technology'
We heard that California was picked as being well known as one of the most advanced and productive agricultural areas in the world. With over 76,000 farms and ranches they generate more than $100 billion worth of agricultural related activity annually, producing over 400 different plant and animal commodities. Main products are Dairy, almonds, grapes and beef. They produce more agricultural produce than any other state in America and have done so for the past five decades.
What followed was an eye-opening account of the sheer industrial scale of farming there. One farm with 35,000 acres of carrots under cultivation; another with 8,000 cows milked by 110 robots.
An area producing 2 million pounds of cheese per day - around 25% of the US market. Egg packing plants running 24 hours a day.
A Mondavi winery where land is $1 million per acre, with each acre producing 5 tons of grapes and an output of 1.5 million bottles of wine a year - at $50 a bottle!
But we heard too of concerns over the sustainability of this assault on the land. Water supplies are of particular concern and Alastair said that the Californian water table becomes lower each year as irrigation water is pumped out faster that it is replenished. It seems that cheap labour is also becoming scarce, leading to more automation - but also to migration of production across borders.
A fascinating, but perhaps also a worrying insight to a very different agricultural world.
Following questions, Roderick Skinner proposed a vote of thanks.
Kellie Lodging..
13 January 2020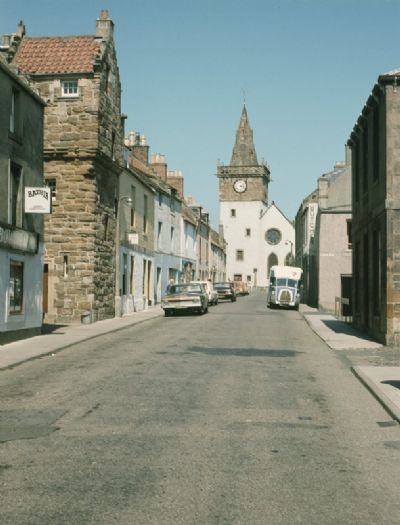 Speaker on 13th January was club member Anthony Lodge who took as his topic Kellie Lodging; a late 16th century house which stands on the north side of the street at 23 High Street, Pittenweem.
It is rubble-built and consists of a three-storeyed main block with a wing projecting to the street. The wall head of this main block was raised in the 17th century and the windows have been enlarged. The upper part of the wing oversails on a heavy moulded corbel course similar to that on the east tower of Kellie Castle.
Tony has researched the history of Pittenweem, and provided fascinating detail on the Lodging. We heard too of the origins of Pittenweem from the granting of permission by King David 1st of Scotland, to the Prior of May, to set up a new town - and to its history of fishing, coal mining and salt production.
The Lodge was the town residence of the Earls of Kelly and was thought to have been built by them. However Tony's research has led him to the belief that it was probably the Ingles of Tarvit who were responsible. We heard of evidence that a subsequent sale was via David Scott of Scotstarvit to Alexander, Earl of Kelly.
It was entertaining to hear something of the social history of Pittenweem - some famous residents like clockmaker John Smith and families such as the Abercrombies, Oliphants and Erskines - along with images from mediaeval times and the stories behind street names such as Coal Wynd and Water Wynd.
Altogether a most interesting and entertaining talk and, following questions, George Hunter proposed an appreciative vote of thanks.