Playlist For Life..
15 April 2019
Speaker at our 15th April club meeting was Sue Eddy, from the Scottish registered charity 'Playlist for Life' (https://www.playlistforlife.org.uk) This organisation, which was founded in 2013, wants everyone with dementia to have a unique, personal playlist - all the tunes that are most deeply attached to memories and emotions, gathered together in one place; the soundtrack of a life.
We heard that more than twenty years of scientific research shows that listening to a personal playlist can make living with dementia easier and happier. Caring professionals have commented on the way this music is calming, reduces agitation and helps communication.
Playlist for Life's founder, the writer and broadcaster Sally Magnusson, discovered this by accident when caring for her mother, Mamie, who had dementia. After Mamie's death Sally wrote her memoir 'Where Memories Go: why dementia changes everything'. In the course of research for her book, she learned that this power of personal music is a recognised phenomenon, with huge benefits for those with dementia - but also for family and carers.
Sue explained that music from a persons 'memory bump' during the ages 15 - 25 years was especially effective and mentioned a book '100 years: A Century of Song' as being helpful in finding the music. It lists the 100 most popular songs for every year from 1915 to 2015.
Although a Scottish charity, Playlist for Life works in all parts of the UK and aims to have a total of 150 help points set up by next year.
Sue concluded her interesting and impressive illustrated talk by showing film of the remarkable and positive benefits experienced by people with dementia. It was very moving to see the story of Harry and Margaret and the almost magical way in which communication came back. It is not too much to say that lives were uplifted during remaining years.
A heartwarming story and, following questions, club member John O'Neill proposed a warm vote of thanks.
Engineering in Miniature..
25 March 2019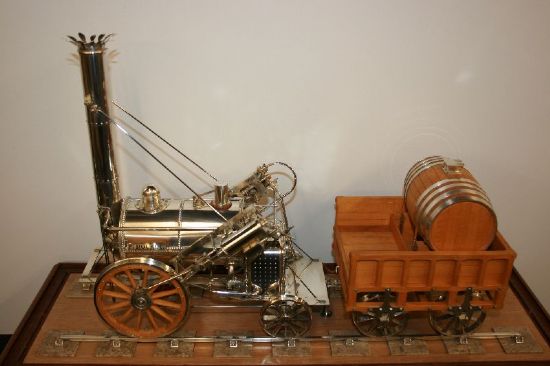 Solid silver model of the 'Rocket', built by Dr J Bradbury Winter and in the collection of The Institution of Mechanical Engineers.
Club member Eric Dewhirst was speaker at the 25th March meeting and chose as his topic the hobby of 'engineering in miniature'. This was illustrated with his partly built steam wagon - a 1/6 size version of a 1920's prototype built by Clayton Wagons Ltd of Titanic works, Lincoln.
Clayton built their first road vehicle in 1894 and continued for 70 years. At their peak they employed 5000 people on a 100-acre site.
Eric went on to describe the hobby of constructing proportionally-scaled working representations of full-sized machines in miniature. It is skilled metalworking with a strong emphasis on artisanry or craftsmanship.
We also heard something of the history of the hobby - with origins in the Industrial Revolution where new technical skills were needed to make machinery, service it and organise factories. The hobby reflected social change. Hugely influential were the Mechanics Institutes; educational establishments, originally formed to provide adult education in technical subjects, to working men. Often funded by industrial philanthopists such as Robert Stephenson, James Nasmyth and Joseph Whitworth.
The world's first Mechanics' Institute was established in Edinburgh in October 1821 as the School of Arts of Edinburgh - still there almost 200 Years later as Heriot Watt University.
Eric spoke too of some of the men who contributed over the years to popularise the hobby and provide designs and 'how to make it' instructions in books and magazines - especially the 'Model Engineer' magazine, founded in 1898 and still going strong.
An unexpected name was Neville Shute Norway - best remembered as an author of novels such as Pied Piper, A Town Like Alice and On The Beach. But he was himself a professional Aeronautical engineer and a maker of models too. His last book 'Trustee from the Toolroom' had as its hero a model engineer.
In conclusion we were brought up to date with the work of Cherry Hill, nine-time winner of the Duke of Edinburgh's Challenge Trophy for excellence in model making. She is outstanding in the quality of her work.
Following questions a vote of thanks was proposed by Steve Blaney.
BALCASKIE ESTATE..
18 March 2019
We were delighted to welcome Sam Parsons as speaker on the 18th March. Sam, who is Balcaskie Estate Manager, came as guest of club member Colin Campbell.
Following the usual club business we were treated to a comprehensive illustrated talk about the Estate. This started with a history of the House and estate origins, through current operations and developments and looking forwards to future plans, projects and dreams.
The estate covers some 2000 Ha and in altitude ranges from sea level to maybe 650 feet. We heard of the aims to be financially sustainable, to build environmental capital and to build social capital.
Sam gave a fluent and enthusiastic tour of the many ventures already active at Balcaskie - from arable farming, grain for brewing, beef production and wild game management to the development of steadings for business units and the 'Bowhouse' spaces to build a life and business.
We read much in the press about 'care for the environment' and it was a pleasure to hear that this local estate is already deeply into conservation of the built environment, soil health improvement, biomass management, conversion to organic production and much more.
An interesting thought was the suggestion that it is important to revise our thinking about food production - from quantity (tonnes) to quality (nutrient value).
Although the estate sells beef to big buyers like ALDI, M&S - and McDonalds, there is a desire to develop ways to maximise returns by shortening the route from estate to consumer. The relatively recent monthly food markets, currently attract 4 to 6000 people each time - showing considerable potential.
Sam spoke also of the Estate's desire to find ways of increasing rural jobs. A chart showed 'direct' Estate jobs in 1905 to be around 100 people. By 2008 this had dropped to 6 - but with recent initiatives could now be assessed at around 94. The most recent of these initiatives is a scheme to rent out 2-acre plots of land. A first plot is already in use by a lady who is making a living by growing cut flowers.
Altogether a privileged look at an impressive local success story and, following questions, club member Eric Dewhirst proposed an appreciative vote of thanks. More about Balcaskie can be found at the website (http://www.balcaskie.co.uk)
SEAMAB School..
11 March 2019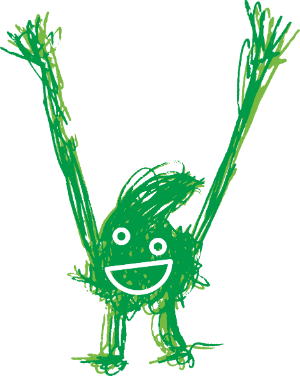 Speaker at our meeting of 11th March was Julian Reeves, who spoke about the work of the Seamab charity. Julian is a trustee of this charity, which runs a very special small school at Rumbling Bridge in Perthshire.
The school exists to help some of Scotland's most vulnerable and severely-abused children; those who are, sadly, beyond the help of more mainstream schools. We heard that care is provided 24 hours a day and 365 days a year. A safe and secure environment is created through a very structured day, that requires 70 staff to care for, currently, 18 children.
It was a difficult story to listen to as Julian described (anonymised) stories to us.
Almost all of the children at Seamab have experienced significant trauma. This may have included neglect, physical abuse, sexual abuse and emotional abuse.
Most of the children live with Seamab all year round. Boys and girls are aged between five and thirteen when they arrive and they can stay up to age eighteen.
Importantly each child can stay for the right length of time for them - and each has an individual programme for care and education; helping in the most effective way possible for that child.
Julian made reference to a number of studies, including research showing that children who are looked after away from home, are many times more likely than other children to achieve less in school; have a mental health problem; be homeless; spend time in prison; and die before the age of twenty. He strongly emphasised the ethos at Seamab, which is determinedly working to change this.
In the face of so much sadness and heartbreak it was encouraging to hear that success is being achieved for children. Chances are being created and the idea that 'tomorrow will be a brighter day' a dream worth pursuing.
Following questions, club member William Duncan proposed a vote of thanks.
Jim Glen..
25 February 2019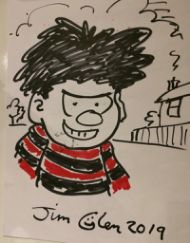 25th March was a special meeting, with the club delighted to welcome as guests, the friends and helpers who made 'the Christmas post' possible. This annual venture has been run for well over thirty years, delivering many tens of thousands of Christmas cards and raising money for charities and good causes. This time £2866 was raised.
Club president Findlay McLaren spoke on behalf of the club in expressing our gratitude for help provided in sorting and delivering around eleven and a half thousand cards.
Following a buffet meal we enjoyed a fascinating talk by Jim Glen, cartoonist, whose 47 year career with D C Thomson focussed on the stories and characters of The Beano children's comic. Jim's talk was like no other - being illustrated as he spoke with drawings of those well known characters. A dozen marks on the paper and Dennis the Menace was there before us.
It was a delight to hear of the stories created, the escapades - and something of the history of the cartoonists who created these well-loved characters since The Beano was launched in 1938. It is a comic that will reach its 4,000th issue this coming summer. Many memories were rekindled, not only of The Beano, but also of The Dandy, Rover, Hotspur, Wizard and others. Jim had brought copies of some old editions with colour front and back and the rest black and white.
It was interesting to hear how stories and language have changed through time - and to hear too of constraints due to paper restrictions during WW2. Jim mentioned a short-lived comic 'The Magic', which was aimed at a younger audience, but was a casualty of these restrictions - and whose surviving issues are now valuable collectors' items.
Many were surprised to learn that, in an age of computer technology, the art work is still hand-drawn, with a single page of a comic representing a full day's work for a skilled cartoonist. But it should not have been a surprise, when Jim's consummate skill was so evident - he told us that he has drawn every day from a young age - and still does so.
Following questions, President Findlay expressed the appreciation of the club in proposing a warm vote of thanks. This was made all the more convincing as Findlay appeared in character ( although possibly with slightly less hair) he is pictured below with the real Dennis and with Jim Glen.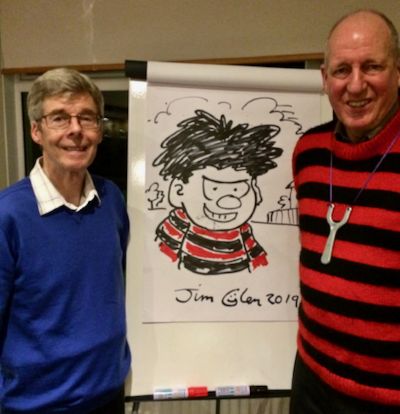 Chalices..
11 February 2019
Club member Andy Matthew was speaker on 11th February and told the remarkable story of how a pair of surplus communion chalices made the long journey from their home church in the East Neuk of Fife, to St Andrew's Scots Kirk in Colombo, Sri Lanka.
The story started almost eighty years ago, when two young men enlisted in the Army. They trained together, became officers together, joined the Chindits together and together fought the Japanese in Burma during WW2.
They survived and returned home to find civilian life lacking. Both decided to become Ministers in the Church of Scotland. They trained together and were ordained together. One became Minister at Netherlee church in Glasgow; the other at St Andrew's, Colombo.
They remained in touch and for over sixty years, Netherlee Church has maintained fellowship and friendship in partnership with St Andrew's. This also led to a live connection between the 91st Glasgow (Netherlee) Scouts and the 17th Colombo St Andrew's (Netherlee) Scout Group.
For many years the congregation at Netherlee supported the Ladies Ward 19 at Mulleriyawa Mental Hospital in Colombo; but it was in 2005 that Netherlee Church made a major contribution towards the establishment and continuing operation of a halfway house called 'Netherlee Cottage'. This place enables ladies from Mulleriyawa to be rehabilitated into society, develop skills for employment and move on to independent living.
But it was the decision to mark the 90th Anniversary of Netherlee Church, by providing St Andrew's Church with a Communion Cup, that brought this story to its conclusion. A need for a communion cup was advertised. Contacts in the Church of Scotland worked their magic, the need was satisfied, a donation made and the East Neuk Chalices found a new home.
A remarkable and intriguing story of the power of the friendship and fellowship of two men; of two congregations and of worlds many thousands of miles apart - and yet together.
It was a humbling yet warming story and one for which Malcolm MacDonald was delighted to propose an appreciative vote of thanks on behalf of the club.
FRIGATE UNICORN..
28 January 2019
We were delighted to welcome Professor Emeritus David Bradley, to our club meeting of 28th January. Professor Bradley is an HMS Unicorn volunteer and past trustee of The Unicorn Preservation Society. We were treated to a fascinating and detailed illustrated tour through the life and times of this historic frigate, which is berthed in Dundee.
Her longevity is remarkable, having spent almost 200 years afloat, with over 100 of those years (1873 till today) spent in Dundee.
We heard that Unicorn is, importantly, an example of a key moment in the design of naval vessels; one that resulted in the transformation over the 100 years from 1805 to 1906, from navies based on sailing warships – the Wooden Walls – to ones based on armoured and steam powered vessels – the Dreadnoughts.
To understand just how huge this change was, we were invited to imagine ourselves as seamen on Henry VIII's Mary Rose in 1545. Then 260 years later on HMS Victory at the Battle of Trafalgar in 1805. Although there would be some differences, Victory essentially sailed, fought and functioned in exactly the same manner as the Mary Rose. But go forward another hundred years, to 1906 and HMS Dreadnought and you would be in an entirely alien environment. Gone are sails and wooden construction to be replaced by steam turbines and steel armour. Gone are rows of muzzle loading cannon with ranges of 2 or 3 kilometres to be replaced by turrets carrying breech loading guns capable of firing 12-inch explosive shells weighing 850 pounds distances in excess of 12 miles.
Professor Bradley elaborated on fundamental changes that were happening - new materials such as wrought iron making for stronger construction; with improved hull design leading to faster and more stable performance and seakeeping. Wrought iron also permitted larger hull construction, with greater resistance to round shot and at the same time providing more stable gun platforms.
Of great historical importance, Unicorn also represents the end of the sailing ship navy. In 1827, three years after Unicorn was launched, came the Battle of Navarino Bay, the last battle fought entirely by sailing warships. The day after the battle the steam warship Karteria, designed and built in Britain at Rotherhide on the Thames and in service with the Greek navy, entered the bay!
Interesting too was the fact that Unicorn never sailed under her own power. She was roofed over and used for training and other purposes and only ever had training masts installed. Interestingly she did, in May 1945, accept the surrender of a Nazi-era submarine - but that is another story! Importantly she is perhaps 80% original - even the roof is the original!
This was an outstandingly interesting talk, with many fascinating pictures and vast detail. More can be found at (http://www.frigateunicorn.org). Following questions an appreciative vote of thanks was proposed by Roderick Skinner.