DRONES..
08 October 2018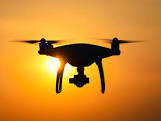 We welcomed Eric Moran to our 8th October meeting and learned of his enthusiasm for and interest in drones - or more correctly 'unmanned air vehicles'.
Eric had with him an example of a small vehicle intended for recreational use. And he said easy to build. Although of deceptively simple physical design with a frame, electric motors, propellers and battery, the hidden microelectronics were clearly complex. With wireless transmitters and receivers, sensors, stability controls, computer and satellite communication, the vehicle was of very advanced design. Yet amazingly inexpensive to buy.
Eric demonstrated his small unit within the meeting room and flight stability and control precision were impressive. Powered by 'lipo' batteries, flight duration could be 10 to 30 minutes, depending on battery and vehicle size, with a range of 2.5 to 3 miles. Even small vehicles are able to carry payload such as a small camera and are sufficiently rugged to withstand 20mph winds. Wireless operating range is around 5 miles.
We saw several high quality videos taken over familiar local landmarks, coastline and harbours and heard of the excitement of using on-board video cameras and special goggles to 'pilot' the vehicle.
Clearly there are questions of safety and privacy involved and Eric spent some time speaking about operating regulations and of the importance of training. He also described the sophistication now available, where reference to 'satnav' information enables vehicles to automatically avoid flight in prohibited areas - airports and similar. The same systems enable a vehicle to automatically return to home if, for example, battery reserves become low.
Altogether an intriguing talk and, following questions, a vote of thanks was proposed by club member George Hunter.
SUNDANCE..
01 October 2018
Sailing in the Forth was the topic for a photo tour of destinations visited in Leisure 23 SL yacht 'Sundance'.
Club member Steve Blaney is an enthusiastic leisure sailor and this was immediately evident as he started his illustrated talk at the 1st October club meeting.
A photo exploration of Steve's yacht showed everything spic and span from in-mast reefing to Volvo Penta 10 HP motor, to berths, galley, heads, electronic navigation and hand-carved tiller.
Our journey continued at sea past the Isle of May, Bass Rock (with its wind vortices), Aberdour, Inchcombe, Cramond, North Berwick, and back via Crail and Anstruther - with its Sea Queen festival - then on to home berth in Elie.
Along the way we passed the Forth bridges and saw pods of dolphins. Remarkably the entire journey was conducted with the bluest of skies and the most fabulous of scenery! The camera never lies.
More seriously, we also learned something of the knowledge and skill needed to safely navigate in and out of harbours along the Forth coast - many of which have difficult access with low water, rocks and sand bars.
Altogether a fine adventure - and, for most of us, thankfully conducted in armchair comfort! Steve's enthusiasm was infectious and, following questions, an envious vote of thanks was proposed by Bill Henderson.
THE SUN..
10 September 2018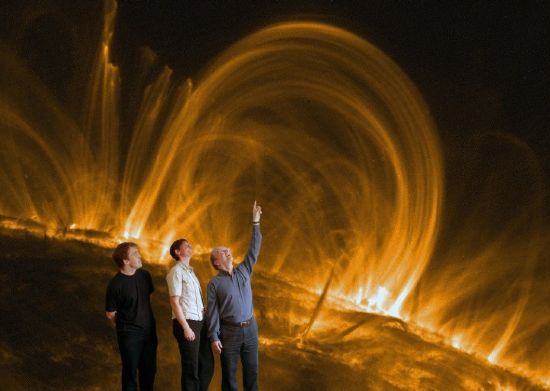 Speaker at our meeting of 14th September was Prof Eric Priest FRSE, FRS: mathematician and Emeritus Professor at St Andrews University. He took as his topic 'The Sun'.
Professor Priest is a recognised authority in solar magnetohydrodynamics - the study of the interaction between the Sun's magnetic field and its plasma interior. Admittedly not a subject that is much discussed in Rotary circles - but we were treated to the most fascinating, entertaining, wonderfully enthusiastic and humorous - illustrated tour de force about this centre to our part of the universe.
Profound concepts were effortlessly explained, as we learned about our ionosphere, about plasma, sunspots, granulated and tubular magnetic fields, several million degree temperatures in the Sun's corona and supersonic solar winds.
Photographs by spacecraft of the Sun's surface and photosphere were stunning, where movement and flares could clearly be seen to be shaped by the Sun's magnetic field. Terrestrial pictures taken during a full eclipse were also impressive with flares visible at the Sun's surface. Prof Priest spoke of his expedition to Egypt (complete with a most impressive photograph of he and his wife riding a camel and with pyramids in the background!) to see a total solar eclipse. He described the increasing darkness, cold, sharpening shadows and then, in the last ten minutes, a view of all the planets in a line.
We heard that solar flares take one or two days to reach Earth whilst 'fast' particles cover the 93 million miles in an hour. This gives us the majestic 'Northern Lights' spectacle - but can also disrupt spacecraft, satellites and electronic equipment on Earth.
We learned too something of Prof, Priest's current work interest in magnetic instabilities, magnetic waves and the conversion of magnetic energy to heat.
Altogether we were privileged to enjoy a stimulating and exciting talk, where 'profound' feels like an understatement. Following many questions, an appreciative vote of thanks was proposed by club member Ian Kennedy.
RYLA 2018 - Lily Forsyth..
03 September 2018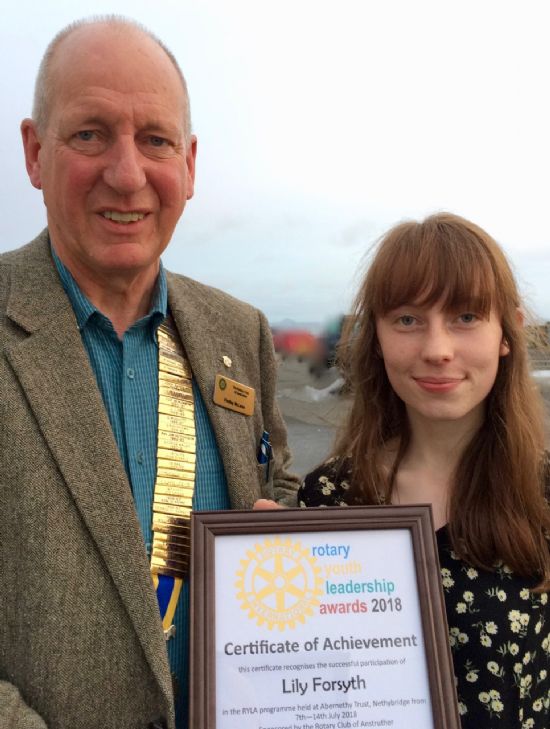 3rd September and the club was privileged to welcome RYLA student Lily Forsyth as speaker.
RYLA - The Rotary Youth Leadership Award is a week-long Rotary International course that takes place at the Abernethy Trust Centre in Nethybridge, just a few miles from Aviemore. It offers young people an opportunity to participate in physical and intellectual activities, aimed at developing skills in team working, leadership, communication, problem solving and decision-making. These are seen as foundations for self-confidence and self-esteem - vital aspects of responsible and global citizenship.
Lily spoke with great warmth, insight and enthusiasm about the course and of the way she benefitted. Her opening words were 'amazing' 'incredible' 'inspiring' and she focussed throughout her illustrated talk on the enormous benefits she has gained. It was a delight to hear, especially, of the way she felt her self confidence had grown - a point she returned to throughout her talk. She found the management of the course and the structuring into 'Rooms' or teams very helpful in breaking the ice and forming links: she felt she was part of a family and comfortable in a secure environment.
We heard of the many adventurous activities - rock climbing, cycling, gorge walking, hill walking, cliff jumping - but, unusually for Scotland, no canoeing due to lack of water in the river!
The outdoor activities were complemented by talks each afternoon by visiting speakers, whom Lily described as 'inspirational'. It was good to hear how the mix of physical and intellectual challenges created an environment where team work flourished and close friendships were made.
Lily, who is a final year student at Waid Academy and with an ambition to study Drama, closed her talk by thanking Rotary for an experience she felt was life changing: one that gave her pride in overcoming the many challenges presented and boosting self awareness and self confidence. She described the last day of the course as emotional as goodbyes were said to many new friends.
Following questions, club member Prof. Tony Lodge proposed an appreciative vote of thanks on behalf of the club. He expressed pleasure that for Lily the course had provided lessons for life - so much more than just an adventure holiday. He commented too that in his own academic life he had come to understand the importance of confidence and determination in achieving ones goals. He said that ambitions CAN be achieved and simply urged Lily to 'go for it'.
The photograph above shows Lily receiving her certificate of achievement from club president Findlay McLaren.
North Carr..
27 August 2018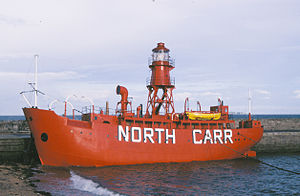 The 27th August speaker was club member Allan Wood, who gave a very interesting illustrated talk about warning lights at the North Carr rocks - four sandstone Riggs that presented a serious shipping hazard.
The story started with a 17th century owner of Balcomie Castle, who proposed action - but nothing happened.
The task proved to be exceptionally difficult, due to the rocks being mostly submerged at high tides. Even efforts by Stevenson, that master of lighthouse building, were thwarted. In 1810 / 1812 he had the contract to build at May Island and attempted North Carr too. However tiers of interlocking masonry were regularly destroyed by storms. Part of the difficulty seems to have been the small footprint available - some eighteen feet in diameter. Finally, after a number of attempts, the surviving five tiers of masonry were topped with an open wooden structure topped by a 'ball'.
Rocks for the work were cut from a quarry just below the present Crail Golfing Society clubhouse - with a template for shaping the rock still visible on the foreshore adjacent (and marked by an information board). This work was completed in 1821.
By 1887 warning provisions had been improved, with the deployment of a lightship close by and in 1933 this was replaced by the iconic North Carr Lightship, which was itself retired in 1975. Since then and to present times, warning has been provided by a shore-based sectored light at Fife Ness.
The North Carr Lightship was itself involved in a tragic event. On the 8th December 1959 and amidst the most tumultuous seas ever witnessed by fishermen on the East Neuk of Fife, the lightship had broken its mooring and was drifting towards the very rocks it was stationed to protect others from. Amidst 40 foot waves, a second anchor, encumbered with chain, was thrown out - it held fast and the lightship survived. The Broughty Ferry lifeboat, Mona had been launched on a rescue mission and sadly It is thought to have turned turtle with the crew of eight lost.
North Carr the last remaining Scottish lightship and is currently berthed in the Victoria Dock, Dundee.
Following questions a vote of thanks was proposed by David Mann.
Stephen Gethins..
13 August 2018
The 13th August speaker was local member of parliament, Stephen Gethins. This was quite unusual for Rotary which as an international organisation neither subscribes to, nor promotes any political group.
Mr Gethins proved to be an interesting and informative speaker and respected Rotary ethos by steering clear of any form of 'party politics'. He focussed on explaining the job of an MP - what is an MP about! He made the point strongly that the majority of his work is not 'political'.
It was interesting and encouraging to hear that, despite media headlines, the job involves a huge amount of cross-party committee work. We heard that this covers a very broad range of topics and that 'badges are left at the door'. Mr Gethins reiterated the fact that at Westminster, all political parties are in a minority! It was not altogether surprising to hear that the administrative workload being created by 'Brexit' has been to the detriment of important effort elsewhere.
We heard too of just how important his local constituency work is. Again there is much linkage with colleagues of differing political parties - something that is made essential as Westminster and Scottish Wards are of different sizes. Mr Gethins made the point that one cannot work in a vacuum!
It was especially interesting to hear of work done in conflict resolution and in 'peace building' Something that, especially on an international stage, will take generations to accomplish - with culture change difficult to achieve. It was perhaps fitting to close with the point made that 'peace is cheap' compared to the alternatives of conflict and war.
Following many questions, a warm vote of thanks was proposed by Allan Wood.