The British Golf Museum..
09 October 2017
Speaker at the 9th October meeting was Hannah Fleming, Museum and Heritage Assistant Curator, who spoke interestingly and very enthusiastically about the popular British Golf Museum, located in St Andrews. So far this year more than 211,000 visitors have passed through its doors.We were taken on a journey through the 600 years or so of golfing history. Did the game originate as 'chuiwan' in China, as 'Kolf' or 'Colf' in the Netherlands, as 'Jeu de Mall' in France - or was it Scotland?
We heard that since it started in 1990 the museum has established itself as the most comprehensive golf collection in Britain - and one of the finest worldwide.
Collections tell the fascinating story of British golf, through material dating from the 17th century to the present day. Over 16,000 items cover equipment, prizes, decorative art, film, photographs and archives. Displays and archives are enhanced by unique loan collections from The Royal and Ancient Golf Club of St Andrews and The Women Golfers' Museum.
From the earliest times, golf has been a sociable game. For 18th century golfing societies, gathering for dinner after play, often in local inns or taverns, was very much part of the day - and members were often required to pay for their food and wine whether or not they attended!
In todays world where the finest golfers can earn enormous sums, it was interesting to learn that the term 'professional' only became common in the 1850s. Before then, men who were not 'gentlemen' golfers were described by their trade, for example ball maker, club maker, caddie or green keeper. Few could make a living from playing golf alone.
The first reference to tournament golf dates from 1819. Sweepstakes contributed by members of The Royal and Ancient Golf Club were played for by the town's ball makers, club makers and caddies. Professional matches, first reported in St Andrews in the 1830s, were common by the 1840s. The stakes, which were often high, were put up by backers, rather than the players.
Hannah brought to life the exploits of some of the finest players of their day. Feather ball maker Allan Robertson was the greatest player of his generation - so far ahead of others that he was banned from some sweepstake competitions! Willie Dunn and then later Tom Morris Senior and Willie Park.
A fascinating talk that had golfers in the audience entranced. Following questions a vote of thanks was proposed by Ian McBain.
Cruising the Forth..
02 October 2017
The 2nd October saw club member Steve Blaney speak about cruising on the Forth. Steve is a keen sailor and has his own sailing boat 'Sundance' - a 23 foot Leisure class. This is a boat he has progressed to via a 'Mirror' dinghy and a 21 foot keel boat.
Steve spoke of his long-time interest in sailing and his membership of Elie Sailing Club, including time spent as Commodore. He mentioned how he was also able to combine his sailing interest and publishing business, with the production of a Pilot Handbook covering all harbours on the East Coast of Scotland.
But the main part of Steve's talk was an illustrated, even dizzying! journey around the harbours of the Firth of Forth, combining photography with this encyclopaedic knowledge of each place. It was of great interest to hear his description of each well-known and often visited, harbour - but from the sailor's point of view.
We journeyed along the North shore of the Firth past Crail, Anstruther, Pittenweem, St Monans, Elie, Lower Largo, Methil, Dysart, Kirkcaldy, Kinghorn, Burnt Island, Aberdour, Dalgety Bay, Inverkeithing, North Queensferry and Charlestown. Then across the Forth to Blackness and its castle, on to South Queensferry, Cramond, Granton, Musselburgh and finally to North Berwick.
The attractions (and some dangers) of each harbour were described with a keen yachtsman's eye - with hostelries and other places of interest added in for good measure. Steve paused at several points to emphasise his view of the importance of tourism to the Scottish economy and the opportunities he saw to expand this business as he journeyed around.
Altogether a most interesting talk and one delivered with great enthusiasm. Following questions a vote of thanks was proposed by Bill Henderson.
District Governor Visit..
18 September 2017
We were delighted to welcome District Governor Graeme Archibald and his wife Carol to our club meeting of 18th September.
Following a meal and club business Graeme spoke interestingly and enthusiastically about Rotary matters, internationally as well as closer to home.
Graeme started by mentioning our current emphasis on 'Rotary - Making a Difference', which sits very comfortably with Rotary's motto of 'Service above Self'
Rotary is of course an organisation that works in just about every country in the world and brings to bear an enormous range of talent, with members representing most branches of human endeavour. Nonetheless many of the statistics that we heard were impressive. As an example and in response to recent severe flooding in the UK, seventy two thousand man-hours of support were delivered, with a value of around £75M.
As always the continuing work of Rotary to support the eradication of Polio in the world was discussed. Now, with only a tiny number of new cases in Pakistan and Afghanistan, the disease is almost under control - but will undoubtedly recur if the programme of vaccination does not continue. Once again the Bill and Melinda Gates Foundation has pledged more support - another $300M over five years - if it can be matched by $50M from Rotary. The challenge is clear and Graeme simply reiterated the commitment to make that happen. It will need 36 consecutive months of no new cases for the world to be declared Polio free!
Graeme went on to talk broadly about many aspects of Rotary. About membership recruitment; about the many new challenges for Rotary in a rapidly changing world and about the opportunities that exist to create linkages with new partners.
Finally concluding his address Graeme thanked the club for its active and effective contribution to many areas of Rotary life.
Following questions, Club President Derek Mathie proposed a wam vote of thanks.
The Most Dangerous Enemy..
11 September 2017
11th September saw club member George Hunter take the floor to talk about the battle of Britain - but with a difference. The story of that epic air battle for survival and the often heroic part played by young Hurricane and Spitfire pilots is well known through books, films and academic study.
In his talk George made reference to Stephen Bungay's book 'The Most Dangerous Enemy' and chose to concentrate on the technology, organisation, management and infrastructure that made Britains short-term survival possible.
We heard of the vital importance of the fact that Britain had the psychological advantage in that it was fighting for its homes - and doing so on home ground. This latter point meaning that the attacking Nazi aircraft were often flying at extremes of range, with limited fuel reserves - especially true for the protective fighter aircraft escorting the bombers.
Although at the start of the air campaign Germany had perhaps 50% more fighters, they suffered a higher attrition rate, whilst at the same time British industry was rapidly increasing the production rate of aircraft - Britain's industrial resources being rapidly reorganised and directed to this task.
Particularly influential was the success in detecting and tracking incoming bombers and then effectively directing interception forces. Key was what George described as the 'analogue internet' of the day. This was an exceptionally well integrated network of radar stations, tracking personnel operated by the Royal Observer Corps and command posts at Stanmore and Uxbridge. The defence network was organised by sector with real-time plotting tables in sector control rooms. It seems that Britain benefitted from a much higher interception rate than was the case for Germany.
Apparently the existence of such a well-integrated intelligence network was not known to the enemy. The task of destroying easily-repairable airfields and difficult-to-hit radar towers also proved more daunting than had been expected.
At the start of the conflict Germany had the benefit of experience, superior tactics and numbers - whilst Britain had defence technology, teamwork and psychological advantage. As history shows this proved to be enough.
Following questions, Tony Lodge proposed a vote of thanks.
Rotary Youth Leadership Awards - 2..
11 September 2017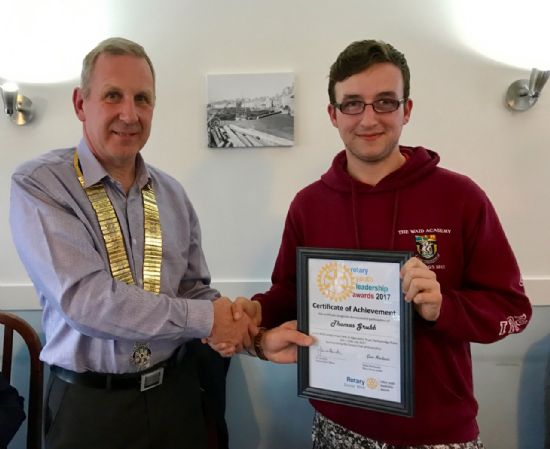 We were pleased to welcome Thomas Grubb to the club meeting of 11th September. Thomas has just left Waid Academy and is now studying Administration at Kirkcaldy College. He came to talk about his experiences at the recent RYLA event, where his attendance was sponsored by Anstruther Rotary.
The Rotary Youth Leadership Award is a week-long Rotary International course that takes place at the Abernethy Trust Centre in Nethybridge, just a few miles from Aviemore. It offers young people an opportunity to participate in physical and intellectual activities, aimed at developing skills in team working, leadership, communication, problem solving and decision-making. These are seen as foundations for self-confidence and self-esteem - vital aspects of responsible and global citizenship.
Thomas thanked the club for sponsoring his attendance at RYLA and commented on a number of aspects of the course. He was particulalrly keen to use the experience to improve his problem solving and decision making skills.
He mentioned the daily talks on various topics as being helpful - as was the opportinity to take the lead in his group during the canoeing activity. He also commented on team building and that he is keeping in touch with a number of friends that he made.
Following a good many questions a vote of thanks was proposed by Andy Matthew. Thomas is seen here receiving his RYLA certificate from club president Derek Mathie.
Rotary Youth Leadership Awards 2017..
21 August 2017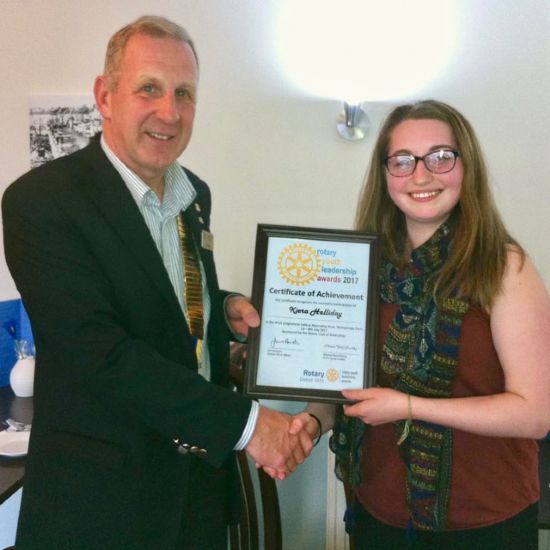 Our photograph shows Kiera Halliday being presented with a framed RYLA award certificate by club president Derek Mathie.
The club was delighted to welcome Keira as speaker at the meeting of 21st August - when she described her experiences at RYLA - the new skills gained, new experiences and new friends made.
The aim of RYLA (Rotary Youth Leadership Awards) is to develop leadership qualities, give a sense of pride in achievement, stimulate mind and body, emphasise the importance of sportsmanship, fitness, and personal relationships.
Camps this year were held at Abernethy centre, Nethybridge, girls from 1st to 8th July, and boys 8th to 15th July. 68 girls and 63 boys took part, all sponsored by Rotary clubs from our district 1010. Mentors included Rotary members, teachers, and business people. There is a full week of motivational speakers, team building exercises, and outdoor activities including canoeing, hill walking, mountain biking, climbing and abseiling.
This year, Anstruther Rotary Club sponsored Kiera, who is from from Upper Largo. She is a sixth year pupil at Waid Academy, Anstruther and would like to study medicine. She has already gained five highers, all at band A, and is now taking three subjects at Advanced Higher level plus an additional Higher.
Congratulations to Keira, with warm thanks for an interesting talk and best wishes for the future.