Formula Student..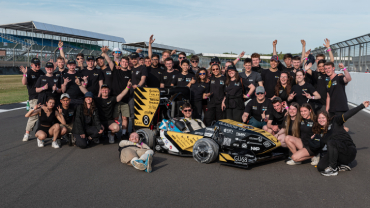 Following business, speaker at our 31st October meeting was Eric Dewhirst, who took as his subject 'Formula Student' - Europe's most established educational engineering competition and one which will celebrate its 25th anniversary in 2023.
It is overseen by the Institution of Mechanical Engineers and is backed by industry and senior engineers. The competition aims to develop enterprising and innovative young engineers and encourage more young people to take up a career in engineering.
We heard that over 100 university teams from across Europe - and indeed from further afield, take part every year. The challenge being to design and build a single seat racing car for autocross or sprint racing, and present it to a hypothetical manufacturing firm.
All students taking part get a chance to demonstrate their technical analysis, engineering design and manufacturing skills whilst having to meet a strict deadline. There are important lessons in team work, time management, project management, budgeting and presentation. All essential for a career in engineering.
Taking place at Silverstone racing circuit, the 2022 overall winner was Glasgow University. It was encouraging that about one third of the team members were women. Eric made the point that a profession, which not so long ago was overwhelmingly male, has changed profoundly and for the better.
Following questions a vote of thanks was proposed by Tony Lodge.