RYLA 2018 - Lily Forsyth..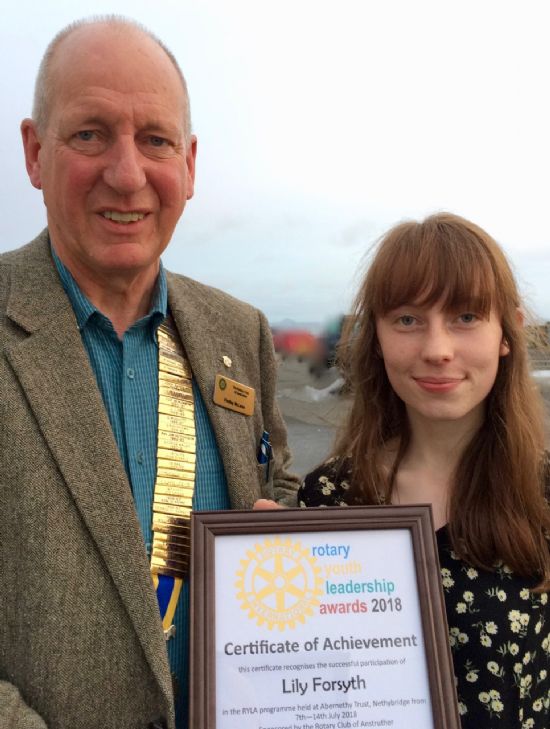 3rd September and the club was privileged to welcome RYLA student Lily Forsyth as speaker.
RYLA - The Rotary Youth Leadership Award is a week-long Rotary International course that takes place at the Abernethy Trust Centre in Nethybridge, just a few miles from Aviemore. It offers young people an opportunity to participate in physical and intellectual activities, aimed at developing skills in team working, leadership, communication, problem solving and decision-making. These are seen as foundations for self-confidence and self-esteem - vital aspects of responsible and global citizenship.
Lily spoke with great warmth, insight and enthusiasm about the course and of the way she benefitted. Her opening words were 'amazing' 'incredible' 'inspiring' and she focussed throughout her illustrated talk on the enormous benefits she has gained. It was a delight to hear, especially, of the way she felt her self confidence had grown - a point she returned to throughout her talk. She found the management of the course and the structuring into 'Rooms' or teams very helpful in breaking the ice and forming links: she felt she was part of a family and comfortable in a secure environment.
We heard of the many adventurous activities - rock climbing, cycling, gorge walking, hill walking, cliff jumping - but, unusually for Scotland, no canoeing due to lack of water in the river!
The outdoor activities were complemented by talks each afternoon by visiting speakers, whom Lily described as 'inspirational'. It was good to hear how the mix of physical and intellectual challenges created an environment where team work flourished and close friendships were made.
Lily, who is a final year student at Waid Academy and with an ambition to study Drama, closed her talk by thanking Rotary for an experience she felt was life changing: one that gave her pride in overcoming the many challenges presented and boosting self awareness and self confidence. She described the last day of the course as emotional as goodbyes were said to many new friends.
Following questions, club member Prof. Tony Lodge proposed an appreciative vote of thanks on behalf of the club. He expressed pleasure that for Lily the course had provided lessons for life - so much more than just an adventure holiday. He commented too that in his own academic life he had come to understand the importance of confidence and determination in achieving ones goals. He said that ambitions CAN be achieved and simply urged Lily to 'go for it'.
The photograph above shows Lily receiving her certificate of achievement from club president Findlay McLaren.