SOS - GIN..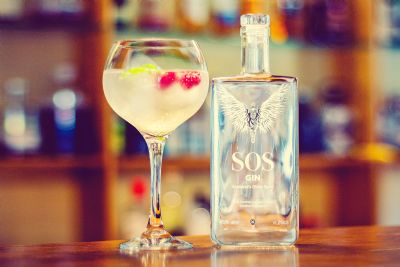 We were pleased to welcome a number of guests on 9th March to hear from Scottish Gin-making duo Craig and Mark Munnoch-Wahlberg. Their's is a very small, craft venture 'SOS Gin' - Scotland's Other Spirit - a venture where their unique mix of botanicals are found locally and are selected and picked by hand. It is a venture that started as a hobby and with no ambition to expand into large-scale production.
Mark told us that it was a sense of smell that helped determine which botanicals might work well together - the result being a mix of just four - juniper, three kinds of de-seeded rose hips, rhubarb and chamomile.
It was clear that there is a focus on quality and presentation in their marketing plan. Bottle choice, closure type, labelling, packaging and presentation clearly being to the fore.
A 100-litre copper pot still is used with 5-micron filtration and care taken to reject 'heads' and 'tails' from the still - just the 'hearts' being used, to ensure perfect clarity of spirit. The product is bottled at 45% ABV.
Sales are currently on-line, together with selected wholesalers and retail outlets plus some farmers' markets.
It was interesting to hear of the business aspects of this venture, particularly of the care that must be taken to ensure compliance with HMRC rules for the production of alcohol and, of course, the payment of duty.
Following questions and a most enjoyable sampling, George Hunter proposed the vote of thanks.
More about Craig and Mark's venture can be found at WWW.sosgin.co.uk.