HMS Dragon..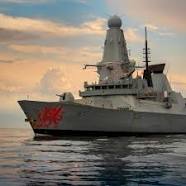 Speaker on 2nd March was club member Derek Mathie. Derek has family links to the Royal Navy and spoke about visiting HMS Dragon. Entering service in 2012 this is one of the Royal Navy's six type 45 air defence destroyers.
152 metres long, 8,000 tonnes in displacement, 190 crew and with a range of 7,000 nautical miles it is a formidable fighting unit - and one that comes with a £1Bn price tag.
We heard of the ship's armaments including Sea Viper missiles with a 70 mile range and a main 4.5 inch gun with a range of 13 miles - and with guidance from radar having a 200 mile range.
But Derek spoke too of a less obvious role for this vessel - that of combating drugs. In March 2019 Dragon made its seventh drug seizure: 224 kg of heroin from a fishing vessel in the Arabian Sea. In total Dragon has made 8 drug busts and seized over 18 tonnes of narcotics.
And in a humanitarian role, February 2017 saw Dragon rescue the fourteen crew of the British yacht Clyde Challenger, which had been dismasted and was adrift in the Atlantic Ocean 610 nautical miles south west of Cornwall.
Derek also spoke of the stress that serving in the Royal Navy can place on families - with long absences for serving officers; both men and women. He told of his experience at the dockside awaiting the homecoming of Dragon and speaking to a small girl there. 'Are you waiting for your Dad?' asked Derek. 'No - my Mum' replied the child. A very human story that brings home the reality of life for those service men and women on whom we depend for our safety and security.
This was very interesting and personal talk and, following questions, a vote of thanks was proposed by Bill Batchelor.