Kellie Lodging..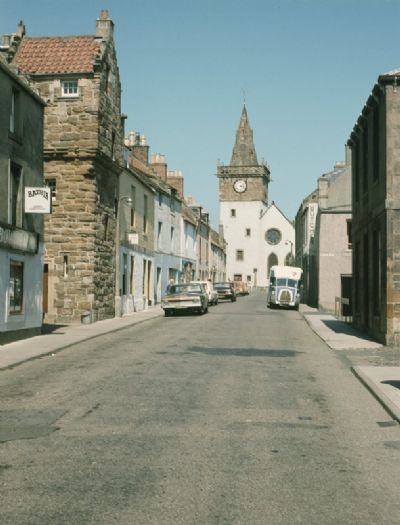 Speaker on 13th January was club member Anthony Lodge who took as his topic Kellie Lodging; a late 16th century house which stands on the north side of the street at 23 High Street, Pittenweem.
It is rubble-built and consists of a three-storeyed main block with a wing projecting to the street. The wall head of this main block was raised in the 17th century and the windows have been enlarged. The upper part of the wing oversails on a heavy moulded corbel course similar to that on the east tower of Kellie Castle.
Tony has researched the history of Pittenweem, and provided fascinating detail on the Lodging. We heard too of the origins of Pittenweem from the granting of permission by King David 1st of Scotland, to the Prior of May, to set up a new town - and to its history of fishing, coal mining and salt production.
The Lodge was the town residence of the Earls of Kelly and was thought to have been built by them. However Tony's research has led him to the belief that it was probably the Ingles of Tarvit who were responsible. We heard of evidence that a subsequent sale was via David Scott of Scotstarvit to Alexander, Earl of Kelly.
It was entertaining to hear something of the social history of Pittenweem - some famous residents like clockmaker John Smith and families such as the Abercrombies, Oliphants and Erskines - along with images from mediaeval times and the stories behind street names such as Coal Wynd and Water Wynd.
Altogether a most interesting and entertaining talk and, following questions, George Hunter proposed an appreciative vote of thanks.