10 January 2011
Observations from Tony Hardy

If you know Tom Newnham who has the plot next to mine, he's always asked "have you planted your beans yet"? (this is in March).
By then, he has his trench ready and it's filled by April, and shortly afterwards the canes are put in built like the Severn Bridge.
Every one is tied in double uprights and the beans planted every 12 inches measured by two size nine boots.
PICKING TIME - tom is the first one to pick, I have seen him spend an hour picking every bean located by "radar". Tom keeps records adn he knws the exact weight of his pickings as he has kept records for the past 20 years. He has told me that his neighbours in Rumbolds Lane have not opened their doors to his offers as they are sick of runner beans!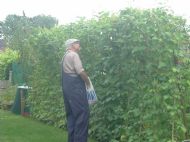 This is Tom (above) - hence he's called "The Bean Hunter"