Customer layouts
On this page you can have a look at just a few of the layouts that I have constructed from small 6ft x 12ft to 42ft x 20ft large layouts and garden railways.
These pictures show a large garden railway layout 70ft long with return loops, passing loops and steam up area. Built from Filcris recycled plastic timber it took around 15 days to complete from putting in all the posts (all 70+ of them)
These pictures show a large 45ft x 8ft layout not overly complicated but a four track mainline with a few sidings but 6 Hornby suspension bridges 3 on two of the lines so it looks quite impressive. This will be a DCC control layout.
These pictures show a 14ft x 8ft DCC layout it has a removeable bridge section, turntable, raised branch line, hidden storage sidings with occupation detectors alltogether making this a very interesting layout.
These images show the latter stages of track laying on a 15ft x 10ft attic layout, also to be seen is a Heljan traverser, Peco turntable (deck yet to be installed)
This layout will have dual control analog and digital.
Next images show a large 32ft x 15ft analog layout in a barn which has a four track mainline with a turminus spur, storage yard and reversing loop, sidings and turntable also showing a bespoke control pannels with LED indicators with vinal track diagram.
I also can undertake garden railways both electric and live steam these photos show a garden railway that I have constructed. It has most of the major features you may want like bridges, tunnels, and most importantly stations.
I have constructed some heavy haulage tractor and trailers based on Moveright international's Volvo 8x4 FH16 660 (see below) and king trailer, this involves scratch building and some adaption to off the shelf models. This takes many hours work and an awfull lot of patience but well worth the effort.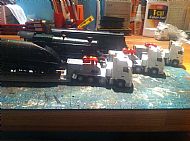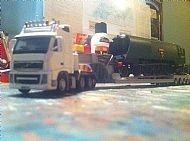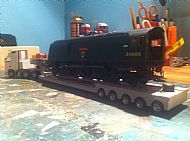 These are the nearly finished models with test loads, with only decals to add. One recipient said "thats fantastic well worth waiting for" The finished models look just like the real thing right down to the tax disks in the cab window, put in the right scene you would have to look twice to tell the difference.
Comments from Mr A Goodman Manager at Moveright international said, Fantastic all the details are there tax disks, chevrons, number plates the lot, the only thing missing is the diesel engine to get it under way.
These photos show a 12ft x6ft layout based on Tavistock South (GWR) showing completed baseboards track work and electrics.
What the customer thinks:
Tavistock South
Tom Hussey has built the baseboard, laid the track work and completed the electrical wiring for a layout based on Tavistock South and I am very pleased with the result. He has excellent spatial perception which has resulted in a very well proportioned layout in the available space. His workmanship is to be admired and, in particular, the electrical wiring which of course you don't see unless you climb under the layout!
I can recommend Tom without reservation as he is thoroughly reliable in everything that he says and does. He is delightful person and I am sure that anyone will be pleased with the design of a layout with which he has been involved.
Robert, Lympstone, Devon
These photos show a garden railway under construction made from recycled plastic it's water proof UV resistant clean and user friendly also you can get almost any shape you like within reason.
These next photos show the completed track bed and track laid with just ballasting needing to be done.