Sponsorship achieved

Supporters: 143 people

Sponsorship: £5,471
and a bar of Chocolate - and some smoked salmon - yummee!
Number of Swims: 60 = 100%
Distance walked: 87kms or 55 miles

Total time: 55 hours
Total height climbed: 3,110 metres (9,640 feet)
---
Roll of Honour ~ those who have gone beyound the call of duty:

Polly MacInnes - for walking most of the lochs and keeping me going
Nic Bullivant - for acting as porter on one l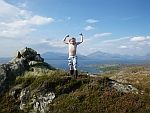 ong trek
Hal Marsh - (right) for walking 7 km AND swimming in three lochs
Chris Marsh - for also coming and helping pass the time, and not needing to put on his wetsuit for the 30th swim.
Neil Simcock - for being my support on a very wet day into the Duisdale hills.
David and Janet Hey for joining us at the 49th loch and Janet for joining me in the 49th loch.
Ken Donnelly, Ronnie MacLean, Duncan Scott for joing me in Loch Gauscavaig.
The 60 people who turned up to watch.
Rob Ware for taking a pile of final photos.
The Good Folk of Tarskavaig Communities Hall for the final ceilidh.
---
My wonderful sponsors:

Mick and Jackie Scott
Lisa Corse
N and G MacGillvrary - Loch Baravaig
Frances Macdonald - loch above Aird
Janet and J Norman MacLeod - Loch above Coill a' Ghasgain
Sarah May MacLennan - Loch na Dùbhrachan
Angus Venters
David and Janet Hey - Loch Doireanach
Eileen and Niall MacKinnon
Donnie and Colleen MacKinnon - Loch Baravaig
Nicola MacInnes - Loch Meodal
Sheena Scott - any loch!
Donald MacGregor
Angus Robertson
Rob and Eileen Ware
Peter Piddock
Caomhin O Donnaile
Norman Gillies
Kenneth Wardrop
Vivian McDonald
Siusaidh NicNeill
Meg Bateman
Ian Fellows
Janni Diez
Flora MacLean
Sine Threlfall
Pat and Rick Shone
Mark and Charmian Entwistle
Steve Heap
Russ and Margaret Colpus
Pat Walsh
Tim Godfrey
Ronnie MacLean
Gerry Martin
Chris Bell
Trevor Mepham
David Ashford
Jonathon Macdonald
Robert Muir
Chris Marsh - Loch Nighean Fhionnlaidh
Mike Sullivan
Barbara Ziehm
Donald MacDonald
Lucy Conway
Gavin Robertson
Ann MacKenzie
Peter Digby - Loch a'Ghlinne
Gwen MacQuarrie
John Weir
Brian Gerraghty
Joan Macdonald
Caomhin MacMhanais
Anonymous donors at concert
Gwyneth Steedman
John Knox
Elizabeth Westman
Bill and Sue Lawrence
Claire Hannah
Joan and Archie Campbell
Helen Nicolson
Ann Hartley
Marrion and Innes Grant
Greg Toulmin
Sheila Hamilton
Maggie Macdonald
Sophie Scott
Mrs BLA McIntosh
Iain Gordon
Chris and Annabel Pendlebury
Tarskavaig Community Hall
Alice Toulmin
Lisa Whytock
Helen Rowson
Ian Begg and Ruth Fisken
Alan Drever
Caroline Ashton
Lizzie MacDougall
Sherry Palmer
Lindsay Dunbar
Claire Nicolson and Family
Neil and Ann MacInnes
Christine Murphy
Jennie Macfie
Lucy Stone
Isobel Moore
Ashley Drees
Mr and Mrs Broderick
Mr and Mrs Boyd Robertson
Mrs E Macdonald
Flora MacLean
Graeme Renfrew
Gillian Shaw
Hugh Davies
Megan MacInnes
Tim and Caroline Grinstead
John Watts
Ian Greatorex
Louise and Greg Tucker
John and Angela Pargeter
Tommy MacManmon
Camilla Toulmin
SEALL Concert donations
Sandy Maxwell
Suzanne Arnold
Iain Craighead
Debra and David Macdonald
Helen Donoghue
Fiona Dick
Walt and Betty Welles
Sandy MacPhee and Hector MacInnes
Harvie Leckie
John Macdonald
Lisa Hunter and Duncan Scott
Rhona and Garry Mahon
Meg Bateman
Roddie and Effie Murray
Effie MacPherson
Donald MacGregor
Julie Brook
David Anderson
Mark Jones
Iain Smith
Carlotta Graham
Fiona MacKinnon
Christine Primrose
Val's mum
David Dickson
David Kinneburgh
Peter and Lesley Buckley
Ian Robertson
Allan Threlfall
Charlie and Veronica Barrington
Brian Weaver
Naomi Johnson
Gwillym Gibbons
Myles MacInnes
N and J MacLure