There are photos of the last swim:
http://www.flickr.com/photos/martainn/sets/72157625282154712/
and
http://www.facebook.com/n/?photo.php&pid=15035522&id=696190345&mid=33bef70G5af3384bbffaG5a1870G5&n_m=dm%40cali.co.uk
The lochs are either named as on the OS map, or nearby features (or made up)
Saturday 10 April 2010 ~ the Start
1. Ostaig Beach
I celebrated my 60th Birthday on 10 April
2010 with the first swim of the year. Joined and egged on by two delectable maidens, the first swim of the Great Sleat Swim occurred off Ostaig Beach. Yes, I know the photo is fuzzy, but so would you be after 60 seconds in water from which the icebergs had barely melted.
---
Wednesday 7 July - Things Hot up - I get practicing!

This does not count as a sponsored swim, but I thought you would like to know I made a strenuous effort with preparations off the Bohuslan Coast of Sweden.
---
Wednesday 21 July - Things get Real

2. Loch Meodal - Ord Road
Weather - awful: rain and westerly wind
Point of interest - I walked out to knee depth and then sank straight down into the mud and got stuck. This does not bode well! Water brisk but quite pleasant, as was the tea straight afterwards.
Time in - around 2 minutes.
Swam for - niece Nicola MacInnes
---
Wednesday 28 July - the first five-in-a row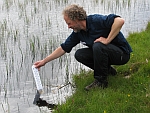 Five lochs on the north of the Ord Glen.
I was joined by Nic Bullivant, Senior Countryside Ranger on Cairngorm Mountain (and you don't get much higher than that!) to hold the towel and look out for wildlife.
We tested Loch Meodal and the other lochs were pretty much the same - 16º.
3. Cruachan na Fèithe Seilich

North East from Loch Meodal up the side of the Forestry. Shallow but not as muddy as Loch Meodal.
I decided that a 'swim' constituted at least 60 strokes (about 1.5 minutes) unless I hit the other side, in which case I would swim back! A steady breaststroke, nothing flash, but oh! look at the pain!
4. Cnoc Bealach na Cas
A small loch which I apparently shared with some Teal (Nic's mind was obviously not on my well-being). A bit of open water, still shallow, so just look at that bow-wave!
5. Lochan Dubh (aren't they all!)
Great countryside with views of Loch Eishort and the Sound of Sleat. Hundreds of lochans in site! This one shared with a pair of divers - black-throated? which seemed unfazed by me. They took off twice and landed straight over my head. You can see them in the background.
6. An Cruachan 1
A bonus as there are two lochs here - I thought only one. The first was small enough to swim straight across and leap out to walk the 200 metres in my trunks. Another shallow muddy loch.
By this stage I was beginning to get a little parky so time for a cup of tea.
7. An Cruachan 2
The highlight of the day - and possible this whole escapade.
An ' Infinity Loch' with just a thin line of grass at one end overlooking the Ord Glen. and DEEP - no bottom at all, despite being perched on the top of the hill.
---
Saturday 14 August- Polluting Tarskavaig
8. Loch Dughail

After a break (family commitments) of a couple of weeks, decided to have an early evening sunshine dip in Tarksavaig's water supply. I promised Flora I would not pee in it. I didn't. (Or did I?) Polly held the towels and it was chilly.
---
Friday 20 August- Bog and wind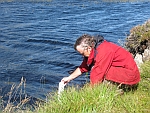 Parts of Sleat are beautiful - parts are unremitting broken soggy bog. Today we found that part. 2.30 pm parked half way down the Ord road and headed north-east with Polly for the set of lochs heading towards Drumfearn. Water temp 17º or 63º.
9 Loch 'Allt a Ghasgain'
Dry but blowing a gale. I swam this for Janet and John Norman, so the thought of sharing a loch with Janet (although only metaphorically) kept me going in the face of the 6 inch high waves. (Note to self - next time, swim across the waves, not into them.)
10 Lochan Fada
Long thin shallow loch, like all of todays only around 2 feet deep, but I could not stand on the bottom for fear of sinking. This time swam across the wind.
11 'Monadh Morsaig 1'
The grimmest swim yet! Took a bit of finding amongst the hummocks. It was then only just deep enough to swim and thck mud. It turned into a wallow - see me clutching the mud - and I emerged looking like a bag of peat compost.
12 'Monadh Morsaig 2'
The next one should have been close and then we found it over the edge of the hill and suddenly a wonderful view north-east over Isleornsay and Kinloch. Sleat is full of surprises!
However - another shallow grim swim but I managed my usual 60 strokes.
We then turned back into the face of the wind and glowering clouds. The next km was murder across increidbly broken bog land, we kept coming to impasses in the bog.
13 Lochan Dubh 3 (see 5)
So eady to get disorientated but found the last two for today and saw previously swum lochs not far away.
So far we have seen absolutely nothing - no sheep, no deer, no cattle, one small bog bird. The grass is quite long so not much grazing?
14 Lochan Dubh 4
The final one and another shallow miserable puddle.
Then quite a long slog home but great views over Coille a Ghasgain in the Ord glen - really seeing how the landscape is formed.
---
Sunday 29 August - monsters, butter and otters!
15
Loch nan Dùbhrachan ~ Loch of the shadows
I had fans! Sarah May and Donald Angie MacLennan (who had sponsored this loch) were there to take photos, along with Joan Macdonald and Polly holding the towel.
photo Sarah May, despite being a nurse felt obliged to avert her eyes as I prepared for the swim.
They seemed disinclined to join in.

Deep loch - 82 feet I am told - and quite breezy, but a lovely sunny day. No water-horses today but a flock of ducks. And how good to find a loch just a few feet from the road.
Caomhin O Donnaile has a special web-site for Loch nan Dùbhrachan
16 Loch an Ime - Butter loch
Back to the road and moved south a littl
e before setting off up a track and across open land eastwards to find teh small Loch an Ime, or Loch of Butter. I scraped the bottom of none of the lochs today - what a joy.
17 Loch Baravaig

A long walk over very broken ground. No sheep, do deer and very long grass and heather, with ankle-breaking holes for a tree planting project that does not seem to have been fully completed. But what fantastic countrside with hut circles, duns and great views from Ardnamurchan point, over Knoydart up beyond Glenelg.
And then a beach - a real, sandy beach to swim from into Loch Baravaig. Fortunhately swimming at the northen sheltered end, as the suthern end had white breaking waves.
No signs of Baravaig's sponsors, - no doubt taking afternoon tea in Camuscross!
18 Loch an Dòbhrain - Otter loch
We diverted up the hill at the northern end
of Baravaig for the view and then a long slog tthrough deep grass and heather southwards. Loch an Dòbhrain looked like a muddy little hole but was a delight. No otters. Finally back north-west across the beautifully hilly landscape and Gleann Horavaig river to the car.
---
Monday 30 August - two miserable lochs
We set off on a lovely sunny evening to do
the two lochs in the middle of the Ord Forest. Access to the first was along the track then on a convoluted walk through forest breaks, with very broken ground over cut branches and deep ditches.
19 Loch nam Mud 1

Of course there was no loch. Just a wonderful large bog. BUT I AM GOING TO COUNT IT!
1. because it took a large effort to get there and 2. I rescued a half drowned dragon-fly from the bog.
20 Loch nam Mud 2
The kilometre back to the track was
extraordinarily difficult. From a distance the second loch down in the trees looked very inviting. On the way we met a Hen Harrier and a young red deer hind. The lochan, however was a shallow man-made bog with 6 ins of water and 2 feet of mud. Another one I am going to count! 2.5 hours ploutering throught the forest and no joy at the end!
---
Friday 3 September - Larks and frogs
Today we moved back into Clan Donald Lands to start the group of lochs north of the Tarskavaig road. A beautiful summer evening, but a slog of 3.5 hours on the hill, starting at the Bealach above Dalavil.
21 Loch na Uamh
We were surprised to find a well worn path leading north, even with some horse prints, but this soon petered out. Loch nan uamh must be the largest of the sleat lochs and even gave
me a nice gravelly beach and foothold. It seems chilly.
From here we headed north east to find a tiny loch marked on teh map. It was a bog, so no swim, and as I had not done a good deed, not counted. Then some horribly broken ground until we eventually found:
22 Loch Ard

A very interesting sensation as I walked out on a mat of reed roots about two feet deep that appears to be floating on the water, until I hit clear water and a good swim on a bottomless loch. I realised this was the top supply loch for the Sleat water supply, so I tried to contain myself.
23 Loch nam Breac Dubha
Some w
here on the way my swimming shoes dropped off the back of my rucsac. They have served me for 22 lochs but I was not too sad to see them go - uncomfortable buggers. When they are dug out of teh bog in 2,000 years what will thye mean? All this effort for another boggy loch, barely deep enough to swim in, but very refreshing on the hot afternoon. Red deer on the hilltop horizon, toads bouncing all over the place and sky-larks lifting out of the heather. Back round the western end of Loch nan Uamh and over the top of the hill with views from Knoydart, Ardnamuchan, Eigg, Rum, Canna, Outer Isles and Cuillins.
---
Sunday 5 September - Beautiful day and half way reached!
Chris Marsh and his son Hal joined me for a great walk from the Tarskavaig road bealach, westwards along the hill tops above Dalavil. 7 lochs including two 'extras' not on the map, great views, red deer, lots of froglets and toadlets, dragon flies, and an adder.
24 Loch Hal

A tiny little loch, just about big enough to swim in, which I name after Hal who walked over 7km, swam a couple of times and did not complain (although the adder was a bit of a shock). Now just look closely and you will see the ridculous places I have swum for you!
25 Unnamed loch 1

Quite a large loch which has no name on OS map. A nice cooling off after the climb across open ground - recently burned so no deep heather. Stoney beaches.
26 Unnamed loch 2 (crescent)

This adjacent crescent-shaped loch far shallower, but good depth before I hit the reeds on the other side.
Very soon we had a fine view south-west over Dalavil and spotted a few boggy puddles below us. The one on the right seems big enough to swim.
27 Boggy loch
Hal almost joined me but it was not a nice one to get into.
28 Loch Ic Iain

What was John's son up to up here? A large loch with sharp stones along its edge - shattered, I imagine, by the large passing glacier and have never been rounded off since. At last Hal made it into the water. Chris was preserving his energy for Finlay's daughters at the end.
29 Loch a' Mhullaich

'The Top Loch ' well it is rather! Both geographically and scenically. We climbed to the top of Sgùrr Breac (by this time Chris and I had learned to send Hal on ahead to find the lochs) and there was this superb little loch in a great setting - Gillean below and the Cuillins beyond. It was, however, shallow and very muddy at the end. Not a joy to swim in.
30 Loch Nighean Fhionnlaidh

The one we were looking for - number 30!
We a herd of red deer on the way, and then an adder. The clouds were coming in but both Chris and Hal leapt in, with tiny froglets on the water's edge.
Then a gentle walk out to the road at Gillean.
---
Sunday 12 September - Long chilly walk, only 2 lochs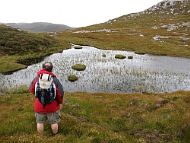 Polly and I set off with great hopes - 4 lochs marked but possibly 10 by looking at Google. A great, high walk up to 1,000 feet but the little lochs were mere bogs and we settled for 2 in the end.
Sometimes you look at them and think - do I really want to go into that?!
31 Loch 'Sgiath-bheinn an Uird'

From the bottom of the Ord glen a fairly steady walk up and long the quartzite ridge above Ord. This was just about swimmable, but at this point I vowed only to swim in lochs that were pleasant - I have had enough mud swimming. Decidedly chilly, but at this height not surprising.
32 Loch na Starsaich

At the northern end of the ridge, a good large loch with great views up and down Loch Eishort. Again, we passed several small bogs, but the joy has gone out of swimming them - and I was getting depressingly cold. Then the rain came - so we headed for home and jacked in two possible other lochs. But a great walk down through the Ghasagain woods.
---
Sunday 19 September - swollen rivers force a change of plan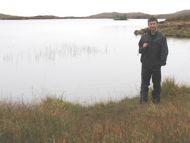 I pursuaded Tim Simcock, in Sleat undertaking research on peoples' relationship to the landscape and wind turbines. A dull drizzly, overcast day. We set off to do three lochs south of the Ord road. The swollen stream at the outlet of Loch Meodal forced us to turn back and we headed north to the Duisdale reservoir.
33 Duisdale Reservoir

We parked at Brae Ord cottage and followed the track across the river (so we got our feet wet anyway) in the low cloud and heavy drizzle. The reservoir was spectacular with water cascading over the dam - so I headed up the other end, noting the life-belt on the way. What a pretty wood-lined setting but bloody hell, the water is getting cold - long gone is the summer-heated water, we are now into direct rainfall temperatures.
34 Loch an Iasgaich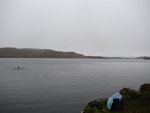 A plod across the deep heather moor, following cowpats and ATV tracks to the large and pretty loch. Why have I never been here before? Why is there not access and a sailing club on this loch! Clean shore with large blocky stones and slabs. A duck called from somewhere - but otherwise nothing.
---
Monday 20 September - 7 lochs and UDI on an island.
Despite some low mist patches and drizzle Polly and I set off to tackle the group of lochs above the southern end of the Tomore Forest.
35 Frances's Loch (my sponsor)

We were directed up through Murdo's croft in Aird - which is really quite a stunning, active township. Through a new fence and to the first loch temporarilly named after our sponsor - until the original name is found! Many of these lochs have stoney bottoms and sharp boulders which cannot have been touched or moved since the ice-age.
36 Loch Fada Beag

I chose a really special loch for the 60% mark - a right little bog only 6 inches deep. I have done unmentionable harm to the silts layers going down at least 10,000 years. Fortunately it was only a short walk, taking 5 kilos of mud with me, to the next loch.
37 Loch Fada

Another surprising hill-top loch. On the way we diuscturbed two hinds - we had already seen a fine stag on the hill-top above and came across white glutinous gunk lying on the ground. Read all about in from last year's Radio Scotland's investigation!
38 Loch Sgurr na Caorach south

The mist came down and it took a little finding but there it was tucked down deep in a hillock. And a very pleasant little stoney bottomed loch it was too. Sudden glimpses across to previously swum lochans on the north side of Dalavil.
39 Loch na Caorach

We could see this one immediately and below us. A flock of around 50 geese flew across in the distance. However is was a shallow miserable little loch, and the mist came down - it was of course the 3 x 13th loch to swim in!
We then headed up hill into the thicker mist to find a tiny lochan NW of Sgurr nan Caorach (which we did not actually get to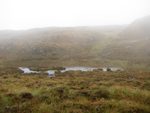 the top of). Gave up and had our lunch in the shelter of a rock - ahead of us thicker mist so tried to remember which direction was home. Of course we then came down past this little loch and decided not to lower my swimming standards any further than number 36!
40 Loch Lamascaig - UDI declared

Two thirds of the way there. The mist lifted to reveal these next two fine lochs - which again should be major tourist attractions in Sleat. A lovely deep loch with stoney bottom. I swum out to a small island and made a Unilateral Declaration of Independence of Eilean Dhonnchaidh, from the UK for all MacInneses. I claim to be the first human ever to land here (not much sign of life) and I don't think Clan Donald will miss it much.
41 Loch An t-Seilich
Not much sign of any willows but another large and wonder loch. Celebrated a great day with fruit bars and the rest of the tea. Then back along the old Aird - Caradal track.
---
Saturday 9 October - let's just pause and redefine 'swim'!
We completed another 7 swims today and reached 80% of the target. But first, let's make some things clear. If the Ordnance Survey marks a piece of ground in 'blue' it is a loch. If I immerse myself as much as I am able in that 'loch' then it is a 'swim' . Now we have that clear let's describe today's joy in 7 lochs!
I had almost given up for this year, but then a 4-day spell of beautiful helped it all happen. Polly urged me on to finish the job and we stayed at home for the school holiday to do it.
42. Loch Horavaig

We parked at the Aird road end and walked down the track before heading right, over to Loch Horavaig, which looked, and was, very reedy. Clear skies and distant views. Our simple thermometer suggested water of around 14º.
43 Loch Dathaidh
Another reedy, but swimmable loch. Only just enough water to swim, despite being
quite a large loch. It looked as though the normal water level was another foot higher.
44. Loch Aruisg
The most southerly of the swims.
45 Loch Tormore 1

We then made our way back to Aird and decided to head up above Tormore. We drove up the Forest track (soon to belong to the Community?) and parked at the top. We then had a muddy trudge through the top section of the Forest and out onto the hill, not expecting any great swims, in the four lochans marked. And indeed I did not get any!
We turned left and soon found the first of these 'Bogalochs' as we have come to call them. 1 foot of water and deeper mud that I could stand in. As I put by feet in creat bubbles of methane rose to the surface. Perhaps we should come back in the dark with a match.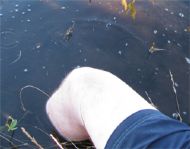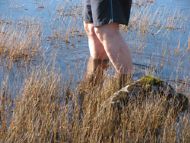 46 Loch Tomore 2
A little further up the hill and more of the same. This time I could just about stand on the bottom at the edge. Any further and I would have been sucked into the gloopy void.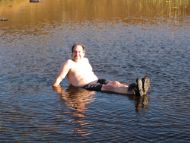 47 Loch Tormore 3
Just the same!
48 Loch Tormore 4
After a kilometre of hag-jumping I hoped for a final swim of the day. The loch looked big enough, but alas just a shallow swamp crawl. So back down through the forest, past a very surprised Christine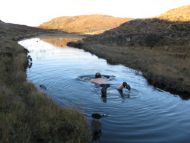 Murphy driving up to walk the dog (thank you for your sponsorship the next day, Christine!)
Sunday 10 October - three beautiful lochs, including no. 50!
49 Loch na Doireachaich

We contacted the Heys and arranged to meet at the bottom of Coille a Gasgain for another attempt on three lochs south of the Ord Glen (stopped last time becuase I could not get across the surging river). Set off towards the woodland enclosure (thankyou FEI for the footbridge!) and up the outside of the fence to a toally wonderful loch. Stoney edges and a bit chilly (estimated at 13º). Janet joined me in the water, David and Polly took photos. Then they returned while Polly and I went on across the low undulating moorland. Set up a fox, heard a skein of geese overhead, saw a deer and met a duck in the next loch.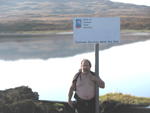 50 Loch Mhic Charmhiceil
I could not possibly admit to swimming in Sleat's public water supply. All I can say is it was not specifically forbidden in the notice! It was quite surprising how small it is. As it is one of but 60 lochs, let no-one say there is a shortage of water available in Sleat for more houses!
51 Lochan Doiragat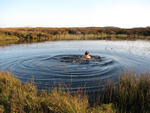 NE back towards the Ord Forest to find the tiny hidden Loch next Loch Meodal. A small herd of deer in the hidden coombe and managed a decent splash in weedy loch.
Monday 11 October - another high-tops walk
Waking to a third brilliant warm October day, it is time to hit Sgùrr na h-Iolaire and as many lochs above Loch Dughal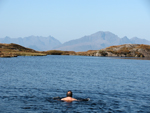 as we can. We parked at the bottom of Loch D and reached the triangulation station in 45 minutes.On th way up we put up a herd of deer and heard a stag rutting to the north.
52 Loch nan Clach
Quite a good swim with around 4 feet of water and around 12º.
53 Loch S nan I 1

Deer roaring all around us and another group of hinds at the end of this small loch, which was swimmable but not fun!
54 Loch an Tuim
A reasonable launch off a stoney beach.
55 Loch S nan I 2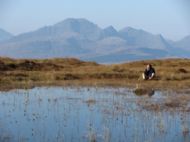 By now we had indentified four roaring stags and associated groups of hinds, al generally moving north away from us. Some lochs were just not meant to be swum in - but walked to! So we sat and ate our lunch while three of them argued it out about 1 miles north.
56 Loch na Bà Ruaidhe

I was watched by three bemused hinds on the hill above as I ploutered in this long thin shallow loch. Then realised they were looking out for the stag roaring in the hill behind me. Whatever the 'Red Cow' was doing I hope it was not rotting at the bottom of the loch!
56A Loch Sgùrr Breac

We set off up to Creagan Dubh to see if the little loch marked was anything - it was just a very damp bog, Then off for what we thought was going to be a long treck down and up and down to the last one. But we are getting so fit that we got there quite speedily. By now we were almost over by the top fenceof the Tarskavaig woodland enclosure. From the top of the hill we could see out last loch - oh what joy. Interesting geomorphology, but I did not even bother to go down and try it out! Then back home via the long straight fence passed an old track into the hils and a large sheep-pen.
Tuesday 12 October - the last long hike, and up to the top of Sleat.
The fourth sunny day in a row, but the air temperature was starting to drop at 3pm when we set off, again, from the top of the Gasgain, this time heading for Sgòrach Breac. Got to the top in 40 minutes hearing a stag in the distance.
57 SB1

After tea at the top we went down to a very swimmable little loch. There were newts swimming in the weed at the edges. Apart from the ice-age-old stones in the loch, the surrounding rocks were fine examples of glaciation rocks and roche-moutonee.
58 SB2

A short walk to a just-about-swimmable loch.
59 Loch Fada Gasgain
The last one before the last one! and what a splendid loch this is. It has all been worth while - up here with panoramic views of the Cuillins, Broadford Bay and Knoydart, deer all around. That's me, waving, not drowning!
Sunday 31 October at 4pm
60 Loch Gauscavaig
It has been a long two weeks wait to the appointed day. Lots of publiclity in the WHFP and on the Tom Morton Radio show amongst others. It had been miserable weather for some time and I went down with a cold. Tarskavaig Hall folk started talking about providing a cup of tea and I met one or two who said they might come.
So just before 4pm Polly and I arrived at Loch Gauscavaig and were absolutely gobsmacked and humbled to find 60 people and 2 horses wating for us. It was a beautiful day and Tarskavaig provided what only Tarskavaig can do - a fantastic sunset, a great sense of community and a cracking ceilidh.
Dressed in bow tie, swimming trunks and a pair of flippers I descended into the water, to the loud strains of 'The Ride of the Valkyries' played on the CD player by Hector. My swimming pal Hal preceeded me and measured the water at 9º.
I entered the water with usual grace (the flippers did not help) was then followed by Duncan Scott, Ronnie MacLean and Kevin Donnelly into the water. Rob Ware took lots of photos. It was also good of course to have Polly holding the towel, brother Neil in attendance.
We then adjourned to the Hall for soup, tea sandwiches and a double dose of Flora's dumplings. The ceilidh band played and I had set up a computer with all the photos on. More donations poured in and a good time was had by all.
THANK YOU ALL!
What next, they ask? ~ a hot bath.