---
Events planed for this year are:
17 August 2019 -- BBQ at Dochgarroch
16 November 2019 --
16 November 2019 -- Quiz Night !!!!!!!!!!*************************
Quiz night! -- NOTE NEW VENUE !!
Saturday 16 November 2019
6.30pm for 7pm start
INVERNESS MARINA OFFICE [Below KESSOCK BRIDGE!] IV1 1SU
BYOB & snacks
great prizes, fun and the odd question featuring boats
---
Nicky and Jim retired from committee at EGM last night; 22 members attending thanked them both most gratefully for the effort put in over the past many years!
A show of hands indicated strong support [21 for, i abstention] for continuation of the GGCUA for one more year at least; it will also be necessary for an email/postal vote of all members to be carried out, per the Constitution.
David was re-elected unopposed as Chair.
Two new committee members -- Jackie Little from Inverness and Hagen Wagner from Inverness, a charter yacht business owner also from Inverness, will carry on as the membership secretary and treasurer. [Thanks also to Kim Poynton, suggested by Ian Howker, who offerred to act as treasurer].
Sincere thanks for the use of Loch Ness Barge for the meeting, and provision of biscuits, teas, and excellent flapjack, go out to Nicky who boh lives on and runs her business from the Barge.
---
Dear all,
Two committee members are retiring; we'll have an EGM to decide whether the Association should continue -- times have changed, and a Live-aboards group meeting up with Scottish canals may be a more appropriate way forward.
Let's discuss it!
the date of the EGM is;
1 March 2019
7pm
Loch Ness Barge
Chair
Great Glen Canal Users Association
---
Scottish canals could be closed !
PUBLISHED: 2018 in "NarrowboatWorld"
Quote : "Scottish Canals have not maintained the canals adequately. Analysis of their annual reports shows that the proportion of their total budgets spent on their core statutory maintenance obligation has fallen steadily from near 60% to less than 40% over the last ten years".
---
The plans for the "HUB" along the Canal eastwards from Seaport/Muirtown were submitted today by Scottish Canals staff:
Planning – Planning Application Documents
18/05196/FUL | Erection of office/multipurpose building and boat users/store building with cafe linked by foot bridge and formation of footpaths | 21 - 23A Carsegate Road Inverness
https://wam.highland.gov.uk/wam/applicationDetails.do?activeTab=documents&keyVal=PHU3FDIHMHG00
---
Passing --
Dear all,
Very sadly I have to tell you that Dougie Fraser passed away in November. He will be sorely missed in the GGCUA and around the Caledonian Canal, his boat Falcon and his upright, naval stance with his yachting cap set firm on his head is an image which we all have seen over the years as part of this place and the boating community.
Nicky, Jim and David
Chair
Great Glen Canal Users Association
---
2018 QUIZ NITE ! -- Sat 10 November
1900 hrs at the "Jammy Piece", Muirtown Wharf [next to the new Crown Vets]
£7 entrance INCLUDES STOVIES , BYOB, lots of prizes, raffle, fun, chat, teasing for those who get things WRONG!
---
19 September 2018 --
Dear All
Due to family illness we have to cancel the film night this saturday night 22 September 2018.
Sorry for the disappointment, and we hope to reorganise it for early December.
best wishes
Nicky, Loch Ness Barge
---
7 August 2018
The hugely enjoyable events planned for this year are:
25 August 2018 BBQ at Dochgarroch -- 1830 hours, bring drink; burger/sausage food and barbies provided
22 September, Film Night on Loch Ness Barge -- byob and nibbles if you want them
10 November, Quiz night at Jammy Piece Cafe (the new cafe at Muirtown Wharf) -- --- STOVIES at half time!!
---
29 July 2018
Sad news
Pat, cheerful and wewlcoming owner with Tom of Nauticat "MACAVITY", passed away this week.
She will be truly missed by all her many friends, sailing and otherwise.
Condolences from GGCUA
---
12 July 2018
From earlier today:
David Edes
12:12 (9 hours ago)
Reply
to Ailsa.Andrews, Russell
Hi Ailsa,

As it's now a year since the septic tank issue was discovered could you please let us have an update on the progress of rectifying the problem and a likely completion date that the the toilets and laundry will be operational again ?

Regards,

David M Edes,
44, Brudes Hill,
Inverness,
IV3 8AG
---------------------------
From later today!
TOILET UPDATE -- inconveniences ?
From: Jo Spragg
Date: 13 July 2018 at 14:00:34 BST
To: Undisclosed recipients:;
Subject: Seaport Marina - Facilities

Dear Seaport Marina berth holders
We would like to offer our sincere apologies for the unexpectedly long period of time that it has taken to get the main building services back online – we do appreciate that this has been a source of great frustration, to you as it has been to us, and the current delay to the work to connect the building to the mains sewer has been as a result of Scottish Water providing us with two sets of inaccurate plans which has then necessitated prolonged and costly investigation work on our part, and the need for further permissions from Scottish Water. Please be assured that we are doing all that we can to get the works restarted and the Seaport Marina facilities block back to full working order as soon as possible.
In recognition of the lengthy and ongoing disruption caused by the lack of suitable toilet, shower and laundry facilities at Seaport Marina, I am pleased to advise that we are currently finalising the arrangements for the credit / refunds that we mentioned in our email of 8th November 2017 and we will be back in touch with all berth holders shortly to confirm specific details.
Yours sincerely
Ailsa Andrews
Customer Operations Manager
Caledonian Canal
---
---
After the cry for financial help from the interim CEO of Scottish Canals, here's an email about the Canals Conference which seems to be an expensive jolly for SC people -- not us with GENUINE financial constraints!!
13 July 2018:
Reply to catherine topley.
Dear Ms Topley,

As Scottish Canals have well publicised incredible income v expenditure problems I'm surprised to see that Scottish Canals are sending a delegation to the world Canal conference in Eire.

Having spoken to many of the delegates in Inverness last year, it's obvious it's simply a corporate jolly for the attendees and partners, mainly funded by government organisations.

Your predecessor spent much of his time on the smoking balcony, chatting on his mobile phone, not actually in the conference!

I respectfully suggest that Scottish Canals cancel this "jolly" and use the cash saved to perhaps get proper operational showers toilets and laundry facilities in Seaport Marina

Regards,

David M Edes,
Chairman GGCUA
44, Brudes Hill,
Inverness,
IV3 8AG

07860 524394
---
---
As you may heave heard, the rather expensive CEO of Scottish Canals, Steve Dunlop, has moved on -- to Scottish Enterprise.
An interim CEO is in place, and she is moaning about lack of funds already:
:
on behalf of Catherine Topley, Interim CEO, Scottish Canals;
Dear boater,
Last week saw the launch of Scottish Canals' Asset Management Strategy, setting out how Scottish Canals will manage, care for, and prioritise works on the infrastructure of Scotland's 250-year-old waterways between now and 2030.
A combination of ageing assets, the impacts of climate change and limited financial resources means that we must prioritise works that ensure the safety of the public, visitors and staff and bring the widest possible benefits for all the people of Scotland.
I am keen to share with you the process Scottish Canals has gone through to prioritise our resources.. To that end, I would like to direct you to our new 'Managing our Assets' section on our website, which can be viewed at www.scottishcanals.co.uk/assets. In this section you can view the Strategy and find out more about the projects that have we will be progressing through 2018/19 as well as what has been achieved to date.
Scottish Canals receives around £11 million funding each year from the Scottish Government for the management of 140 miles of inland waterway and more than 4,100 individual assets, including reservoirs, aqueducts, bridges, lock gates, properties, towpaths, The Falkirk Wheel and The Kelpies.
The renaissance of these assets over the past 20 years has delivered more than £870 million of investment; created over 5,000 jobs; and resulted in the construction of more than 5,000 houses. In that time, Scottish Canals has also created key tourism destinations in Falkirk, Fort Augustus, Bowling and Ardrishaig, bringing renewed vibrancy to local communities, contributing substantially to the local economy, and generating income that can be reinvested in Scotland's canals.
Each one of these varied assets requires considerable investment to maintain and, despite Scottish Canals now generating 55% of its own income to reinvest in caring for the network, we simply do not have the resources to do all that we would like to do. Our current grant from the Scottish Government combined with our own earned income simply is not enough to meet the £70 million plus repair backlog which Scotland's canals now face. We estimate an investment shortfall of between £6 million and £9 million each year and this has been the case for a number of years now.
Without additional investment, we will continue to see asset decline and we may see asset failure, some of which could be substantial. This means that Scottish Canals has to, and will continue to, make some hard decisions. The Asset Management Strategy sets out the rationale for prioritising which projects and infrastructure Scottish Canals invests its limited resources according to public safety, public value, and operability as well as the long-term financial sustainability of the nation's inland waterways.
Maintaining all of our canals is challenging, however, me and the team [sic] are committed to ensuring that these incredible assets continue to offer enjoyment and deliver for the people of Scotland.
Kind regards,
Catherine
Catherine Topley
Interim CEO
Scottish Canals
---
---
Should we PETITION the Scottish Government for an independent WATER OMBUDSMAN? -- 9 May 2018
PE01693: Independent Water Ombudsman
Petitioner:Graeme Harvey on behalf of Lowland Canals Association
Status: Open
Closing Date for Online Petition: 19 June 2018
Calling on the Scottish Parliament to urge the Scottish Government to establish an independent water ombudsmen to—
safeguard the interests of waterway users
review and arbitrate on disputes with Scottish Canals
ensure that navigation along the full length of the lowland canals is maintained for the benefit of future generations.
---
http://www.parliament.scot/GettingInvolved/Petitions/waterombudsman
---
Subject: Petition to the Scottish Parliament for an Independent Ombudsman
Dear All,
The E-Mail below confirms that my petition to the Scottish Parliament, submitted under Graeme Harvey's name on behalf of the Lowland Canals Association, for an independent ombudsman to regulate Scottish Canals has been accepted by the Public Petitions Committee. The petition is open for members of the public to support and add additional comments if they so wish until 19th June. After that, the Committee will review the support for the petition and any comments which have been submitted before deciding whether to put the matter before the House.
The Petition number is PE01693 and you can support it by clinking the link below and adding your details.
http://www.parliament.scot/GettingInvolved/Petitions/waterombudsman
You can also make pertinent comments in relation to the petition but be aware that they should comply with the Terms & Conditions of the website.
Kind Regards
Christine Cameron

Sent from my iPad
---
---
Dear Members -- Feb 2018
It is membership renewal time! Attached is a membership renewal form.
---
Here are the ways to renew your membership;
join on-line using paypal at the website address www.spanglefish.com/GreatGlenCanalUsersAssociation
pay direct using the banking details below;
Bank of Scotland
Great Glen Canal Users Association
account number; 12109864
sort code; 80-22-60
PLEASE REMEMBER TO INCLUDE YOUR NAME AS REFERENCE FOR THE PAYMENT, FILL IN THE MEMBERSHIP FORM AND SEND TO; GGCUA@btinternet.com
pay by cheque, made out to Great Glen Canal Users Association, print and fill in the membership form on the website and post both together to our Chairman at the following address;
David Edes
44 Brudes Hill,
Inverness IV3 8AG
Best wishes
David, Jim and Nicky
---
---
FROM SCOTTISH CANALS : Feb 2018
You will undoubtedly have noticed that the planned work to install a new septic tank and soakaway system at Seaport Marina began last month and has since stopped. Whilst we had always expected a short period of 'down time' as the results of the ground percolation tests were reviewed, we have just been advised that the test results mean that it will not be possible for us to install the septic tank and soakaway system as planned. Clearly this is extremely disappointing for us all and not something we could reasonably have anticipated, as similar tests several years ago were OK. We are now urgently planning an alternative black water disposal solution for the site. Unfortunately Historic Environment Scotland have advised us that the new plans will require a new Scheduled Ancient Monument application, and our project manager is working with our Heritage Advisor to see if there is any way that this process can be expedited.
We remain very aware of the impact that only having temporary facilities has on our berth holders, and that the new transit boating season is fast approaching. As a publicly funded body, we are also very conscious of the considerable cost of hiring and emptying the temporary facilities. Please be assured that we are working as quickly as possible to re-open the Seaport Marina permanent facility block and we will update you as soon as we have more information.
---
21 December 2017
Dear Seaport Marina Berth Holder
We are pleased to advise that works for the installation of a new septic tank at Seaport Marina will be commencing in mid-January 2018. The works are due to be completed before Easter. Unfortunately, an unusual stipulation by Historic Environment Scotland that all digging is part of an archaeological plan and supervised by a qualified archaeologist, has caused an unexpected delay, as we had originally expected to have work underway some weeks ago.
In order to undertake the works, please would all boaters ensure that the car parking areas adjacent to the fuel berth and at both sides of the Canal Office are clear of all vehicles by Monday 15th January. Parking will still be available on a first come first served basis in the main car park. Should the car park be full, alternative parking is available at the bottom of the Muirtown Locks, normally assigned for Canoe Trail customers.
During the early stage of the works, pedestrian access along the office wharf and past the fuel berth will be maintained, but during the main excavation and installation works pedestrian access from the main car park to pontoons 2-7 will be via the towpath behind the office building and into the pedestrian gate at pontoon 2, where a small new section of path will be installed to join the paved marina path. Temporary lighting to the rear of the building will be provided. Customers wishing to gain access to the Canal Office and pontoon 1 will be escorted through the site works by a banks man, as provided by the Contractors.
Please note that the diesel berth will be closed for the duration of the works, so boaters wishing to buy diesel should arrange to purchase it by Friday 12th January.
Kind regards
Jo
Jo Spragg
Customer Service & Business Support Team Leader
---
16 December 2017:
https://www.scottishcanals.co.uk/news/public-invited-explore-250-years-canal-history-first-time/
24/11/2017:
JUST what Dochgarroch needs!!
---
12 November 2017 -- at tha AGM last night a motion was passed for us to re-join the INLAND WATERWAYS ASSOCIATION [IWA] -- The Inland Waterways Association was formed in 1946 as a registered charity in the United Kingdom to campaign for the conservation, use, maintenance, restoration and sensitive development of British Canals and river navigations. Wikipedia
The committee is seeking ways in which they can actively be of use to us, in return for our corporate membership fee to them of £54 for a year.
---
Dear Members
The AGM and Quiz night is on Saturday 11 November 2017.
The AGM is at 6.30pm, the QUIZ is at 7.30pm
This year we are having it on Loch Ness Barge, as the village hall at Dochgarroch is no longer available.
This does mean there is less space, so please let me know in advance if you are bringing a table of 6.
All are welcome to the quiz, not just members, it should be a fun night!
Please do forward this flyer on to anyone you think might be interested.
best wishes
Nicky
07847 630464
Secretary
Great Glen Canal Users Association
---
Ailsa Andrews
12 Oct 2017
Good afternoon
Please be aware that a dredger will be carrying out dredging in the area of Dochfour Burn, just south of Dochgarroch, on Sunday 15th Oct. The skipper of the dredger has asked that vessels wishing to pass please contact him so that he can move out of the way. The lock keeper at Dochgarroch can assist with communication for vessels travelling from Inverness, but the contact details and other information can be found on the attached leaflet.
Kind regards
Ailsa
Ailsa Andrews
Customer Operations Manager (Caledonian)
2017 FORUM: Meet the people responsible for the price increase!
Caledonian Canal Customer Forum
Please join us for the annual Caledonian Canal Customer Forum on Saturday 29th April at Fort Augustus Village Hall, Bunoich Brae, Fort Augustus, PH32 4DG (there is ample parking at the rear of the hall).
This will be a great opportunity to meet some of the members of Scottish Canals' senior management team, including Martin Latimer, Director, Josie Saunders, Head of Corporate Affairs, Russell Thomson, Head of Customer Operations and Ailsa Andrews, Customer Operations Manager.
As well as hearing interesting presentations about current activities and future plans for the Caledonian Canal, there will be time set aside to answer any questions you might have about our waterway and its environs.
Starting at 10.30am, the Forum will finish with sandwiches and refreshments at about 12.15pm.
If you would like to attend, so that we can organise the catering and ensure sufficient seating, please email enquiries@scottishcanals.co.uk (marking your email 'Caledonian Customer Forum') or call the Caledonian Canal office on 01463 725500.
Please also advise us if you have a specific question that you would like us to answer during the Q&A session, although we do appreciate that our presentations may spark more!
We look forward to hearing from you.
Kind regards.
Jenn White
Jennifer White
Customer & Business Support Assistant
We are having an AGM on 4 March 2017 at 6pm
at Loch Ness Barge, Seaport Marina, Inverness IV3 5LE
We will be discussing the Scottish Canals Consultation process, IWA collaboration, voting on joining the IWA with a potential new Scottish branch and having elections for the GGCUA committee.
hope you can all come!
2017
PRICING "CONSULTATION" news
[Do please give us FEEDBACK via website or otherwise on your thoughts re this so-called consultation, which most responders seem to think was flawed in many respects]
14 Feb
** Sent on behalf of Josie Saunders**
Dear Boater,
We are writing to let you know the outcome of the independent Pricing Review and Consultation into setting and reviewing mooring and licence prices on Scotland's canals.
You may be aware that consultants Gerald Eve and Bilfinger GVA worked with British Marine and the Royal Yachting Association of Scotland to publish their Pricing Review last July setting out a series of recommendations. A week later Scottish Canals launched a consultation into how these recommendations should be implemented. This consultation closed in October 2015 and attracted 88 responses from 78 individuals and organisations. Scottish Canals has 453 mooring customers and 2500 annual transit customers.
Over 700 issues were raised via the formal consultation and additional emails that customers submitted and these are publicly available on the Scottish Canals' website along with a response to each. This includes Gerald Eve/GVA's response on the main issues around comparable marina evidence for leisure customers and use of the housing market as a fair benchmark for residential customers.
We undertook a detailed analysis of each issue and raised key concerns with Gerald Eve/GVA before publishing our Consultation Response. Both Gerald Eve/GVA and Scottish Canals have confirmed that the methodology is robust, independent and reasonable and therefore all the prices recommended in their report will be adopted from 1st June 2017 across Scotland's canals as the formal pricing policy.
Scottish Canals has taken further steps not recommended by Gerald Eve/GVA to ensure that price changes are introduced sensitively and fairly. Details of all changes are set out below:
Implementation of changes
All new prices will be adopted from 1st June 2017 and thereafter on 1st April each year
Annual inflation
Annual inflationary uplift will be set in line with the Consumer Price Index, calculated over the previous calendar year (1st January to 31st December) as published by the Office for National Statistics
Price changes
All price increases of less than £100 per year will be implemented in full from your renewal date after 1st June 2017
All price increases greater than £101 will be phased in so that no customer pays more than an extra £100 per year, plus an annual CPI uplift. Prices will increase at this rate per annum until you reach the recommended Gerald Eve/GVA rate. For example, assuming 2016 CPI rate of 1%, if you currently pay £2000 per year and Gerald Eve/GVA's recommended price is £2750 you will pay £2121 in 2017/18, £2222 in 2018/19, £2323 in 2019/20, £2424 in 2020/21 and £2525 in 2021/22. Your fees will be reviewed with all other prices during 2023 as part of the five yearly review and could change as a result thereafter
The invoice for 2017/18 will be as per Gerald Eve/ GVA's recommendations.
No refunds will be available and prices can't be backdated
If you are a boater whose price will decrease, Scottish Canals will introduce this reduced fee from 1st June 2017, regardless of when your contract renews – this will apply to leisure, residential and Living on Water customers
If you are an Living On Water customer and your rate is due to increase, the increase will not be implemented until your lease has expired (from 1st June 2017)
As detailed in the Gerald Eve/GVA report, recommended prices are for standard mooring sizes only and therefore if your boat is larger than the standard size, the recommended rates may not apply. Scottish Canals will liaise with the customer directly to agree a fair and reasonable rate for their mooring based on the size of their boat and the mooring space/services it consumes
Legal agreement
As a leisure/residential boater, you will benefit from standard Terms and Conditions that will be introduced upon renewal and you will be required to sign a new agreement upon the date of renewal
To ensure security of tenure, residential customers will benefit from a minimum one year lease but Scottish Canals is committed to meeting longer term arrangements where requested. These will be agreed on a case by case basis
If your lease has expired, you will be issued with a new one dated from 1st June 2017
All liveaboard customers will move to residential rates as of 1st June 2017 so we only have one residential customer rate. However, they will benefit from phased increases in prices and will not pay more than an extra £100 per year plus CPI
Contracts are tied to a single user at a specific location and can't be transferred to different people or to location
Payment options
You can pay your mooring fees in full at the outset or by monthly direct debit instalments - however you choose to pay, the fee will be the same
Transits
Scottish Canals wants to encourage more boating on the inland waterways and therefore if you transit the Caledonian and Crinan Canal, your fee won't change compared with last year, apart from an increase in line with CPI. If you transit the Lowland Canals, you will benefit from a 25% reduction in transit charges
Navigation
Navigation charges for 2017/18 will remain at 2015 prices, subject to an annual CPI uplift and CPI will be applied each year thereafter before being reviewed in 2023 as part of the wider five-year review
Future reviews
A simple market review using the methodology as produced by Gerald Eve / GVA will be carried out every five years (with the potential to extend to 7 years) to take into account market changes and investment in infrastructure, and the results will be publicised on our website. This review will set new market rates for all moorings that will prevail for a further five years
Transfer of mooring with boat sale
The issue of transferring a mooring when a boat is sold remains controversial. As mooring values vary by location, it is not right for a public body to support anyone making money on the sale of their boat because it is moored at a desirable location. Therefore, to ensure fairness and simplicity, residential boaters will not be able to transfer their mooring when they sell their boat. Leisure boaters are already prohibited from doing so. Scottish Canals will try to accommodate new purchasers of existing boats at their preferred location, subject to our application process and compliance tests. However where the mooring is in an area of high demand it may not be possible to do so. Scottish Canals advises all buyers to speak to Scottish Canals before any sale is made binding and asks sellers to signpost purchasers to Scottish Canals during early negotiations
New moorings
Leisure moorings – if there is a waiting list, the first person on the list will be offered the mooring at the recommended Gerald Eve/GVA rate plus incremental CPI increases
Residential moorings – no waiting lists will be available. All moorings will be uploaded to Scottish Canals' website and allocated on a first come, first served basis
New mooring sites – Scottish Canals will set the rates using Gerald Eve/GVA's methodology
Charities
Registered charities engaging in non-commercial activity will be eligible for a 25% reduction in transit charges anywhere on Scotland's canals
Facilities
We will produce a Customer Facilities Charter by 1st September 2017 setting out the range and volume of facilities a boating customer can expect
User operation
We will develop a plan for user operations of locks and bridges on the Lowland Canals by 1st April 2018
If you can't afford these price changes you have the option of moving to a cheaper location on the canal, availability depending. This gives you the opportunity to choose a mooring by both location and price. As a residential boater, you can also claim housing benefit if you need help with your mooring fees.
This has not been a simple task. Despite an open, thorough and inclusive Review and Consultation process, we are unlikely to please everyone. However, Gerald Eve/GVA have created a robust, consistent and transparent methodology and by listening to customers and sensitively implementing their recommendations, we are confident we are now moving towards a fairer pricing system that benefits boaters as well as Scotland's canals.
We will be writing to you in the next few weeks to confirm how exactly these changes will impact you directly. In the meantime please do not hesitate to contact us onfeedback@scottishcanals.co.uk if you have any concerns.
Kind regards
Josie Saunders
Head of Corporate Affairs
.
Email: Josie.Saunders@scottishcanals.co.uk
Tel: +441413547555 (DD: 5055)
Mob: +447881816283
.
Scottish Canals | Canal House, 1 Applecross Street | Glasgow | G4 9SP
2016
Quizz night!
12 November 2016
8pm
Dochgarroch Village Hall, Dochgarroch, IV3 8JG
prizes, fun and the odd question featuring boats
to book a table of 6 to take part in the quizz please email Nicky lochnessbarge@gmail.com
or just turn up and join in.
Please bring your own snacks and drinks
For more information on the quizz or on the Great Glen Canal Users Association see
contact details below or call David Edes 07860 524394
www.spanglefish.com/GreatGlenCanalUsersAssociation
Facebook page; Ggcua Highlands
Chairman David Edes 07860 524394, 44 Brudes Hill, Inverness IV3 8AG
GGCUA@btinternet.com
New pontoons installed at Dochgarroch West. -- note no electrics or water.......
1 June 2016:
UPDATE on DOCHGARROCH transit berths; from Scottish Canals
Our plans to move the Muriel some weeks ago unfortunately had to be postponed due to adverse winds on Loch Ness. We're now just waiting for the availability of MV Selby, appropriately trained staff and settled weather to coincide so that we can get her moved - hopefully not too long now.
The new pontoons are due to be delivered to site next Tuesday for installation the following day. The towpath refurbishment will then take place on w/c 13th June.

Kind regards

Ailsa
16 April 2016:
Dear GGCUA members
David, the chairman has followed up the ownership and possible use of the Clansman as a bad weather bolt hole on Loch Ness and wanted this sent to you all;
"As per my commitment at AGM
Clansman harbour is owned by Robbie Bremner, leased to Jacobite who don't want anyone else in there!"
Nicky
Secretary
Great Glen Canal Users Association
Does ANYONE know of a portion of land adjacent to "central" Loch Ness which may be suitable for a small harbour?? -- either South or North side!
9 April 2106
A surveyor [NOT a boat owner or with any boat or canal knowledge] acting on behalf of Scottish Canals visited the various main berthing places on the Caledonian [and Crinan] Canals last Thursday, 7 April 2016, shown round as much as possible by members of the GGCUA committee.
AGM : 1 April
Quite a good attendance at the 2016 AGM at Caley Cruisers Briefing Room -- and we apologise again to those less able who cannot access this room up the stairs, we will change the venue for further meetings of whatever type.
Good discussions, mainly offering criticism of one sort or another to Scottish Canals.
It is such a shame that PRAISE can so rarely be profferred to Scottish Canals staff! It has to be said though that their web-savvy staff are doing rather a good job, they have good websites and anyone who wishes to mention an EVENT on the Caledonian Canal can put this forward --
" All events held on the canal, both on water and on land, go through our events process and details get added to the website once that process is complete. We are also happy to add details from third party organisers of events which are canal related and don't need to go through our events process, but we do rely on people sending us the details and so far we have not received anything from anyone. If you know of any events coming up which we could promote on the website, please feel free to pass this link on to them and we can get a listing added -https://www.scottishcanals.co.uk/events/promote-your-event/.
Kind regards
Amy " [end of quote]
Draft of Minutes of GGCUA AGM 2016
GGCUA AGM 1 April 2016
Chairman
We might often seen as bearer of bad news but here are the glad tidings of what we did for GGCUA this year: --
- jacobite cruise and speeding logged with gps; Scottish Canals [SC] has proof now and russel is putting back the 'don't rock the boat' signs to remind all boats of the 5 kt limit
"SPEED LIMITS The maximum speed permitted on the canal sections is 5 knots, but please plan your passage with leisure in mind since excess speed not only damages canal banks, but is hazardous to other users. Please slow down as you approach locks and bridges, and also whilst passing moored craft.
Skipper's Guide Caledonian Canal"
- year of architecture 2016 represented on the canal
- attended planning meeting about jacobite jetty
- campaigning for lighting and cctv (success) and pump out for liveaboards in Seaport (still pending)
- attended consultation process for SC mooring charges and lobbying on behalf of mooring holders
- easter weekend canal locks opening changed (together with commercial operators)
- events; quizz, film night and bbq
- dochgarroch west transit berths coming soon when Muriel is moved
- complaint lodged about jacobite using an ordinary mooring berth
- retiring treasurer, anyone keen?
Treasurer
total in the bank as of 1 April 2016: £407.13 . Paypal memberships coming in
Treasurer is retiring, is anyone keen to take over?
committee structure
how the association runs was discussed
treasurer
anyone willing?
any other business
disabled access
Ian thanks us for our work
events for 2016;
bbq again? Yes
do we do a foyers cruise? Yes
Did anyone mention that the Treasurer would like to retire?
Suggestions from the Floor; Please! let us know YOUR thoughts on these.
Email james.ggcua@gmail.com
- film nights; shorts and a feature film – block booking of eden court, whisky galore?
share our experiences of boating
- cruise the canal suggestion – Hugh will organise it
- why not cruise to Cromarty, Avoch Harbour, similar?
- nowhere to go in Loch Ness? Something needs to be done about Dores pier, loch ness is too huge for smaller boats; not enough places to stop
- september meeting/conference for canal managers – go onto SC website
at the conference is there a day for boaters? Could we do a fringe meeting – something about the boating community? Bring to their attention if nothing else
- lack of facilities at certain locations on the canal
- businesses are not encouraged;10% of turnover to SC for businesses associated with the canal
- Dores Inn can we request a pier – they market themselves as a roadside hotel
- Clansman, people have been waved away, harbour built with public funds- we can ask them for requirements for using as a place to go – david will do this on behalf of the association. public slip access on to the canal is shut at clansman DONE: David confirms that it is PRIVATE
- Dochgarroch issues raised: what rights does Freda have in dochgarroch? GGCUA could help by preserving the village hall for the village. boaters have been requested to clean up their boats in dochgarroch in a formal letter from SC. also plant pots have gone to seed, need to be cleaned up, email SC? security in Dochgarroch near workshop – outboard taken – cctv improved there?
- Sharing info on tricky approaches to cruising destinations would be useful on website– on line comments for sharing extended chat on cruising or other issues
- SC mooring price consultation person to look at disabled access while visiting sites
- Lack of facilities at urquart harbour, why? Go to Visit Scotland, speak to audrey about
loos and pump out there
- GGCUA facebook and website must be updated and kept as a live location for association chat
- events; committee must ask for help – ian said he will help with food for bbq if asked
- jumble page on website
- promoting the GGCUA – Graham and others suggested social media and leafletting
afterwards at tea;
skype attendance at meetings
have a link for facebook on website
hugh will organise a flotilla
dave will help on online (we will supply him with info for uploading)
graham will leaflet for promoting GGCUA
sue will update facebook
16 people present
---
BELOW:
Part of an email from Russell Thomson of Scottish Canals to Chair, GGCUA, 7 March 2016:
"In summary David, we don't actually have any vacancies for long term leisure berths at Seaport:
Residential berths (16)
14 occupied
2 vacant
In respect of the potential for expansion at Dochgarroch West , I agree with what you say David and can confirm we have been working towards this for some time. I can advise that, following outline project approval last month, the works have gone out to tender this week and, subject to final budget approval from our Directors, we would anticipate relocating the barge Muriel, removal of the old jetty, installation of the new pontoons, and some towpath works, to begin in May.
Best Regards
Russell "
April 2016: Red Bull Neptune Steps will take place on Saturday 9th April at Maryhill Locks in Glasgow. Sign ups for entry to this year's race will open on 1stMarch at 10am.
2015
Caledonian Canal -- BREACH:
Unusually high water levels on Loch Oich, as a result of heavy rains and snow melt, have significantly undermined the weir at Cullochy (approx six miles south of Fort Augustus on the Caledonian Canal) and partially washed it away, causing a major breach of the canal embankment. While there is no risk to life or property, there has been an impact on the flow of water between the canal and the local system of lochs. Loch Oich is currently approximately 1 metre lower than normal, although the water level was higher than normal over the last weekend due to the excessive rainfall.
Scottish Canals responded immediately and both our operations and engineering staff were on site within a few hours to assess the situation. While the imperative is to stem the flow of water at the weir, this is no easy job. Therefore, as an immediate measure, we have decided to stem the flow near to Aberchalder Bridge as this will enable us to carry out repairs on the weir effectively. We currently have contractors on site stabilising the towpath side of the weir and creating access points next to Aberchalder Bridge. This will enable excavators to get close to the canal and unload rock armour into the water to act as a dam, which will then allow us to carry out the necessary repairs to the weir itself. Once the repairs are complete, we will need to remove the dam next to the bridge.
This is a significant and unforeseen breach of the canal which requires a major civil engineering response and it could be into June before it is completed fully. This will mean that the Caledonian Canal at this location, and for sea to sea transits, could be closed to navigation until the end of April, however we will do all we can to carry out the work as quickly as possible in order to minimise the impact on our customers.
We have already moved a number of boats away from the site and informed our commercial operators and partners, such as SEPA.
We will continue to keep customers regularly informed of progress and will provide updates on our website www.scottishcanals.co.uk and via our social media channels.
https://www.youtube.com/watch?v=H39drBmwxL8
Thought members might be interested in how to start a "modern engine" ...... sorry about the brief ad at the start though, does anyone know how to get rid of these?
October 2014 already! -- ready for the AGM and a quiz night? ? PLEASE send feedback or suggestions for itmes of concern or contention on the Canal and Great Glen -- or email james.ggcua@gmail.com [treasurer] with any comments..............
Three FULL boats and two cars made it to the barbecue overnighter on 5 July 2014 [not counting the Norwegian gaffer who happened to berth at Foyers Pier that night!]. We got three barbies going and the fumes kept almost all the midges at bay; wine and possibly even stronger liquids flowed and a good time was had by all.
A quiet balmy night was followed by the MOST gorgeous placid morning, disturbed only much later by the vast wash from HMS Explorer racing up the Loch.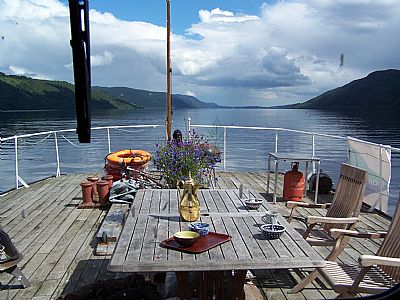 QUIZ NIGHT -- Inverness Marina: [under Kessock Bridge]
Saturday 21 June 2014 at Marina meeting room, 7 pm start
£1 per person, 6 max per team, winner takes ALL! Bring drinks and munchies.
-------------------------------------------------------------------------------------
A message from Scottish Canals to ALL:
Dear Caledonian Canal customer
We are delighted to invite you to our annual Caledonian Canal Customer Forum on Saturday 10th May at the SGL Boardroom, Eden Court Theatre, Inverness.
This will be a great opportunity to meet some of the members of Scottish Canals' senior management team including our new Chairman Andrew Thin, one of our Board Members Tanya Castell, Director of Estates Katie Hughes, and Russell Thomson, Waterway Area Manager.
As well as hearing interesting presentations about current activities and future plans for the Caledonian Canal, there will be time set aside to answer any questions you might have about our waterway and its environs.
Starting at 10.30am, the Forum will finish with sandwiches and refreshments at about 12.15pm.
If you would like to attend, so that we can organise the catering, please reply by email to enquiries@scottishcanals.co.uk (marking your email 'Caledonian Customer Forum') or call the Caledonian Canal office on 01463 725500.
We look forward to seeing you there!
All Members Discount at Tiso Outdoor
The Tiso Group is starting the New Year with a fantastic offer exclusively for all GGCUA members.
As of today [14/1/14] we will be giving all members one of our Outdoor Experience Privilege Cards free of charge (normal price £20).
The card entitles you 10% OFF everything (including sale and special offers) at any TISO, ALPINE BIKES* or BLUES THE SKI SHOP, for a year!
*please note that a 5% discount applies to all bikes.
Plus Monthly Offers, range & promotional previews,
event invitations, club nights
and much more for a year!
To get your free card, simply pop into the Tiso Outdoor Experience store in Inverness or Alpine bikes Fort William, and show your membership card/e-mail to one of the staff.

Terms & Conditions: The card can only be used by the named person on the front of the card. Proof of membership is required to process the free card. Management reserves the right to refuse the use of the card if we feel it is being improperly used. Excludes the purchase of gift vouchers.
Successful EGM and Quiz night! 45 people attended and all seemed to have a good time-- "mannie" thanks to Dave Smith for his excellent questions, though at least one surgeon member is still querying the "largest cell in the body" answer!
We now have a new chair person, DAVID EDES from Inverness, and a new Secretary, NICOLA GEAR from Muirtown.
We have a request from the Inland Waterways Association for anyone who wishes to join the Sub Committee on Inland Waterways within the RYA Scotland; let us know via the feedback page please.