WHISPERS ON THE WIND
Book Review
Lindsey Wallace reviews
WHISPERS ON THE WIND
BY
Elizabeth Revill
(aka Liz Spear)
In Bookshops and available at Amazon and on Amazon Kindle
Do you remember the Co-op in Crynant, the ironmongers and all the small shops which filled the villages of the Dulais Valley between the first and second world wars? Elizabeth Revill, the actress and authoress does because she visited her grandparents in Crynant, at 10, The Crescent, for long periods, as she grew from a child into a woman when she trod many stage boards in the country before settling down as a teacher, then on to become a full time novelist and stage play writer.
Elizabeth's mother was pregnant with Elizabeth when, with her husband, they travelled to Birmingham, where her father would take up a post. Elizabeth's mother hailed from Cefn Coed Y Cymmer, Merthyr Tydfil and her father was a Crynant boy and Elizabeth Revill was born as Elizabeth Osmend, also now known as Liz Spear since her remarriage to Andrew Spear.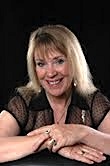 Elizabeth (pictured left) has used her experiences to bring to life the Dulais Valley in her first historical novel, "Whispers On the Wind", which is due to have a sequel released shortly, "Shadows on the Moon".
Elizabeth has also written a trilogy of psychological thrillers prior to foraying into the historical novel arena. Elizabeth is hopeful that the story of the Llewellyn family will become a television drama and her book is about to be presented by New York Producer, Lee Levinson and UK director producer Michael Rolfe to the people who could make this happen.
Whispers on The Wind follows the fortunes and misfortunes of the Llewellyn children of Hendre Farm in the Dulais Valley from their tragic early teens to near adulthood and the sequel promises to follow them further into their journey at Hendre and Gelli Galed. The young Carrie goes to Neath through Cilfrew to shop at TT Lloyds and lunch at the Castle Hotel and ventures down to Crynant village for some of Segadelli's famous wares. Segadelli's which still stands today as an icon to the thriving past of this village. It is a pleasure to visit Stella for a chat and a coffee.
Not to be missed this entrancing tale will wrap you in the warmth of this valley in a time between the two world wars, when money was scarce and life pretty brutal; as all who came here for the industry, which shaped their lives from then on, know too well.
Elizabeth lives now in North Devon, close to Barnstaple in a place called Bishops Tawton, a far cry from the Crescent in Crynant but her holidays here as a child are imprinted in her mind indelibly. She tells me how her family is related to the Thomas Family of Drymmer, how her mamgu was a Lloyd and she was always reminded as a child, stand up straight and hold your head up high, you have blue blood in your veins. Elizabeth also relates to me how her family are linked to the family of the Maid of Cefn Ydfa and one day she will write that story as it should be written.
While she trod the boards as the white witch in "The Lion The Witch and the Wardrobe" at the Westminster Theatre in London little did Elizabeth already know she would one day write about the valley she grew to love through her own eyes and those of her beloved mother and father and mamgu and dadcu of Crynant's The Crescent.
Well worth reading, Whispers on the Wind and its sequel Shadows on the Moon, which Elizabeth tells me is out this month, will entrance those who love to read about our area with its beautiful sweeping hills and valleys and its embedded history.