OTHER BASSET FRIENDS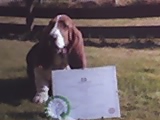 Bullieburn Tristar over Taybull.
Bullieburn Tristar (BOOTS), from our "Planets" litter, owns Lynda and Tam McCash of Taybull Bulldogs, who are probably Scotland's top Bulldog breeders. Boots likes nothing better than to have a good old romp with his Bulldog friends. They go to shows together and both breeds have a good success record with Lynda usually in charge. Pictured here is Boots with his Kennel Club Good Citizen award. Who says Bassets can't be trained??? (Bear Right at Barrenger ex Bullieburn Photo Finish)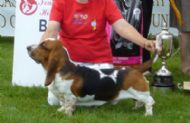 Cousin Duncan - Barrenger Beswick, winning Best in Show at South East Hound Club on 1st September 2007. He also gained his final Junior Warrant points and is well on his way to gaining his Show Certificate of Merit. Well done Duncan.
Bullieburn Brightstar
Affectionectly known as Lassie, with her young owner/handler Connie, having a well deserved rest at Highland Canine Society Show. Connie and Lassie are enjoying excellent success in the ring and qualified for Crufts 2008 at Scottish Kennel Club's Championship Show in May 2007, much to Connie's delight. We are all very proud of Connie and Lassie's achievements.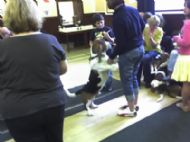 Bullieburn Novar
Known as Murdo to his friends, winning first prize in the Children's parade, at the recent Fun Day held by the BHC of Scotland, with his handler Christopher Burns who is seen admiring his trophy. Murdo is very much a Mummy's boy as you can see. Here he is telling Mum how well he has done.
Site Last Updated - 20/06/2019 14:47:53