ABOUT OUR HOUNDS
Our hounds are bred for character and quality. Temperament is of paramount importance and choice of good lines ensures that we are confident of sound hounds. Many years of research and learning have gone into our breeding programme. We do not breed many litters at Bullieburn, but the ones we have bred, have all gone to loving homes, some to pet owners, others to show homes. All of the hounds we have kept have been seen in the show ring over the years with some success. Part of the showing is winning (sometimes), but another part is making like minded friends and meeting up with them regularly at shows. Another aspect is that it takes you all over the country and seeing places which you might otherwise never visit. Our hounds love to come with us in the car and if we are travelling to a far flung show, we take the caravan, which is even better fun. The hounds just love to seek out new scents in new places and it gives them an exciting outlook on life.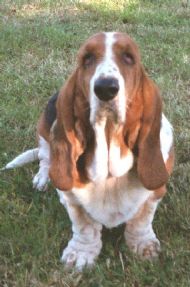 This is Barrenger Without a Care for Bullieburn - (Moragden Muscovado with Clavidar ex Barrenger Devil May Care). PRIM was obtained from Sandra and Margaret of the Barrenger Bassets in Somerset. www.barrenger.co.uk Prim gave us a litter of two lovely puppies, Tofi and Dex, who you can see below.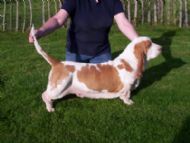 Bullieburn Photo Finish - (Ch. Barrenger Gulliver Travels ex Barrenger Without a Care for Bullieburn). - TOFI, Prim's daughter, has had moderate success in the show ring, most of them as a puppy. She has given us a litter of puppies, some of which are shown below, others are in the Basset Friends Page. Tofi and Dex were born by caesarian section and looked like twins when they were handed to us, so we decided on names which sounded as though they had arrived or were seen at the same time, hence Photo Finish and Double Exposure.
Site Last Updated - 20/06/2019 14:47:53