India 09-10
Introduction
We flew to Delhi on the 6th December from Kathmandu in Nepal. Leaving Nepal had been a nightmare as the Maoists were still creating some trouble up and down the country and had chosen this day to ban all traffic in the capital. Maila, our mountain guide, had organized some cycle rickshaws which he reckoned, fortunately correctly, might be able to get through to the airport. We had to get out and push the rickshaws on the hills but it kept us warm on a cold, foggy winter morning.
1. Delhi
2. Tilly's tour to Lucknow and Varnasi (Benares)
3. Rajasthan
4. Cycle tour in South India
1. Delhi
India was a bit of an assault on the senses and it took some getting used to!! Delhi is huge, it has a population of over 12 million, India itself has a population of over 1 billion. We were staying with the Khannas. Aman Khanna used to work with Tilly in her graphic design business in London and now has his own company based in Delhi. We stayed at his family home in a Delhi suburb where his parents were most welcoming.

The Khanna's modern home in Delhi.

Aman looking pretty cool!

Aman's parents outside their Delhi home.
A new metro is being built in Delhi but at that time had not yet reached Chattapur, where the Khannas live. The only practical way to get around is by auto-rickshaw (auto for short). This is a three wheeler taxi which uses a scooter engine and mechanicals (it is also called a tuk tuk). It takes over an hour to get from Chattapur enclave to central Delhi. The roads are wide - often 2 or 3 lane but stuffed FULL of traffic. There seem to be no road rules here. Cars, lorries, buses, autos, motorbikes and ordinary cycles drive in all directions - usually at top speed. It is a miracle that there are not more accidents. And, of course, we were introduced to the sacred cows which will wander out into the road creating even more mayhem.

Tuk tuks in the stationary Delhi traffic.
Martin departed for a 10 day visit back to England to see his father whilst Tilly remained in Delhi sightseeing for a few days before going on a short tour of Lucknow and Varanasi (Benares).
There was more to see in Delhi than I had realised. Near to the Khanna's house in the South of the city was the Qutb Minar, a complex of buildings with an amazing minaret which dates from the 12th century and the start of Islamic rule in India. The beautiful fluted minaret is nearly 73m high and tapers from a 15m diameter base to 2.5m at the top. It has 5 tiers and is faced in red sandstone at the base. There are some lovely Arabic inscriptions carved into it. Interestingly the cloisters of the mosque, which is meant to be the oldest in India and built 1193-7, were built out of old carved stonework from Hindu and Jain temples. I noticed that the faces of animals on the pillars had all been obliterated!

The minaret at the Qutb Minar complex.

Arabic inscriptions on the minaret.
Another day I visited Humayun's Tomb which is interesting example of early Mughal architecture, so a fore-runner for the more famous Taj Mahal. It was built in the 16th

century by the Persian born wife of the 2nd Mughal emperor. Both Humayun and his wife are buried there. I liked all the very geometric water channels which run around the building in the surrounding gardens. After having a cup of really sweet tea at a stall in the gardens I went onto see the tomb of Isa Khan, also on the same site. This is from the slightly earlier Lodi period. Finally that day I visited the Lodi Gardens which I didn't like very much although they had some nice mausoleums from the Lodi period.

Humayun's Tomb, early Mughal architecture.
The octagonal tomb of Isa Khan near to Humayun's Tomb.
Another Lodi tomb. This one in the Lodi gardens.
The Red Fort in Delhi was also on the visiting list. This is a huge fort next to the Yamuna River and dates from the short-lived Mughal period of Delhi. There are many different buildings spread round a very green manicured garden. It was quiet and peaceful despite the large number or tourists (mainly Indian). Its mainly built of the red sandstone which you see everywhere but some of the buildings are faced in white marble. In particular the Diwan-I-Khas, where the emperor would hold private meetings was especially lovely with inlaid marble panels. Apparently there was once a magnificent solid-gold and jewel-studded Peacock Throne that was taken out of India in the 18th century – what a shame!

The Red Fort in Delhi.
The Diwan-I-Khas or hall of Private Audiences.

One of the inlaid marble panels in the Diwan-I-Khas.
I also saw the "Delhi Gate" – a huge triumphal Arch set in a long designed mall to commemorate about 90,000 soldiers who died in World War 1. Connaught Place was interesting for me as it was designed by the English architect Edwin Lutyens. It is 3 huge road rings, the central one surrounded by once lovely colonnaded buildings. Unfortunately it is now very dilapidated but it is being slowly restored. In one of the buildings is the very good "United Coffee House". Not a café in fact but an excellent restaurant. Food in India was a real delight. There was such variety, unlike Nepal, and it all tasted SO good. The United Coffee House did excellent breads also, of which there are many different types in India.
Once Martin returned from the UK we took an auto to Old Delhi to see the Jama Masjid Mosque (the largest in India). The crowds in the avenue leading up to the mosque were extraordinary, often it was almost impossible to move. Once we had fought our way through the crowds our visit was thwarted as we could not go into the mosque because prayers were being said. After that we sampled the Delhi metro which was interesting but you had to go through security checks, as in airport, before boarding a train!
The highlight of our stay with the Khannas was being invited by Aman, Amrita (Aman's sister) and Don Carlos (Aman's brother in law) to go with them to a friends wedding reception. We did not arrive until 10.30 pm and stayed until 4.00am. The reception was held at a "farm" which specialises in such events. This was a large elegant building set in large landscaped gardens. The grounds were lit by hundreds of tiny lights so it looked quite magical. The reception was outside (which was a bit chilly in December) with a series of food tables, open sided tents with vast cushions to lie on and a large bar. The amount and variety of the food was quite mind-boggling and the drink flowed like water. Everybody made us incredibly welcome and we ended up dancing (and drinking!) the night away.
While in Delhi we planned our trip to Rajasthan and booked the sleeper train to Chennai for our South India bike tour.
2. Tilly's tour to Lucknow and Varanasi (Benares)

Whilst Martin was away in the UK I decided to visit Lucknow and Varanasi which used to be called Benares. Lucknow was the scene of an epic siege during the 1857 Indian Uprising and Varanasi is the holy bathing city on the Ganges River.
It was my first encounter with Indian trains. What an amazingly huge and efficient system the Indian railways are! And SO cheap! After being used to British prices – I was stunned! The whole system is computerised and it is remarkably easy to book tickets anywhere on the network. If you travel in the air-conditioned carriages you have a numbered seat or sleeping berth and the trip is very pleasant. If you travel 3rd class the experience is less so. My trip to Lucknow was in the 2nd category! It started well at Delhi. My name and seat number were on a computer printout pasted outside the carriage. I found the seat and we trundled out of Delhi station quite comfortably. However we only went a little way and then stopped at Ghaziabad where all hell broke loose! I think about half the Indian population must have got into my carriage. I have never seen a train so crowded! The bench I was sitting on, designed for about 3 people, now accommodated 6! I was squashed next to the window and remained pinned there for the next 8.5 hours not daring to go to the toilet for fear of losing my seat! I would never have made my way to the end of the carriage in any case – it was so jammed. Whenever I glanced up from my book people were looking at me. I arrived at Lucknow about 9pm. The station forecourt was awash with people, cycle rickshaws, tuk-tuks, cars and cows moving in all directions. Although my hotel was close by I couldn't find the street, as there are very rarely any street names on display in India, and had to get a cycle rickshaw in the end. Exhausted, with frayed nerves, I ordered some tea and toast in my room and fell into bed.

Delhi Station.
The next day I visited The British Residency. This was the site of the famous siege of Lucknow where in 1857 the British inhabitants of Lucknow, about 1300, took shelter with Sir Henry Lawrence in his Residency. In total about 3,000 men, women and children crammed into the buildings. It took 5 months for relief troops to arrive and by that time about 2,000 people had died because of the cramped and unsanitary conditions. The whole site as been left as it was on the day of the relief and the pockmarked buildings are mainly in ruins. There is a small museum in the main residency building. Many of the women and children lived during the siege in its basement rooms. During my visit I was accompanied by two small boys who seemed to find me of much greater interest than the exhibits. The site now seems to be a favourite haunt of courting couples and dogs and its peace is in stark contrast to its violent past. I walked back to my hotel past the Law Courts (Luknow is the capital of Uttar Pradesh). I have never seen so many lawyers on mopeds and motorbikes in my life!


Some of the shattered buildings in the Residency compound in Lucknow.

The main Residency building which is now a Museum.

A tomb and below its inscription in the cemetery. I like the hearts graffitied at the top of the inscription. Evidence of the use to which the site is now put!
The next day I travelled onto to Varanasi. The railway carriage was just as crowded (people were sitting on the luggage racks!) but this time I sat on a little seat on my own on the other side of the corridor from the bench so NOBODY could squeeze on next to me. Consequently my journey was rather more comfortable. We travelled on down the plain of the Ganges River so the view was of flat farmland interrupted by lots of towns and villages. It was often quite misty in India, especially in the mornings. At Varanasi I stayed near Assi Ghat to the South of the town. The "Ghats" are the stone steps leading down to the River. I was rather dogged by diarrhoea in Varanasi and so did not get about as much as I had planned. I spent most of my 2 days there walking up and down the Ghats. It was pretty amazing. There were many men bathing in the river (my guidebook mentions 60,000 people bathe every day along a 7km stretch of the River) and women were washing clothes and linen and laying them out to dry on the steps. The women don't wash themselves of course because they cannot take off their clothes in public. The Ganges water is none too clean though as apparently there are large sewers discharging into it. And the steps are none too clean either as there are lots of animals around the ghats – cows, buffaloes, goats and dogs. People were often dressed very colourfully and garlands and flowers hung from stalls. The Ghats are also famous for the cremations that take place on them. Although I saw stacks of wood and a few smoking embers I didn't see any bodies being burnt. I enjoyed having coffee and pastries at the Open Hand Shop and Café near Assi Ghat and at the Bread of Life Bakery on Shivala Road.
The view from Assi Ghat.

Some of the colourful religious people you see on the Ghats.

Children pestered me to buy this little tray with flowers and light and set it adrift on the big Ganges River.

Not a body ready for cremation but just someone having a nap!

The Ghats at twilight.
Then it was back to Delhi on the night train. As I had a sleeping berth booked this time in an air-conditioned carriage I had a very good return trip. The train started to go very slowly as we approached Delhi (it was about 2 hours late) and consequently there was a good view of the slums on the way. The shacks extended over a HUGE area. They had rattan panels or corrugated iron for walls. The roofs were covered in plastic sheeting and weighted down with anything – lumps of wood, tyres, and old pieces of metal or ceramic. Rubbish spread around the shacks, lots of it colourful plastic, and grey water channels or ponds made gaps amongst the debris. People just lived amongst it all sitting and chatting and passing the time of day and children scavenged amongst the piles. Goodness knows what their water supply or sanitation was like – I couldn't see from my train window.
Waiting at Varanasi station.
On the night sleeper train.
3. Rajasthan
When Martin returned to Delhi we went off on a fantastic 2 week tour of the forts and palaces in Rajasthan. We travelled by bus and train.

We started by taking the train to Agra, the city with THE most famous Indian icon – the Taj Mahal. Agra (actually in Uttar Pradesh – not Rajasthan), is much smaller than Delhi but just as chaotic and mad. Our hotel was rather dour but we had a nice room and the man who ran who ran the hotel was very helpful. Unfortunately the restaurant was not good - just cheap! We saw the Taj Mahal (at daybreak), the so called "baby Taj" and Agra Fort - all of which were stunning.
The stunning Taj Mahal built between 1631 and 1653.

The sun starting to rise behind the Jawab, one of the flanking buildings to the Taj Mahal.

The light made the white marble of the Taj shimmer – it was really beautiful!

Even the two flanking buildings were beautiful.

The "Baby Taj" or Itimad-ud-Daulah built slightly earlier than the Taj between 1622 and 1628.

The Itimad-ud-Daulah is a beautifully decorated white marble mausoleum.

The following day we took the local bus to Fatehpur Sikri to see the massive Mughal mosque and palace there. The palace was built between 1571 and 1585 by Emperor Akbar and was the Mughal capital but strangely it was only occupied for 14 years. Apparently there wasn't much water in the area and after Akbar's death it was abandoned.

The huge palace at Fatehpur Sikri.

A beautiful carved pillar in red sandstone at Fatehpur Sikri.
Then it was onwards to Jaipur, this time travelling by coach. The roads in Rajasthan are often surprisingly good and the journey was quick and smooth. We found Jaipur too chaotic for comfort but we had a very nice hotel. Good bedroom, stunning roof-top terrace and friendly, helpful staff. We took a day trip to Amber by local bus and the fort there was quite amazing - rather like an Escher drawing!
The Hawa Mahal (Palace of the Winds) in Jaipur. It was built in 1799 to allow women of the royal household (presumably in purdah) to watch the city life unseen.

The fort at Amber. The fort's walls wander all over the hills rather like the Great Wall of China.
Then it was on to Ajmer. Our hotel in Ajmer was the most expensive yet and the worst. Supposedly 3 star - nothing worked. We realised this when we got stuck in the lift with the boy showing us to our room - the doors would not open - until he managed to prise them apart! But we did find the best restaurant so far - the "Honeydew". This produced really tasty Indian food and was prepared to sell us beer under the counter (it appeared as aerated water on the bill!) The next day we took a local bus to Pushkar where there are endless Hindu temples with Ghats going down to the lake. The only problem was the lake was dry (apparently they drained it to do some work and now cannot get enough water to re-fill it!) So instead of "a mystically magnetic lake" (LonelyPlanet) it was more like an abandoned quarry. Nevertheless, we enjoyed Pushkar mainly because it was scenic and it was nice being able to walk without being harassed by cars and autos. We went to a great café called "Honey and Spice" in Sadar Bazaar – wonderful bread toasted and cakes!
The rather sad and empty lake at Pushkar.

Lovely buildings beside the empty lake at Pushkar.

A strange plastic tree beside the lake at Pushkar. Of course Rajasthan is a desert country!
Our train to Udaipur did not leave Ajmer until 3.55pm so we spent the morning looking at Adhai-din-ka-jhonpra which is an impressive ruined mosque and then climbing a steep path to the fort at Taragarh. What we did not realise was that day was a big Muslim festival and part of the festival involved a pilgrimage up the path from Ajmer to Taragarh. So somewhat to our surprise, we found ourselves the only Europeans taking part in this pilgrimage (we think the locals were pretty surprised too!). Then after a good lunch, it was a five and a half hour train journey to Udaipur.
The rocky pilgrimage path up to the fort and mosque at Taragarh.

The view of the desert country from Taragarh.
Udaipur is the prettiest place we have come across on our tour. The lake has water in it (unlike Pushkar) and the vistas of the palaces on the islands are beautiful. Our hotel was close to the lake and within touching distance of the Jagdish Temple (this was great until they started hindu chanting fortissimo at 5.30am!). We took a boat ride on the lake (past the island palace used in the Bond film Octopussy) and visited Jagamandir Island. We walked around the outside of the City Palace and visited the Jagdish Temple, the Bagore-ki-Haveli (an 18th century house turned into a museum) and watched Rajsathani folk dancing in the evening. We found 2 good restaurants and so ate very well. So all in all a really good couple of days.

The City Palace overlooking the lake at Udaipur.

Jagniwas Island, now a hotel, and used in the Bond film "Octopussy" which plays nightly in the hostels in Udaipur.

Martin standing in a very Indian piece of architecture on Jagmandir Island.

Bouganvillia by the City Palace in Udaipur.

The lovely garden at "The Whistling Teal" restaurant where we had superb biryannis.

Carving on the Jagdish Temple, Udaipur.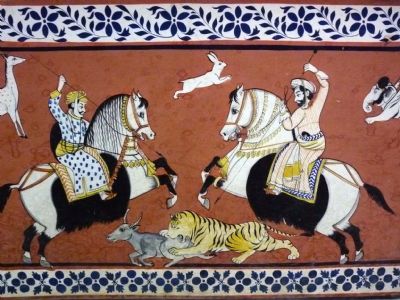 Great paintings at the Bagore-ki-haveli. A Haveli is a traditional house built around courtyards.
We then left on an early morning bus to Jodhpur. Unfortunately, Tilly's guts had started playing up during the night and so she only managed the 6 hour journey by mainlining immodium. The bus was crowded and uncomfortable (the roads on this journey were not good). Jodhpur was not as nice as Udaipur - hellish traffic and continual noise. However, our hotel was simple but nice and in a good position at the base of the castle. The lady in charge was very friendly and the terrace had a great view over the city. We had a terrific view of all the fireworks at midnight on New Years Eve. We visited the Meherangarh (Majestic Fort) the following morning. A really good audio tour was included in the entry price and we both enjoyed the history, architecture and artifacts such as howdas (seats which sit on top of elephants). The Meherangarh is a really impressive building set high above the city.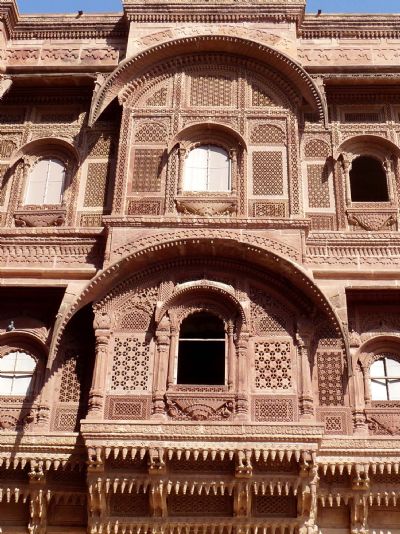 The really impressive Meherangarh (Majestic Fort).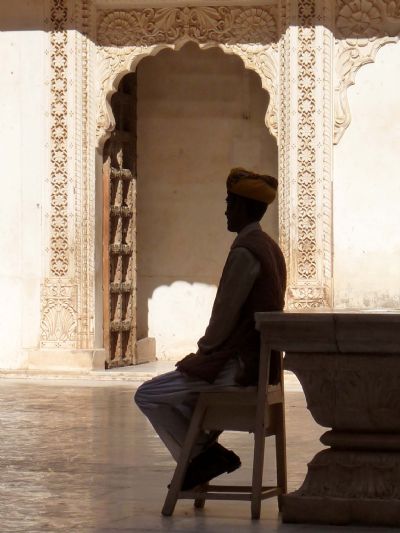 An attendant at Meherangarh Fort.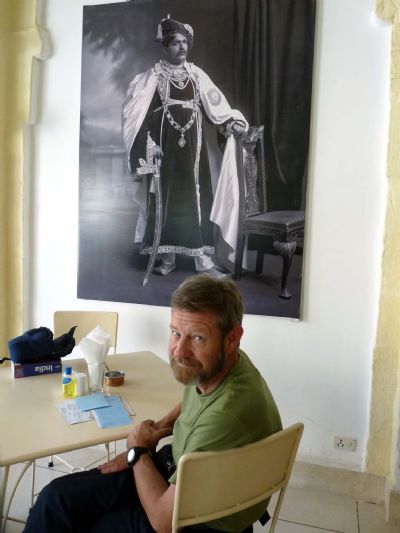 I liked this photo of Martin in front of the picture of the Nawab in the cafe at Meherangarh Fort.
Then it was onto the coach again for another five and a half hour bus journey this time to our last destination on the Rajasthan tour, Jaisalmer. We realised we were on a local bus when a man got on dragging 2 goats with him! Still the ride through the desert was interesting. When we arrived in Jaisalmer we were besieged by hotel and taxi touts all clamouring for our business. Luckily, we had booked our hotel in advance and so it was just a case of negotiating a good price for the taxi ride. The fort at Jaisalmer includes a large chunk of the old city and is very impressive (it has 92 bastions). It is built out of a warm sandy coloured stone and towers above the surrounding desert.

The Fort at Jaisalmer – another amazing palace.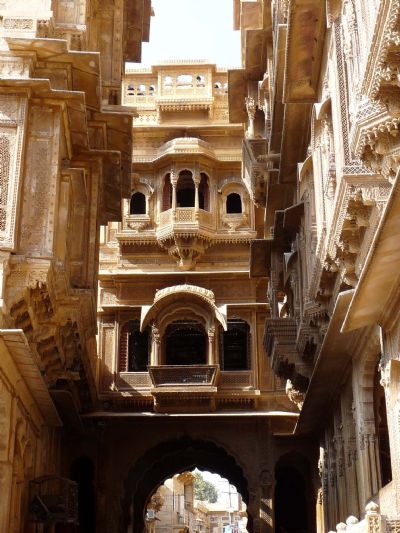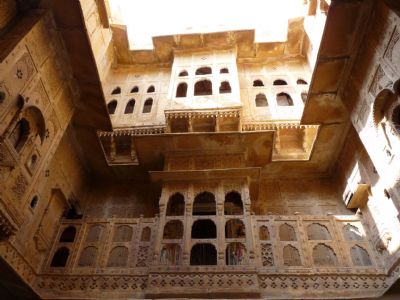 Beautiful carving on the Havelis (merchant's houses) in Jaisalmer.
A speciality of Jaisalmer is intricate stone carving and we saw 2 19th century Havelis (merchant's houses) which looked as though they had been built out of lace. We ate well at both lunch and dinner and then took the night train back to Delhi. We were travelling in the more expensive air-conditioned sleeping cars and so had quite a good nights sleep.
Back in Delhi, we treated ourselves to a blow-out lunch at our favourite restaurant - the "United Coffee House" on Connaught Place.
4. Cycle tour in South India
It was the night train to Chennai. It was supposed to take 33 hours but fog delayed things and in fact the journey lasted 45 hours. We knew we were in trouble when we woke up the first morning and the train was in Agra Station about 2 hours from Delhi!

When we arrived, Chennai was muggy and hot - quite a contrast to Delhi which was fairly cold when we left. We had booked a hotel in advance but it did not turn out to be a particularly good one (no hot water and rather a grim room). The best thing about it was it was cheap! The next day we eventually found the area with bike shops and, our hearts somewhat in our mouths, we took the plunge and bought 2 bikes. Originally we had planned to send our tandem to India but we abandoned this idea when we found out how much it would cost (100s of pounds!). Then we planned to buy bikes in Delhi and use them to tour Rajasthan. This idea was abandoned once we saw the traffic in North India (as Mr Khanna said "the traffic in towns is very unruly!") So then we were on plan C - buy bikes in Chennai and tour in the hopefully quieter South India. Well the bikes were purchased and we were now the proud owners of 2 Indian bikes (i.e. bikes without gears and definitely wonky brakes!) which have cost us the huge sum of 7,000 rupees (about 95 pounds) for the two. Martin's bike was the kind you see everywhere in India. It was just like a bike from the 1950s, sit up and beg and metal cables for the brakes. Tilly's was more modern in style but still sit up and beg.
The journey back to the hotel from the bike shop was a real baptism of fire. The traffic was horrendous and we were not entirely sure where we were going. Still we survived and made it back in one piece. We spent one more day in Chennai visiting the Chennai Government Museum (rather dusty in old colonial buildings but a very good room of beautiful bronzes) before setting off for the southern tip of India.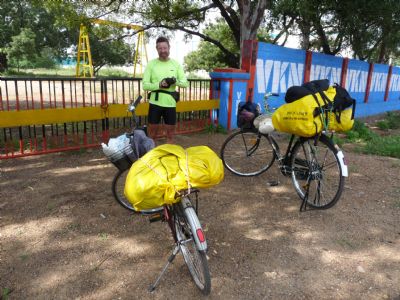 On the road with the bikes.
Unfortunately, the first part of our cycle tour did not go well. Heat, horrendous traffic and illness all made it a rather unpleasant experience. Chennai had little to recommend it (apart from the really first rate vegetarian restaurant, Saravana Bhavan just up the road from our hotel in Kennet Lane) so we were glad to leave. We got going at 6.30 to try to avoid the traffic but were soon snarled up in heavy traffic all belching fumes. It was very difficult to find our way and we ended up cycling along the new road to Mamallapuram rather than the older (and probably nicer) road. We arrived at about 12.30 and found our hotel which was OK and very cheap. Tilly's chest cold had by this time erupted into a full blown chest infection and so we stayed put for the next 5 days waiting for the antibiotics to do their stuff. Meanwhile Martin developed a milder version of the same chest lurgy so we both felt pretty sorry for ourselves. Mamallapuram is a sort of hippyish beach resort with temples. Some of the rock carvings are quite spectacular - particularly one called Arjuna's Penance. The food was very much tourist orientated which we were not so keen on (although Martin had some OK fish).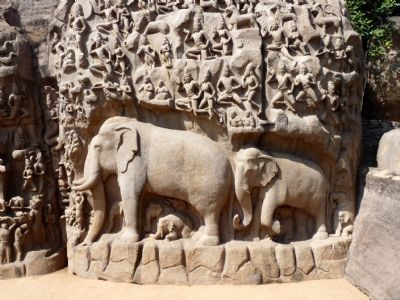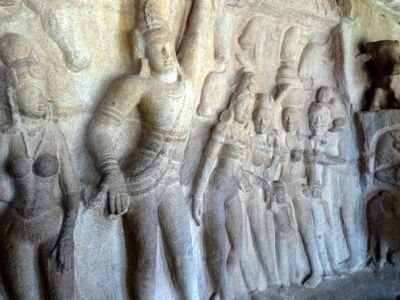 Rock carvings at "Arjuna's Penance", 7-8th century at Mamallapuram.


Temples and a huge carving of an elephant at the "Five Rathas" in Mamallapuram.
Finally, we felt well enough to try heading off again on the bikes. The problem was that the next obvious place to stay was Pondicherry and that was 100km away (which was far further than we wanted to cycle). We talked to the people in the Tamil Nadu tourist office in Mamallapuram and they said that it was possible to stay at a place called Cheyur, about halfway. So again we got going really early (about 6.10am this time) to try to avoid the heat. What we had not taken into account was that it was the middle of the Pongal Festival (harvest festival) and so the traffic was really heavy again (everybody in India seems to travel during festival times and that means a serious number of people all jammed into buses or in madly careering cars). We arrived at Cheyur at 10.30 to find no hotel of any kind. So we had to push on to Pondicherry. What was worse, when we stopped for lunch (at an Indian version of a transport cafe - boy were the curries spicy!) and phoned hotels in Pondicherry - they were ALL full. Finally we managed to find one but a horrendous price (for India that is!). The heat and the traffic really got to us and we were deadbeat by the time we finally arrived. The hotel room was nice with air-conditioning and a sea view which helped restore spirits somewhat.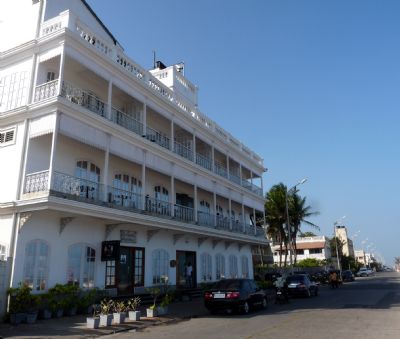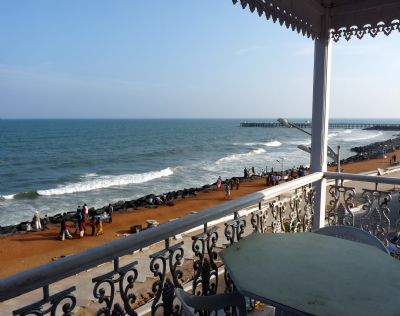 Our nice expensive hotel in Pondicherry and the view from our room.
The French quarter of Pondicherry was all faded colonial elegance (and reasonably clean) but the Tamil quarter was India as usual. Food was rather disappointing - little sign of any real French influence. We both felt very tired and were suffering from bad coughs (the after-effects of our chest infections) so stayed in Pondi 3 days to try to recover a bit.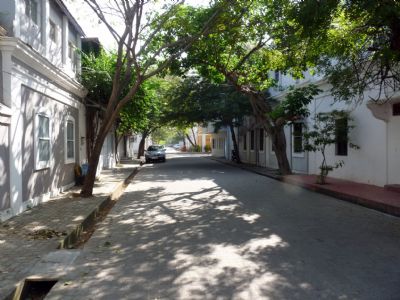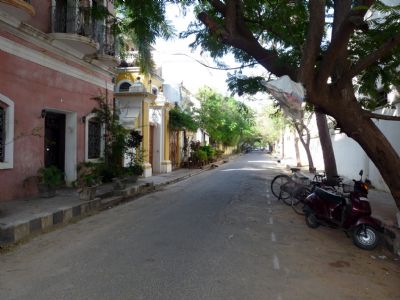 The French quarter in Pondicherry.
Then we headed off 70km to Chidambaram. The cycle ride went better but Chidambaram was not an attractive town. Its claim to fame is a huge Hindu temple. We did not like the architectural style much - all multi-coloured statues. It was supposed to be very old but looked like something Disney had created. We then had a shorter ride to Tranquebar (Tharangambadi). We stayed in a cheap hotel attached to a very plush heritage hotel. The "Bungalow on the Beach" was in the former governor's mansion and was stunning (particularly inside). Tranquebar was interesting - it had been a Danish colony and has a Danish fort, churches etc. It was quiet and restful and the food (at the Bungalow) was really good. So we decided to stay for a few days. The village was a hive of fishing boats and so there was lots to look at. We were also able to use the pool at the Bungalow which was very enjoyable.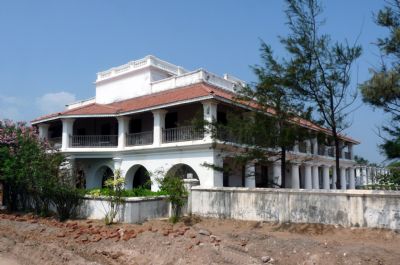 The beautiful "Bungalow on the Beach" at Tranquebar.

The Danish Fort at Tranquebar.


A temple beside the wild sea at Tranquebar.
Finally we girded up our loins, bit the bullet and mounted our bikes again.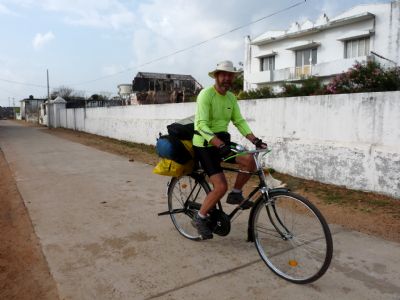 We sadly leave Tranquebar.
Our next stop was Nagapattinum, which was horrid. Then it was onto Tanjore (Thanjavur). We were now riding inland due west and the countryside was much more interesting. Tanjore was a typical dusty Indian town/city. It has a mouldering Maharaja's Palace (nothing to write home about) and an amazing 1000-year-old temple (The Big Temple). This is built out of a beautiful warm sandstone and covers a huge site. It looks quite stunning with the late afternoon sun shining on it. The temple elephant taking donations in his trunk particularly entranced Tilly.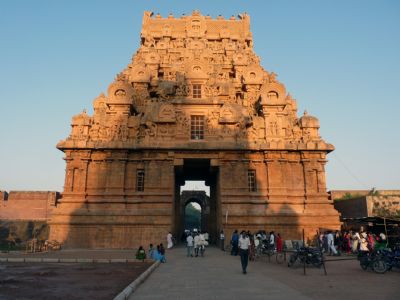 Brihadishwara temple (the "big temple") built in 1010AD.

The lovely temple elephant. If you put a coin in its trunk (which it gives to its keeper) it will then bless you by placing its trunk on top of your head.
The following day we cycled the 60 km to Tiruchirappalli usually known as "Trichy". It was a horrid ride only enlivened by some very nice villagers who helped pump up our bike tyres and by meeting an American cyclist who was touring in the opposite direction. Trichy is huge - nearly 1 million population. We saw the Rock Fort Temple and another massive Temple, the Sri Ranganathaswamy Temple (allegedly the largest in India – 6- hectares!). Although the temples were really amazing, we were starting to feel a bit "templed out".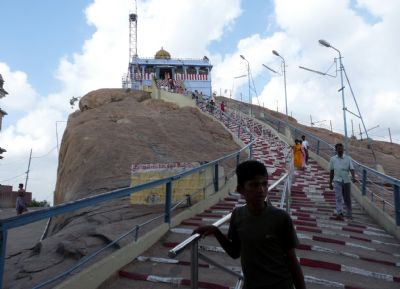 The last few steps (437 in total which have to be done barefoot) to the top of The Rock Temple.

A wonderful chariot, which was being prepared for a religious festival.
Next stop was Dindigul. The ride to Dindigul went well with some hills giving the scenery more interest. By this time we had got used to having coffee and food in the roadside shacks. The coffee was really good in Tamil Nadu. Usually we would start cycling about 6.30am and finish about 12.30pm, in order to avoid the heat, and would stop for breakfast after a couple of hours. My favourite was two small cups of coffee and a couple of hot parathas (a kind of layered chapatti, and REALLY delicious). straight from the hotplate. They would defiantly be my luxury if I was cast adrift on a desert island! At Dindigul we stayed in a strange hotel whose restaurant resembled a rather seedy nightclub but thoroughly enjoyed visiting the hill fort. This was large and rather derelict but in a magnificent position on a huge rock outcrop overlooking the town. Dindigul seemed to be off the tourist route (it didn't have an entry in the Lonely Planet guide) and the fort was surprisingly quiet which made a pleasant change.

Dindigul Fort.

An interesting temple at the top of the Fort.
Then it was on to Madurai. The famous temple was quite extraordinary but we failed to see the Gandhi museum since it was closed on Mondays. We were very much back on the mainstream tourist route here so hotel and restaurant were all tourist orientated (i.e. comfortable and with menus we could read!)

Inside the Sri Meenakshi Temple in Madurai. The outer areas in Hindu temples are often full of stalls selling religious artefacts.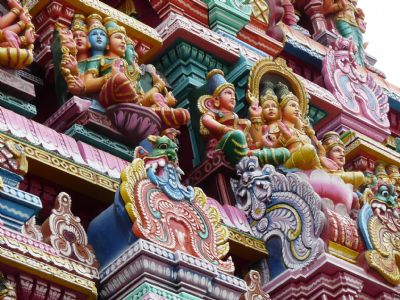 The "gopurams", or towers of the Madurai temple were a complete riot of colourful sculptures.
From Madurai we cycled south to Kanyakumari - the Land's End of India. This took us 4 days of fairly easy cycling. The road was like a dual carriageway (but one where traffic seemed to drive in every direction on every lane!) through flat, boring countryside. The stops were in undistinguished Indian towns all well off the normal tourist route. Ordering food in restaurants where one could not read the menu or understand the waiter was an interesting experience (but we generally enjoyed what turned up in front of us). On the last day (Tirunevelli to Kanyakumari) the landscape became much more interesting with rocky hills rising vertically out of the plains. As we approached Kanyakumari we rode through what must be the world's largest windfarm with hundreds of wind turbines as far as the eye could see.
Kanyakumari was part old fishing village and part brash end of the pier seaside resort (with most of the attractions being religious!). We stayed 3 nights to recover after our ride, one of which was in a hotel with a great view of gardens and then the sea.

Kanyakumari - the Land's End of India.

Fishing boats at Kanyakumari.
We then cycled out of Tamil Nadu and into Kerala to stay at Kovalam. This ride started well but then deteriorated badly. The road was narrow, very busy and worst of all hilly! Our bikes are not well equipped to deal with hills being heavy and lacking both gears and effective brakes. It is a toss up what is worse - climbing (seriously hard work) or descending (seriously frightening).
Kovalam is a beach resort based around 2 palm-fringed bays. It was blissfully quiet since there is no traffic at all! It was also full of English package holidaymakers which made it rather a culture shock. After a couple of days we cycled onto Varkala - another beach resort but with a younger/hippier clientele. The beaches at the northern end of the town were quite wild and empty and we had a good couple of days there.

Wonderful beaches at Varkala.


Unfortunately the way to the beach was strewn with plastic bottles at Varkala!
Then it was a fairly short ride to Kollam. We went on a guided canoe tour through the Keralean backwaters in the afternoon and saw pineapples and pepper growing.


We ate the BEST fruit in India – great pineapples, papaya, and mangoes and of course bananas!

There were beautiful houseboats on the Keralean backwaters you can hire for a few days or a week.

Nearing Alleppy on the Keralean backwaters.
To get to Alleppy, our next stop we had booked ourselves onto one of the tourist boats that run from Kollam to Alleppey. Manhandling the bikes on board was not easy but it was a great change to sit and watch the countryside pass by as we steamed through natural canals and lakes.
Alleppey (the Venice of India) was very hot and very humid. The following day we took a ferry for a day excursion to Kotadyn but then found that we had boarded the wrong boat! We had a magical mystery tour ending up in the middle of nowhere (actually a place called Naramudi) We had a good lunch in a riverside shack and then took the ferry back to Alleppy.
Then it was the final 58km ride to Fort Cochin.

Back on the road.

A pit-stop for coffee and bananas.
This went well although the road was continual strip development – we didn't really see any countryside. When we arrived at Fort Cochin we spent the afternoon cleaning up the bikes as it was the end of our tour. We had cycled something over 1000 km (1110 km to be precise!) from Chennai (Madras) to Cochin with only 2 punctures (both caused by thorns in T's front tyre). The man at our homestay suggested where we might be able to sell the bikes and we managed to get a little under half of what we paid for them. We spent a couple of days in Cochin and then took the train to Goa.

There were beautiful Hibiscus bushes in Cochin.

Fishing was done with large nets in Cochin.
We had 4 days in Goa where it was blisteringly hot on the beach but inland there were some very interesting old Portuguese houses. The original families still live there and open the houses to raise money. Nevertheless, they are largely mouldering away - really faded grandeur.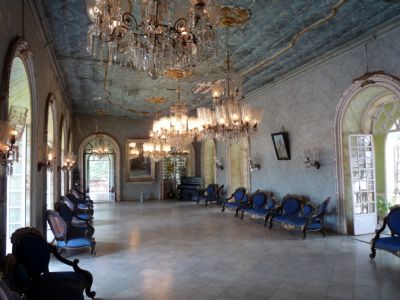 The decaying magnificent Portuguese houses at Chandor in Goa.
We then returned to Delhi on rather a swish train in the same carriage as the Indian Athletics team. They had their own masseurs travelling with them and Martin was persuaded to try some acupressure massage (incredibly painful!).

Martin in agony during acupressure massage. I saw grown men cry!
In Delhi we got our Nepali visas and other things we needed and then packed up, said our goodbyes to the incredibly hospitable Khannas, and headed off for the airport back to Nepal. The day we left was a festival called Holi – where everybody is sprayed with coloured paint! Fortunately we managed to escape with only a few daubs on our faces!

Martin at Delhi airport having been "hollied" – we got off lightly – other people were drenched in colour!