NEW PATH MAP FOR THE VISUALLY IMPAIREDY..
KNC has completed the last part of the Orienteering Bed project: a map of the paths round the Leisure Park for the visually impaired.
Early last year a KNC member was at the new bed making plans when she got talking to a visitor there who was visually impaired. In the course of the conversation the visitor said how lovely it would be to have a map she could read of the area to give her an idea of the surfaces of the paths and what was around her. So KNC decided to explore this option.
Steve Smirthwaite, who has made maps of various walks around Nairn, agreed to draw up the map and Sight Action offered to print it. The first copy has been made and Colin Matheson of Scottish Orienteering has donated a weatherproof holder for it.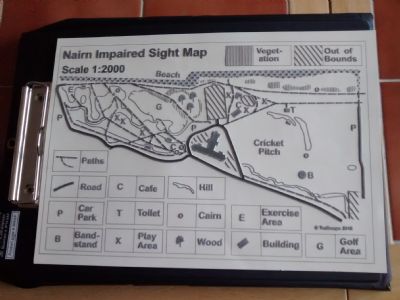 The map is now at the reception desk of Nairn Leisure Centre where it can be used and returned. KNC would welcome feedback from those who use it. It is hoped to have a second copy at James' Cafe.