Learning to skate
The club offers group tuition by our club professional, coach Caroline Allan.
Experienced skaters are encouraged to welcome and assist beginners as they find their feet.
Getting Started
Skaters are initially encouraged to progress through the structured levels of the BIS "Skate UK" programme.
Click on the image below for more information on the Skate UK programme.

Skate UK level 1-8 classes take place during the 11.00-13.15 session of the club.
Lesson times are announced throughout the club sessions.
Each stage has a lesson, and when the required standard is mastered in all requirements for that grade, the skater is promoted to the next level. There is no pressure on skaters to advance, and individuals can do so at their own pace. It is important that skaters achieve a good standard, as future skills depend upon a mastery of what has gone before.
Whenever a skater passes a level he/she should ensure their record is updated at the rinkside desk. Skaters can purchase award badges (£2 / £2/50) on completion of each level, in addition to the club records being updated.
Developing Your Skills
Skaters who have passed level 8 of the SkateUK programme, may choose to progress to the SkateUK Star programme.
Click on the image below for more information on the Skate UK Star programme.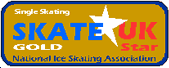 Skaters can also prepare for the BIS level 1 figure skating and field moves tests. Skaters choosing this option will be required to take membership of NISA, as well as incurring the additional costs associated with testing by external judges.
Click on the image below to visit British Ice Skating website.
Both Skate UK Star and NISA level 1 training options are taught during the 9.00-10.45 club session.
Numbers are comparatively few at this session, as skaters must cover more ice, build up speed, and practice programmes, elements and field moves in safety.
To join this session, over gold skaters should ensure they are at the ice centre, to be ready to skate at 9.00. Skate Star (bronze, silver and gold) skaters can access the ice at 10.00.
The Club has skaters beyond this level, who make use of the club ice for practice, but, since individual tuition is necessary, the club cannot offer support at more advanced levels.
Occasionally, when numbers allow, we also have a fun dance session at the end of club where skaters who have mastered the basic skating skill necessary have the chance to try out some of the skills required for ice dancing.
Private Lessons
Our club professional and coach offer private lessons, but this has no connection with the club , and private lessons cannot be held in club time.
Contact Caroline at the Ice Centre for more details of availability and charges.
Synchronised Skating
Many of our skaters go on to join the local Synchronised Skating teams.
In order to do so skaters must reach a minimum standard as follows;
Under 8 years old - passed grade 5
Over 8 years old - passed grade 8
To join the Moray Dolphins you must have passed at least one NISA level 2 test.
Further information can be found at the synchro facebook page.