A complete archive of film in Sleat.
All have been promoted by Club Film unless otherwise stated.
2013
most revent film first
Tuesday 16 July 7.30pm 'Jazz on a Summer's Day'
In association with SEALL ~ It's Jazz week with the National Youth Jazz Orchestra of Scotland visiting Skye for a week long summer school.
'Jazz on a Summer's Day' (1960) is a documentary film set at the 1958 Newport Jazz Festival in Rhode Island, filmed and directed by commercial and fashion photographer Bert Stern and director Aram Avakian, who also edited the movie. The film mixes images of water and the city with the performers and audience at the festival. It also features scenes of the 1958 America's Cup yacht races. The film is largely without dialog or narration but a great sound track.
The evening then turns into a great msuic session led by Rick Taylor, leading trombonist now living in Sleat, with a host of names from the Scottish jazz scene.
Saturday 4 May 7.30pm 'Latcho Drom'
103 mins 1993 musical documentary. This French work Latcho Dromis a film masterpiece, not pure documentary, no fiction by any means, but a work of great beauty, strong colors and wonderful singing and dancing. It takes the viewer on a journey west, from India to Spain, with stops along the way, to dramatize Romany's nomadic culture. This journey takes place over a year's time, from summer through fall and winter to spring. Gatlif holds his camera on the elemental essentials of this life: water, the wheel, fire, beasts of burden and of sustenance, colorful clothes, jewelry, musical instruments, song, and dance. Throughout, via song and dance, young and old celebrate, embody, and teach the cultural values of family, journey, love, separateness, and persecution. www.clubfilm.co.uk
2012
NOW on Wednesday 9 May and Sunday 13 May at 7.30pm
'The Artist' (U)

FOUR OSCARS and THREE other nominations might be good!
2011 USA 100 mins Dir Michel Hazanavicius
Hollywood, 1927: As silent movie star George Valentin wonders if the arrival of talking pictures will cause him to fade into oblivion, he sparks with Peppy Miller, a young dancer set for a big break. An astonishing contemporary black-and-white silent move, with musical soundtrack. Best Actor at Cannes and other Awards.
---
Saturday 05 May at 7.30pm

'Tinker, Tailor Soldier Spy' (15)
2011 UK 127 mins Dir Tomas Alfredson
Award-winning update of John Le Carre's story of the bleak days of the Cold War, when espionage veteran George Smiley is forced from semi-retirement to uncover a Soviet agent within MI6's echelons.
---
NOW ON Wednesday 28 March at 7.30pm

'The Source' ~ 'La Source Des Femmes'
2011 France 135 mins Radu Mihaileanu
A comedy/drama set in a village and centered on a battle of the sexes, where women threaten to withhold sexual favors if their men refuse to fetch water from a remote well.
---
Friday 23 March at 7.30pm

'Melancholia' (15)
2011 136 mins Dir Lars Von Trier
Two sisters find their already strained relationship challenged as a mysterious new planet threatens to collide into the Earth. Sci-fi withith Kirsten Dunst, Charlotte Gainsbourg and Kiefer Sutherland.
10pm 'Breaking the Waves' (18)
1996 159 mins Dir Lars Von Trier
Emily Watson, the Isle of Skye and some local faces in the crowds, are the stars of this early Von Tier Film. Set in a repressed, deeply religious community in the north of Scotland, a naive young woman, Bess McNeil, falls in love with Danish oil-rig worker Jan. When Jan is paralyzed in an accident, he urges Bess to take up relations with another.

(However, it was collectively decided at the end of Melancholia that enough was enough, so Breaking the Weaves was given a miss!)
---
Change of Programme
Saturday 10 March at 6pm

Note the earlier start for family viewing
Club Film ~ Change of Programme
Now Showing 'Hugo' (PG)
2011 126 minutes original 35 mm projection.
Martin Scorsese's latest brilliant family film. Set in 1930s Paris, an orphan who lives in the walls of a train station is wrapped up in a mystery involving his late father and an automaton.
"my ten year old sat transfixed. Every single image is arresting, the story is engaging and thrilling and heartbreaking and uplifting and I never wanted it to end"
With Ben Kingsley and Shacha Baron Cohen
"Hugo" was the early winner of the recent Oscars, taking home several of the technical awards including trophies for cinematography and visual effects.
---
Sunday 26 February 7.30pm

'Elena'
2011 Russia 109 mins
The opening establishes the glacial pace and committed realism of the film which makes the film special for audiences looking for something bold. Elena and Vladimir are an older couple, they come from different backgrounds. Vladimir is wealthy and cold, Elena is from a modest milieu and a docile wife. They meet late in life, each with children from previous marriages. Ther relationship changes . . .
NB NOW on Sunday 12 February at 7.30pm

not Saturday 11 February as previously stated
'Gold Diggers of '33' and Laurel and Hardy
1933 USA 97 minutes Dir Mervyn LeRoy
A wonderful comedy, tuneful and easy on the intellect with the magic of Busby Berkeley's musical numbers, featuring "We're in the Money" sung by Ginger Rogers.
PLUS some iconic Laurel and Hardy.
---
Saturday 4 February at 7.30pm (postponed from December 2011)
'A Separation' ~ 'Jodaeiye Nader az Simin'
2011 Iran 123 mins PG-113 Subtitiled
An awe-inspiring drama from internationally acclaimed Iranian filmmaker Asghar Farhadi ~ a stand-out film of the 2011 Berlin Film Festival and winner of the Golden Bear, A Separation is a suspenseful and intelligent story detailing the fractures and tensions at the heart of Iranian society.
---
Saturday 28 January at 7.30pm

'The Skin I Live In' (15) ~ 'La Piel que Habito'
2011 Spain 117 Min Dir Pedro Almodovar
A brilliant plastic surgeon, haunted by past tragedies, creates a type of synthetic skin that withstands any kind of damage. His guinea pig: a mysterious and volatile woman who holds the key to his obsession.
Saturday 14 January at 7.30pm
An Olympic 3.5 hours of Film!
'Olympia Part One: Festival of the Nations'
'Olympia 1. Teil - Fest der
Völker'
1938 Germany 121 min Dir Leni Riefenstahl
and
Olympia Part Two: Festival of Beauty
1938 Germany 96 min Dir Leni Riefenstahl
2012, the Olympic Year – to get us in the mood let's see how Germany did it! The document of the 1936 Olympics at Berlin, orchestrated as Nazi propaganda.
Riefenstahl's documentary of the 1936 Olympics at Berlin celebrates the human body by combining the poetry of bodies in motion with close-ups of athletes in the heat of competition. it ends with the triumphant conclusion of the games.
---
2011
Saturday 17 December at 7.30pm

'Troll Hunter' ~ 'Trolljegeren'
2010 Norway 103 mins PG-13
Scandinavian horror with lots of wonderful digital effects. A group of students investigate a series of mysterious bear killings, but learns that there are much more dangerous things going on. They start to follow a mysterious hunter, learning that he is actually a troll hunter.
Saturday 1 October at 7.30pm

'Bridemaids'
Comedy 2011 USA 132 minutes 15
Picked as her best friend's maid of honor, lovelorn and broke Annie looks to bluff her way through the expensive and bizarre rituals with an oddball group of bridesmaids.
"Bridesmaids is a terrifically funny, smart and tender ensemble comedy starring its co-writer Kristen Wiig, and it pulls off the remarkable trick of being brutal and gentle at the same time."
Discovery Film Festival

Friday 28 October at 11am
'The Lost Thing' & Other Shorts
Animation. Ages 8+ Approx 50 mins of films. Free screening
In 'Lost Thing' (a 15 minute animation), a boy finds a strange creature on a beach, and decides to find a home for it in a world where everyone believes there are far more important things to pay attention to.
Friday 28 October at 2pm
'Shorts for Wee Ones'
Animation. Ages 3+ Approx 50 min. Free screeningAll films are non-dialogue or in English so, even though these stories come from as far afield as India and Brazil, they are perfect for even our youngest visitors. Fun and creative shorts include a dragon made from spinach; a mouse with big ears looking for his perfect owner; a little girl who's sending her wishes to the stars; a storyteller who's forgotten the story and Fluffy McCloud, the rain cloud who just wants to be liked. This collection of colourful stories is a treat for children age 3+ and a fantastic introduction to the cinema experience as well as film literacy.
Discovery Film Festival

Saturday 29th October at 3pm
Family Film : 'Light of the River'
Animation Japan 2010 75 mins Ages 6+
for children ages 6+ and parents. Animation ~ A loveable family of river rats are forced out of their idyllic home by a building development in this award-winning Japanese animation.
Daddy rat and young Tarta and Chichi embark on an adventurous - sometimes dangerous - quest for a new home as they long to be reunited with nature. This film touches on the importance of protecting our natural environment but also on what it's like to be a refugee from a land you love but isn't safe. Not everyone is welcoming to our family of rats along the way but kindness saves the day in the end. As well as picking up First Prize from the children and adult juries at the Chicago International Children's Film Festival, this film won the Children's Earth Vision award at the Tokyo Global Environmental Film Festival.
Saturday 29th October at 7pm

'Louder Than a Bomb'
Documentary. USA 2010 99 mins
for adults and young people ages 12+
Prepare to be blown away by emotional force, storytelling and the raw power of the spoken word. This documentary follows three teenagers, from very different backgrounds, as they prepare for the annual 'Louder Than a Bomb' poetry slam contest in Chicago. 18-year-old Nate Marshall grew up in a poverty stricken area and learned to use words as his weapon. Nova Venerable takes care of her disabled brother and uses her words to vent anger at her absentee father. Private school pupil Adam Gottlieb doesn't take his privilege for granted. All of them have an exceptional talent that they've worked hard to hone. Poems are shouted out as if they were rap, to enthusiastic young audiences who yell their approval right back. A film that shows how inspiring, moving and relevant poetry can be.
Sunday 13 November at 7.30pm

'Kes'
1969 UK 110 mins PG-13
A re-issue of Ken Loach's great film about a young, English working-class boy from a broken home who spends his free time caring for and training his pet falcon.
and at 9.30pm+ 'Le Gamin au Vélo' ~ 'The Kid with the Bike'
2011 France 87 minutes subtitled
The Dardenne brothers (L'Enfant, Lorna's Silence)
once again demonstrate their mastery for crafting character studies around broken souls trying to get by in France, with their newest film, The Kid With A Bike. Abandoned by his father, a young boy comes into the care of Samantha (the always great Cecile De France), a hairdresser in the town nearby who runs into him by chance, and this is where the film really starts to succeed.

Saturday 17 December at 7.30pm
Tuesday 6 September at 8pm

Film Night with SEALL events
'Roll Out cowboy' (75 mins)
Film makers Matt Hulse and Elizabeth Lawrence are taking their films on the road, from Orkney to Dumfries.
'Roll Out Cowboy' - Chris "Sandman" Sand is a rappin' cowboy from Dunn Center, North Dakota (population: 120 and shrinking). He drives a semi, plays the guitar and raps. Sandman looks like Woody Guthrie but sings like LL Cool J. Roll Out, Cowboy follows the 39-year-old country/hip-hop musician as he tours the American West, performing for rural towns who might not have heard live hip-hop before.
Sandman's story is the struggle of an artist trying to make a buck. In a tough economy, can the American dream still carry a tune?
Introductions and Q and A from the film-makers.
More HERE "(A) sweet, side-winding little documentary..." Chicago Tribune
With possible musical support from a Klezmer Band - watch this space!
+ a 5-minute teaser for 'Dummy Jim'
In 1951 a profoundly deaf young man called James Duthie set out alone on his bicycle from a small fisher community in North East Scotland with the single-minded goal of reaching Morocco in North Africa. On returning, he wrote a book called 'I Cycled Into The Arctic Circle'. So what on earth happened along the way?
More HERE
Tickets at the door £5
---
CLUB FILM SPECIAL with YOUNG FILMS


Saturday 27 August at 7.30pm
Sabhal Mòr Ostaig, main hall
'The Inbetweeners' (15)

SOLD OUT




with the cast and crew + plus a ceilidh ~ see Trailer

HERE
repeated on
Sunday 28 August at 8pm
The Film plus Q and A with the Film makers
Booking Essentail - all tickets £7.50 Book Here or 01471 844207
---
Tuesday 23 August at 8 pm ~ Dimairt 23 Lùnastal
'Skye Shorts' with SEALL events
Short Gaelic, English Films made on Skye, by people from Skye, about Skye including a selection from School in the area. An astonishing array of talent. Including:
Selection form An Sgailean Ùr - school films
Siubhlachan - Uisdean Murray, winner FilmG Year 1 (5 mins)
Sporran Makers - Jane McAllister, Bridging the Gap 'Future' (10 minutes)
Labour - writer Kenny MacLeod, Digital Shorts (13 minutes)
Fading Trades - Lesley Anne Morrison, (12 minutes)
Broken Road - Producer Lynsey Urquhart, (13 minutes)
Obair La - Jenny Forbes, winner FilmG Year 3 (5 mins)
Foighidinn ~ The Crimson Snowdrop 2004 Simon Miller (15 minutes)
Adults £5, students £5, Young People £2, under 10s free
Book HERE or telephone 01471 844207 or at the door
Summer Films in conjunction with the SEALL Summer series
---
A Fèis an Eilein / Club Film Summer Film

Tuesday 19 July at 8 pm ~ Dimàirt 19 An t-Iuchar
Film Night 'The Space Between' (15) 85mins
with a discussion by Director Tim Barrow
An Edinburgh love story and redemption tale. Shot over 17 days, on a tiny budget, the film follows two strangers brought together and given the chance to turn their lives around. Filmed in glorious late summer sunshine, the city is a catalyst for the action. The eclectic soundtrack comes from Scottish musicians - classical piano/fiddle and blues, electronic and guitar-based tracks.
ALSO some Short Films, made by children from Skye and the West Coast.
More here
Adults £10, students £7, Young People £3, under 10s free
---
Discovery Film Festival
Scotland's International Film Festival for young Audiences
Friday 21 January 2011 special school screening
10 am 'Varmints' & short films
(UK 45 mins, P4 – P6)
'Varmints' - a beautiful 24 min animation for young people. In the face of overwhelming urbanization, indifference and recklessness, a small creature struggles to preserve a remnant of the peace he once knew. His selfless acts of love plant the seeds of change that will ultimately prove the salvation of his world. This BAFTA-nominated short is based on the children's book by Helen Ward.
Watch a trailer here
1.30 pm 'Shorts for Wee Ones'
(60 min, Nursery – P3 or all Primary)
With it's inventive, funny and fantastically colourful animations from
around the world, Short for Wee Ones is a festival favourite. Sail across
the sea with a moustached apple; fly through space on board a very
unusual ship and untangle mysteries with strange but loveable
characters. A great introduction to international film and the cinema
experience.
---
Discovery Film Festival
Saturday 22 January 2011
1.30pm Workshop
making Grufallo masks before the screening.
2.30pm 'The Gruffalo' & short films

(approx 50 min, Ages 3+)
"Doesn't he know, there's no such thing as a Gruffalo!" Or is there? Join brave little mouse and his big imagination on a search for tasty nuts in the forest. If you loved the enchanting book by Julia Donaldson, you won't be disappointed with this faithful and captivating adaptation.
Dirs: Jacob Schuh, Max Lang, Marc Craste. UK 2009
Watch the trailer here
7pm 'Soul Boy' and short films
(approx 90 min, For all the family ages 10+)
'Soul Boy' - Abila dad is ill and delirious,
claiming that someone has stolen his soul. Desperate to save him, Abila visits a witch who sets him seven challenging tasks which will free his father's captured soul. He finds himself drawn deeper into the heart of Kenya's largest slum where this film was made.
Dir: Hawa Essuman and Tom Tykwer. Kenya / Germany 2010 / 1h / Digital / Swahili with English subtitles
More here
---
Saturday 5 February at 7.30pm
'Tous les Matins du Monde'
(France 1991 115 mins subtitled)
One of the best French Films Nominated for the
1992 Golden Globe and many other awards.
It's late 17th century. The viola da gamba player Monsieur de Sainte Colombe comes home to find that his wife died while he was away. In his grief he builds a small house in his garden into wich he moves to dedicate his life to music and his two young daughters Madeleine and Toinette, avoiding the outside world. Rumor about him and his music is widespread, and even reaches to the court of Louis XIV, who wants him at his court in Lully's orchestra, but Monsieur de Sainte Colombe refuses. One day a young man, Marin Marais, (Gerard Depardieu) comes to see him with a request, he wants to be taught how to play the viol.
This film will be introduced by Club Member Lee Hooker.
More here
Watch the Trailer here
---
Sunday 27 February at 7.30pm

'Winter's Bone' (15)
(UK 2010 100 mins)
An unflinching Ozark Mountain girl hacks through dangerous social terrain as she hunts down her drug-dealing father while trying to keep her family intact.
British Independent Film Award for best foreign Film, and other awards.
More here
Watch the trailer here
---
Saturday 19 March at 7.30pm
'Black Cat, White Cat' ~ 'Crna macka, beli macor'
(Germany 1998 - subtitled)
A wacky Balkan comedy. Matko is a small time hustler, living
by the Danube with his 17 year old son Zare. After a failed business deal he owes money to the much more successful gangster Dadan. Dadan has a sister, Afrodita, that he desperately wants to see get married so they strike a deal: Zare is to marry her. But none of the two care much for an arranged marriage: Zare is in love with Ida, Afrodita is waiting for the man of her dreams.
More here
Watch trailer here
---
Sunday 3 April at 7.30pm

'The Illusionist' (U)
France 2009 90 mins
Animation from Belleville Rendevous stable. A French illusionist finds himself out of work and travels to Scotland, where he meets a young a Gaelic speaking girl with whom he sets off to explore Edinburgh
A totally delightful film for all.
More here
Watch the trailer here
---
Saturday 16 April at 7.30pm

'Double Indemnity'
(1944 USA 107 mins)
Black and White Film noir nominated for 7 Oscars "the #29 Greatest Movie of All Time"
An insurance rep lets himself be talked into a murder/insurance fraud scheme that arouses an insurance investigator's suspicions.
More here
Watch the trailer here
---
2010
Saturday 9 January
2 pm NEW FAMILY PROGRAMME
'Belle & Sebastian' (30 mins)
Belle and Sebastien first appeared on on British Television in late 1967. This wonderful black and white dubbed French adventure soon became an essential ingredient of school holiday television. The adventure concerned a small boy named Sebastien who befriends Belle a huge white dog who roams the mountains near to where Sebastien and his family live. The small village is set in the French Alps in the mountain village of Saint-Martin, near the Italian border.
We are showing the very first episode.
'Brendan And The Secret Of Kells'
Dir: Tomm Moore. Ireland-France-Belgium. 2008. 78mins.
Visually ravishing and doused in Celtic magic, Irish animated feature Brendan And The Secret Of Kells takes as its plot source and stylistic inspiration the eighth century Book of Kells. Brendan is certain to draw fans in the 5-11 core audience
Entry is free! All children must be accompanied by an adult
and at 7.30pm


Körkarlen ~ The Phantom Carriage
(Sweden 1921 Dir Victor Sjöstrom 93 mins)
The Film of all Films
Thus spoke Ingmar Bergman. This classic 1921 Swedish film, revolutionary for its time, give us a Christmas Carol Swedish style, ghosts and all.
---
Saturday 23 January at 7.30pm
Canned films
Choice of latest films from the Cannes Film Festival. Some of these have not yet hit the cinemas. Programme to be announced.
---
Saturday 6 February at 7.30pm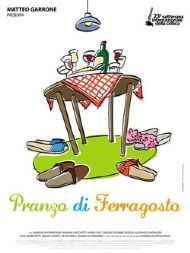 Pranzo di Ferragosto ~ The Mid-August Lunch (U)
(Italy 2008 Dir Gianni di Gregorio 75 mins)
Escape from Gomorrah
After the bleakness of 'Gomorrah', first-time director di Gregorio was desperate to make a family comedy, but couldn't afford a professional cast, so used his family instead. And created an Italian box-office sensation.
---
NEW in the Club Film Programme:
'Take One Action' Film Festival|
Take One Action is Scotland's global action cinema project, based in Edinburgh. We celebrate the people and movies that are changing the world, linking audiences, filmmakers and campaigners to inspire shared solutions to the world's greatest challenges.
Friday 19 January at 7.30pm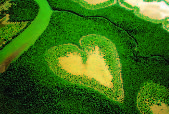 'Home'
(Yann Arthus-Bertrand | France 2009 | 95m | U)
Shot from the air in more than fifty countries, this beautiful film bears witness to the fine balance created by four billion years of evolution, now at risk from just a few centuries of human industrial development. But as the narrator argues, it's too late to be a pessimist . . .
"Quite simply, awesome viewing" The Ecologist
This was not available - instead we showed 'The Yes Men'
---
Saturday 20 January at 2.30pm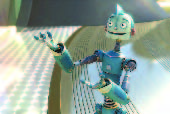 'Robots'
(Chris Wedge | USA 2005 | 90m | U)
Rodney Copperbottom has a dream: to bring the homespun inventions that have made his father's life easier to robots everywhere. But when he travels to Robot City, he learns that valuable old robots get scrapped in favour of a merciless conveyor belt of new.
products. "Brisk, cute and hilariously funny" Time Out
---
Saturday 27 February at 7.30pm
Bakwji ~ Thirst (18)


(South Korea 2008 Dir Chan-Wook Park 133 mins)
The Blood is the Life
Revenge trilogy director brings a modern take to the vampire genre, where a tragic priest is turned into vampire following a failed medical experiment. Hugely popular in Korea, and a prize winner in Cannes 2009.
---
Saturday 13 March at 7.30pm
Hunger (15)


(UK 2008 Dir Steve MacQueen 96 mins)
No Great Escape
Astonishing and powerful drama based on the last 6 weeks of Bobby Sands' life. A critically acclaimed and multi-award winning film, the only British film in International Critics Best of 2008 Top Ten Poll.
---
Saturday 27 March at 7.30pm
Das Weisse Band ~ The White Ribbon


(Germany 2008 Dir Michael Haneke 144 mins)
Meisterwerk
Winner of the 2009 Palme d'Or at Cannes, this disturbing story set in rural Germany shows a community in turmoil just before the outbreak of the First World War. Obviously influenced by Bergman, this film seals Haneke's reputation as a master.
---
Sunday 18 April at 7.30pm
'Up'
Animation
---
Saturday 1 May at 7.30pm
Vals im Bashir ~ Waltz with Bashir (18)


(Israel 2008 Dir Ari Folman 90 mins)
Lebanon in 3:4 Time
The Israeli director examines memories he would rather forget – as an Israeli soldier in the Sabra and Shatila massacres in 1982 Lebanon. A film that could only have been made in animation. A chilling and extraordinary exploration of hatred and its consequences.
---
Saturday 15 May at 7.30pm
Antichrist (18)


(Denmark 2008 Dir Lars Von Trier 109 mins)
Everything Must Go
Dogme auteur at his most provocative. This highly controversial film, with some scenes of a very disturbing nature, has divided the critics with its portrayal of a couple's disintegration following the loss of a child. Does it deserve its notoriety? Come and decide for yourself.
---
Saturday 30 October at 7.30pm

'The Boy in the Striped Pyjamas'
2008 UK Mark Herman
Set during World War II, a story seen through the innocent eyes of Bruno, the eight-year-old son of the commandant at a concentration camp, whose forbidden friendship with a Jewish boy on the other side of the camp fence has startling and unexpected consequences.
More here
Watch the trailer here
---
'Africa in Motion' Festival
Friday 19 November at 7.30pm
African storytelling by Mara Menzies, with fantastic tales and incredible characters in an engaging storytelling session.
'Madame Brouette'

Senagal (15) 104 mins
Proud, independent and divorced, Mati survives by pushing her cart through the pathways of a Senegalese shantytown.
Music by famous West African musicians - an extraordinary soundtrack and a Best Film Music Award in Berlin.
---
Saturday 20 November 7.30pm
'The Abyss Boys'

South Africa 2009 · 26m · Afrikaans with English subtitles
Set in the slums of a small fishing community on the Southern coast of South Africa, the drowning depths of illegal abalone poaching has become a dangerous life.
'Gugu and Andile'
South Africa 2009 · 1h36m · Zulu and Xhosa with English subtitles · 15
1993 and South Africa's townships are burning. Gugu, a sixteen-year-old from a Zulu family falls in love with Andile, an eighteen year-old Xhosa youth. Their love is frowned upon by both communities. Based on Shakespeare's Romeo and Juliet, Gugu and Andile is a film about love, death and reconciliation.
---
Sunday 5 December 7.30pm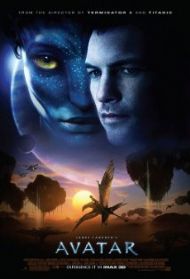 'Avatar' (12A)
(UK 162 mins)
When his brother is killed in a robbery, paraplegic Marine Jake Sully decides to take his place in a mission on the distant world of Pandora. There he learns of greedy corporate figurehead Parker Selfridge's intentions of driving off the native humanoid "Na'vi" in order to mine for the precious material scattered throughout their rich woodland. In exchange for the spinal surgery that will fix his legs, Jake gathers intel for the cooperating military unit spearheaded by gung-ho Colonel Quaritch, while simultaneously attempting to infiltrate the Na'vi people with the use of an "avatar" identity. While Jake begins to bond with the native tribe and quickly falls in love with the beautiful alien Neytiri, the restless Colonel moves forward with his ruthless extermination tactics, forcing the soldier to take a stand - and fight back in an epic battle for the fate of Pandora.
More here
Watch the trailer here
---
Saturday 18 December 7.30pm
'Girl with the Dragon Tattoo' (18)
(Sweden 152 mins Swedish subtitled)
The first of the mega-selling Millennium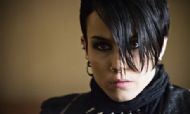 Trilogy of gruesome crime novels by the late Swedish author Stieg Larsson. Michael Nyqvist plays Michael Blomkvist, a reporter facing an unjust prison sentence for criminal libel. Before his jail term starts, he is hired by a wealthy industrialist to solve the mystery of a niece who disappeared 40 years before, and who, poignantly, once babysat Blomkvist as a boy. He uncovers a string of hate crimes, and teams up with a super-sexy badass computer hacker with emotional issues called Lisbeth (Noomi Rapace), the eponymous tattooed girl.
More here
Watch the trailer here
---
2009
Saturday 10 and Sunday 11 January 2009 7.30 pm
Inland Empire
(15)
(cancelled)
(2006,Dir David Lynch ,France /Poland/USA 180 min)
A Bizarre and beautiful film where David Lynch explores the thin boundaries between fantasy and reality when an actress finds her role extending out into the rest of her life. Possibly.
Saturday 24 and Sunday 25 January at 7.30 pm
( 2008, Dir Matteo Garrone, Italy,137min)
More realistic by far then The Godfather , this is an unconventional masterpiece depicting the Neapolitan underworld and the Camorra operating as the hellish lords of the same. Controversial in Italy, this truly needs to be seen.
Saturday 14 and Sunday 15 February at 7.30 pm
Sansho the Bailiff ~ Sanshô dayû
(1954 Dir. Kenji Mizoguchi | Japan, 142 min)
A film of unparalleled beauty by the great Japanese Master Kenji Mizoguchi.
Saturday 28 February and Sunday 1 March at 7.30pm
Triumph des Willens ~ Triumph of the Will
(cancelled)
(1936, Dir Leni Riefenstahl, Germany, 114 mins)
A legendary propaganda/documentary of the Third Reichs 1934 Nuremberg Party Rally. Featuring a cast of thousands as well as, of course, Hitler, Himmler, Goebbels, Hess, Goering and other top party officials.
Saturday 14 and Sunday 15 March at 7.30 pm
El Baño del Papa ~ The Popes Toilet (15)
(2007, Dir.s César Charlone & Enrique Fernández,Uruguay, 90 min)
Set in a small Uruguayan Border town, the hero hopes to clean up when the Pope is due to visit, but official corruption means things dont go as smoothly as hoped. Initially a light comedy, but things grow darker.
Saturday 11 and Sunday 12 April 12 at 7.30pm
(2007, Dir.s Vincent Paronnaud &Marjane Satrapi, France, 96 min)
Animated in the same style as the award winning graphic novels on which the film is based, this is the story of a girl growing up though the changes from police state to theocracy in Iran during and after the revolution. Empowering and amusing, for all sexes and ages.
Saturday 18 and Sunday 19 April at 7.30pm
Toki o kakeru shôjo ~ The Girl who leapt through time
(2006, Dir. Mamoru Hosoda, Japan, 98 min)
What would you do if you could suddenly go back in time and correct your mistakes? While the animation in this film is not quite up to the level of Steamboy, the storyline becomes increasingly convoluted as things start to go wrong for the heroine. This is better seen on the big screen than on a television, so don t miss out.
Meet the creative team behind C4s new hit comedy
Sunday 20 September at 7.30pm
Slumdog Millionaire (15)


(UK, India 2008 Dir Danny Boyle 120 mins)
Danny Boyle tops a list of the top 25 British Films makers in the last 25 years and made a personal appearance at Club Film with 'Millions'.
He received a well-deserved Oscar for Best Director for 'Slumdog Millionaire'. An upbeat story of love and money, focussed on a teenager in Mumbai who is a contestant in the Indian version of 'Who wants to be a Millionaire?' Hugely enjoyable and bursting with energy, this is a brilliantly written and beautifully acted drama that packs a powerful emotional punch.
---
Saturday 10 October at 7.30pm


Sunrise (U)
(USA, 1927 Dir FW Murnau B/W 95 mins)
The Old Old Story (Love, Betrayal, Loss and Redemption)
One of the greatest films of the silent era of 1927. A triple Oscar winner about a love triangle.
---
Sunday 8 November at 7.30pm
Tilaï ~ The Law (PG)


(Burkina Faso 1990 Dir Idrissa Ouedraogo 80 mins)
Africa in Motion – Rural Scotland Tour
From a highly acclaimed pioneer of African Cinema. A love affair between a man and his former lover, and now married to his father, threatens the stability of a traditional West African village. Lizzie Bischoff gives a presentation on African Cinema after the screening.
Also showing "The Positive Ladies Football Club" a 35 minutes documentary following the lives of women in Zimbabwe who vow to overcome predudice with their efforts in the women's football league.
---
Monday 9 November at 10am
African Children's Animation
1pm in Portree High School
A Hunter's Story, documentary
---
Saturday 14 November at 7.30pm


Tulpan
(Kazakhstan 2008 Dir Sergei Dvortsevoy 100 mins)
Steppes We Gaily
A * * * * film, screened just one day after opening in national cinemas.
Multi-award winning heartwarming view into Kazakh rural life today. Has been favourably compared to 'Nanook of the North' and 'Atanarjuat: the Fast Runner' past Club Film favourites.
---
Sunday 29 November at 7.30pm (nb change from original programme)
La Gra

ine et Le Mulet ~ Couscous (15)
(France 2007 Dir Abdel Kechiche 151 mins)
Against The Grain – à la mode française
Set amongst the North African community in the Mediterranean French
port of Sète "Couscous" is a critically acclaimed warm and engrossing
family drama that features some of the most mouth-watering scenes of
food and feasting ever committed to celluloid
When sixty-something shipyard worker Slimane is laid off, he
determines to realise his long-held dream of opening a couscous
restaurant. With the odds stacked against him, his only chance of
success is to rally the support of his unruly extended family
including he ex-wife, children, mistress and her beautiful hot-headed
daughter. But simmering feuds and rivalries have to be overcome
before the arrival of the restaurant's make-or-break opening night on
which they must risk everything
Also screening 10am Monday 30 November for Plockton High School Students.
---
Saturday 19 December 2009 at 7.30pm

Sound of Music (U)
(USA, 1965 Dir Robert Wise Colour 172 mins)
An Idle Vice, One Of My Favourite Things
Come and Sing-along to Rogers & Hammerstein's heart-warming story, with life-enhancing songs, received the Oscar for Best Picture in 1965 and is a cinematic treasure. Maria (Julie Andrews) gives the seven Von Trapp children in her care the taste of a more joyous life through music.
---
2008
Saturday 26 and Sunday 27 January 2008 at 7.30pm
Ne le dis à personne ~ Tell No-one (15)
2007 Fr., Dir Guillaume Canet 125 min
If Hitchcock had gone to Paris instead of Hollywood, this might have been the result.
Very well directed action scenes with a stylishly complex mystery at its heart.
Tell everyone!"Gripping… actor-turned-director Guillaume Canet deftly negotiates the narrative swerves between social satire, melodrama and murder mystery" Mark Kermode
Saturday 23 and Sunday 24 February at 7.30pm
Seachd – the Inaccessible Pinnacle (U)
2007 Alba. Dir. Simon Miller 90min
The Mountain shall come to Slèite.
By local demand, another chance (the last?) to see this on the big Screen on the island where it was shot.
The first feature film in Gàidhlig, for the final time.
I really wouldnt eat that, Aonghas Pàdraig . . .
Saturday 15 and Sunday 16 March at 7.30pm
Das Leben der Anderen ~ The Lives of Others (15)
2006 Ger. Dir. Florian Henckel von Donnersmarck 137 Min.
East Germany
, state sponsored voyeurism, and a third of the population informing on everybody else – and abusing them. A poignant and masterful exploration of the depths of human nature, and a warning for the surveillance culture which has grown around us .
Friday 28 and Sunday 30 March at 7.30pm (nb not Saturday)
Azur et Asmar ~ The Princes Quest (U)
2006. Fr. Dir Michel Ocelot, 99min
Award Winning French animation, about two little boys who grow up to become kings. Gorgeously painted frames around fantastic Arabic tales.
An International childrens hit.
Saturday 12 and Sunday 13 April at 7.30pm
Se, jie ~ Lust, Caution (18)
2007 USA/China Dir. Ang Lee
Occupation sex, and death. (sic)
Chinese resistance (and apparent lack of it) in Shanghai during the Japanese occupation. As it builds to a deadly climax Ang Lees cruelly erotic film continues his reflection on the far reaches of human sexuality and attraction.
Winner of The Golden Lion Award, Venice 2007
"Director Ang Lees potently erotic and suspenseful Lust, Caution casts a spell you wont want to break!" Peter Travers, ROLLING STONE
Saturday 17 and Sunday 18 May at 7.30pm
2007 USA. Dir. Jason Reitman 96 min.
Juno wants to give away the baby when it comes, her parents are relieved, her classmates are horrified, and the father is another matter altogether . . .
Surprisingly, this film about a pregnant 16 year old is a hilarious and life affirming comedy.
Friday 26 September 2008 at 7.30 pm
(2007, Dir Louise Osmond, UK,75 min)
Joe Simpson--whose amazing battle for survival was documented in "Touching the Void"--travels to the Eiger to tell the story of an earlier mountaineering tragedy that resonated with his own. Filmed and presented by world-leading mountaineering cameraman Keith Partridge, and followed by Q&A.
Saturday 1 November at 7 pm
The Fox and the Child (U) ~ Le Renard et lenfant
( 2007, Dir. Luc Jaquet, France, 92 Min)
A young girl makes friends with a fox, and has adventures. A touching family movie with great animal scenes from the director of the hugely popular "March of the Penguins"
Saturday 8 and Sunday 9 November at 7.30 pm
El Orfanato ~ The Orphanage (15)
(2007, Juan Antonio Bayona, Mexico/Spain, 105 min)
A slowly developing eerie film which has much in common with the Ghost stories of MR James than the gross out gore fests which so many horror films are these days. Thematically similar to the Devils Backbone and Pans Labyrinth, which were directed by the producer of this film: a woman and her son move into a disused orphanage, and his imaginary friends may not be quite so imaginary.
The Smallest Game in Town
(2007, Dir. Aileen Ritchie, UK, 30 min)
A 30 minute comedy starring Andy Gray, Gary Lewis, Clare Grogan and Sleats very own Annie MacLeod (Seachd). A group of friends gather together for their weekly mutual support and poker game – nobody else would have them.
Saturday 22 and Sunday 23 November at 7.30 pm
Izgnanie ~ The Banishment (12a)
(2007, Dir Andrei Zvyagintsev, Russia, 157 min)
From the director of " The Return" we have another film focusing on the bonds within families, and their slow disintegration. This is a beautifully shot award winning film, full of religious hints and allusions, where the truth is hidden but for subtle clues throughout the film, building to a wrenching climax.
Saturday 6 and Sunday 7 December at 7.30 pm
4 luni, 3 saptamâni si 2 zile ~ 4 Months, 3 weeks & 2 days (15)
(2008, Dir Cristian Mungin, Romania, 113 min)
The best film so far from new Romania. Visceral and affecting, this film was shot on an incredibly low budget and shows what life can be like in a state where abortion is illegal.
Winner Cannes Palme dOr 2007
Saturday 20 and Sunday 21 December at 7.30 pm
(2008, Dir . Phylidda Lloyd 108 min)
An Abbatastic pop fest that everyone wants to see again. Everyone gets their man in the end, and theres lots of singalong moments on the way. How can you resist?
---
Saturday 13 and Sunday 14 January 8pm
Good Night and Good Luck (PG)
(2005 George Clooney – USA) 93 minutes
Set during the early days of broadcast journalism, this second feature from director and star George Clooney was garnered with praise and revolves around news man Edward Murrow and his, and his colleagues, continued investigation into the communist "witch hunts" of the McCarthy era amidst great political and corporate pressures.
Faire Chaluim MhicLeòid ~ Calums Wake
Exclusive UK premier of a new Gaelic short from Cape Breton.
Saturday 10 and Sunday 11 February 7.30pm
An Inconvenient Truth (U)
(2006 Davis Guggenheim – USA) 100 minutes
If a number of the worlds top scientist are right, then we have only a short period of time in which to avert a potentially major natural catastrophe. But what can be done? Former American vice-president Al Gore explore this and more in this surprising, informative and entertaining film that just might be one of the most important youll ever see.
Debate to follow presentation on the Saturday ~ "Come to the Film by bike or walk"
Saturday 24 February 6.30 pm INVITATION ONLY
Sunday 25 February 7.30pm
Seachd – The Inaccessible Pinnacle
(2007 Simon Miller - UK) 95 minutes
Yet another exclusive for Club Film as this epic Gaelic tale of the power of a story makes its debut. Shot on Skye over the summer with local stars - take the chance to see it before the Rest of the World
Saturday 10 and Sunday 11 March 8pm
(1994 Yimou Zhang – China) 125 minutes
From the director of Hero and House of Flying Daggers this is essentially the story of one family and their struggle to survive but told against the much larger backdrop of the ascent of Chairman Mao. Love, loss and laughter are all present as are two leads, more than up to the challenge of such a powerful script.
Festival Weekend ~ 4 films in one weekend
The Last King of Scotland
(2006 Kevin MacDonald – UK) 121 minutes
A real privilege for Club Film as Kevin MacDonald presents his first fiction film after Oscar and BAFTA wins for his previous two documentaries (One Day in September & Touching The Void). A fictional, young Scottish doctor, through a chance encounter, becomes Idi Amins physician and later number one advisor. Balancing comedy with the true horrors of Amins regime this is a vibrant and intelligent piece of filmmaking.
Saturday 31 March and Sunday 1 April 8pm
(2006 Fran Robertson - UK) 29 mins
I Know Where Im Going (U)
(1945 Powell & Pressburger - UK) 88 mins
(1981 István Szabó - Hungary) 144 mins
Saturday 28 and Sunday 29 April 8pm
The Wind That Shakes The Barley (15)
(2006 Ken Loach – UK/IRL) 127 minutes
Winner of the Palme dOr in 2006, this controversial film from director Ken Loach tells the story of a small group of IRA activists, and in particular two brothers, during the Irish War of Independence.
Saturday 19 and Sunday 20 May 8pm
(2005 Gavin Hood – UK/S. Africa) 94 minutes
Set in Soweto, this Oscar winning film tells the tale of Tsotsi, a local gangleader who after a carjacking finds he got more than he bargained for in the form of a baby in the backseat. A visually stunning and very refreshing movie experience.
Saturday 23 and Sunday 24 June 8pm
A Few Kilos of Dates For a Funeral
(2006 Saman Salour – Iran) 85 minutes Black and White
A remarkable dark comedy - a vision of male friendship (and, though it remains largely unspoken throughout, the yearning for female companionship) so shrewd, so gimlet-eyed and knowing, its a wonder it made it past the Iranian censors.
Sunday 22 July 3pm and 8pm
---
Saturday 7 and Sunday 8 January at 8pm
Life is disappointing, especially after Christmas
Tokyo Story ~ Tokyo Monogatari
(1953 Japan - Yasujiro Ozu)
It's official! ~ 2005 critics' poll voted this the Best Film Ever Made.
Saturday 28 January at 7.30pm
(UK 2005 - Danny Boyle) 98 min
the director has been invited to present this film for all the family
A special Film and Orchestra night presented by the Northern Periphery Programme and the Lochaber Music Partnership.
Saturday 25 and Sunday 26 March at 8pm
(Burkina Faso 2004 Ousmane Sembene) 120 min
Two young African girls flee their village because of fear of female circumcision. They seek refuge with Mooladé, a woman who has protected her children from the ordeal, and who is exiled in consquence.
An African Masterpiece from the veteran director.
Saturday 29 and Sunday 30 April at 8pm
Turtles can fly (15) ~ Lakposhtha hâm parvaz mikonand
(Iran/Iraq 2004 - Bahman Ghobadi) 98 min
The first film to emerge from post-Saddam Iraq, and cast mainly with children, Turtles Can Fly is set on the Kurdish border on the eve of the 2003 invasion, where refugees – camped out in ragged tents and disused tanks – make ends meet by collecting mines. Their leader, Satellite, organises the workforce while tryingto install a TV receiver to find out when the war will start. Bahaman Ghobadi's film is crammed with unforgettable images, from the armless children unscrewing mines with their teeth to the blind child standing innocently in a minefiled. Turtles Can Fly isn't always easy to watch but remains a bold and compelling film.
Berlin International Film Festival 2005 – Peace Film Award
Saturday 13 and Sunday 14 May at 8pm
(France 2005 Michael Haneke) 117 min
Starring Daniel Auteuil and Juliette Binoche the film is a taut and tense personal thriller, which examines important subjects such as guilt and responsibility in the context of western comfort.
Cannes Film Festival 2005 – best Director
Saturday 3 and Sunday 4 June at 8pm
If you can't change the world ......
Head On (18) ~ Gegen die Wand
Cahit and Sibel, both Turkish Germans, have a marriage of convenience to help Sibel get away from the confines of her strictly conservative family.
Winner of a raft of awards at festivals worldwide.
(Turkey/Germany 2004 - Fatih Akin) 121 min
Saturday 24 and Sunday 25 June at 8pm
The Battle of Algiers (15)
(Italy 1965 - Gillo Pontecorvo) 117 min
Celebrating Algerian Independence day on July 3rd , a bloody and horrifying war film.
The Rocket Post
– Feis an Eilein
Saturday 21 and Sunday 22 October 8pm
(2005 James Mangold – USA) 136 minutes
A fascinating insight into the early years of Johnny Cash (Joaquin Phoenix) as he struggles with drugs and falls for the already married June Carter (an Oscar winning Reese Witherspoon). Key of course is the wonderful music with the likes of Ring of Fire, Folsom Prison Blues and Jackson all making an appearance.
Saturday 28 and Sunday 29 October 7pm
March of the Penguins (U)
(2005 Luc Jacquet – France) 85 minutes
Depicting the Emperor penguins yearly, treacherous journey to their breeding grounds, this oscar winning documentary is a genuine treat for the whole family.
Saturday 18 and Sunday 19 November 8pm
Idi i smotri ~ Come and See (15)
(1985 Elen Klimov – Russia) 142 minutes
Seen through the eyes of a teenage boy, this film takes place during the Second World War in Russia but in reality its themes and messages about the horror of war could be applied to any war anywhere.
"an un-missable masterpiece"
Saturday 25 and Sunday 26 November 8pm
Little Miss Sunshine (15)
(2006 Dayton/Faris – USA) 101 minutes
Proving that critically acclaimed and comedy do not have to be mutually exclusive terms – this film is the story of the dysfunctional Hoover family whose road trip across America to reach a pre pubescent beauty pageant results in death, transformation and the discovery of the surprising results of being losers in a winning-crazed culture.
---
Saturday 15 and Sunday 16 January at 8pm
(2003/4 Chan-wook Park – Korea) 120 minutes
A man is kidnapped and kept prisoner for 15 years. On his release he stops at nothing to find out why, and to take his revenge. Anyone for sushi, Korean style?
Saturday 29 and Sunday 30 January at 7pm
(2002 Nicolas Philibert – France) 104 minutes
Enchanting documentary set in a rural French primary school - well worth bringing les enfants.
Saturday 12 and Sunday 13 February at 8pm
(2004 Paul Pavlikovsky - UK) 86 minutes
Home-grown gentle coming of age love story set in North of England just in time to celebrate Valentines Day.
Saturday 26 and Sunday 27 February at 7.30pm
Infernal Affairs (15) ~ Wu jian dao
(2002 Wai Keung Lau – Cantonese) 101 minutes
A thriller from Korea, home of a new explosion of directing talent, especially thrillers.
9.30 pm The Big Sleep (PG)
(1946 Howard Hawles – USA, b and w) 114 minutes
Bogart and Bacall: before the world woke up to Fiml Noir there was the Big Sleep. A new print.
Saturday 19 and Sunday 20 March at 8pm
The Five Obstructions ~ De Fem benspænd
(2003 Lars Von Trier and Jørgen Leth - Danish / English / French / Spanish) 90 minutes
Lars Von Trier sets Jurgen a series of increasingly impossible re-makes of Jurgens surreal film The Perfect Human with astonishing and sometimes hilarious results.
Saturday 16 and Sunday 17 April at 8pm
Belleville Rendez-Vous (12)
(2003 Sylvain Chomet - French / Portuguese)
Another award winning cartoon. A grand-mother goes in search of her missing son, a Tour de France cyclist extraordinaire. We hope to discuss the film with the writer/director.
Saturday 30 April and Sunday 1 May at 8pm
(1955 Federico Fellini – b & w – Italian) 115 mins
Celebrating the 50th anniversary of Fellinis great tragedy, about two circus artistes on the road, locked in an intense love/hate relationship. A new print.
Saturday 11 and Sunday 12 June at 8pm
(2001 - English / French) 92 minutes
Compelling wildlife documentary about migrating birds, which has taken the world by storm.
Saturday 25 and Sunday 26 June at 8pm
(2002 Nuri Bilge Ceylan - Turkish) 110 minutes
Haunting Turkish family drama which swept the board at last years Cannes film festival.
Himalaya - L'Enfance d'un Chef (pg)
– Fèis an Eilein film
An epic French (subtitled) film evoking the culture of remote comunities in another mountainous part of the world. With the Tibetan way of life totally under threat from Chinese colonial rule, Eric Valli's film may be the last to record the traditional trek across the mountains. From the village of Dolpo, 5000 ft. up, a caravan of yaks sets forth once a year, ladened with sacks of salt to be exchanged in the far off Nepalese valley for enough grain to last them through the winter. The story of this race across the Himalayas, symbolising a clash between the old ways and the new, is exhilarating enough. What lifts the film to a high level is the wonder of the cinematography, the music and the spirit of a unique people.
Saturday 20 Aug 20 at 7pm
(UK 2005 - Annie Griffin) 106 min
Annie Griffin has been invited to talk about this new film.
Saturday 10 and Sunday 11 September at 8pm
Father Russia's road movie
The Return ~ Vozvrashcheniye
(Russia 2003 - Andrei Zvyaginsted) 105 min
Saturday 1 and Sunday 2 October at 8pm
Fame, success and all that stuff ~ black comedy Francaise.
(France 2004 - Agnes Jaoui) 110 min
Saturday 29 October at 6.30pm
(Spain 2204 - Pedro Almodóvar) 106 mins
Snuff doesn't just make you sneeze
And after a meal, paella, and tapas in the interval:
(Spain 1996 - Alejandro Amenabar) 125 min - his first film
For the 11th hour of the 11th day
All Quiet on the Western Front
(US 1930 - Lewis Milestone) 131 min
Saturday 19 and Sunday 20 November at 8pm
Better than a poke in the eye with a burnt stick
(Japan 2003 - Takeshi Kitano) 116 min
Saturday 10 and Sunday 11 December at 8pm
(2003 USA - Thomas MacCarthy) 88min
Saturday 17 and Sunday 18 December at 6.30pm
Family night ~ it is possible to love your pets too much
(Japan 2002 - Hiroyuki Morita) 75 min
anime by the director of the award winning "Spirited Away"
---
Saturday January 17 at 8pm
(1947 David Macdonald – UK) 1 hour 38 mins
Loch Coruisk, Broadford and Sleat as the backdrop for an intensely powerful melodrama, shot on location in Skye featuring local talent as well as usual supects Finlay Currie and co.
A short selection of video film from Skye in the 1930s – 1950s.
Saturday 31 January at 8pm
Travelling Players ~ O Thiasos
(1972 Theo Angelopoulos - Greece) 3 hour 50 minutes
As part of the Theo Angelopoulos Restrospective, Club Film for the first time becomes part of a National Film Theatre Touring Programme. With a break for some Greek food.
Saturday 7 and Sunday 8 February at 8pm
Kimonosu jo ~ Throne of Blood (15)
(1957 Akira Kurosawa - Japan)
Kurosawa does Macbeth. Truly great cinema, set in feudal Japan. Not yet available on DVD and probably your only chance to see it on the big screen.
Saturday 28 and Sunday 29 February at 8pm
(2002 Lucas Moodysson - Russia)
Lilja tries to escape her life in Russia but falls into the hands of the sex trade. Either a tragedy or a very bleak comedy depending on the reviews (and the mental health of the reviewer). Either way: unanimously a classic.
Ladri di Biciclette ~ Bicycle Thieves (U)
(1947 Vittorio de Sica - Italy) 1 hour 33 min
Magical neo-realism. Man has bike. Man loses bike. Man looks for bike all over Rome. Will he get it back? Watch the film and find out.
presented by Andrew Macdonald, the films Producer
(2002 Danny Boyle - USA) 1 hour 53 mins
A virus swipes out most of the human race by making them very angry and the survivors try to escape. Very popular in the USA.
Friday 26 and Sunday 28 March at 8pm
Russkij kovcheg ~ Russian Ark (U)
(2002 Aleksandr Sokurov ~ Russia)
Shot on a single take while travelling with the camera through the rooms of the Hermitage in Petrograd, involving a cast of thousands and the history of Russia. More than a cinematic curiosity - and very few prints exist - this is a must see.
Saturday 24 and Sunday 25 April at 7.30pm/9pm
A Night at the Opera (PG)
(1935 Sam Wood - USA) 1 hour 36 mins
"The night is yet young and you are enormous". One of the Marx brothers greats, a genuinely funny film that should please everybody.
(1949 Carol Reed - UK) 1 hour 33 mins
Tum ta tum ta tum ta tum …boasts one of the finest entrances in cinematic history - a cat, a brogue, a shadow and the finest smirk in Vienna! A post-war Graham Greene gewm. Mr Orson Welles gets all the best bits.
(2002 Spike Lee - USA) 2 hours 15 mins
Spike Lee back on form. Ed Norton plays a drug dealer forced to re-evaluate himself and his life in the 24 hours before going to prison, in a New York traumatised by the Twin Towers tragedy.
Saturday 29 and Sunday 30 May at 8pm
(2002 Wolfgang Becker - Germany) 2 hours 1 mins
Communist Mum goes into coma before the wall comes down. When she wakes up, her son sustains the illusion that nothing has changed with progressively hilarious and dramatic results. International hit from Germany.
presented by Kevin Macdonald, the films director
(2003 Kevin Macdonald - UK)
Film adaptation of Jo Simpsons mountaineering classic. The astounding drama/documentary true-life story of two climbers in the Andes and their incredible story of survival.
(1949 Alexander Mackendrick - UK) 1 hour 22 mins
Compton Mackenzies famous book filmed on location in the isles. What happens when a boat load of whisky appears on the shore. Well, wouldnt you?
Saturday 26 and Sunday 27 June at 8pm
Dom Za Vesanje ~ The Time of the Gypsies (15)
(1989 Emir Kusturica – Bosnia) 1 hour 16 mins
To save his sick sister, Perhan leaves his homeland and grand-mothers love to work for a thief and child trafficker in Milan. Things go horribly wrong and he seeks revenge. Exceptional contemporary film from major young Bosnian talent.
Saturday 27 and Sunday 28 Nov at 7.30pm
Son of the Bride (PG) ~ El Hijo de la novia
(2002 Juan Josè Campanella – Argentina) 123 minutes
Oscar-winning comedy about a family break-up, dementia, bankruptcy and love, set in Argentina.
Saturday 4 and Sunday 5 December at 7pm
(2001 Hayao Miyazaki – Japan) 125 Minutes
(Dubbed in English/Live Gaelic Translation)
Outstanding award-winning animation from Japan. A truly great family film. Eat your heart out, Mickey Mouse.
Saturday 18 December 7.30pm
Foighidinn ~ The Crimson Snowdrop
(2004 Simon Miller - Scotland) 15 minutes
World premiere screening of the new Gaelic film, shot in Sleat and featuring our own local stars - both varieties!
Meet the Stars, Director and Producer and see the film twice!
Monday 27 December at 2.30pm
(1927 Murnau - USA black and white ) 90 minutes
The first cinema showing in Scotland since its release over 75 years ago, of this silent masterpiece, a tragic love story made in Hollywood by the great German emigre Director F.W. Murnaw. A new print with a musical soundtrack.
---
Saturday January 25 at 7.30pm
Italian for Beginners (15)
(Lone Scherfig 2001) 112min
Another Dogme hit. A comedy about a bunch of love hungry Danes who think that learning Italian will help them score.
(Frederico Fellini 1963) 145 min
On good authority, this is the ultimate film about film making. A Director loses the plot while in the middle of shooting a film thats being rewritten as he goes along, as his life falls apart around him. Ottimo!
Saturday February 22 at 7.30pm
A Time for Drunken Horses (PG)
(Bahman Ghobadi, 2000) 80min
Set in Kurdistan, in a place so harsh even the horses need a drink to keep them going. A powerful and devastating drama.
(Mohsen Makhmalbaf 2001) 85 min
A lone woman searches for her sister through the hazards of Afghanistan. A mix of documentary and fiction which has been acclaimed around the world.
Saturday March 29 at 7.30pm
(Robert J Flaherty 1934) 76 mins
The first Sound film from the man who gave us last years smash hit Nanook of the North. A dramatised documentary about the struggle to survive on the barren island of Aran off the Irish coast, and the fishermen hunting the basking sharks for oil. One to savour.
(Hal Roach & Charley Rogers 1933) 90 mins
A Laurel and Hardy classic, based on the light operetta of the same name by Auber. Set in 18th century Italy, our heroes pretend to be notorious bandits and fall foul of the law. Contains the favourite "handsy earsy nosey" skit.
(Nanni Moretti 2001) 99min
Held back from last years programme, this is a masterpiece from a current European master.
Saturday May 31 at 7.30pm
(Alfonso Cuaron 2001) 105 min
Two teenage boys and a very attractive older woman who teaches them a thing or two about life as they travel across Mexico. ¡La vida tiene sus maneras de inspirarnos!
Saturday June 7 and and Sunday June 8 at 7pm
(1942 Michael Curtiz) 102 min
"You played it for her. Play it Sam."
It took a great deal of effort and extra cost to get this film - as it has been withdrawn from from distribution. So pease support Club Film and the hard work it took to get it here by coming along on either night. Its a mus see film anyway!
Monday 23 June at 8pm tbc
Join Sleat History Society and SEALL in an evening of archival video film as part of the 200th anniversary of the Skye migrant to Prince Edward island, Canada.
and a personal appearance by its Producer: Robyn Slovo
Based on Alan Warners book and partly shot in Oban, it was billed as the best British film of the year at Cannes, where it won several prizes.
Another must see film and a rare chance to question the producer.
(USA 2002 Rob Marshall) 113 mins
So many Oscars I lost count.
Rob Marshalls screen adaption of the celebrated musical explodes on to the silver screen, following the xploiuts of two murderous jazz babes - Renee Zellweger and Catherine Zeta-Jones, and their defence lawyer Richard Gere. Great songs, this is an all-singing, all-dancing affair. Fast, sassy and gives it that old Razzle-Dazzle.
Rabbit Proof Fence
– Fèis an Eilein
Thursday 4 September at 8pm
(2002 Curtis Hanson - USA) 1 hour 50 mins
Eminem (Michael Mather) as a young trailer-trash kid finding his routes to freedom through rap music. Hard hitting and a view of the third world USA you dont often see.
Saturday 4 and Sunday 5 October at 7.30 pm
(2002 Niki Caro - New Zealand) 1hour 41 minutes
Stunning new hit film from New Zealand for all the family. Young Maori girl strikes out against tradition in her quest for her own destiny. There might the odd whale . . .
Saturday 8 and Sunday 9 November at 8pm
Cidade de Deus ~ City of God (18)
(2002 Katia Lund, Fernando Meirelles – Brazil) 2 hours 10 mins
Set in Rio de Janeiro, 2 boys grow up in an area where life is not so much cheap as disposable. Extraordinary film with original cinematography and rave reviews. Brutal.
Saturday 29 and Sunday 30 November at 7.30pm
Il Gattopardo ~ The Leopard (PG)
(1963 Luchino Visconti - Italy)
Restored Directors Cut. Set in 19th Century Sicily, Burt Lancaster, Alain Delon and Claudia Cardinale star in Viscontis masterpiece. One to savour.
Saturday 20 and Sunday 21 December at 7.30pm
Fanny och Alexander ~ Fanny and Alexander (15)
(1982 Ingmar Bergman – Sweden, France, Germany) 3 hours 8 mins
A rich tapestry of one year in the life of a large and well-to-do theatrical family in a provincial Swedish town at the turn of the century. Bergman at his best and most accessible. The culmination of a lifetimes work of one of cinemas greatest artists.
---
Nanook of the North & The South
In the Mood for Love (China)
24 hour Party People (18)
Saturday 7 September at 8pm
(Bill Forsyth 1983) 117 min
A unique opportunity to hear David Puttnam talk about his life and work and see his Highland-based production Local Hero.
Thursday 19 September at 8pm
(Gabriel Axel, 1987 - Denmark) 103 mins
The Film that seriously praises food, an Oscar winning love-story from Denmark, with a free dram of Talisker Whisky.
Saturday September 28 at 8pm
(Francis Ford Coppola 1979/2001) 153 mins
On the big screen again Francis Coppolas blockbuster, with added sequences both to confound and elaborate on the plot. The photography is beautiful and hypnotic and increasingly disturbing. If you love the smell of Napalm in the morning you cant miss this.
Saturday October 26 at 7.30pm
(Akira Kurosawa 1954) 160 min
Kurasawas original. A lament for the loss of honour for the samurai caste during World War 2, in a film influenced by early westerns and in turn remade in Hollywood as the Magnificent Seven. Action packed poetry in black and white, a magnificent tragedy.
(Takashi Miike 1999)115 min
She always gets a part. Directed by Japans most hardboiled director, a highly original and unsettling movie which had Glasgows horror fans walking out before the end. Can you take it?
Saturday Nov 30 at 5.30pm
(Sergei Bondarchuk 1968) 390 min
A new print of the definitive film. Over 6 hours long, an epic production of Tolstoys classic love story set in the time of the Napoleonic wars. Soviet film at its most extravagant. We will have a vodka and blini break half way.
Saturday December 21 at 7pm
(Fellowship of the Ring) (Peter Jackson 2001) 178 min
Follow four bare-footed agrarians on a journey where they make some friends and have a bit of a fight. Oh yes, and the best special effects ever seen. Refresh your memory before the Two Towers.
---
Oh Brother Where art thou?
Spirit of the Beehives (15)
Buena Vista Social Club (pg) -
SEALL World Music Festival
La Vache et le President/ The Cow and the President
An Coeur du Mensonge/The Colour of Lies.
Rocky Horror Picture Show
2000
- Club Film Trial Season
Airs of Scotland
- Screen Machine
The Screen Machine - Films
---
2000
- Club Film Opening Full Season
---
1999
- Club Film Trial Season
---
1996
-
Eden Court outreach
Bridges of Madison County