The Action Plans
The Inverclyde, Renfrewshire and East Renfrewshire Action Plan is a working document that is used by local organisations and Local Biodiversity Action Plan Partners.
Action plans layout the measures needed for the protection of habitats and species in the Inverclyde, Renfrewshire and East Renfrewshire region. The LBAP is designed to protect and enhance local and national priority species and habitats. It is a detailed plan specifying the actions required to meet proposed objectives and targets. Action plans are accessible to a wide range of people, from those in lead organisations, such as Councils, to individuals with an interest in the environment.
Biodiversity of plants and animals
Click on the links below to view our Action Plans
Habitat Action Plans:
Broadleaved and Mixed Woodland
Species Action Plans:
Greater Butterfly Orchids and Lesser Butterfly Orchids
Habitat Action Plans
Dwarf Shrub Heath
Dwarf Shrub Heaths are characterised by vegetation dominated by members of the heath family (Ericaceae), the most familiar of which is the Heather which characterises much of upland Scotland.
We in Renfrewshire have an important obligation to preserve and restore our local examples (above) of this globally rare and threatened habitat.
Special plants and animals
Our local wet heaths are dominated by Heather (Calluna vulgaris) with varying amounts of the other dwarf shrubs. Cross-leaved Heath (Erica tetralix), Bell Heather (Erica cinerea), Crowberry (Empetrum nigrum) and Blaeberry (Vaccinium myrtilis).
Associated plants vary with the drainage characteristics and degree of grazing at individual sites but usually include Purple Moor Grass (Molina cinerea), Deer Grass (Trichophorum cespitosum), various bog mosses (Sphagnum) and moorland lichens (particularly Cladonia spp.).
The wet heaths of Renfrewshire support a distinctive moorland fauna including:
· Mountain Hare (Lepus timidus)
· breeding birds such as Hen Harrier (Circus cyaneus) Short-eared owl (Asio flammea), Black Grouse (Tetrao tetrix) and Red Grouse (Lagopus lagopus), and breeding waders such as Golden Plover (Pluvailis apricaria), Snipe (Gallinago gallinago) and Curlew (Numenius arquata).
· interesting insects such as Green Hairstreak Butterfly (Callophrys rubi) and Emperor Moth (Saturnia pavonia), plus unique assemblages of spiders and beetles.
On sunny days during April and May, the spectacular Emperor Moth (above) can be seen flying rapidly over the heather at several heaths in Renfrewshire.
(Photo: Kelly Thomas)
Click on the link below to view the Action Plan (PDF)
Biodiversity/documents/Dwarf%20shurb%20heath.pdf
Mires and Fens
Mire and fen habitat forms on ground which is waterlogged for most of the year and where incomplete decomposition of the vegetation results in peat formation.
Mire vegetation varies widely however, depending on the range of nutrients available. A lush, diverse range of plants may be present if streams and springs bring in a good supply of nutrients from the surrounding area. Good examples of this type of "Rich-Fen" mire can be seen at Aird Meadow (Lochwinnoch), Loch Libo (nr. Uplawmoor) and Glen Moss (Kilmacolm).
The rich fen habitat at Aird Meadow (above) in full bloom during July. Among the sedges and Canary Reed Grass can be seen a profusion of flowering Meadowsweet, Valerian, Angelica and the introduced Himalayan Balsam.
Raised bog on the Gleniffer braes (above).
Special plants and animals
While relatively small, the best examples of rich-fen in Renfrewshire, support a wide range of plants with characteristic species including Reed Canary-grass (Phalaris arundinacea), various sedges (Carex spp.) Marsh Marigold (Caltha palustris) Meadowsweet (Filipendula ulmaria), Angelica (Angelica sylvestris), Valerian (Valeriana officinalis) and Marsh Cinquefoil (Potentilla palustris).
Such vegetation is an important breeding habitat for some breeding birds, with typical birdsong like the grating chattering of the Sedge Warbler (Acrocephalus schoenobaenus), the insect-like "reeling" of Grasshopper Warbler (Locustella naevia) and the simple three-notes of the Reed Bunting still being commonly heard. Our rich-fens support insects like Damselflies and dragonflies and the Small Pearl-bordered Fritillary butterfly (Boloria selene) (Glen Moss, Aird Meadow).
In general, nutrient-poor mires like blanket bogs and raised bogs support quite different plants and animals to rich-fens although many mires lie somewhere between these two extremes.
Bog Asphodel Narthecium ossifragum, a member of the lily family and a bog specialist - growing on one of Renfrewshire's few remaining raised bogs on the Gleniffer Braes (above).
(Photo: J R Crellin)
Renfrewshire contains some good examples of nutrient-poor mires which support a number of locally rare species such as Coral-root Orchid (Corallorrhiza trifida), Early Marsh Orchid (Dactylorhiza incarnata), Bog Sedge (Carex limosa), Lesser Tussock-sedge (Carex diandra), bladderworts (Utricularia spp.) and the bog moss Sphagnum contortum.
Click on the link below to view the Action Plan (PDF)

Biodiversity/documents/mires.pdf
Unimproved Grasslands
Unimproved grasslands and those which have only been slightly managed support the best variety of plants and animals. Most of the best unimproved grassland in Renfrewshire is associated with upland pastures with the most extensive areas to be found around and within the Clyde-Muirshiel Regional Park, the Eaglesham Moors and along the Gleniffer Braes-Lochliboside hills.
The vast majority of this grassland is acidic in nature and characterised by the grasses Sheep's Fescue (Festuca ovina) (above),Mat-Grass (Nardus stricta) and Wavy-hair Grass (Deschampsia flexuosa).
Special plants and animals
While it is the entire diversity of flora and wildlife that is important, some species and groups of species are particularly characteristic and vulnerable elements of biodiverse grasslands:

· waxcap toadstools Hygrocybe spp.
· herbs such as Spignel (Meum athamanticum), Pignut (Conopodium majus), Harebell (Campanula rotundifolia), Mountain Pansy (Viola lutea), Heath Spotted Orchid (Dactylorhiza fushii) and Greater Butterfly Orchid (Platanthera chlorantha), to name but a few.
· Brown Hare (Lepus europaeus)
· declining breeding birds such as Grey Partridge (Perdix perdix), Lapwing (Vanellus vanellus), Curlew (Numenius arquata), Skylark (Alauda arvensis) and Linnet (Carduelis cannabina),
· insects such as grasshoppers, the Six-spot Burnet Moth (Zygaena filipendulae) and butterflies including the Small Heath (Coenonympha pamphilus) and Common Blue (Polyommatus icarus).
Click on the link below to view the Action Plan (PDF)
Biodiversity/documents/unimproved%20grasslands.pdf
Rivers and Streams
Click on the link below to view the Action Plan (PDF)

Biodiversity/documents/rivers%20and%20streams.pdf
Standing Open Water
There are numerous lochs, reservoirs and ponds scattered throughout Renfrewshire. Many of these water bodies are artificial reservoirs on higher ground but since these often have relatively low levels of dissolved nutrients, steep artificial shorelines and do not support a particularly wide range of plants and animals.
There are larger natural lochs in lowland areas which often suffer from the opposite problem, namely artificially high nutrient levels caused by sewage and run-off of fertiliser from surrounding farmland. These nutrient enriched lochs may also have low biodiversity due to the algal "blooms" that develop in these conditions deoxygenating the water and blocking the passage of light to the larger aquatic plants. Such nutrient enrichment, or eutrophication, is a particular problem at the Castle Semple Loch/Aird Meadow/Barr Loch complex at Lochwinnoch. Renfrewshire has rather few mesotrophic lochs (those with medium nutrient levels) - the type that supports the greatest biodiversity - of which Loch Libo near Uplawmoor is probably the best example (below).
Special plants and animals
All unpolluted water bodies support aquatic plants such as pondweeds (Potamageton spp.) a range of aquatic insects such as water beetles, mayfly and dragonfly nymphs.
The low water levels allowed to develop at Balgray reservoir (near Barrhead) in recent summers have lead to the establishment of Trifid Bur Marigold (Bidens triparlita) on its muddy margins, a plant rarely found north of the English midlands.
Brown Trout (Salmo trutta) thrive throughout Renfrewshire, although natural stock are often supplemented with farm reared fish, by angling clubs. Perch (Perca fluviatilis) and Pike (Esox lucius) also occur widely while Roach (Rutilus rutilus) can be found in a few lochs (e.g. the "Three Lochs" complex at Lochwinnoch). Our lochs and reservoirs are also important spawning sites for frogs, toads and newts (both Smooth and Palmate newts).
A range of waterbirds are dependent on this habitat for breeding, including Great Crested Grebe (Podiceps cristatus; aprox. 15 pairs), Little Grebe (Tachybaptus rufficollis; aprox. 50 pairs), Coot (Fulica atra; approx. 60 pairs), Moorhen (Gallinula chloropus; at least 200 pairs) and half a dozen species of duck. In addition, the lush vegetation often found around the margins of water bodies is important for the increasingly scarce Reed Bunting (Emberiza shoeniclus). Standing open water is also an essential to the maintenance of any associated fen or marsh habitat.
Click on the link below to view the Action Plan (PDF)
Biodiversity/documents/standing%20open%20waters.pdf
Broadleaved and Mixed Woodland
Britain is one of the least wooded countries in Europe and preserving what is left of our woodland resource is seen as a priority in the UK Biodiversity Action Plan. Our largest areas of woodland locally are the dense commercial conifer plantations of low biodiversity that cover much of upland Inverclyde and the East Renfrewshire moors (below).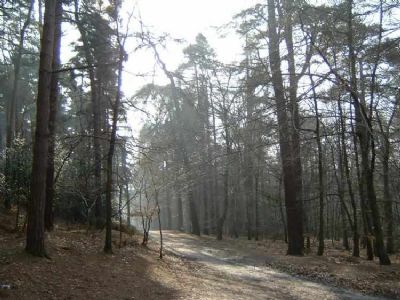 The most valuable woods in Renfrewshire from a biodiversity point of view may be those which have best compromise between age (ideally over 150 years old), size (over 10 ha), proportion of native trees (high) and recent human influence (little disturbance and management), e.g. those at Finlaystone and Drums estates ( both nr. Langbank), Duchal Estate (Kilmacolm), Barochan Moss (Houston), Erskine Big Wood, Lawmarnock (nr. Kilbarchan), Loch Libo (Uplawmoor) and Waulkmill Glen (nr. Barrhead).
Special plants and animals
In the longer established woods that have escaped grazing by livestock, a natural ground flora may have developed. This often includes primroses and colourful expanses of bluebell in April, being replaced later in the Spring and Summer by a variety of ferns and other shade-loving plants such as Wood Anenome (Anemone nemorosa), Wood Sorrel (Oxalis acetosella) and Dog's Mercury (Mercurialis perenne).
Many interesting animals also occur in Renfrewshire's broadleaved woods especially where these are undisturbed or when visitor impact is managed. Renfrewshire's broadleaved woods provide homes to Badgers (Meles meles), Foxes (Vulpes vulpes), Roe Deer (Capreolus capreolus), bats, woodland rodents and shrews, while specialist woodland birds like Woodcock (Scolopax rusticola), Great Spotted Woodpecker (Dendrocopus major) and Blackcap (Sylvia atricapilla) all breed.
Click on the link below to view the Action Plan (PDF)
Biodiversity/documents/broad%20and%20mixed%20woodland.pdf
Urban
Click on the link below to view the Action Plan (PDF)
Biodiversity/documents/urban.pdf
Species Action Plans
Greater Butterfly Orchid (Platanthera chlorantha) and Lesser Butterfly Orchid ( P. bifolia)

These attractive and closely-related orchid species look similar but occupy different habitats. Greater Butterfly Orchid is to be found on neutral unimproved or semi-improved grassland, while Lesser Butterfly Orchid replaces it on upland acid grassland and moorland. Greater Butterfly Orchid is by far the commoner of the two in Renfrewshire, having been recorded in 32 one km squares concentrated along the foot of the Gleniffer Braes and in the Neilston, Bridge of Weir and Kilmacolm areas.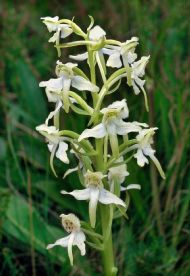 Greater Butterfly Orchids (above) can be seen in flower between May and July at 20-30 unimproved grassland sites scattered throughout Renfrewshire.
(Photo: T. Norman Tait)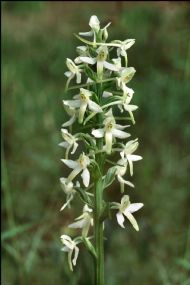 (Photo: T. Norman Tait)
Click on the link below to view the Action Plan (PDF)
Biodiversity/documents/Species%20Action%20Plans/butterfly%20orchids.pdf
Common Juniper (Juniperus communis)

One of only three native Gymnosperms (needle-leaved evergreens), Juniper is declining nationally and is now mainly confined to heaths and open pinewoods in the highlands. The species is nearly extinct in Renfrewshire due to over-grazing and the management of heather moorland to improve grouse numbers for shooting. There are now only three known plants that can be regarded as truly wild growing on moorland within the Clyde-Muirshiel Regional Park.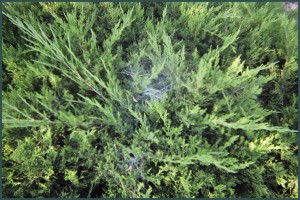 Common Juniper with a spiderweb.
Click on the link below to view Action Plan (PDF)
Biodiversity/documents/Species%20Action%20Plans/common%20juniper.pdf
Spignel (Meum athamanticum)
Spignel is an attractive, aromatic member of the Umbellifer (carrot) family, with a mainly north-westerly distribution in the UK. In Renfrewshire, Spignel grows mainly on unimproved acid grassland and roadside verges on higher ground. Most local colonies are found in and around the Clyde Muirshiel Regional Park but there are also a few on the Gleniffer Braes and the hills south of Neilston. The species is believed to have become scarcer in recent years, with overgrazing by sheep and agricultural improvement of its upland grassland habitat being blamed for the decline.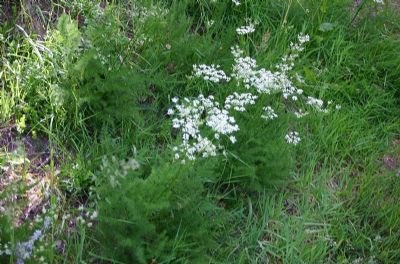 Spignel can be found by the roadside in a few places - like here about a mile west of Kilbarchan. (Photo: Sten Porse)

Spignel can be found by the roadside in a few places - like here about a mile west of Kilbarchan (above).
Click on the link below to view the Action Plan (PDF)
Biodiversity/documents/Species%20Action%20Plans/spignel.pdf
Atlantic Salmon (Salmo salar)
The Renfrewshire tributaries of the River Clyde (including the Black Cart Water, White Cart Water, Gryfe and Calder) once teemed with Salmon and Sea Trout, but the populations of these fish were largely exterminated by water pollution, due to local heavy industry during the 19th and much of the 20th centuries. Water quality has however, improved greatly over the past 30 years in parallel with the demise of these industries and Salmon have started to re-colonise the Clyde river system including the Renfrewshire tributaries.
Unfortunately, this limited local recovery is in stark contrast to a widespread decline in Salmon stocks across Western Europe which has been blamed on:
pollution at sea

increased infestation of wild Salmon by parasites picked up while migrating past Salmon farms

over-fishing

continuing fiver pollution from industry and agriculture

(possibly) global warming.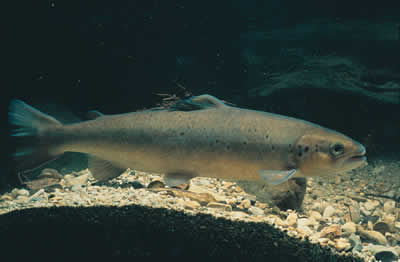 Atlantic salmon
Click on the link below to view the Action Plan (PDF)
Biodiversity/documents/Species%20Action%20Plans/atlantic%20salmon.pdf
Waxcaps
A few Renfrewshire sites are rich in members of the colourful waxcap toadstool family including the nationally rare Date-coloured Waxcap Hygrocybe spadicea and the even rarer Hygrocybe radiata (recorded only three times previously in the UK).

Aside from preserving these fungi for their own sake, a high diversity of waxcaps is a good indicator of ancient unimproved grassland - the grasslands that support the greatest variety of plant and animals.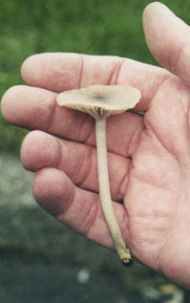 A fruitbody of Hygrocybe radiata (above) found at Gleniffer Braes Country Park, September 2000.
(Photo: Tom Byars)
Click on the link below to view the Action Plan (PDF)
Biodiversity/documents/Species%20Action%20Plans/waxcaps.pdf

Hen Harrier (Circus cyaneus)
Hen Harriers are graceful, medium-sized members of the hawk family (Accipiteridae) found in a variety of open habitats right across the temperate zone of the northern hemisphere.

The 12-15 nesting pairs in Renfrewshire represent a valuable 2% of the UK breeding population, but a local study has suggested that persecution continues in the area, and that both breeding numbers and nesting success are lower than they should be.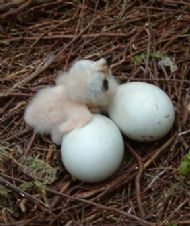 Hen Harrier chick in the nest (above) with two eggs - located in tall heather.
Nesting success is often poor due to illegal persecution.
Click on the link below to view the Action Plan (PDF)
Biodiversity/documents/Species%20Action%20Plans/hen%20harrier.pdf
To see footage of the Hen Harriers CCTV Project at Clyde Muirshiel Regional Park log on to;
http://www.inverclyde.gov.uk/planning-and-the-environment/conservation/hen-harriers-at-clyde-muirshiel-regional-park/
Brown Hare (Lepus europaeus)

It will surprise many people to learn that the population of this once abundant animal has been rapidly declining since about the 1960's.

Some of the loss is attributable to disease epidemics in some areas along with more frequent road death but the main problem for hares nowadays seems to be agricultural change, especially on arable land.

The intensification of agriculture has seen a switch from spring-sown to autumn-sown cereals. Hares feed well when autumn-sown wheat and barley plants are young but by early summer these crops are already tall, woody and less nutritious than spring-sown crops.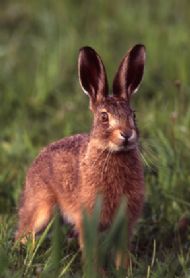 Brown Hare (above)
(Photo: Peter Huggins)
Click on the link below to view the Action Plan (PDF)
Biodiversity/documents/Species%20Action%20Plans/brown%20hare.pdf
Lesser Whitethroat (Sylvia curruca)

Most of the UK population of this small songbird occurs in southern England but there are also about 150 breeding pairs in Scotland, mainly concentrated in the Lothians. Since the first few breeding birds appeared in Renfrewshire in 1983 we have had up to three pairs locally, closely monitored by local bird watchers.

Renfrewshire's Lesser Whitethroat population seems set to remain tiny however, due to the scarcity of its breeding habitat - mature hawthorn scrub with a dense and varied undergrowth. There are very few sizeable patches of good quality hawthorn scrub left in Renfrewshire and nearly all local breeding territories have been found within the best example of this habitat, which runs along the slope of the Brownside Braes between Paisley and Barrhead. The quality of the hawthorn scrub here could be threatened by land development, over-grazing and scrub clearance, as well as natural habitat change.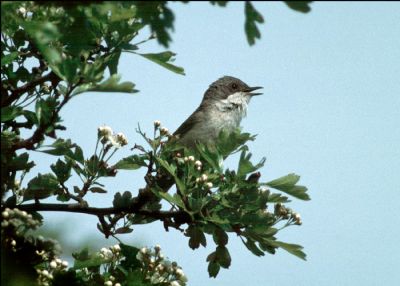 Lesser Whitethroat
(Photo: Norman Tait)
Click on the link below to view the Action Plan (PDF)
Biodiversity/documents/Species%20Action%20Plans/lesser%20whitethroat.pdf
European Otter (Lutra lutra)
Otters have suffered decades of population decline due to the pollution of rivers and streams leading to the decimation of their fish prey, as well as a reduction in undisturbed habitat as flood plains and watercourses were developed for residential and business uses.
In recent years however, river systems have become cleaner and fish stocks have recovered and this popular but secretive animal now seems to be making a comeback in west-central Scotland.
The most recent surveys of known former otter sites in Strathclyde have shown a welcome increase from 59% of sites occupied in 1984-85 to 88% of sites occupied in 1991-94.
In Renfrewshire breeding has been proven at the Lochwinnoch RSPB reserve while other sightings are on the increase. Nevertheless, we cannot be complacent and the otter recovery still has some way to go before the population is back to its healthy pre-1960 level.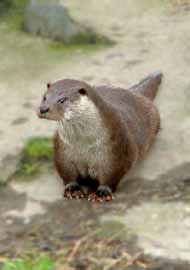 Otters are making a welcome return to our watercourses - although sightings like this are still very rare.
(Photo: Animal Port)
Click on the link below to view the Action Plan (PDF)
Biodiversity/documents/Species%20Action%20Plans/otter.pdf
Pipistrelle and Pygmy Pipistrelle (Pipistrellus pipistrellus / pygmaeus)
The two closely related pipistelle species are our commonest bats and are usually the species seen at dusk flying around riversides, woodland edges, parks and suburban gardens.
While Pipistrelles are still a fairly common sight in Renfrewshire there is much cause for concern - national bat surveys have suggested that the Pipistrelle population (both species combined) fell by around 70% between 1978 and 1993. There seems to be no single reason for this decline and it is likely that a combination of factors is to blame, e.g. habitat damage, a loss of daytime roosting sites, a reduction in their insect prey numbers due to pesticides and possibly, poor spring weather (limiting their ability to fatten up after hibernation).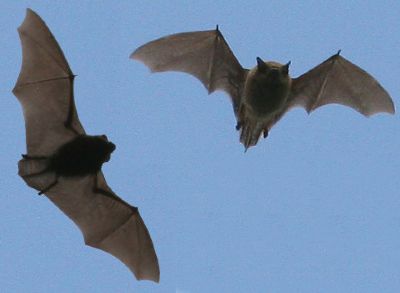 Pipistrelles are still a familiar sight in many areas, but falling numbers are a cause for concern.
(Photo: Chris Darby)
Click on the link below to view the Action Plan (PDF)
Biodiversity/documents/Species%20Action%20Plans/pipistrelle%20bats.pdf
---