Fun Day 2014..
The Basset Hound Club of Scotland held its annual Fun Day on Sunday 7th September and was, as usual, fun and funny. This event is held mainly for pet owners who do not show their Bassets, who can have some fun and exchange Basset conversation with other pet owners. There were nine well filled classes and a hilarious photo/caption competition. Judge for the day was Sandra Caldow (Livlandean), who breeds and shows German Spitz.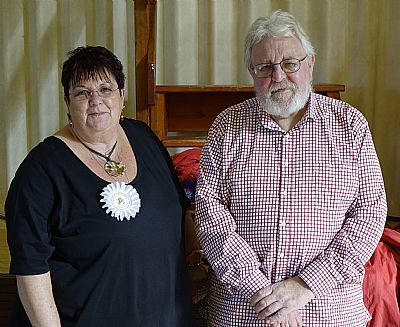 Judge Sandra Caldow with Club Chairman Tom Johnston
All class winners were presented with a trophy and all who were placed, a rosette. It was so nice to see so many "oldies" still fit and fun loving, and taking part. Everyone who entered in the classes got both human and doggy goodies.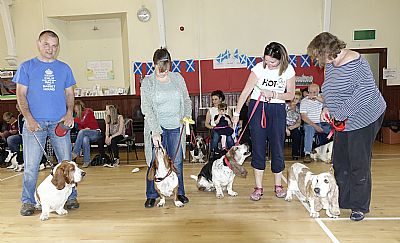 The six best legs class had 21 Bassets and handlers in it, so that was 126 legs to be judged – no mean "feet"! The fancy dress competition theme was The Commonwealth Games and here, owners to be applauded for their ideas. There were event related "athletes", Team Scotland representatives and Opening Ceremony displays – all were happy to be dressed up and each "competitor" received a GOLD medal, the winner also receiving a trophy.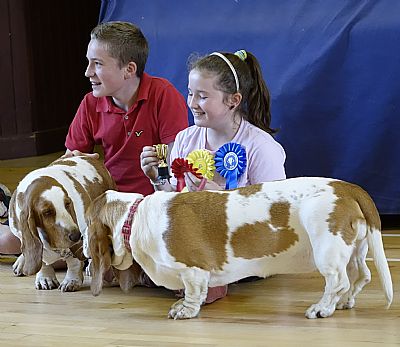 There was a break for afternoon tea when the photographic competition was judged and thanks must go to those who took the time to think up some brilliant captions.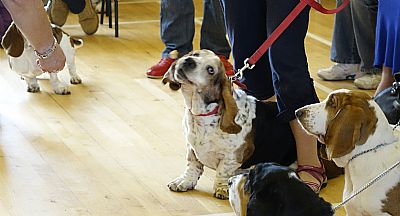 Sausage almost at the dog!!!
The sausage catching class had every dog take part – it was a bit of a squash, but we managed.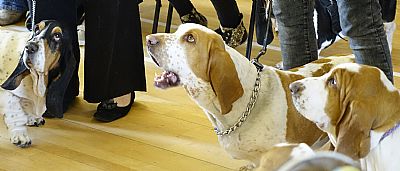 This is such a funny-to-watch class as all Bassets' eyes are on the judge (sausage thrower). You'll never see a Basset, at a show, looking at a judge like this!
No one left without a rosette and I believe we all went home tired but happy having had a great get-together, once again.