COVID19 UPDATE: 3 NOVEMBER 2020
ALL PREVIOUS UPDATE NOTICES ARE SUPERSEDED
After the announcement by the Government that we will start a second lockdown on 5 November 2020 due to the rise in cases of Covid 19 virus.
It has been decided due to the restrictions the lockdown brings, that the Acton Bridge Bowling Club will close from Thursday 5th November 2020.

There will be no bowls played until the Government lift the restrictions, as soon as this happens, we can then as a committee let you know when we can reopen.
UPDATE 16 SEPTEMBER 2020
THERE ARE CURRENTLY NO CHANGES TO THE COVID-19 PLAYING RESTRICTIONS OUTLINED IN THE 10 JULY NOTICE SECTIONS 1 - 3 BELOW.
HOWEVER, THE PARISH ROOMS TOILET FACILITIES ARE NOW AVAILABLE FOR USE
PLEASE SEE THE REVISED 'STATEMENT FROM ABCA' BELOW FOR USER REQUIREMENTS
IMPORTANT NOTICE 10 JULY 2020
ACTON BRIDGE BOWLING CLUB
COVID-19
Further Opening of the Greens
With the further Government announcements on lifting restrictions, more members will now be able play together.
With the following restrictions, and to keep everyone safe, a maximum of twelve (12) members (including spectators) will now be permitted on Club premises at any one time.
1. Tuesday, Thursday & Saturday Bowling :
This will recommence from Tuesday 21st July 2020 - start time will be 1.00pm. Up to a maximum of 12 people to be at the club during this time, (to include bowlers and spectators).
The following restrictions will apply:
• Social distancing at all times,2m recommended, and all current safety precautions taken as per the details below and the information sheet on the Clubhouse door
• Doubles games can be played on all rinks.
• Triples only on 1 and 3 example:
If 10 players turn up, you can do a triple on rink 1 and a doubles match on 3.
All players and spectators must log that they have been at the club on the Rink Booking Form in the Clubhouse with the following information:
• Date.
• Time in and out.
• Name against the rink they have played on.
This information has to be kept for 21 days for track and trace.
2. Other Times:
Anyone wishing to play at any other time must book with the Secretary by email jbmahan@btinternet.com or by text on 07539447682.
Confirmation of the booked time slot will be made via email or text.
• The Rink Booking Form in the Clubhouse must still be completed on arrival to confirm attendance, time and rink used
No one should play unless they have done one of the above.
3. Any club member who wishes to play/practice according to these rules will need to do the following as they arrive and leave the club:
• Clean all surfaces you touch, handles, locks, Jacks, mats, etc.
• Please bring your own Gel and cleaning wipes, and take any waste home.
• Do not use the Parish Rooms or facilities, please respect ABCA restrictions.
• Don't use the Club House except to complete the Rink Booking Form, and collect playing equipment . Do not linger, stay outside as much as possible.
• Social distancing rules must be strictly adhered to at all times.
xxxxxxxxxxxxxxxxxxxxxxxxxxxxxxxxxxxx
Revised Statement from ABCA:
There is only one cubical in the Gents and one in the Ladies available for use.
Due to the size of the facilities, only one person at a time is allowed into the area.
'Engaged/Vacant' signs are in use on the outer doors, off the kitchen area.
xxxxxxxxxxxxxxxxxxxxxxxxxxxxxxxxxxxx
Practical ways to keep everyone safe:
• Do not shake hands before, during or after a game.
• Only one player should handle the mat during the session.
• Two jacks (one at each end) should be used and this should be set by one player only throughout the session agreed by skips.
• If scoring only one person to handle score board/scorecard.
• Do not touch your opponents' bowls with your hands
• Avoid measuring for shot/s.
When you leave:
When you finish playing, change your shoes and leave the club immediately – ensuring that you have sanitised all equipment used and anything you have touched, and that the club is secure.
There will be no club competitions till all members are able to take part.
It is in all our interest to keep to these measures, to keep safe and protect others.

Please feel free to contact the Secretary or any of the committee if you have any questions.

ELECTRICITY TO THE PAVILLION
This has now been installed and the Committee wish to thank those who helped with the design, funding and installation.
This will be of great benefit to all members
NEW CLUB COMPETITION
Wednesday 'Frostbite' Tournament
From Wednesday 21st October 2020
To 24th February 2021
12.45pm to start at 1pm
£1 per person per afternoon entry fee
Please sign up on the notice board in the pavillion or contact Mike & Maggie or the Secretary. Full details and Rules on the Notice Board.
CLUB COMPETITIONS
DUE TO THE CONTINUING UNCERTAINTY SURROUNDING THE COVID19 VIRUS PANDEMIC AND THE FACT THAT SOME MEMBERS ARE THEREFORE UNABLE TO TAKE PART, THE COMMITTEE HAVE DECIDED TO CANCEL ALL CLUB COMPETITIONS FOR 2020
(Wednesday 'Frostbite' Competition Excluded)
All entry fees for the Club 2020 Competitions will be carried over to 2021 unless specifically requested by the Member
2021 CLUB COMPETITIONS
COMMITTEE MEETING NOTES
14 SEPTEMBER 2020
1) Electricity Supply to Clubhouse
The work has now been completed and will be of great benefit to all members
2) Reopening the the Greens
No changes to the rules published on 10 July 2020
3) Parish Rooms
Toilet facilities now available
Please see revised ABCA statement above for user regulations
4) New Club Competition
Wednesday pm 'Frostbite' Competition
Details under Competitions
5) AGM
Due to the Covid19 restrictions it will not be possible to hold the AGM in November.
The Committee are working towards a way to get all AGM information to all members by letter or email
If any member has items for inclusion in the agenda, please forward these to the Secretary
NEXT MEETING
To Be Decided
AGM Wednesday 4th November 2020
CANCELLED
Playing on the Green
Members are reminded that only flat soled bowling shoes can be worn on the green. Children are only permitted on the green when taking part in an organised game or session and wearing flat soled shoes
ELECTION OF CLUB OFFICERS
At a Special EGM of the Club held in the Clubhouse on Thursday 12 December 2019 the positions of President, Chairman, Club Secretary and Treasurer were filled in accordance with the Club Constitution and Rules
One Committee Member was elected and other members will be invited to join in due course.
The names of those elected are given in the 'Officers & Committee' Section of this Website
Green Cleaning
Steve Sharpe has placed a notice in the clubhouse for more volunteers. The rota has been worked in strips of the green which would be your responsibility rather than the full green
2019 Season Winners
Mens Open Singles : Winner Jason Norris (Left)
Runner up : Alan Coppock
******************************************
Mixed Pairs
Winners : Louise and Jason Norris (L)
Runners Up : Fiona and John Land
*********************************************
Roy Harvey Memorial Trophy (Balloted Triples)
Winners – Ruth Smith, Alan Green, John Mahan
*******************************************
Sybil Pickup Trophy Winner : Alan Coppock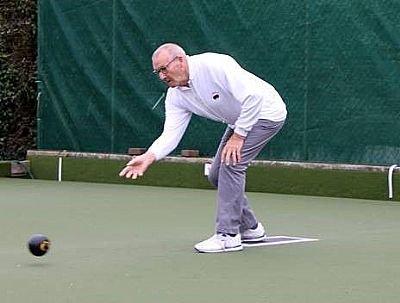 *********************************************
THE NEW CLUBHOUSE
At long last, the New Clubhouse is operational.
A Big 'Thank You' to all those who helped with this project.
The next phase will be to install Power and Water
The requirement for Electricity is a priority and this will be discussed with the Acton Bridge Community Association Committee at their first meeting in 2020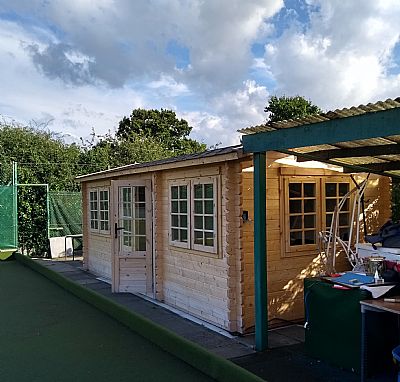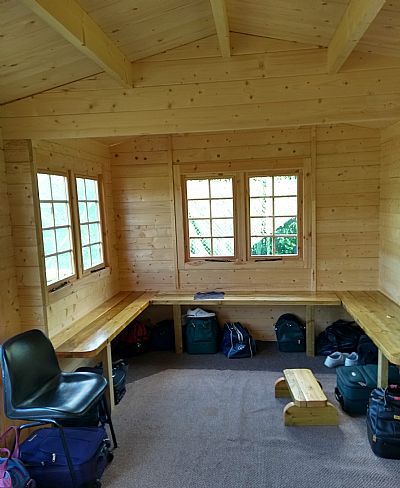 2020 Programme
The 2020 Programme as agreed at the AGM held on 6 November 2019 will be added to the 'Events' Section of the Website
Club Competitions
THE CLUB COMPETITIONS FOR 2020 HAVE BEEN CANCELLED
Details of competitions for next season 2020
Bowls England
Enter via the Entry Form to be available in the Clubhouse

These competitions include mixed pairs/fours etc. National finals held at Leamington.
Bowls Lancashire
Enter via county website

These competitions – includes county singles, pairs etc.

Finals played on county final day in July with top 2 winners going through to play in the National finals held at Leamington.
TUESDAY EVENING CLUB BOWLING
(Sybil Pickup Trophy)
CANCELLED FOR 2020
CLUB BOWLS STICKERS
New club stickers have been purchased ready for all club members to use if required.
Please see the Secretary.
ACCESS TO THE GREENS
THE ACCESS CODE HAS NOW BEEN CHANGED
PLEASE CONTACT THE SECRETARY IF YOU HAVE NOT
RECEIVED THE NEW CODE
TROPHY AND CLUB COMPETITION WINNERS CAN BE FOUND ON THE CLUB HONOURS' PAGE
Macmillan Cancer Support
The Club has raised £100 towards the total of £4000 by Bowls Lancashire to support this Charity.
FINALS DAY 2014
WINNERS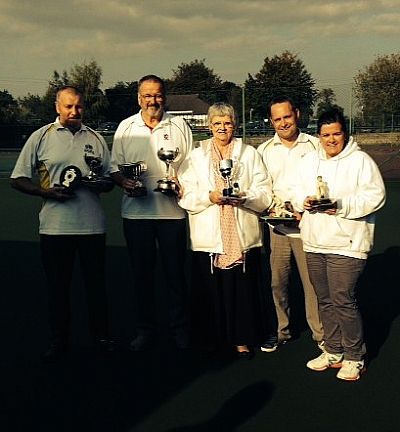 WINNERSWWFINALS DAY SUNDAY SEPTEMBER 22 2013FINALS DAY SUNDAY SEPTEMBER 22 2013FINALS DAY SUNDAY SEPTEMBER 22 2013Congratulations to:Mens Singles Winner - JasonMixed Pairs Winners: Adrian & RosHandicap Singles Winner - JasonMens Pairs Winners - Alan M & TomFINALS DAY SUNDAY SEPTEMBER 21 2014
Congratulations to:
Mens Singles Winner - Jason
Mixed Pairs Winners: Louise & Jason
Handicap Singles Winner - Adrian
Mens Pairs Winners - Alan C & Albert
Ladies Singles Winner - Cathy
Evening Pairs Winners - Alan & Wendy
Congratulations to:Mens Singles Winner - JasonMixed Pairs Winners: Adrian & RosHandicap Singles Winner - JasonMens Pairs Winners - Alan M & TomCongratulations to:Mens Singles Winner - JasonMixed Pairs Winners: Adrian & RosHandicap Singles Winner - JasonMens Pairs Winners - Alan M & TomFINALS DAY SUNDAY SEPTEMBER 22 2013Congratulations to:Mens Singles Winner - JasonMixed Pairs Winners: Adrian & RosHandicap Singles Winner - JasonMens Pairs Winners - Alan M & TomFINALS DAY SUNDAY SEPTEMBER 22 2013Congratulations to:Mens Singles Winner - JasonMixed Pairs Winners: Adrian & RosHandicap Singles Winner - JasonMens Pairs Winners - Alan M & TomFINALS DAY SUNDAY SEPTEMBER 22 2013Mixed Pairs Winners: Adrian & RosHandicap Singles Winner - JasonMens Pairs Winners - Alan M & TomMens Pairs Winners - Alan M & Tom
NEW CLUBHOUSE
Working Parties will continue to be arranged Please come along and help
Help is also required for Hedge Cutting and Kerbstone relaying
CLEANING THE GREEN
More members are now needed to assist with the cleaning rota. This would take approximately 1 hour - Two people, time to suit yourselves.
With additional members on the rota you would only be needed once every 7/8 weeks, if you can help please contact the Secretary
Lancashire 'Super Nines' Competition 1 June
We were pleased to enter a team and had very enjoyable games on a fine sunny day.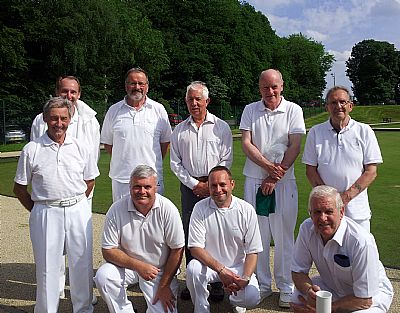 POINTS FROM THE COMMITTEE MEETING
The Grand Reopening Day - June 2 2013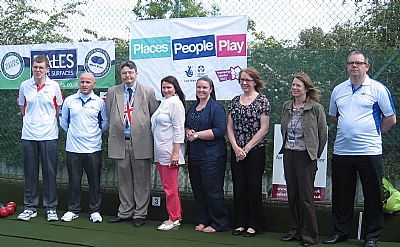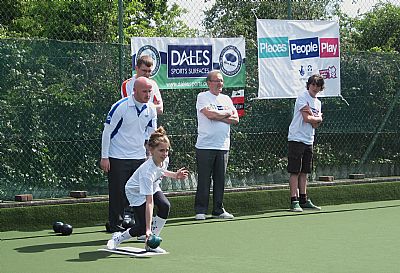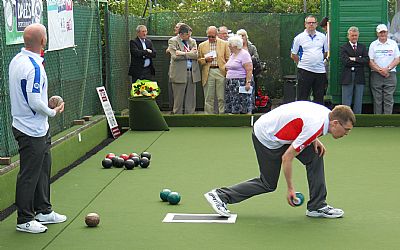 Members are reminded that it is a condition of play that flat soled bowling shoes with no ridges or indentations are worn on the green
Bowling shoes should not be worn from the car park to the green. Loose gravel can damage the soles and be brought to the Green
REPLACEMENT OF THE GREEN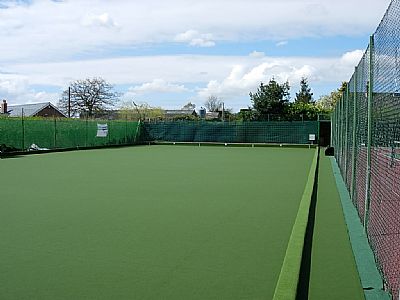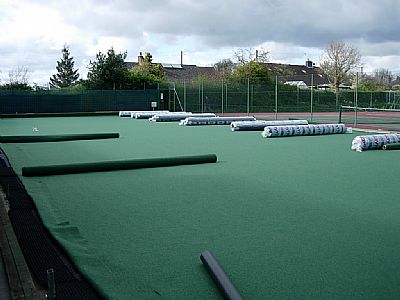 April 26 2013 - New underlay in place
NEXT COMMITTEE MEETING:
To Be Decided
AGM Wednesday 4th November 2020
CANCELLED
17/09/20
---