UPDATE: AUGUST 14 2022
Industrial Doors Balloted Pairs Competition
14 August 2022
Winners: John Mahan & Fiona Land
**********************************************
Runners Up:
Chris Mahan & Heather Smith
***********************************************
Group:
Roy Harvey Memorial Triples Competition - 3 July 2022
Winners:
Runners up:
The Group:
***************************************
Fun Afternoon 2nd May 2022
Winner: Alan Coppock
Runner up: Paul Fuller
Group
xxxxxxxxxxxxxxxxxxxxxxxxxxxxxxxxxxxxxxxxxxxxxx
• The Parish Rooms and Toilets are now open Please note that any Covid19 requirements posted in the Parish Rooms should be respected
xxxxxxxxxxxxxxxxxxxxxxxxxxxxxxxxxxxx
THE 2022 CLUB PROGRAMME CAN BE FOUND UNDER THE 'EVENTS 2022/2023' SECTION OF THIS WEBSITE
********************************** **********************************
Frostbite Competition 2021-2022
Winner Nick Youngson (on right)
Runner up Paul Reckin (on left)
Thanks to Maggie Russell and Mike Faulkner for running the Frostbite competition over 17 weeks.
Also a thank you to Paul Hopkin for the gift of glass coasters to winner and runner up.
**********************************
FINALS DAY SUNDAY 12 SEPTEMBER 2021
2021 CLUB COMPETITION WINNERS
Open Singles
Winner: John Land (Left) Runner Up: Alan Coppock
Receiving the Trophy From The President Steve Sharpe
###################
Mens Pairs
Winners : Alan Coppock and Guy Bell
Runners Up: John Land & Mike Faulkner
**************
Mixed Doubles
Winners: Winners Mike Faulkner & Maggie Russell
Runners up : Bob & Brenda Oswell
*************************
Sybil Pickup Trophy
Winner Alan Coppock
Winner : Alan Coppock
Runner Up : Chris Mahan
******************
FUN DAY 30 AUGUST 2021
CONGRATULATIONS TO THE WINNER: Maggie Russell
..and the RUNNER UP: Chris Mahan
FUN DAY AUGUST 2021 ALL PLAYERS GROUP
++++++++++++++++++++++++++++
Industrial Doors Pairs Trophy 15 August 2021
Congratulations to the winners:
John Land & Brenda Oswell
11 July 2021 Roy Harvey Balloted Triples Trophy
Congratulations to the winners:
Alan Coppock, Karen Bostock, Fiona Land
31 May 2021 Bank Holiday Fun Day
Ruth Smith presents the Tom Smith Cup to the winner of the 2020/2021 Frostbite Competition Barry Pinder
Ruth Smith presents the Tom Smith Runners Up Cup in the 2020/2021 Frostbite Competition to John Land and Nick Youngson
March 2021 Greens All Ready to Go!
CLUB COMPETITIONS
2022 CLUB COMPETITIONS
Open Singles
Mens Pairs
Mixed Pairs
Handicapped Singles
MARCH 2022 COMMITTEE MEETING NOTES
1. Volunteers required to help maintain the paths, Hedges and Grounds - Please contact the Secretary
2. The Canopy Roof of the Outside Seating Area is in need of replacement. Anyone who can help with materials or give recommendations for this work please contact the Secretary
NEXT COMMITTEE MEETING
AUGUST 2022
Playing on the Green
Members are reminded that only flat soled bowling shoes can be worn on the green. Children are only permitted on the green when taking part in an organised game or session and wearing flat soled shoes
Green Cleaning
Steve Sharpe has placed a notice in the clubhouse for more volunteers. The rota has been worked in strips of the green which would be your responsibility rather than the full green
THE NEW CLUBHOUSE
At long last, the New Clubhouse is operational.
A Big 'Thank You' to all those who helped with this project.
Power has now been installed
Bowls England
Enter via the Entry Form to be available in the Clubhouse

These competitions include mixed pairs/fours etc. National finals held at Leamington.
Bowls Lancashire
Enter via county website

These competitions – includes county singles, pairs etc.

Finals played on county final day in July with top 2 winners going through to play in the National finals held at Leamington.
CLUB BOWLS STICKERS
New club stickers have been purchased ready for all club members to use if required.
Please see the Secretary.
ACCESS TO THE GREENS
THE ACCESS CODE HAS NOW BEEN CHANGED
PLEASE CONTACT THE SECRETARY IF YOU HAVE NOT
RECEIVED THE NEW CODE
The Grand Reopening Day - June 2 2013
Members are reminded that it is a condition of play that flat soled bowling shoes with no ridges or indentations are worn on the green
Bowling shoes should not be worn from the car park to the green. Loose gravel can damage the soles and be brought to the Green
REPLACEMENT OF THE GREEN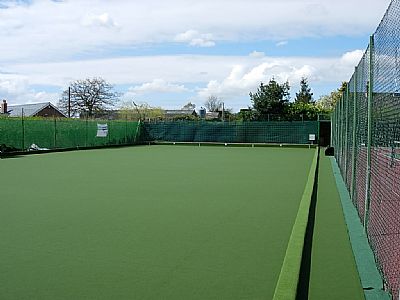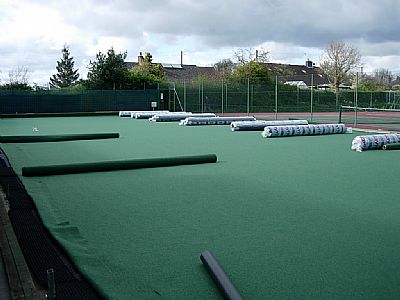 April 26 2013 - New underlay in place
NEXT COMMITTEE MEETING:
22 AUGUST 2022
14/08/2022
---