Ian Griffin's search for that special sound 
Those with an ear for quality sound will be interested to know that Ian Griffin has invested in a state of the art sound system.   In a generous part exchange arrangement, and with a sponsor, a deal was made to enable Ian to produce the sound he has been looking for. Here is the story behind one of the best sound systems that money can buy.
When Ian heard singer Emile Ford in Caister around 1987, he was so impressed with his sound system that it became a standard for comparison in his mind.
Ian now thinks his new sound system compares favourably with that of Emile's who became famous with his song: "What do you want to make those eyes at me for." 
Born Emile Sweetman in October 1937, he arrived in Britain from Nassau in the Bahamas, where he grew up. His main ambition was to become an engineer, and it was through engineering that he would gain a brief but very successful career in pop music. He had invented a novel sound system that he claimed gave his music a consistently high quality despite the fact that he wasn't really a singer and would insist on using his own equipment for performances rather than that usually offered by the theatres in which he played. Despite the fact that Emile claims that his success was largely because of his sound equipment, there is no doubt that he is also an extremely skilled and versatile musician.
Emile's education at London's Paddington Technical College made him aware of the quality of sound as he learnt to play a number of musical instruments, including piano. guitar, violin and drums.
The sound system that Emile developed was unique inasmuch that it was unified in quality and volume in all parts of the Caister concert hall – even standing directly in front of the speakers the sound was as comfortable as at back of the hall.
Ian believes his newly acquired sound system has similar characteristics. It is made and designed by Bose, who say that they put all their profits back into research.   Here are the details, as described by Bose:-
"L1® Compact system
•

              
 The Bose® Spatial Dispersion™ loudspeaker technology delivers sound evenly across the stage and throughout the audience—even to the extreme sides.
•

              
Two ToneMatch® channels with fixed presets for a handheld microphone and acoustic instruments,
•

              
Integrated bass speaker in power stand
•

              
Two setup positions: collapsed for smaller spaces or extended for larger ones.
Ideal for musical performances, mobile musician's, classrooms, business presentations and other events.
The L1 Compact portable line array system (shown right) can be easily handled and set it up in one minute. It will Fill the room with Bose
Big sound. Small package.
The Bose quality sound is suitable for almost any gig, event or occasion. The L1 Compact system is small enough to fit in your car boot or back seat, and its innovative modular design makes setup easy and fast. You can arrange it in either a collapsed configuration for smaller spaces or a taller, extended configuration for larger ones. No extra gear to haul. No heavy speakers to hoist onto stands. No speaker cables.

A different loudspeaker
The L1 Compact system's slim loudspeaker distributes sound clearly and evenly throughout the room, thanks to Bose Spatial Dispersion technology. The speaker's unusual vertical shape makes it distinctly different from conventional PA speakers―and has a very positive effect on sound coverage. Even audience and band members off to the extreme sides hear the same clear, tonally balanced sound as those in front."
Torbay Mansion House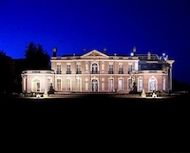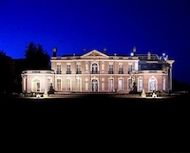 The first organ society to experience Ian's new sound was the Torbay Electronic Organ Club on 6th April 2011 at their impressive venue, the large ballroom at the Oldway Mansion House in Paignton, Devon, (pictured left at night) which was the former residence of the Singer Sewing machine family.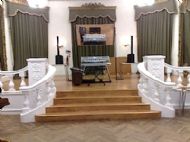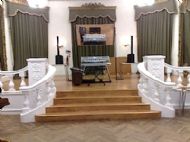 The sound resulted in many complimentary remarks, in fact, a sound fitting for such an impressive venue with its beautiful décor. 
Click below to have a panoramic view of the magnificent ballroom as the camera spins around for the viewer.
Click to view the ballroom

A You Tube Video - Oldway Mansions

A report from a member of the audience:-
I purposely went to the rear of the hall to listen and hear if there were any faults I could pick up? I could find none whatsoever. In fact, they are speakers of some of the purest quality of sound that I have ever heard in a club. I could not hear any vibration from the low frequency sounds of the bass and the Tweeter's (Trebles) sounded perfection themselves. For speakers that were surprisingly only two hundred Watts each of power, they filled the hall with good quality sound and made the various sounds on Ian's Ketron Keyboard stand out superbly. In fact, If I had not known their output value, I would have judged them to be somewhere around five to six hundred Watts power, turned back not to over work them.
The speakers sound and perform excellently and Ian was again, up to his usual standards of playing. His ability on a keyboard/organ, never ceases to amaze me. Every time I hear him play, I hear something new. I only wish I had a 1/4 of his talent.
...... Terry Tilley
---