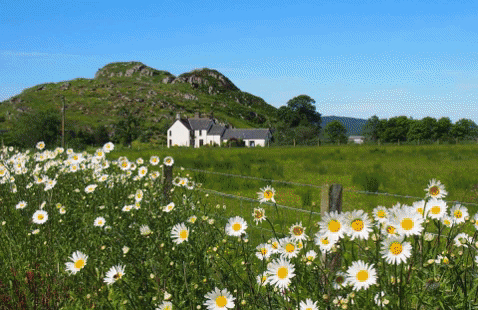 Dunadd Self Catering Holiday Cottages are situated at the foot of Dunadd hill, the site of an Iron Age fort which was the capital of the ancient Scottish kingdom of Dalriada. The
cottages, Comgall , Gabran and The Old Cheese Loft are converted farm buildings adjacent to the owner's home. Comgall and Gabran are named after kinsmen of Fergus Mhor, the first King of Dalriada. Dunadd is located in Kilmartin Glen, an area steeped in Neolithic and Bronze Age history, which can be explored at the nearby museum Kilmartin House.
Kilmartin's historic monuments such as cairns and standing stones can be accessed on foot by a newly made path which runs through Dunadd. If you follow the footpath in the other direction you can walk to Cairnbaan and the Crinan Canal. Dunadd is a small working livestock farm with cattle, sheep and a few backyard hens.