27 October 2008
Babies & more babies
The Stork has been busy in North Yorkshire these last few days!!
Our 'trainee sheepdog' Diva has had a litter of three bouncing Beardies whilst the day before at The Glebe, Bess had a litter of five colourful Borders! Mothers & babies are all doing well.
Diva & her little family - two girls & a boy - all slate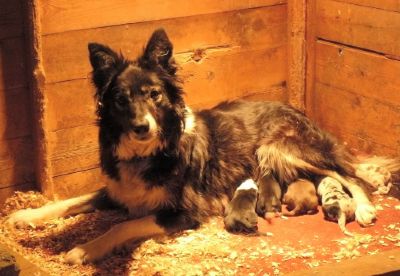 Bess & her five colourful babies; 3 dogs, a black tri, a blue merle and a red tri ... 2 bitches, a red merle and a black tri ... !