RETIRED
I HAVE NOW DECIDED TO RETIRE FROM RESTORING MODELS TO CONCENTRATE ON BUILDING FOR MYSELF. THANK YOU TO ALL MY CUSTOMERS FOR ALL THE INTERRESTING AND CHALLENGING PROJECTS I HAVE BEEN ASKED TO UNDERTAKE OVER THE YEARS.
BY POPULAR REQUEST I WILL LEAVE THE WEBSITE UP FOR THE TIME BEING FOR REFERENCE
Welcome to my website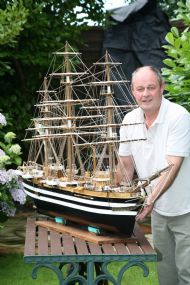 I have been making scale model ships since 1990 and in recent years I have concentrated on models of tall ships, model yachts and the restoration of pond yachts. I have built such detailed tall ship models of the Amerigo Vespucci, Juan Sebastian Elcano and Captain Scotts ship the RRS Discovery to name but a few.



My models of tall ships and pond yachts are scratch built to museum quality using fine woods, fittings in brass, copper etc and most fittings are hand made.

My tall ship models of Amerigo Vespucci and RRS Discovery are just under 6 foot (180cm) in length and have been the subject of a number of magazine articles. I do build to smaller scale if required. These ship models are made to order. Please contact me for details.
I also undertake restoration work on most model ships but particularly antique pond yachts including A and J Class. Please have a look at the restoration pages in the menu for examples of model yacht restoration work done. The photo galleries of the models of tall ships should also give you some idea of the quality of my work. More detailed photographs are available on request.



Pricing for models of tall ships and pond yachts depend on the size and complexity of the model, be it a full build or restoration work. Please email me details of your requirements together with photographs if possible for a quotation
When ever possible tall ship models for the UK are delivered personally. Delivery outside the UK is by alternative means and on a full insured basis.
Richard Hughes
---