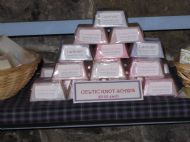 What do a slice, a celtic knot, a thistle, a seahorse, a starfish, a heart and various shells have in common ? They are amongst the wide range of soap designs available in a selection of fragrances as diverse as Indian patchouli and green apple. From individual soaps to gift packs with funky fish loofahs, facecloths or scallop shells from Skye waters you will be spoilt for choice, and that's before you consider other items including bath bombs, solid shampoo slices and the unique "Tutti Frutti" bars - each one is different containing snippets from a variety of soaps right across the range.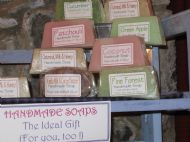 Just a few of the fragrances available in soap slices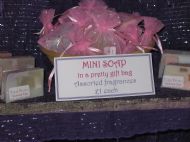 A novel way to try different fragrances - guest soaps - each one in a pretty gift bag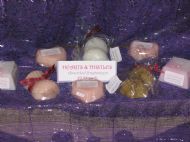 Novelty shaped soaps - thistles to show your gift is from Scotland, or hearts to show that your gift is given with love !!
---