Knott Kraft
Handcrafted Cards and Gifts by Muriel Hutchinson
As the popularity of our wonderful island continues to grow I have increased the range of "Knott Kraft" to include items which may be appreciated as holiday gifts :- stitched bookmarks, pewter charm necklaces and keepsake cards, notepads and keyrings, all with touches of either Gaelic, tartan or celtic design plus the inevitable sheep and highland coos!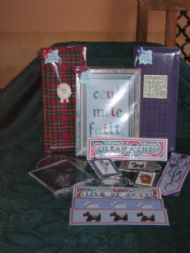 Using a variety of techniques I make a large assortment of greeting cards for all occasions - including multi-layered medallions which involve the fun of embossing, glittering and decoupage.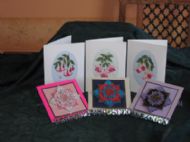 Scrapbooking and papercrafting are becoming increasingly popular hobbies so I also offer a large selection of papers, cards, ribbons, trims and embellishments together with fabric and threads for those who share my love of cross stitch embroidery.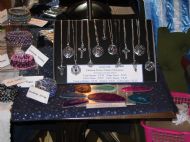 I have now added necklaces featuring celtic design charms to the range of items I stock
---