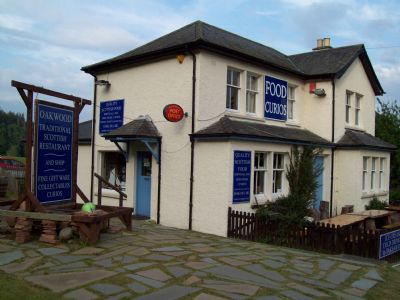 I had lunch on the road along the north side of Loch Ness as you're driving away from Inverness towards the loch, before you get to the loch, on the left. called the Oakwood

Oh, my god, the food. The food! The wonderful, fantastic, melt in your mouth food that place served! SO had venison in wine to make the gods jealous. Friend Anne had lamb to make you weep. I had mushrooms on toast.

But such mushrooms! Such toast! They were tender, they were slightly sweet. I think there was sherry or wine involved. It makes me want to spend thousands of dollars to fly back and have lunch there again.
-------------------------------
EatScotlands' independent assessor said: "Oakwood offers an unusual mix of gift wares and good cooking within a comfortable restaurant, ideally situated for Loch Ness." Pea & Ham Soup "A hearty bowl of soup with good colour and a thick consistency. The soup was made with good ingredients and plenty of bacon or ham. A rustic soup with a very good flavour. A well made soup." Hand Dived Scallops with Bacon & Served on a Bed of Leaves "The scallops were cooked to preserve the flavour and texture. A very well balanced dish with an excellent knowledge on how to cook shellfish evident."
Gus say's ''We cater for all comers. Our style is informal but with excellent service. Our décor is homely and traditional, giving a comfortable and relaxed ambience. We focus on Scottish produce served with imagination and fresh vegetables with flavour. House specialities include venison, seared scallops with bacon, and lamb roasted with lemon and garlic''.
--------------------------------------
The Oakwood Restaurant at Dochgarroch serves some of the best local food we have ever tasted from steaks to seafood. The prices and service are excellent and the surrounding quaint and friendly. We strongly recommend a visit if you are in the Inverness area.
-------------------------------------

We visited the Oakwood Restaurant on for a light lunch - we thought!

It's situated on the A82 at Dochgarroch, 2 minutes walk from the Caledonian canal. You can see the building from the road and they have their own car-parking. It has a very distinctive interior, full of gifts, lot's to look at (or biy) while you wait for the food.

The restaurant is run by the owners and they were very helpful. The restaurant caters for all diets but the but the main courses for veggies and vegans was very good. They have really made an effort and out of 6 veggie options, 4 are vegan , or can be ordered to be vegan. Currently there isn't a vegan starter or pud but it is being thought about!.
If you want to go in the evening you need to book before 7pm otherwise they will close if it's a quiet night. Also a booking means they will definately be making sure they can offer you the best in vegetables. Everything is home - cooked.
Take your own wine - no license - but no charge for corkage.

Lunch - 2 main courses, one water and a pot of coffee £18 ish .
There is a minimum charge after 7pm of £9.00 per head.

The main couse menu for veggies and vegans is:
Cabbage and Chestnut Roast - Served on a bed of fennel & tomato sauce (Gluten free and vegan to order).

Mushroom Stroganoff - Flamed in brandy served with a timbale of rice rice and fresh vegetables ((Gluten free).

Red Vegetable Curry with celeriac, chilli & garlic, with rice ((Gluten free).

Courgette Casserole. Cooked in cider with sun-dried tomatoes & wild mushrooms ( Vegan and gluten free).

Oakwood Nut Loaf with tomato & mild chilli sauce (Vegan & gluten free).
Mixed bean goulash with rice (Vegan to order & gluten free)
We each had a dish of 5 vegetables served with our food.
The food was tasty and filling - so definately give it a try and keep your fingers crossed for some starters/puds
No photo's yet .... but will definately go back soon

--------------------------------------
Delicious meat dishes (casseroles, "very local" venison steak, haggis, etc) and lovely veg served in a friendly environment - and a shop, too. And the puddings were lovely too, Orkney fudge cheesecake yum yum.
----------------------------------
Second day in Canal at Dochgarroch, we couldn't start engine. The starter motor had gone. Fortunately a boatyard about 5 mins away by car and got an engineer on board that morning. He was able to get a spare part from Inverness and by early pm we were on our way again. At Dochgarroch we discovered the Oakwood Restaurant. It was unusual in its interior in that one end was the Post Office, and it had a gift shop with wares for sale hanging from ceiling, but the food was terrific. We all had venison, casseroled or as a steak, but absolutely delicious - the best we have tasted, and all these main courses were less than £10 each.
-----------------------------------------