Scottish Food Fortnight: 3rd to 18th September

A

s part of
Scottish Food Fortnight
,
we are opening the
Skye Fudge kitchen and invite you in to sample
some delicious handmade Scottish tablet; a great taste
, over the sea from Skye.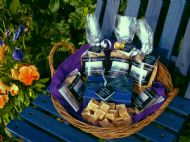 If you are planning a trip to the islands, why not drop in and find out what we do!
Pre-arranged visits are advisable, by calling 01470 521293.
Opening hours: 12.00 till 4pm
Open Days:
Saturday 3rd -Thursday 8th September
Monday 12th - Saturday 18th September
Sorry, we are closed
Friday 9th, Saturday 10th & Sunday 11th,
due to prior arrangements.

Location: Harlosh, By Dunvegan, Isle of Skye IV55 8ZH