Appendix A - Brewing in Burton
Burton-upon-Trent: Economic history
A thirdof the way down this page:- Pages 53-84
Early History
One of Burton abbey's tenants at Wetmore in the early 12th century was Frawin the brewer (bracedorius), and he may have been responsible for brewing ale for the abbey. Moreover, making malt was one of the labour services imposed on other tenants at the same date. (fn. 6k) Ale was presumably the staple produce until the 15th century, when the introduction of hops into the brewing process in England enabled the production of beer, with its longer-lasting quality. Beer may have been purchased at Burton in the 1470s, but even if it was marketed there it is uncertain that it was brewed there too. (fn. 7k) The earliest evidence for hops at Burton is not until the mid 1550s, when some were brought from London. (fn. 8k) Twenty years later hops were evidently being grown locally: a hopyard on the south side of Cat Street and a new one in the former monastic precinct were mentioned in 1579. (fn. 9l)
The large number (46) of alehouse keepers licensed at Burton in 1604 may indicate that locally-brewed ale and beer had more than a domestic market. (fn. 10l) Although the 'Hull ale' which Samuel Pepys drank in London in 1660 may have been brewed at Burton, it is not until the early 18th century that there is evidence for the availability of Burton ale in London: a song in praise of Burton ale in a collection of 1709 opened with the lines 'Give us noble Ale, of the right Burton pale, and let it be sparkling and clear'; (fn. 11k) and in an issue of The Spectator in 1712 the essayist Joseph Addison recounted a visit to Vauxhall Gardens where a walk was concluded with a glass of Burton ale. (fn. 12k)
The renown of Burton beer is derived partly from the qualities of the local water, which is very hard and contains relatively high concentrations of magnesium and calcium sulphates as a result of percolating through gypsum-bearing rocks to the north and west of the town. (fn. 13k) The properties of Burton water encourage fermentation, and enable brewers to use a greater quantity of hops than is usual in brewing without adversely affecting the flavour of their beer. Until the great expansion of brewing in the 19th century, sufficient water was extracted from wells sunk into the valley gravels. From the later 1850s, however, water from deeper levels was obtained by artesian borings. (fn. 14k)
The Eighteenth Century
Brewing expanded after the Trent was made navigable in the second decade of the 18th century and so provided the cheap water-transport necessary for the exploitation of distant markets, particularly in Russia. The lessee of the navigation, George Hayne, was already carrying ale for that purpose by 1712. (fn. 15k) Indeed, the earliest commercial breweries were established in High Street and Horninglow Street specifically in order to be near the river.
Burton ale was being sold by the bottle in London by 1738, and some Burton innkeepers were brewing ale for the London market by the late 1740s. (fn. 16j) The attraction was the superior quality of Burton malt, which the Staffordshire antiquary, Richard Wilkes, claimed in the 1730s was 'much esteemed for its paleness'; the malt, indeed, was 'a standard to try all other by'. Wilkes also noted that Burton ale was then being exported to Prussia and Scandinavia. (fn. 17j) A number of small breweries were established to take advantage of the Baltic market, and several brewers also traded in iron and timber from that region. This pattern continued until the collapse of the Baltic trade in 1807, following the Napoleonic blockade. A number of the smaller breweries were then taken over by the larger, more established concerns, which survived as producers for the domestic market until the 1820s when they began to brew pale ale for the India market and so entered into a particularly successful period of business.
Most of the brewers were freeholders, who were able to use hand mills to make malt at their own houses, in contrast to the tenants of Burton manor who were obliged to use the manorial mills, either the water mills at Winshill or the malt mill in the market place, and pay a toll. By the time that obligation was lifted in the early 1760s, however, none of the brewers who brewed for sale was a tenant. (fn. 1l) Because it was important to control the temperature of the brew and prevent it becoming too warm, brewing took place only between autumn and spring, and some maltsters used the summer months to pursue another trade: at least two maltsters in the 1750s also worked as brickmakers. (fn. 2l) In 1757 Burton had at least six 'common brewers', a term used for men who brewed for the retail trade and not simply for consumption on their premises, and beer was then said to be the chief manufacture of the town. (fn. 3l) By the earlier 1780s there were 13 breweries: (fn. 4l)
William Bass
Joseph Clay
Thomas Dicken
Henry Evans
John Greaves
Hill and Sherratts
Charles Leeson
Thomas Morecroft
James Musgrave
Samuel and William Sketchley
John Walker Wilson
Benjamin Wilson
William Worthington
Benjamin Printon is reputed to have been Burton's first common brewer. (fn. 5l) Possibly originating from near London, he may have started in business when he married in Burton in 1708, and he later had a brewhouse in Horninglow Street near Burton bridge. After his death in 1729, (fn. 6l) Printon's brewery was taken over by John Musgrave, whose son William expanded the business in the later 18th century, opening malthouses in Anderstaff Lane. In the 1780s the brewery was run by William's son James, who in the 1790s at least ran it in association with William Bass. (fn. 7l) After James's death in 1803, the brewery was bought by John Greaves, whose father, also John, had established a brewery also in Horninglow Street in 1774. (fn. 8l)
Another early common brewer was William Hill, who at his death in 1742 had a brewhouse in New Street. (fn. 9m) It was continued by his wife Mary, who in 1745 acquired another brewhouse and a malthouse in High Street; she may have been the Mary Statham who kept the Old Crown in High Street in 1749 and brewed for the London and Continental market. (fn. 10m) William's son Thomas was due to inherit the New Street brewery after his mother's death, and by the 1780s he was evidently in partnership with the Sherratt brothers, William and John, with a brewery in the Bond End area. (fn. 11l)
The most outstanding example of innkeeper-brewers was the Wilson family, which originated as the keepers of the Blue Stoops on the east side of High Street. Kept by John Walker (d. 1721), the inn was acquired in 1743 by his son-in-law, Benjamin Wilson. Wilson, who was also in trade as a ropemaker, greatly extended the brewing operations at the inn, and in 1768 acquired the adjoining premises. (fn. 12l) By then described solely as a common brewer, Benjamin retired in 1773 in favour of his son John Walker Wilson. (fn. 13l) Rather than continue his father's brewery, John set up on his own account as a brewer at a newly-built brewhouse elsewhere in High Street (fn. 14l) and in 1774 he sold the Blue Stoops to his brothers William and Benjamin. There were then two large brewhouses in operation, with a third about to be commissioned. (fn. 15l) In 1778 William sold his half-share in the brewery to Benjamin, (fn. 16k) who cautiously built up the business and became the town's leading brewer. (fn. 17k) The key to his success as a brewer was the purchase of good quality barley and hops, and also the careful production of malt, for which he used his own malthouses, hiring others only on short-term leases when demand was high. Wilson also bought ale from rival brewers. His own High Street brewery, therefore, remained compact, although in 1790 he bought a brewery on the north side of Horninglow Street from Samuel and William Sketchley. (fn. 18j) Brewing was the core of Wilson's business, but he also traded generally as a merchant, using the contacts made in exporting beer to Russia, his main market. It was presumably the collapse of that market that caused Wilson to retire, aged only 56, in 1807, selling out to his nephew, Samuel Allsopp. (fn. 19j) Wilson died in 1812. (fn. 20j)
The brewing interests of John Walker Wilson were more local than his brother's, although he too exported to the Baltic and traded as a general merchant. He remained a brewer until 1790, when he sold his High Street brewery, which was centred on the Old Crown inn, to Henry Evans. (fn. 1m)
Henry Evans was unusual among Burton's 18thcentury brewers, being the son of a wealthy Derby merchant. In 1754 his father had bought him property on the west side of High Street, where he soon erected two malthouses and a brewery. His extensive business interests, which included the navigation of the Trent, enabled him to buy an estate at Cauldwell (Derb.), where he died in 1805. (fn. 2m) In 1791 Evans settled the Wilson brewery on his daughter, Martha, and her husband William Worthington, who subsequently acquired Evans's own High Street brewery. (fn. 3m)
Also prominent among the common brewers in the second half of the 18th century was Samuel Sketchley, a Nottingham publican who was working as a brewer in Burton from 1741, if his brewery can be identified as the newly-built one advertised for sale that year; he was certainly active in Burton by 1752, with a brewery in Horninglow Street. (fn. 4m) Sketchley's export trade to the Baltic was considerable, and a brick warehouse built in 1758 at the north end of High Street was presumably used for storage. (fn. 5m) After Samuel's death in 1775, (fn. 6m) his sons Samuel and William continued the business as partners, but by the later 1780s both men had moved to Newark (Notts.), and in 1790 they sold the Horninglow Street brewery to Benjamin Wilson.
Two common brewers listed in the earlier 1780s had established their breweries in the 1750s: Joseph Clay, a Derby maltster, in 1751 in the premises of the former Lamb inn on the south side of Horninglow Street, and Charles Leeson in 1753 also on the south side of Horninglow Street. (fn. 7m) Leeson died in 1794 and his son, another Charles, in 1800, as did Clay, (fn. 8m) and later in 1800 Clay's son, also Joseph, acquired the Leeson brewery. (fn. 9n) The younger Joseph Clay subsequently opened one of the first banks in Burton and delegated the management of his brewery to a maltster, Thomas Salt, who later worked it as part of his own brewery in High Street.
Only two of the 18th-century brewers founded businesses which continued into the 19th century, William Bass and William Worthington. William Worthington the elder, a cooper who had come to live in Burton in 1744, bought a brewhouse in 1760 on the east side of High Street. (fn. 10n) In 1791 his sons William and Thomas married Martha and Sarah Evans, the daughters of the brewer Henry Evans, and Evans settled the brewery which he had recently purchased from John Walker Wilson on William and Martha. (fn. 11m) The elder William died in 1800, and his brewery was continued by the younger William, who in 1819 bought Evans's own brewery from his son, John Evans. (fn. 12m)
William Bass, who with his brother John had built up a carrier's business at Hinckley (Leics.), settled in Burton probably in 1756, following his marriage that year. (fn. 13m) He continued to work as a carrier, and did not turn to brewing until 1777, when he bought what had originally been the Every family's town house on the east side of High Street, together with a brewery and malthouse on adjoining land. His output was mostly for the domestic market, although in 1784 he started to export ale directly to Russia on his own account. After William's death in 1787, (fn. 14m) the brewery was continued jointly by his sons Michael and William until 1795, when Michael gained sole control. In a desire to expand the business, Michael had formed a partnership in or shortly before 1791 with the brewer James Musgrave, and in 1796 he was joined as a quarterpartner by John Ratcliff, then a traveller for the firm. The partnership with Musgrave was dissolved in 1797, requiring the construction of a new brewhouse on the High Street premises.
Earlier Nineteenth Century
Although the Baltic market was not completely destroyed by the Napoleonic blockade, it came to an end in the mid 1820s as the Baltic countries acquired their own breweries and imposed high tariffs on English imports. (fn. 15m) Burton brewers, therefore, had to develop other markets, especially in London and South Lancashire, and further afield in North America and Australia: in 1822 the Wilson-Allsopp brewery advertised for sale a quantity of 'rich pale and fine-flavoured Ale, of uncommon strength' which it was unable to export to Russia. Also in 1822 Samuel Allsopp's head brewer succeeded in reproducing a bitter, sparkling ale which London brewers had been for some time exporting to India. The qualities of the local water made the pale ale brewed in Burton especially suited to longdistance transport, and other local brewers followed suit, with the result that by 1832 the Allsopp and Bass breweries dominated the exports to India. Burton pale ale also became popular in the home market.
It was not until the opening of the railway line through Burton in 1839, however, that local brewers were able to embark on a period of rapid expansion that resulted in Burton's pre-eminence as a brewing town. The number of brewing firms increased from 5 in 1818 to 9 by 1834 and to 16 by 1851. (fn. 1n) No longer involved in trading in other commodities, as had been the case in the 18th century, the leading brewers (Bass and Ratcliff, and Samuel Allsopp and Sons) became specialists, investing in improved brewing techniques and increasing efficiency.
For the most part the breweries which survived from the late 18th century remained in the same ownership. Michael Bass died in 1827, and his eldest son Michael Thomas took control. The partnership with John Ratcliff was renewed in 1830, and after John's death in 1835 a new partnership was created with John's son Samuel (assigned a 3/16th share of the profits) and John Gretton (a 2/16th share). Samuel Ratcliff concentrated on the firm's finances, while Gretton managed the malting and brewing processes. (fn. 2n) Also in 1835 Samuel Allsopp settled his estate on his sons Charles and Henry, who continued the brewery as Allsopp and Sons after Samuel's death in 1838. (fn. 3n) After Thomas Salt's death in 1813, his brewery was managed chiefly by his son Thomas Fosbrooke Salt, under the name Salt and Co.; (fn. 4n) and William Worthington's son, also William, took control of the family brewery after his father's death in 1825. (fn. 5n)
Other firms underwent changes in management. (fn. 6n) John Greaves went bankrupt in 1815, (fn. 7n) and by the 1830s his Horninglow Street brewery was run by Johnathan Mason and Mason's son-in-law Robert Gilbertson. John Sherratt's partnership with Thomas Hill was dissolved in 1820, and after Sherratt's death in 1822 (fn. 8n) his Abbey Street brewery was taken over by Lewis Meakin. Hill's son, Charles, later opened his own brewery in Lichfield Street near the Bond End canal.
Of the new breweries that were established before 1851, most were small and short-lived. Two exceptions were a brewery set back off the north side of Horninglow Street, occupied in 1837 by Messrs. 'Saunders', possibly a partnership including Samuel Sanders, the builder of the town's first gas works in 1835, (fn. 9o) and the Burton Brewery Co. founded in High Street apparently in 1842 by Henry and Thomas Wilders. (fn. 10o)
Later Nineteenth Century
From the 1850s there was a dramatic increase in production: the output of barrels trebled in each of the three decades up to 1880, and by 1888 average production in Burton was more than twice that in London, which in 1851 had been nearly three times as much as Burton's. Indeed, several London firms, as well as others, opened their own breweries in Burton, so that by the late 1880s there were just over 30 in the town. The rate of growth then began to slacken and by 1900 the number had declined to 21, chiefly because of problems in raising sufficient capital to extend brewing premises and construct private railway lines and to employ the qualified chemists and engineers who became necessary as the brewing process became more scientific. (fn. 11n)
The first brewery to appoint a chemist was Allsopp and Sons, which in 1845 engaged a German, Dr. Henry Bottinger, and Bass and Co. followed suit in 1850. The original intention had been partly to provide evidence for the pure quality of Burton ale, but research was increasingly aimed towards inventing processes that would enable brewing to take place throughout the year, rather than seasonally. (fn. 12n) One of the most significant developments in this regard was the adoption of the 'Burton Union' system of fermentation, developed (from a patent taken out by a Warrington brewer) by Bass & Co. apparently as early as 1840. Whereas previously beer had been allowed to ferment in trade casks, the 'union' system comprised a set or 'union' of inter-connected casks from which the yeast escaped through pipes into a trough. (fn. 13n) Despite year-long brewing, malting remained a seasonal occupation and the shortage of local workers led to the employment from the 1860s, principally by Bass, Ratcliff, and Gretton, of migrant workers from Norfolk and Suffolk. Called 'Norkies', the men normally arrived in Burton during the second half of September and stayed until May, and as many as 256 were employed by Bass alone in 1896- 7. The arrangement continued until the early 1930s, when the Depression curtailed the amount of work available. (fn. 14n)
Following the government restriction in 1869 on the issue of licences for public houses, Burton breweries had to secure home sales by purchasing 'tied houses', notably in North Staffordshire, South Lancashire, and Wales. (fn. 1o) Breweries were also keen to protect their products from counterfeits: the Bass red triangle trade mark, in use since the 1840s, was apparently the first mark to be registered under an Act of 1875, (fn. 2o) and it was featured on two bottles in Edouard Manet's painting A bar at the Folies-Bergère (1881)
Described in 1879 as 'a mercantile Colossus', Bass, Ratcliff, and Gretton was then the premier ale brewery in the United Kingdom, and its annual output in the mid 1870s was a third of the total production of all the Burton breweries put together. (fn. 3o)
Employment at leading Burton breweries (fn. 4o)
Men and boys employed
1861
1888
Bass
1167
2760
Allsopp
889
1750
Burton Brewery Co.
297
350
Worthington
191
470
Salt
194
400
Ind Coope
50
450
Mann, Crossman & Paulin
365
Truman, Hanbury & Buxton
200
Total for all breweries
3086
8215
The Bass, Ratcliff, and Gretton partnership of 1835 was extended to include Charles Lyon c. 1840 and Joseph Spender Clay in 1854. Lyon withdrew in 1859, and Samuel Ratcliff died in 1861. A new partnership established in 1863 brought the sons of the original partners into the firm, which became a private limited company in 1880 and a public one in 1888, Michael Thomas Bass having died in 1884. (fn. 5o) As output increased extensions were made to the south of the original brewery (called the Old Brewery) on the east side of High Street. They included the surviving 120-ft. water tower dated 1866. Land (called the Middle Yard) on the west side of High Street running up to Guild Street was acquired mostly in 1842 and 1851, and the 'New Brewery' was built there in 1852. (fn. 6o) It was renamed the Middle Brewery after what was also called the New Brewery was built in 1863 on the south side of Station Street. (fn. 7o) Meanwhile, three malthouses were bought in Anderstaff Lane in 1845, and new malthouses were built on the Station Street and Middle Yard sites in 1859 and 1862. (fn. 8o) Between 1872 and 1875 a group of seven further malthouses was built on the south side of Shobnall Road; an eighth was added in 1891. (fn. 9p)
Henry Allsopp continued to run his father's High Street brewery as Allsopp and Sons, although with declining personal influence, until his retirement in 1882, and the firm became a public limited company in 1887. (fn. 10p) In 1859 it too built a new brewery near the railway station, and added a prestigious office block in 1864. (fn. 11o)
The other established breweries remained moderate in size. In 1842 William Worthington went into partnership with Thomas Robinson, who remained a partner until 1864 when he went into business on his own account, opening a brewery in Station Street. (fn. 12o) After Worthington died in 1871, his sons continued what was then called Worthington & Co., and the firm became a public limited company in 1889. (fn. 13o) Thomas Fosbrooke Salt entered into partnership with Henry Wardle in 1853, and after Salt's death in 1864 Wardle married his daughter. Wardle died in 1892, and the firm became a public limited company in the following year. (fn. 14o)
Several breweries with headquarters outside Burton opened breweries in the town, in the hope of sharing in Bass's success. The earliest was Ind Coope & Co. of Romford (Essex), which built a brewery on the north side of Station Street in 1856, adding offices in 1864. (fn. 15n) Messrs. Charrington of Mile End Road in London acquired Lewis Meakin's brewery in Abbey Street in 1872, and in 1873 the firm opened a new brewery on the north side of Queen Street; (fn. 16l) Albion brewery on the south side of Shobnall Road was opened in 1874 by Mann, Crossman, & Paulin Ltd.; (fn. 17l) and in 1873 Truman, Hanbury, Buxton & Co. of London acquired a brewery beside the railway line east of Derby Street, which they rebuilt in 1876 as the Black Eagle brewery. (fn. 18k) Also in 1876 the Warrington-based firm of Peter Walker built a brewery in Shobnall Road, replacing it in 1883 by one in Clarence Street. (fn. 19k) Finally, Thomas Sykes of Liverpool built the Trent brewery in 1881 in what became Anglesey Road. The firm went into liquidation in 1896, and the brewery was taken over in 1898 by Everard & Co., a Leicester-based firm which had gained a foothold in Burton in 1892 when it acquired the Bridge brewery on Burton meadow from Henry Boddington & Co. of Manchester. (fn. 1p)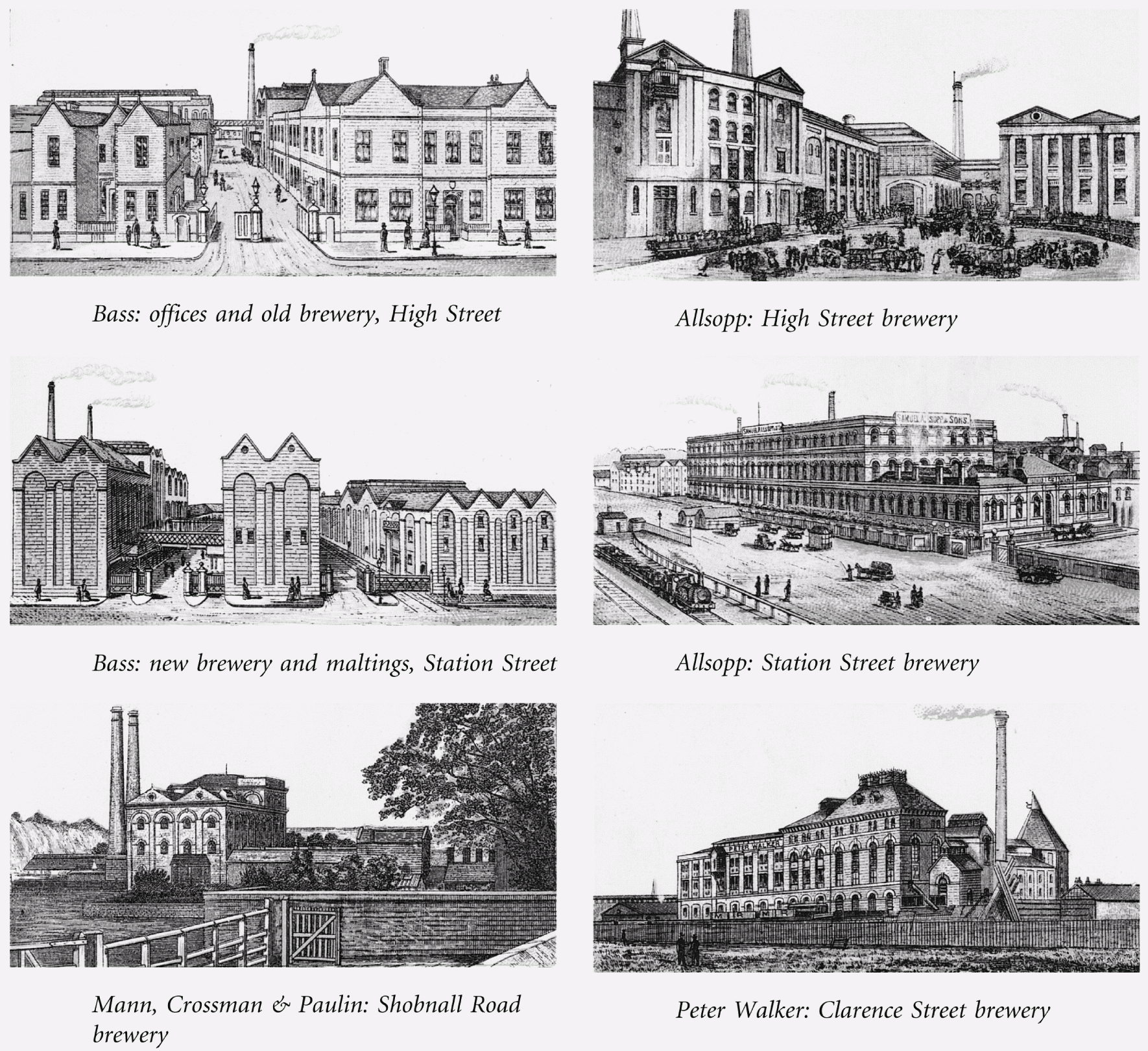 A number of small, local breweries were also established, notably by James Eadie in Cross Street in 1854, (fn. 2p) and by Sydney Evershed after he took over the Angel inn in Bank Square also in 1854. (fn. 3p)
Brewery Buildings
As brewing became the town's principal industry, so breweries and malthouses predominated in the townscape, especially as many were clustered in the historic core of the town. (fn. 4p) The smaller brewing companies tended to have breweries that were tall and on a square plan, such as Everard's brewery in Anglesey Road with its pyramidal roof. The larger companies, however, required greater floor area for the fermenting and conditioning processes and their breweries had length as well as height, presenting a long, low profile, such as the Allsopp and Bass breweries in Station Street. A notable characteristic of the larger breweries was the recessed arcading which broke up what would otherwise have been forbidding façades.
Arcading was also used in the malthouses, with their gabled kiln roofs with top vents designed to draw up heat through the building. Some malthouses were attached to breweries, but others occupied cheaper land away from the town centre, such as those in Shobnall Road. Brick was the chief building material for both breweries and malthouses, with considerable use of cast-iron for interior structures.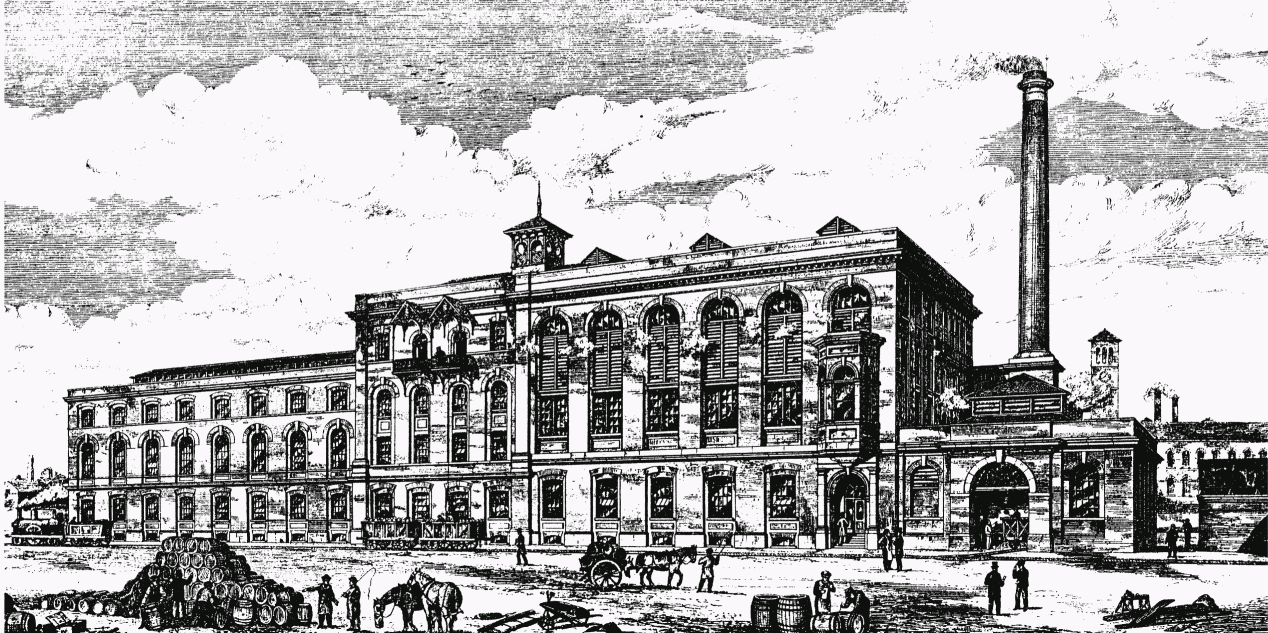 In contrast to the main plant some brewery offices were stuccoed, such as that of 1856 built for Ind Coope in Station Road with its rusticated ground floor and the impressive Italianate offices built in 1864 further west along the street for Allsopp and Sons. Those built by Bass in the 1880s in High Street are externally restrained and in Tudor style to harmonize with the adjoining Bass Town House, but inside they are more demonstrative with a high quality marble staircase which has limestone capitals with naturalistic carving.
Many breweries and malthouses were demolished in the 1960s and 1970s and even later, their sites used chiefly for shopping centres and carparks. Little attempt was made to find alternative uses for redundant buildings, although the joiners' shop in the Bass Middle Brewery was converted into a brewing museum and part of the Bass New Brewery became an arts centre.
Twentieth Century
With the decline in beer consumption in the early 20th century, most of the Burton brewing firms either closed down or amalgamated, so that their number fell from 20 in 1900 to 17 in 1912, 13 in 1924, and 8 in 1928. (fn. 1q) The ones which survived beyond the Second World War, however, managed to adapt to new patterns of consumer interests, especically the demand for lighter beers. Considerable sums were spent in modernising plant, with the result that many of the 19th-century buildings, especially malthouses and cooperages, became obsolete and were later demolished or converted either to commercial or recreational use. The breweries also abandoned their private railways and the tracks were dismantled.
The first amalgamation took place as early as 1898, when the Horninglow-based firm of John Marston and Sons Ltd. merged with John Thompson and Sons Ltd. of Horninglow Street and took over Albion brewery in Shobnall Road. A further amalgamation with Evershed's brewery in 1905 created the firm of Marston, Thompson, and Evershed Ltd., which continued at Albion brewery until 1999 when it was taken over by Dudley and Wolverhampton Brewery plc. (fn. 2q)
Burton Brewery Co. went into receivership in 1907 and was bought in 1915 by Worthington and Co., (fn. 3q) which itself was taken over by Bass, Ratcliff, and Gretton in 1927, although Worthington brand beers continued to be brewed at the High Street brewery. (fn. 4q) Bass also acquired the Walker brewery in Shobnall Road in 1923 and the Salt brewery in 1927, together with James Eadie Ltd. in 1933; all the brewery premises were closed down. (fn. 5p) Ind Coope went into receivership in 1909 and Allsopp and Sons in 1913. The former, however, was re-registered in 1912, and in 1934 it merged with Allsopp to form Ind Coope & Allsopp Ltd., using the Allsopp brewery in High Street. Meanwhile, the two Walker breweries were closed down in 1923 and 1925 and the Charrington brewery in 1925. (fn. 6p) Of the other non-Burton based breweries, Truman, Hanbury, Buxton & Co.'s Black Eagle brewery in Derby Street was closed in 1971 and then demolished, (fn. 7p) and Everard's closed their Trent brewery (renamed Tiger brewery in 1970) in 1985. (fn. 8p)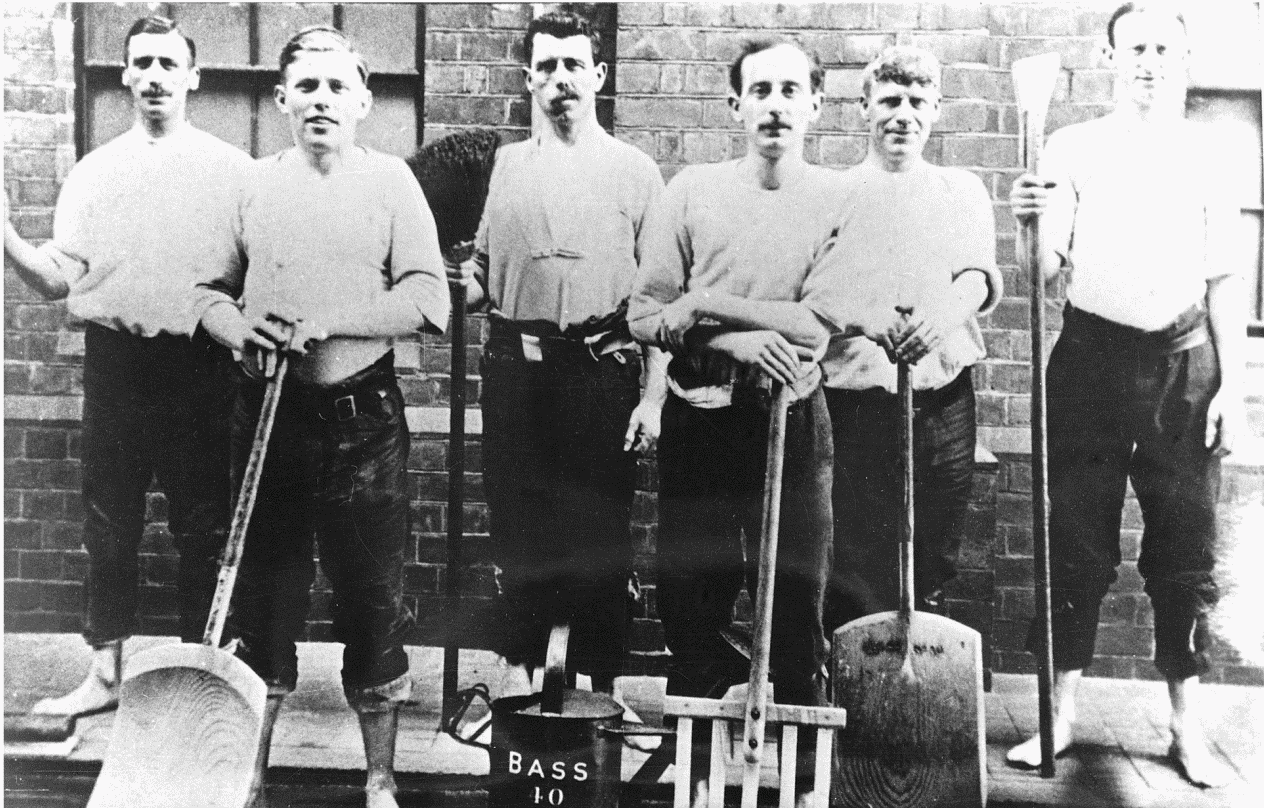 A further spate of amalgamations took place with non-Burton breweries in the 1960s. Bass merged with Mitchells and Butlers in 1961 and with Charrington in 1967, (fn. 1r) and Ind Coope merged in 1971 with three other brewers to form Allied Breweries. (fn. 2r) Allied Breweries later sold their Station Street brewery to CarlsbergTetley, which in turn sold it in 1997 to Bass plc, the successor to Bass Charrington plc. In 2000 Bass decided to concentrate on its hotel and leisure interests, and it sold its brewing arm at Burton (Bass Brewers Ltd.) to the Belgian conglomerate, Interbrew. (fn. 3r) In contrast, the independent Burton Bridge brewery was established in Bridge Street in 1982 by Geoffrey Mumford and Bruce Wilkinson, formerly managers at Ind Coope's brewery in Romford. Occupying a former inn, the brewery produces a range of beers which are sold on the premises and at other outlets. (fn. 4r)
¶The principal changes to brewery premises were the installation of a chilled ale plant at the Bass Middle Brewery in the mid 1950s, after which brewing itself was discontinued there. (fn. 5q) A kegging plant was added in 1964. The Worthington brewery on the west side of High Street was closed in 1965, along with its malthouses on the east side of the street near the river. Bass closed Old Brewery on the east side of High Street in 1969, after the commissioning in 1968 of a new brewery in Station Street; the Old Brewery was demolished in 1971, apart from the water tower and the offices on the street front. Part of the cleared site was used for a new office block, of red brick with a glazed lower floor and some Italianate styling in the upper storeys. Changes in the malting process resulted in alterations to the Bass malthouses at Shobnall and their replacement in 1980 by the present Tower maltings.