Elie and Earlsferry History Society...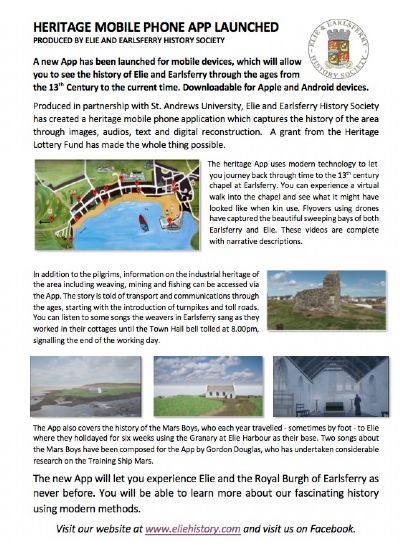 22nd October and we were pleased to welcome past club member Graham Meacher, who spoke about the Elie and Earlsferry History Society.
The focus of Graham's illustrated talk was the work needed to produce a new 'Heritage mobile phone app' in partnership with St Andrews University and made possible with financial support from Lottery funding. It was interesting to hear of the many steps needed to produce this digital electronic guide, which will be of great interest for both residents and visitors.
The App enables users to see the history of Elie and Earlsferry through the ages, from the 13th century to the present time. Mobile phone technology is used to harness 'satnav' positioning in presenting high quality images, audio, text and digital reconstructions.
What we saw were maps of key historical points, video from drone flyovers of the beautiful sweeping bays of Elie and Earlsferry - and a walk into a virtual reconstruction of the 13th century chapel there. This presented the story of how it might have appeared when in use. We heard too an audio recording of the Weavers Song, in a reference to the old weaving industry.
The App also covers the history of the 'Mars Boys' who each year travelled, sometimes by foot, to Eilie where they holidayed for six weeks and using the granary as their base.
Graham spoke also of the area's important part in the history of early pilgrims journeying to St Andrews. He touched too on transport and communication through the ages, starting with the introduction of turnpikes and toll roads - and of the industrial heritage of weaving, mining and fishing.
This was a fascinating story of one way in which our modern communications technology has been harnessed Into an easy-to-use guide, making our history and heritage accessible. Following questions a vote of thanks was proposed by Ian Brunton.